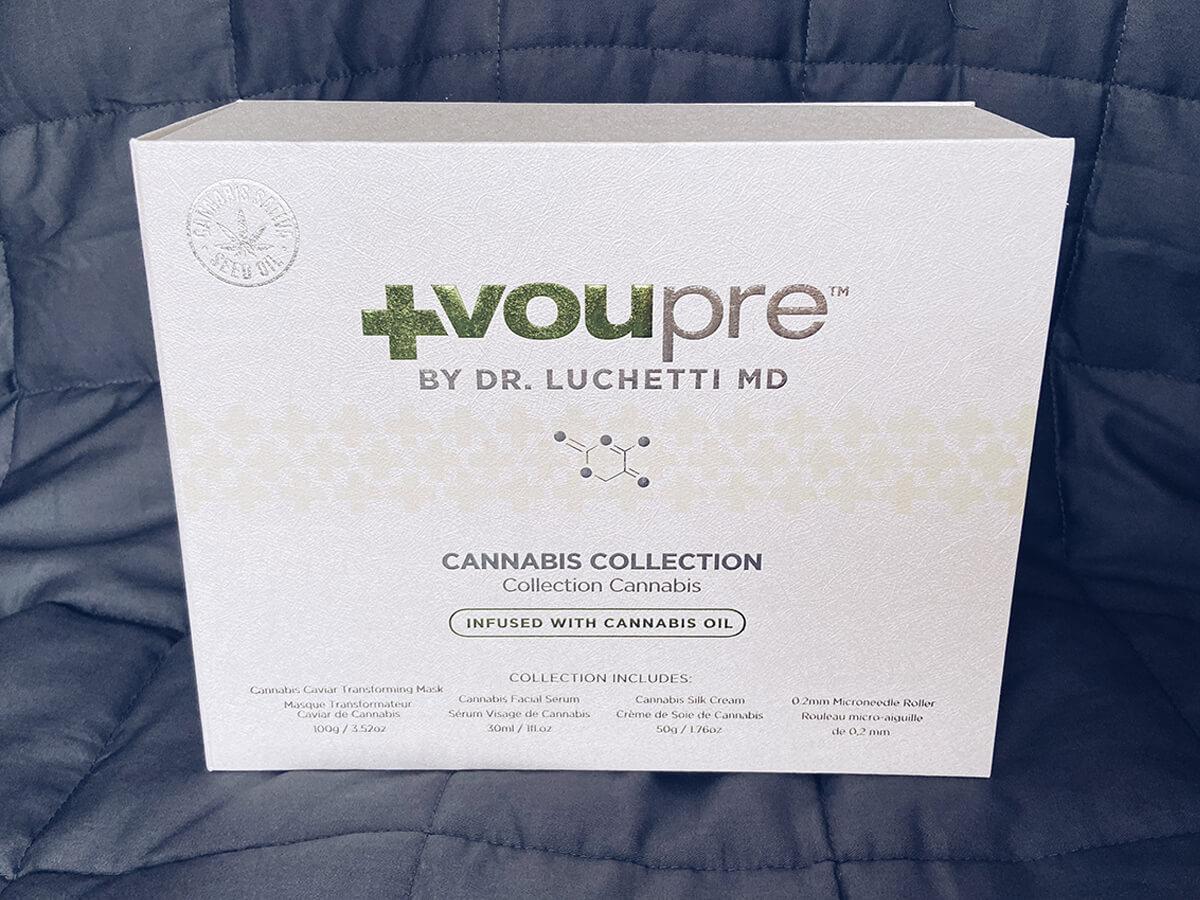 Review by Toni Travis
On the hunt for facial products that revitalize tired-feeling, dull skin?
I was too.
Every morning after waking up, my face felt zapped of all youth and elasticity. The skin around my eyes felt heavy and drooping. I needed something to say, "Wake up!" to my skin early in the morning and nourish it for healthy brightness and glow the whole day long. I needed a product that not only had me looking alert and lively but had me feeling it too.
That's when I came across Dr. Luchetti's new skincare line: the Vou Pre Cannabis Collection.
My Pre-existing Skin Concerns:
Tired and dull looking

and

feeling

Excess dryness one minute, excess oiliness the next

Large pores all over nose, cheekbones, and chin

Crow's feet

Visible blackheads on nose
First Use, 10:00 p.m. –
The Microneedle Tool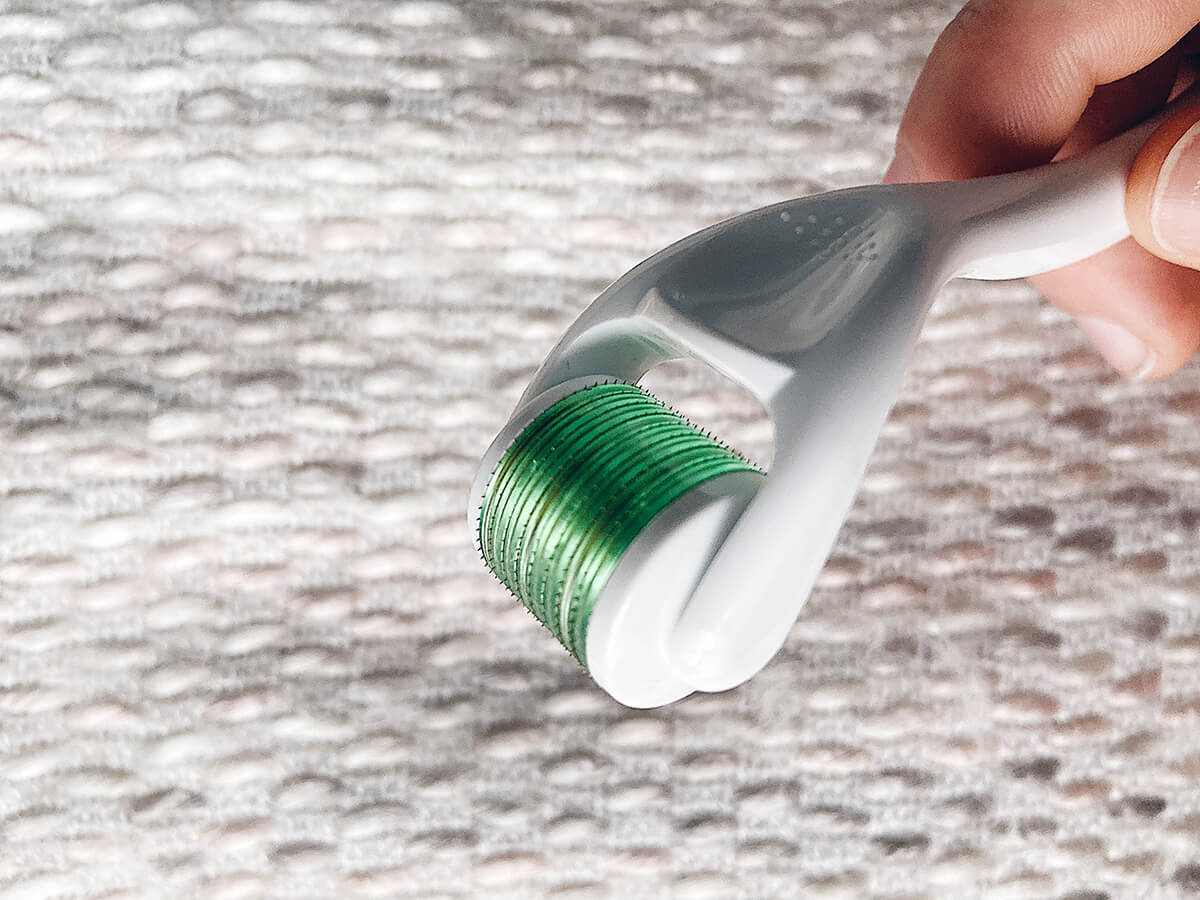 I was intimidated by the microneedle tool when I opened the box for the first time. I am not a skincare expert by any stretch of the phrase, although I do care about the health and longevity of my skin, so I was concerned that I could misuse the tool and cause harm to my skin. I inspected the head of the tool, a green roller with inconspicuous microneedles distributed evenly across its surface and decided that the needles were so short and fine that I couldn't possibly cause myself harm by them unless I used an exceptional amount of force (which I would never use on my face anyway). The microneedles are actually so inconspicuous that you almost have to squint your eyes to see them at all.
After I assessed the tool, I felt much more confident and comfortable about using it on myself. I read the directions and immediately went to work on my biggest problem area: my nose. Although I faithfully wash my face day and night, the pores on my nose are big and clogged. They have been for years. I tried blackhead strips, various masks, and textured scrubs to clean them out and shrink them, but nothing ever made a notable difference. I hold onto a hope that I will see improvements in this area with continued use of this set. Studies show that dermatological microneedling paired with a moisturizing treatment is proven to improve skin's radiance, tone, smoothness, texture, redness, dryness, and overall appearance, so I feel that my hope for improvement is realistic (although I don't want to get too excited in case I end up disappointed). 
Using the microneedle tool feels like a gentle, awakening massage. It rolls gracefully over my skin and is not uncomfortable or painful at all, and I am not a rare case. In a clinical study of microneedle application, most participants couldn't even distinguish the difference between the application of a microneedle versus a completely smooth surface against the skin. My only issue with the microneedle tool is that it tends to squeak at certain points of rotation.
Even so, this is a minor criticism and the squeak is not loud or impossible to tolerate while using for the recommended 4-10 minutes, depending on the total surface area of your targeted spots. Actually, I enjoyed the process of microneedling my skin. Most of the attention I give my skin is usually critical or noticing its flaws. The microneedling process allowed me to concentrate on areas of my skin that need particular care, and I was able to apply positive energy toward the health of my skin in those areas. These simple, slow moments of skin-positivity was enjoyable in-and-of itself without even considering the dermatological advantages.
Cannabis Caviar Transforming Mask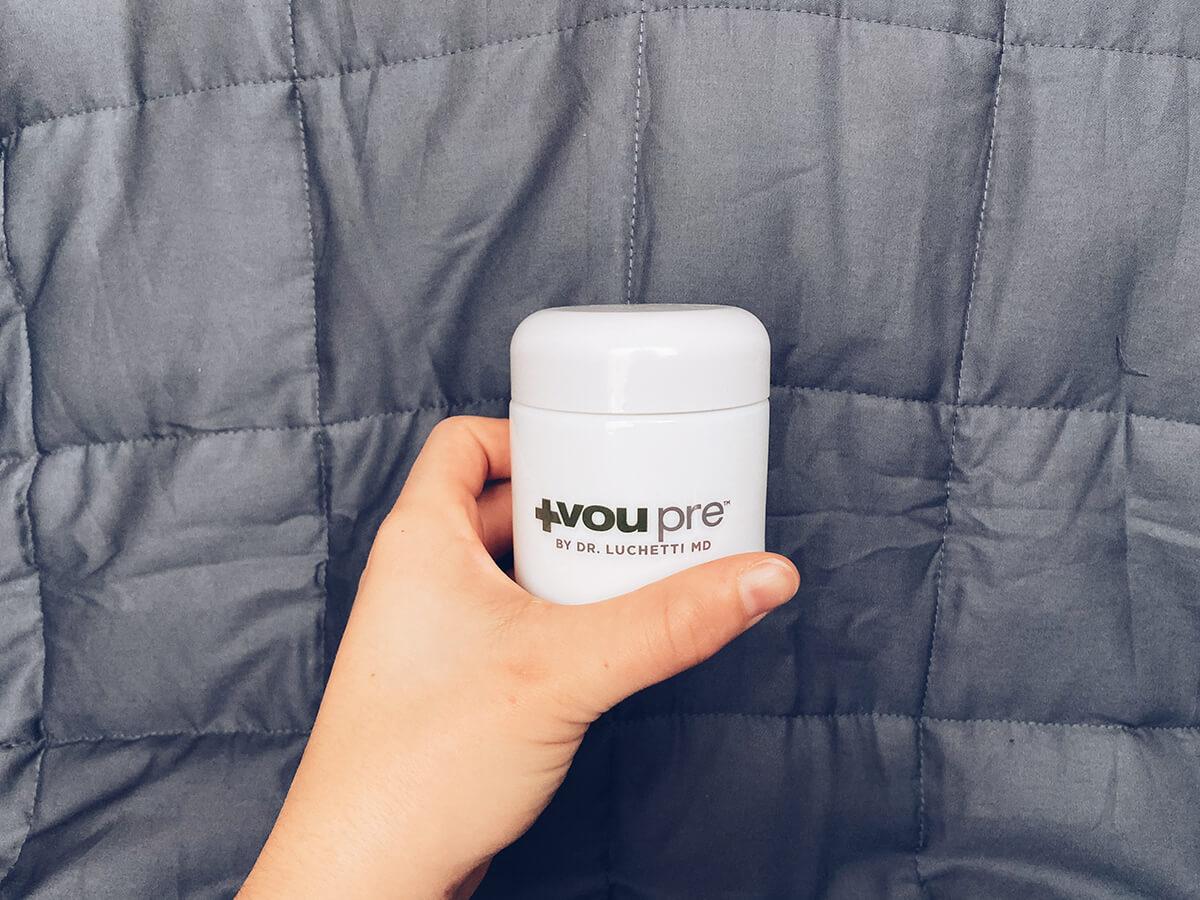 After I finished using the microneedle tool on my nose, cheekbones, crow's feet, and chin, I opened the jar of Transforming Mask and discovered a pleasantly white, lightly textured cream. The texture of the mask is so fine that any texture at all is almost unnoticeable (I only comment on it for the sake of describing that it is not a purely smooth cream). Its consistency is thicker than lotion but more fluid than a traditional "mud mask." I used the included applicator to distribute the mask all over my face. At first contact between my skin and the mask, I felt an immediate delightful coolness and it persisted as I smoothed the mask around for full-face coverage.
My immediate impression after rinsing off the Transforming Mask was pleasant surprise and shock: the pores on my nose were visibly reduced in size. As one of my primary skin concerns, I was elated to see a noticeable difference after only one use of the Transforming Mask. To boot, I cannot remember a time my skin has felt as fresh as it did when I finished toweling off the mask. My skin felt cool, like the sensation of a menthol lip balm on dry lips, and far more refreshed than my usual exfoliating scrub could ever have me feeling.
The Cannabis Facial Serum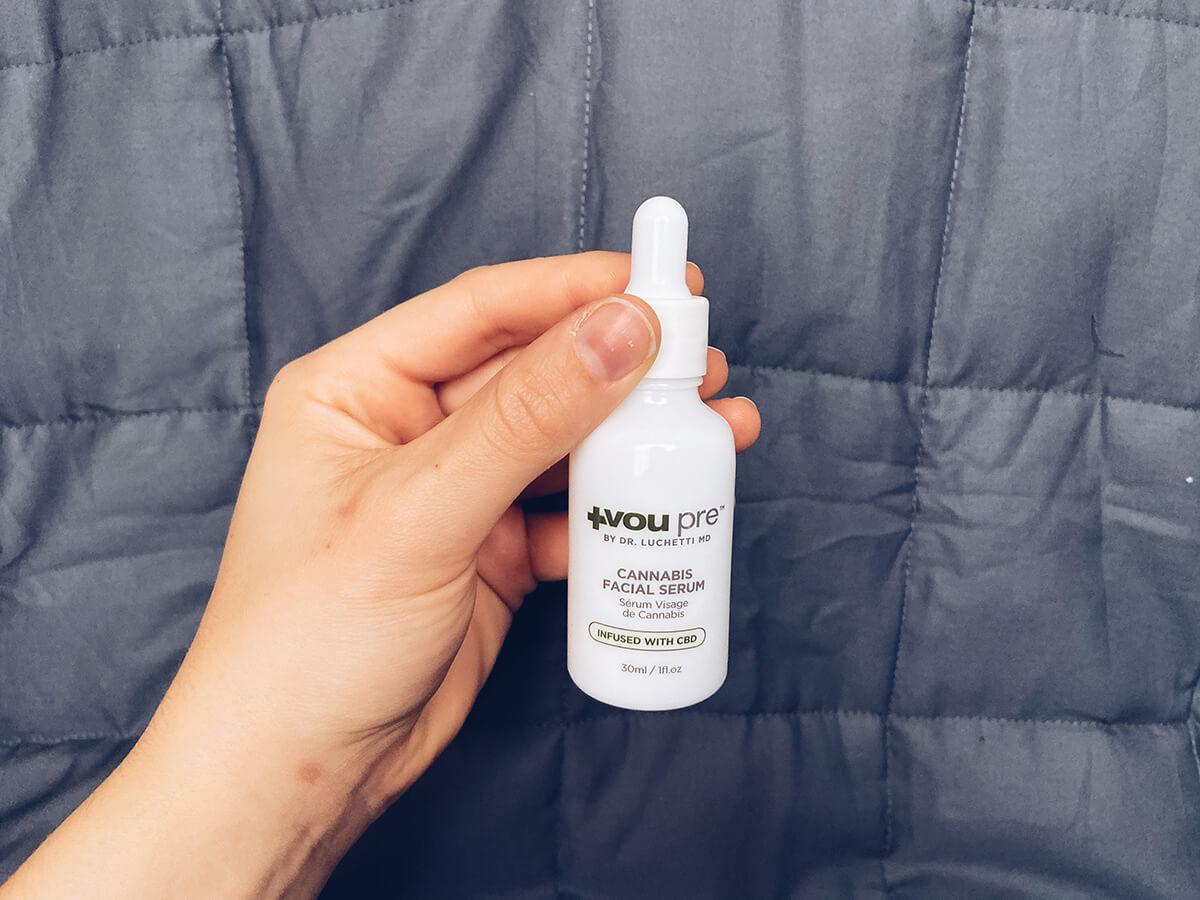 The first thing I noticed about the Cannabis Facial Serum was the pleasant scent. The serum itself is not perfumed, but its innate scent is a faint sweet, crispness that I am involuntarily drawn to.
Its texture is smooth, and almost immediately soaks into the skin. It feels like ultra-absorbent water that is completely hydrating on contact with the skin. A significant ingredient in this formula is glycerin, which has been proven to improve skin barrier function in those who experience frequent skin irritation from external sources. This product is directed to be used daily for best results.
The Cannabis Silk Cream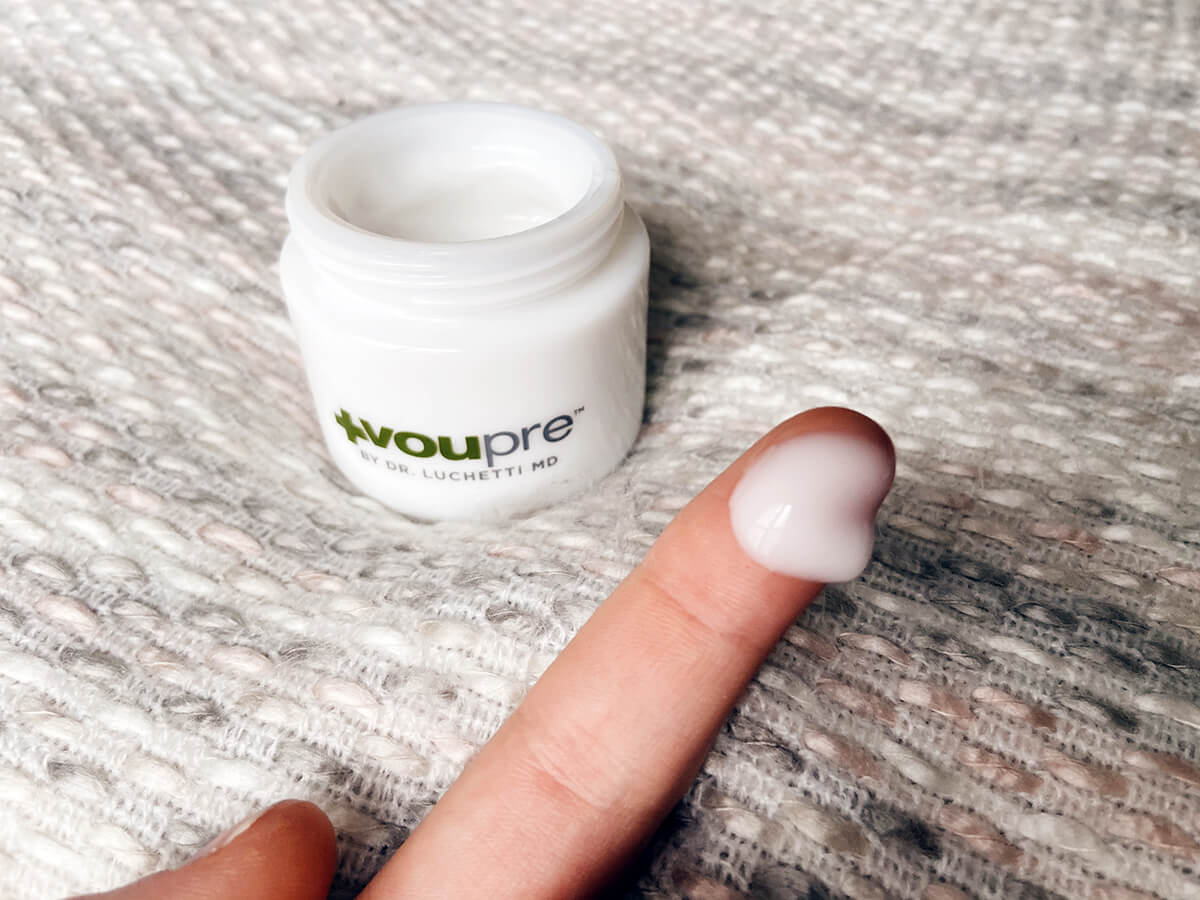 I was surprised by the appealing scent of the Cannabis Facial Serum, but I was even more surprised when the Cannabis Silk Cream gave the same effect. Like the Cannabis Facial Serum, the Cannabis Silk Cream is not perfumed or fragranced; however, its natural scent is lightly fresh and attracts me in the same way as the serum. This product is also directed to be used daily for best results.
With ingredients green tea leaf extract and cannabis sativa seed oil, this cream vitalizes the skin and provides the glorious awake and alert feeling I desperately sought for my skin. Green tea is an effective anti-oxidant for skin, which limits inflammatory responses of redness and itching. Green tea also protects against UVB rays from the sun, which are the leading cause of server different skin cancers. Although only tested on a small scale, cannabis sativa seed oil demonstrates the ability to reduce acne by limiting sebum presence on the surface of the cheek's skin. All considered, this is a formula I am happy to use for nourishing my skin.
Morning After First Use, 10:51 a.m. –
My usually oily face should be glistening by this time of day.
Whether I use moisturizer or not, typically by 10:00 a.m. I need to excuse myself to the restroom to blot my T-zone (forehead, nose, and chin) with a paper towel to remove oil from my skin's surface. I repeat this action again around 2:00 p.m. and 6:00 p.m., wash my face before going to sleep, and then start the whole cycle again the next day. 
Today, I did not use my usual moisturizer this morning because I was running short on time – I just curled my eyelashes, applied mascara, and dashed out the door. I have been working on my computer all morning, but in the last few minutes when I began writing this portion of my review I realized that the oil on my T-zone is about half what it usually is, before I started using this skincare set.
Although the research of CBD (cannabidiol) oil is still considered a freshly pioneered field, preliminary observations suggest that CBD oil possesses anti-inflammatory properties that reduce excess oiliness. Not only that, but additional preliminary observations also suggest that CBD oil possesses anti-oxidant power and the ability to repair cellular damage caused by free-radicals. These findings, if confirmed to be true by further scientific study, would contribute to the natural and gentle healing of adverse skin reactions like acne, eczema, and psoriasis, as well as reduce a plethora of common skin concerns like excess oiliness or dryness, wrinkles, and loss of elasticity. 
Second Use, One Week Later, 8:00 a.m. –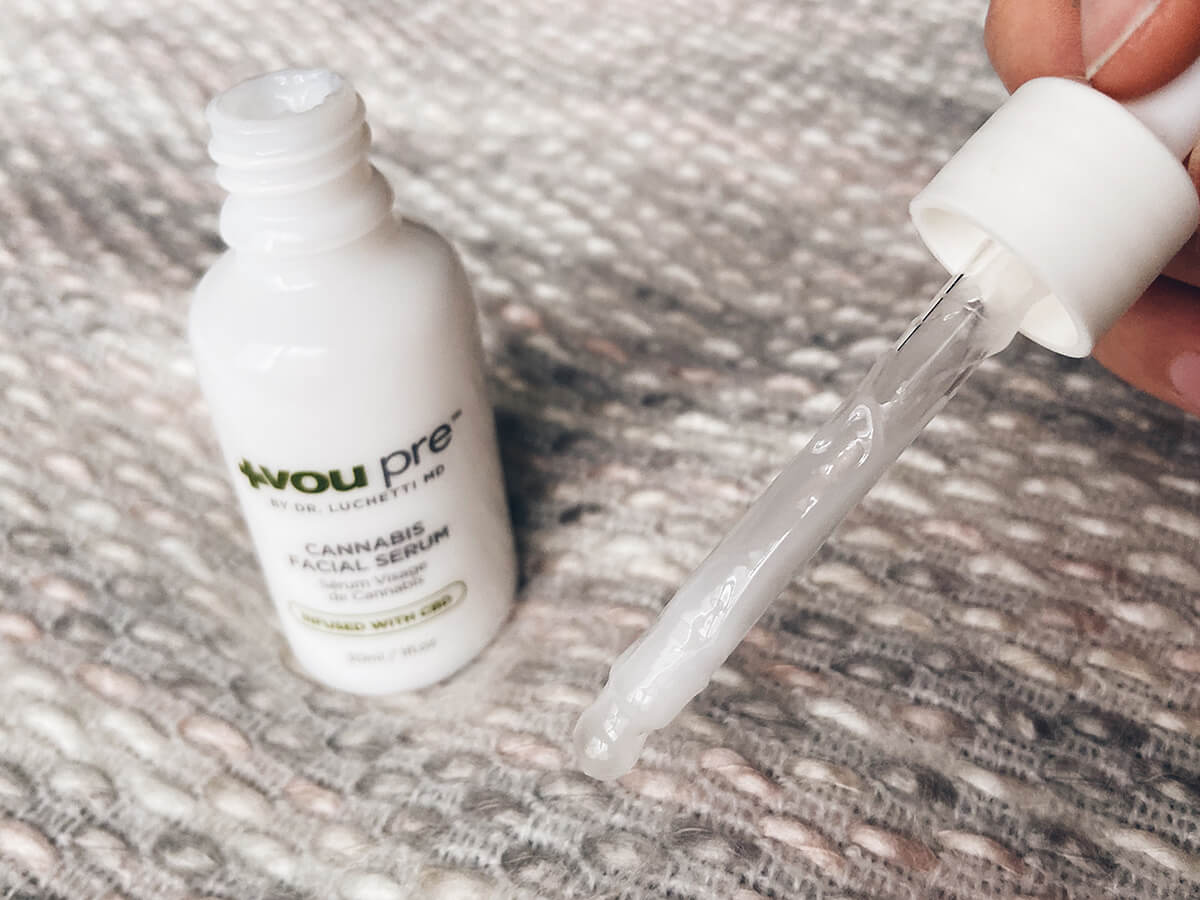 I was intending to use these products a second time sooner than a week, but my schedule got away from me and I was too exhausted at the end of each day to change my usual routine. The Transforming Mask is directed to be used weekly, so I am following the recommendation for that product; however, this morning in particular, however, my skin was feeling exceptionally worn down and tired. I needed something to liven me up and invigorate both my skin and my spirit. I recalled how refreshed I felt after using these products the first time, and I knew this was exactly what my skin needed.
I used the microneedle tool with confidence, knowing that it brought a calming sensation reminiscent of a massage. This step in the treatment helped stimulate my skin. Then I applied the mask, and "Wow!" – I forgot how incredibly wonderful and soothing the coolness of this product felt. As I spread it over my cheeks, chin, nose, forehead and temples, I felt my dull skin waking up like a wilted plant drinking in water and springing back to life. This Transforming Mask truly is exactly that: TRANSFORMING. I started smiling and expressed deep satisfaction to my husband about the dreaminess of this product. He asked, since the product is so great, if I could spare some for him… I love him dearly, but this product is so great I felt like telling him to get his own! After following up the Cannabis Transforming Mask with the Cannabis Facial Serum and the Cannabis Silk Cream, my skin felt bright and ready to jump into the day.
Summary of My Experience with the Vou Pre Cannabis Collection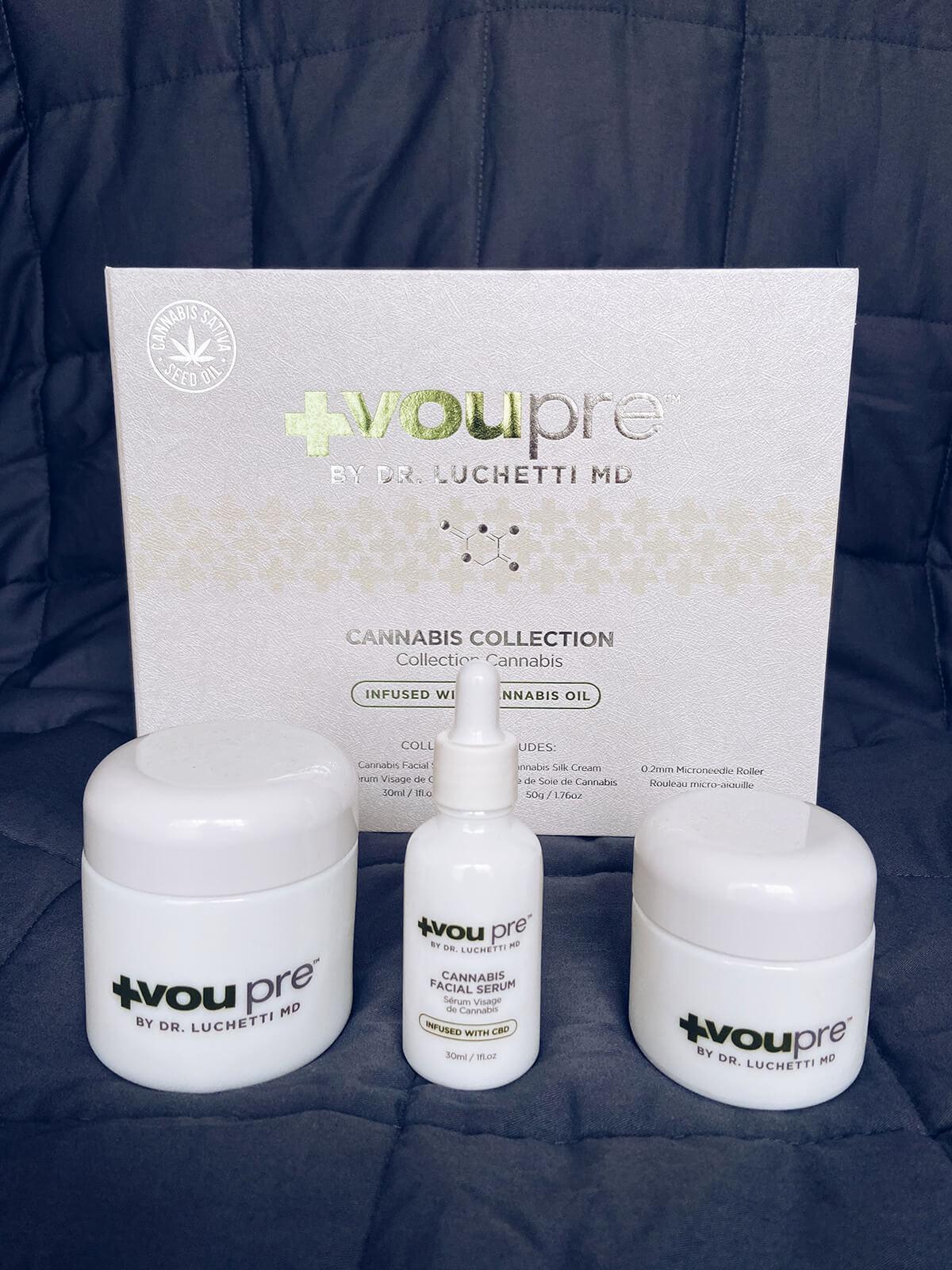 I am head-over-heels for these products. They feel great on my skin, the process of using them is relaxing and easy, and I feel comfortable knowing they are made with healthy, natural ingredients.
Not only are the products great to use, the packaging is sleek and feels luxurious. From the moment I opened the glossy box, I was impressed. The products are housed in sturdy, glass containers. The serum features a glass dropper to help dispense the perfect portion of product with each use. The microneedling tool is, of course, a high-quality treatment that can cost hundreds of dollars for each session. This set of products allows you the resources to achieve similar effects to a professional microneedling treatment in your own home with the additional advantage of targeting specific areas as often as needed.
I look forward to using these products. Now, the morning after a night of little sleep or if I have a long day ahead of me, I use these products for an instant lift of energy – for my skin and my spirit – that carries me through the day.