I don't know about you, but when it comes to choosing new skincare products, I'm really picky.
And when I say really, I mean really.
Being someone with extremely dry and sensitive skin, I am quite reserved when it comes to trying something new.
But, as it goes, you can't stop the clock, and time does fly. So, I realized soon enough that I would have to upgrade my skincare routine, if I want to keep my face as fresh and as radiant as it was once, in the days of yore.
Oh, how fast they have gone by!
I remember getting up without a care in the world, with the perfect complexion, and no line in sight! However, the time passed has taken its toll, and when I get up now, the feeling is far from satisfactory. The questionable complexion, two, three zits and blackheads at a time, even more. And not to mention the fine lines and wrinkles that stare back at me when I stare at them in the mirror.
As if staring at them will make them magically disappear.
Being kind of desperate to find a single care line that could solve my troubles, I have gone through heaven and hell itself, only to find a perfect set, my true friend in my battle against aging and other imperfections on my face.
One Set to Rule Them All – the Rose de Noir Collection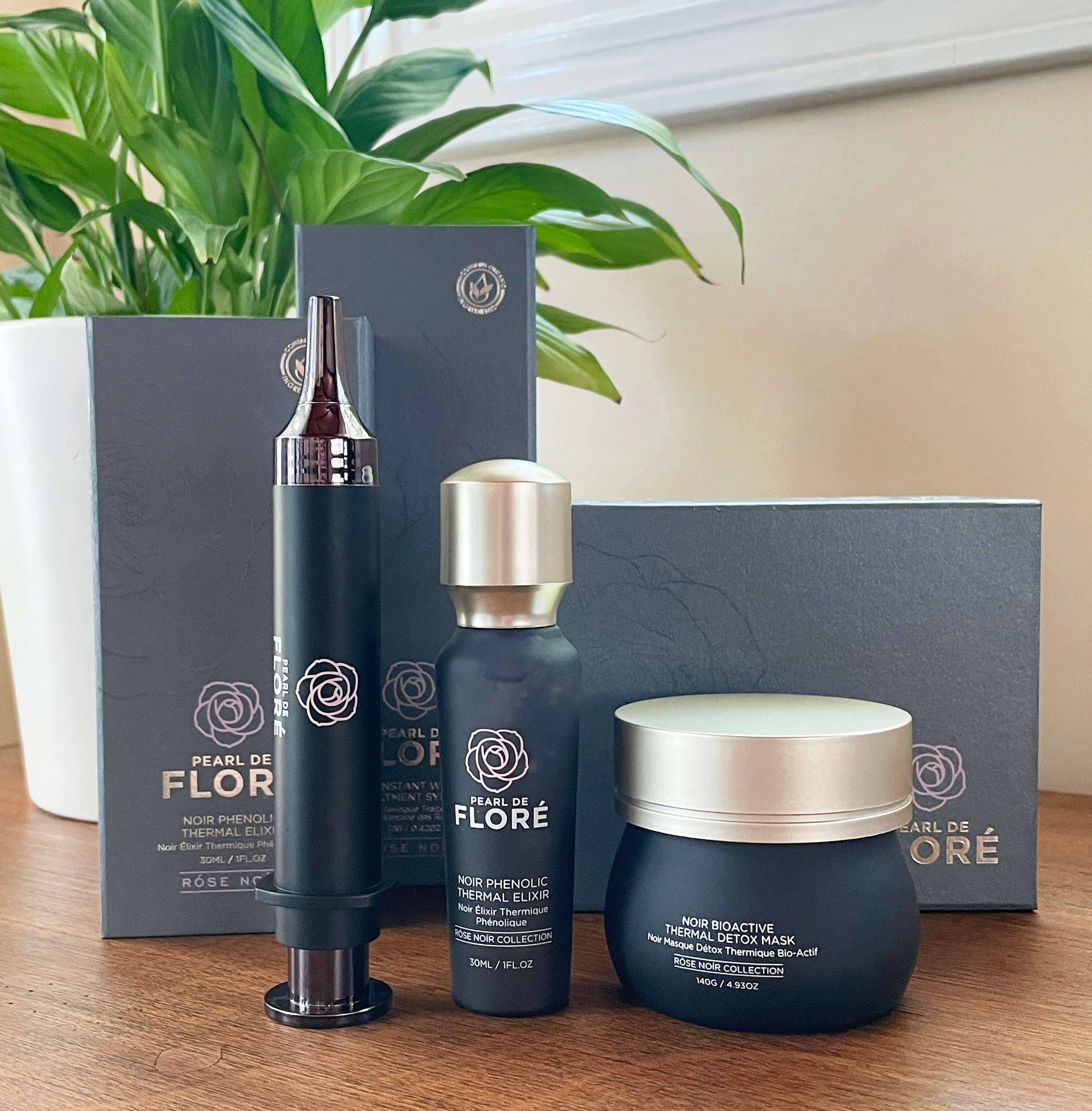 I have heard about the Rose de Noir Collection from quite a few acquaintances, who shared their amazing experiences with me. But, being the doubting Thomas as I am, I restrained from making any rash decisions.
Until one particular morning.
There I was, standing in front of that awful mirror (even though I admit it's not the mirror's fault), looking at another line that appeared on my face and the dullness I just couldn't stand anymore. That's all it took for me to realize that I had to do something to change the fate of my poor, poor face.
So, I put my trust in this Rose de Noir Collection after previously (carefully) reading all about the ingredients. And this is what first grabbed my attention:
Ingredients in the Rose de Noir Collection
As I have found out, all Pearl de Flore Collections are made of perfectly natural ingredients such as Rose Extract, Orchid Extract, Peony Flower Extract and Black Malva Extract.
And the reason why I chose the Rose Noir Collection in particular is the fact that it had the aforementioned Rose and Black Malva Extract – both perfect ingredients for dry, rapidly aging skin.
Rose extract is perfect for dealing with dry skin, redness and is capable to soothe the most persistent cases of redness you can imagine. (I can tell you that from personal experience).
However, what really reeled me in was the Black Malva, which, again, I heard wonders about, but haven't had an opportunity to try. The power of the Black Malva lies in its ability to not only soothe the dry and rough skin, but also to moisturize it thoroughly, protecting your face for hours on end. The deal was sealed, and I – completely hooked.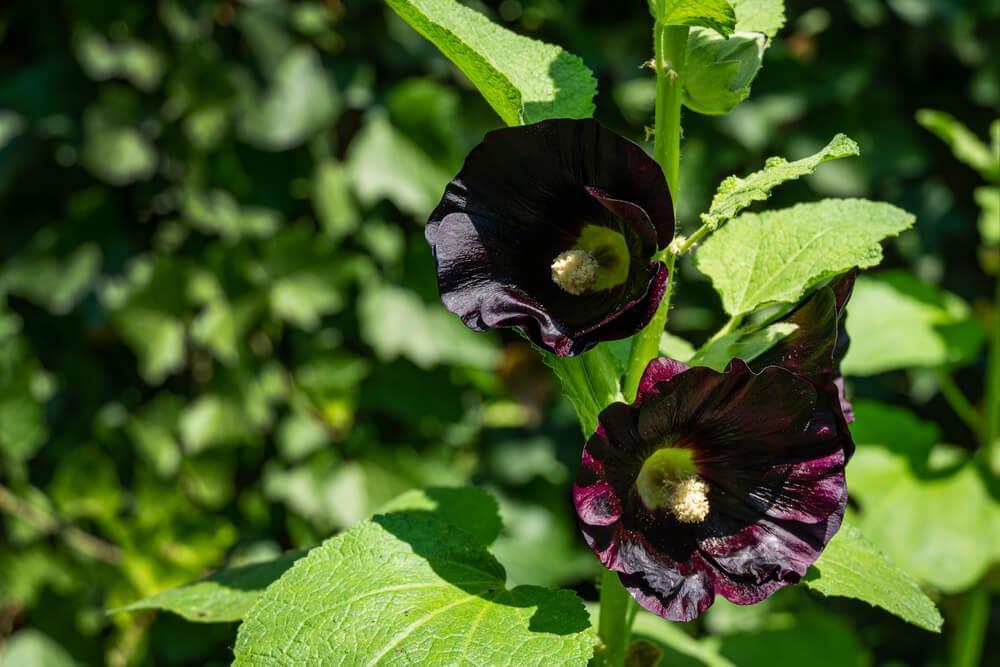 Trying the Rose de Noir Collection
Basically, the whole collection consists of the Noir Bioactive Thermal Detox Mask, Noir Phenolic Thermal Elixir, Noir Micronutrient Finishing Cream, Noir Instant Wrinkle Treatment Syringe, and the Noir Advanced Rapid Wrinkle Treatment.
The Noir Thermal Detox Mask
I already mentioned that I was picky, but did I mention that I was just a tad bit compulsive?
All joking aside, I always need to get acquainted with all the ingredients before putting anything on my face. So, I was absolutely thrilled to find out that there was nothing artificial in the Noir Thermal Detox Mask, only natural ingredients, so that was a huge yes from me.
The mask contains essential ingredients such as Aloe Vera Extract and Coffee Arabica Seed extract, which is, for anybody that is slightly familiar with exfoliating, a perfect combo that leaves your skin really silky and smooth.
In order to apply it, you need to clean your face thoroughly and apply only a thin layer of it on the surface of the face. This is a thermal mask, so you know there is going to be a heating sensation. But, I can only describe it as a very mild sense of warmth that is quite pleasant, it almost feels like you are in a spa somewhere, enjoying yourself.
And after the year we've had, I'll take this feeling any day.
Noir Phenolic Thermal Elixir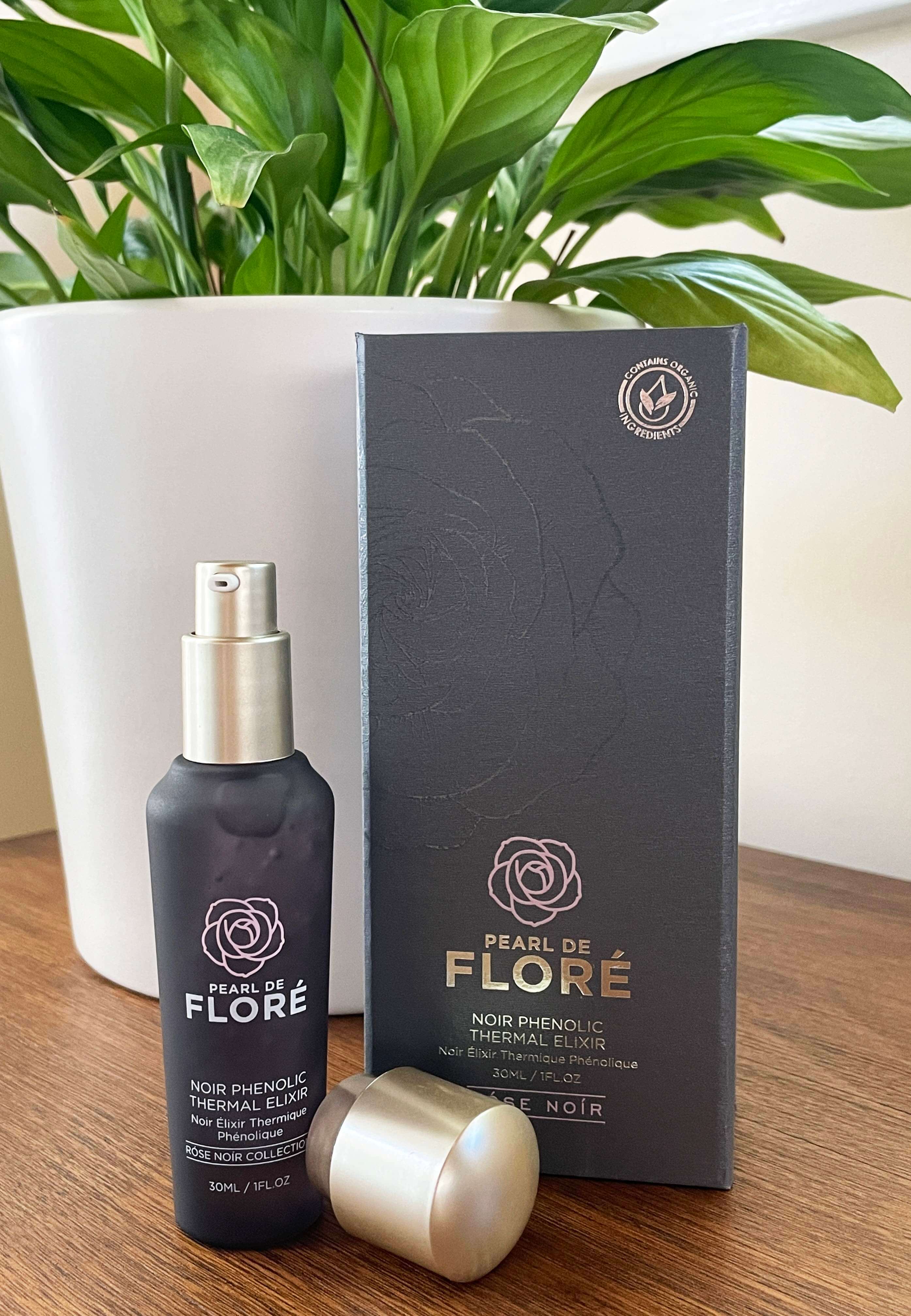 It says in the manual that, in order to boost the heating sensation, you need to add 2-3 drops of the Noir Phenolic Thermal Elixir.
So, wanting to have the full experience, I did just that. I massaged it over the mask and left it there for 15 minutes, as it said in the instruction.
It is said that this Elixir deals with the signs of aging and dullness, which was exactly what I needed, especially after some of the most stressful days I had at work, and home. I almost felt as if I was rubbing all the worries off when rubbing the elixir in the skin.
As can be seen, I really needed this "me" time.
The first impression you get after rinsing the mask is the absolutely unbelievable softness of your face. It is amazing. And my face looked fresher almost instantly.
Having had such an amazing first impression, I couldn't wait to explore all the things this collection has to offer.
Noir Micronutrient Finishing Cream
What I liked most about the Noir Micronutrient Finishing Cream is definitely the texture, because it is very light as opposed to those standard dry skin creams, which are so heavy you have the feeling of wearing a mask, a feeling I (and I'm sure, most of you by now) absolutely despise.
It consists of Rosemary Leaf Extract and various vitamins which are supposed to reduce the appearance of fine lines and wrinkles.
Of course, I was aware that I needed to wait for a couple of more days of consistent use to see the results, but never could I have imagined that I would be able to see a difference the very next day.
While nothing drastic happened then, and, to be honest, I wouldn't even believe myself if that was the case, my face truly was fresher and more youthful looking.
But, after about a month, you could really see the difference. All those lines and wrinkles started to fade. It's like your face became at least 5 years younger! I kid you not!
Noir Instant Wrinkle Treatment Syringe and Noir Advanced Rapid Wrinkle Treatment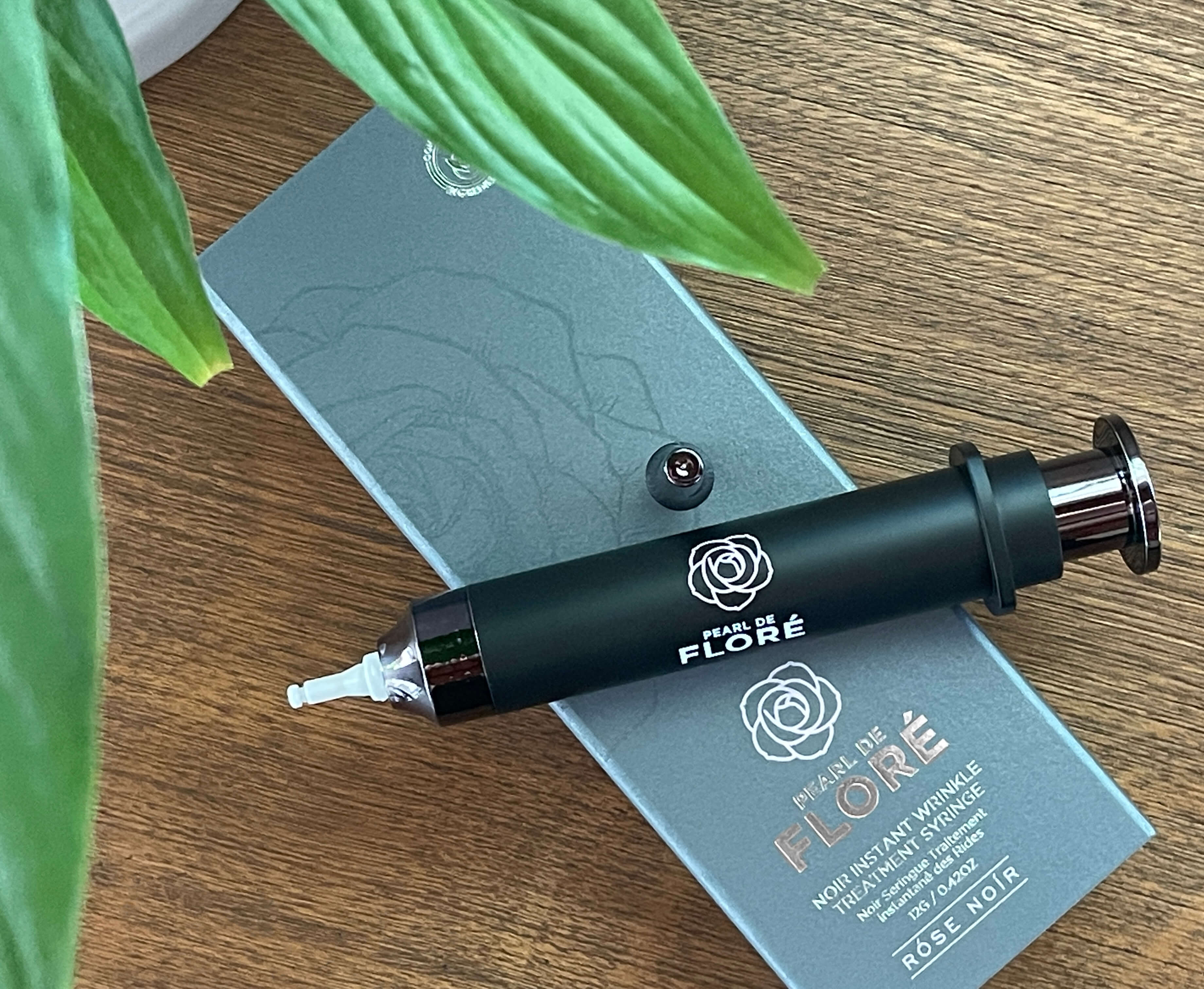 What I was dying to try the most were, definitely, these two items – "the rapid wrinkle removers" as I like to call them.
They are designed to treat each wrinkle locally, which means that you are supposed to apply each product directly on the wrinkle that you want to make less visible.
Noir Instant Wrinkle Treatment Syringe
The Noir Instant Wrinkle Treatment Syringe is formulated with Sweet Almond Oil, peptides and Retinyl Palmitate – in my opinion, the perfect combination to make your wrinkles go away.
And the application process is very easy, to be honest. You just need to clean your skin and direct the tip of the syringe on the fine line. You then press it until the product comes out and pat it gently, so that your skin can absorb it. Piece of cake.
You know when you hope that something will work, and then it exceeds your wildest expectations? Well, this, this is the one. My dear wrinkles, so long, adieu, adios!
Noir Advanced Rapid Wrinkle Treatment
The Noir Advanced Rapid Wrinkle Treatment is full of vitamins, peptides, and botanical extracts rich in antioxidants. It is advertised to be a quick fix for those fine lines and wrinkles, that is – our daily reminders that we are getting old.
And I have to say – quite the quick fix it is.
In order to get the product out, you are supposed to twist the top of the applicator, and then a pump is projected from the other side. You apply the content on the (un)desired wrinkle and voila! Done and done!
There is no limitation to its use, so you can use it as much as you want. After the first try, I knew I wanted it as often as possible. My wrinkles became almost invisible, and those more persistent ones, became, let's just say, less persistent.
My Final Impressions
After a few weeks of regular use, not only did I see a noticeable change, but my friends did as well. There wasn't a single person that I met that didn't ask me if I had some work done. They just could believe a set of products can go so far!
Suddenly, I started to feel less afraid of what I was going to see in the mirror, because, now, the person staring at me from the other side didn't look so worn out anymore. No more dullness, less visible wrinkles, no more dark circles under the eyes. Instead, what met me in the mirror was a face that looked as fresh and as radiant as it had been let's-not-even-mention-how-many years ago.
And isn't that what we are all looking for? Not just to stop the time, but to have a break! A break from a single worry would suffice at this point, and this line of products will give you just that – a small break from worrying about time and aging, at least for a while.