Truffoire Black Truffle Collection Review
|
With the sunny summer just around the corner, it's time to take out those swimsuits and restock on those sunscreens. After all, you wouldn't want anything to come in between you and that inviting beach! But the summer months also renew our skin care concerns, and make us look at anti-aging solutions with renewed vigor. Our search for the hottest and latest anti-aging products took us to Truffoire, a promising new brand that lets customers indulge in the delicious wonders of truffle-based skin care products. The use of truffles in skin care products isn't something entirely new, but it is something that is believed to offer an array of benefits to the skin. So, the main question is whether Truffoire products are really worth their price tag? Can they offer anti-aging benefits, or is it just another overhyped brand?
Up Close with Truffoire 
Truffoire specializes in offering anti-aging serums, moisturizers, masks, deep peels, night creams and eye care products which can smooth out your wrinkles and also work towards eliminating fine lines. The brand assures its customers that they can deal with aging skin by following a regular Truffoire regimen because of the use of highly beneficial skin ingredients. These products are believed to target lines and wrinkles and are expected to promote a flawless and younger looking skin.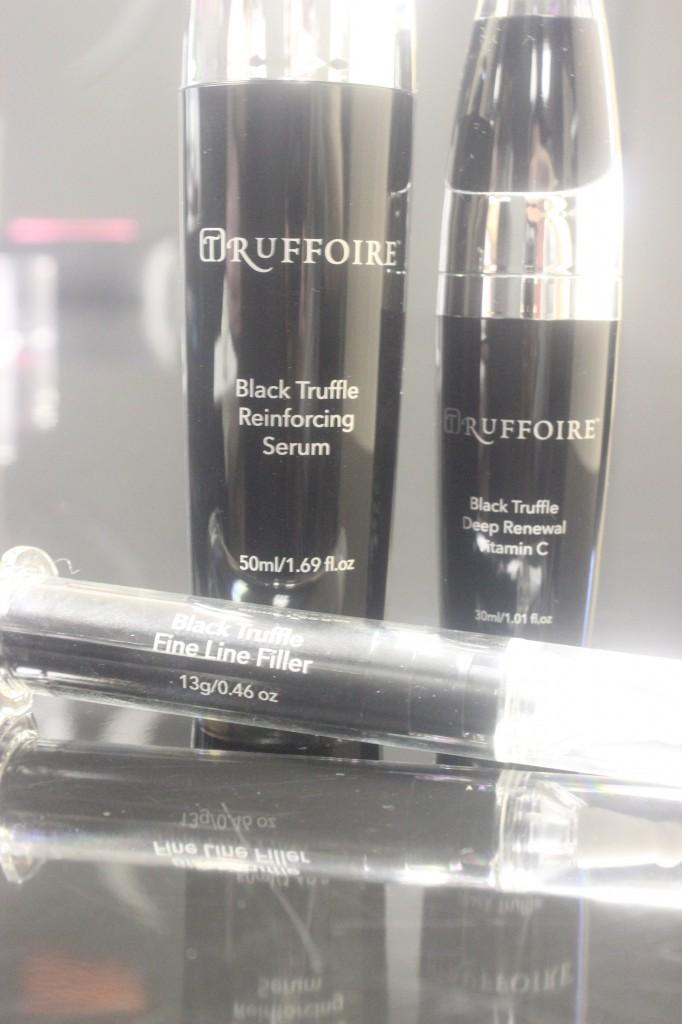 Putting Claims to Test
To give you the lowdown on Truffoire, we decided to review a few common products and examine their claims. The first product that we managed to get our hands on is the Truffoire Black Truffle Reinforcing Serum. The brand says that this serum needs to be added into your everyday skin care regimen for a revived and youthful appearance. After applying the serum on freshly cleansed skin, one could instantly see the difference. Apart from the truffle extracts, what makes this product special is the use of ingredients such as palmitoyl tetrapeptide-7, collagen and green tea extracts. They all work well with each other, so this product should look fabulous on the whole.
The next product that we were introduced to was the Black Truffle Deep Renewal Vitamin C. The first thing that made this product stand out was the jar. The serum also had fancy packaging, but we just fell in love with the shape. It came across as very chic and handy. Truffoire says that the product has been formulated using hydrating ingredients. No arguments there. It also says that the product can diminish your lines and wrinkles, if you use it every night. We think it's too early for our authors to comment on its anti-aging benefits, but we can certainly say that this is one of the most hydrating night creams that we have come across. It is rich and heavy, but still manages to keep you grease-free. The smell is fantastic and the product literally glides across your skin. In other words, really excited to see the long term benefits of this product.
Finally, the third product that popped out of our Truffoire bag was the Black Truffle Fine Line Filler. It was actually quite sad, as we hoped to see something from their White Truffle Collection as well, but hey, there's always a next time. And considering that the Fine Line Filler is one of their more exclusive products, there was nothing to complain about. The line filler is something that impresses to no limits. This innovative product is the ultimate solution for tyrannophobics (yours truly included). It lets us believe that we're getting the benefits of one of those invasive therapies without having to actually go through one. To use, apply the filler directly onto your deep wrinkles. We cannot comment on the anti-aging benefits until our authors use it for a few more weeks, so we promise to come back with more on that. What we can say is that if you're in your mid-thirties and you'll be glad to have something to fall back on when it comes to wrinkles.
We've Worked It Out for You
To sum up the Truffoire brand, we decided to rate the brand on five important factors. Our authors still to offer a rating in terms of anti-aging effectiveness, but we promise to come back with that in a few weeks.
Ingredient Quality – 9/10
Potency – 8/10
Manufacturing Protocols – 9/10
Value for Money – 8/10
Presentation – 10/10