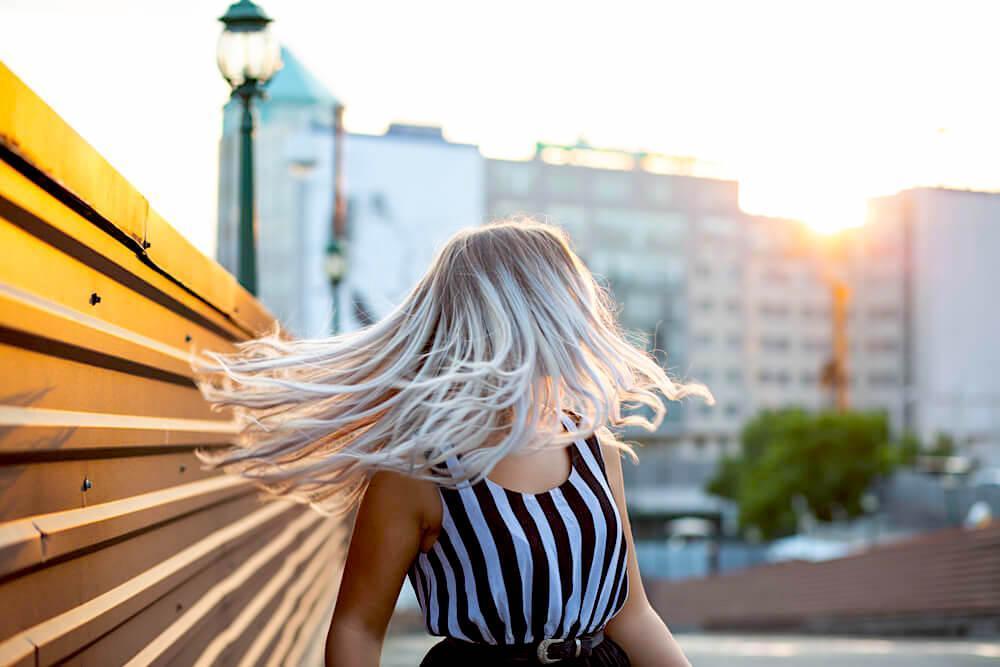 Summer is around the corner, and we're starting to feel the heat. While some are planning their trips to beaches or traveling to some tourist spots, others want to feel comfortable at the security of their home. Summer is usually the time to relax and have some fun. It's the perfect time to try something new!
Are you looking for creative hairstyles to beat the heat?
Have no fear, here are summer hairstyles to help you look stylish and feel comfortable throughout the summer. Some of these are probably new to you while the others are trends you may want to revisit.
Let these looks make you feel more relaxed and confident despite the summer heat:
Beach Waves
https://www.instagram.com/p/ByKkKf7Amwh/
Starting this list is the classic beach waves. This is known to be the most common summer hairdo whether you're near any water or not. The beach waves hairstyle goes well with any weather condition.
Styling tip: Styling it is easy, especially with all those tutorials available online. One notable way to get it done fast is with the use of a flat iron. In just five minutes, you can curl your hair into this style.
Loose Waves
https://www.instagram.com/p/Bqv4_3JFyZr/
Looking for a hairstyle like the beachy waves but want it to look a bit more elegant? Well, you can try the loose waves if this is the case. This hairstyle is perfect for your nights out this summer.
Styling tips: In achieving this look, all you need to do is blow dry your hair and separate it into several sections. With the use of a wand, curl these strands lightly away from your face. To maintain this style throughout your day, apply a bit of shine mist, and use some hairspray.
Sleek Strands
https://www.instagram.com/p/BflqwYygfKM/
If you're a fan of keeping your hair straight, you can try the simple sleek strands. This hairstyle is a classic straightened look which can be achieved by just using a flat iron. The sleek strands can be your easiest option, especially if you are always on the go. It is pretty much a hard one to mess up.
Loose Low Ponytail
https://www.instagram.com/p/Bsua6qyA-4W/?utm_source=ig_web_button_share_sheet
Maybe you're not a fan of having too much hair covering your back. Especially with the heat and humidity, this can get very uncomfortable. If this is how you feel, maybe you can try out the loose low ponytail.
Styling tips: All you need to do is gather your hair to one side and secure it towards the end of the tail.
Ponytail
https://www.instagram.com/p/Bsua6qyA-4W/?utm_source=ig_web_button_share_sheet
The ponytail has been the ultimate hairstyle for any hair type under the scorching heat. This takes little to no effort in achieving. All you need is to secure your hair at the back. It can also serve as your back-up hairstyle should you mess up your first hairstyle of the day.
High Ponytail
https://www.instagram.com/p/ByKMGGfgyxX/
If you're want to level up your ponytail style, you can try doing the high ponytail. By raising your ponytail higher, you're bound to draw more attention and look more elegant. This style gets rid of the messy notions about having a ponytail.
Parted Ponytail
https://www.instagram.com/p/ByKjfrCCenO/
If you're planning to upgrade your ponytail hairstyle even further, you can try out the parted ponytail. This hairstyle is perfect for the raving summer parties. Not only does this style look sleek, but it also makes you feel comfortable and elegant throughout the summer.
Styling tips: In achieving this look, all you need is to apply a bit of oil onto your strands. Then, blow-dry your hair straight. Afterward, use a bit more oil, part your hair in the middle, then tie it down into a ponytail.
Rope Braid Ponytail
https://www.instagram.com/p/BfGy1Wij00u/
Having a rope braid ponytail is probably the most you can do to style up your ponytail. This look goes well with anything from streetwear to a summer night party. All you need to do is braid up your ponytail and secure it.
Scrunchie Ponytail
https://www.instagram.com/p/Bw2s9pyg0oc/
This '90s trend is sure to make a comeback this summer. It is a simple style that needs less than 10 seconds to achieve. All you need to do is gather some hair and tie it up with the scrunchie of your choice. This style is the perfect go-to if you just want to hang out at your house but still look good.
Fishtail Braid
https://www.instagram.com/p/BwsAfcSB9jk/
A fishtail braid can make you look like a mermaid sometimes. This is a classic and customizable braid that most girls still prefer to wear, especially during summer vacations. It comes in so many variations such as the double fishtail braid, the French fishtail braid, and so many more.
Dutch Braid
https://www.instagram.com/p/ByKlacniKtD/
The Dutch braid adds volume to your look. This is another simple braid style you can try if you want a neat hair this summer.
Double Dutch Braid
https://www.instagram.com/p/ByKlHi1ptEZ/
If you think one Dutch braid is not enough for you, try having two! The double Dutch braid is a hairstyle worn by girls who want to look cool and loves to rock. It can be worn anywhere from parties, to concerts, gym, and even at school.
Top Knot Bun
https://www.instagram.com/p/ByJxls5lW5N/
Having long hair can feel heavy sometimes. It can also get uncomfortable by having it dangling from side-to-side under the scorching heat. If these are some of the things you're experiencing right now, then maybe it is time for you to try out the top knot bun. This hairstyle is simple and quick to do.
Styling tips: To achieve this look, all you need is some bobby pins and a hair tie. Pull your hair up in a bun and use the tie and bobby pins to hold your hair in a top knot.
Messy Bun
https://www.instagram.com/p/ByKmCFXAN7U/
The messy bun is an effortlessly chic look. If you're always on the go, then this is an easy style you can consider. Also, the messy bun is worn almost everywhere from parties to schools, for work, or even when you are only staying at home.
Styling tips: After blow-drying your hair, part your hair down the middle. Then, pull it back into a low ponytail using an elastic. Afterward, twist your ponytail around the elastic to form it into a bun. Lastly, secure it into place with the use of a bobby pin.
Low Bun
https://www.instagram.com/p/Bx43kYyCmFa/
If a ball of hair above your head bothers you, then maybe you should try the low bun. It is super easy to do like any other bun as well. The only difference is it acts as a ball of hair in the form of a ponytail.
Edgy
https://www.instagram.com/p/Bvt-8-Sh6dR/
Not all of us have long hair. But for those of us who do, maybe you can try considering cutting it short. For some, this style can make you look sexier. This edgy style is also guaranteed to help you stay cool and fresh all summer long.
Styling tips: Just blow dry your hair and add a bit of texture spray. To finish it off tousle it with your fingers.
Choppy Pixie
https://www.instagram.com/p/Bsvs0Rlnkvj/
This is another hairstyle you can try if you're getting tired of your long hair. This choppy pixie cut is a cool way to beat the heat. You can add some texture to its layers without the fear of it getting frizzy over the humidity of summer.
Exposed Bobby Pins
https://www.instagram.com/p/BxAUUq9h25v/
This is a timeless hair accessory which not only secures your hair into place but can serve as an aesthetic. The bobby pins can be the main focus of your hairstyle.
Styling tips: Try using big bobby pins to add more volume to your hair. Use some to secure your hair into place while you can use the others to create a cute pattern in front.
Headband
https://www.instagram.com/p/Bws_ze4pG-m/
If you don't plan on doing much to your hair, the simple headband can help. Having this headband can help free you from your uncomfortable bangs as well as keep you cool from the heat. Pick up your favorite headband and keep yourself comfortable this summer. This style can be used in the comforts of your home or when you decide you want to have a little walk outside.
Hats and Pigtails
https://www.instagram.com/p/BhvT65RhkOt/
Another alternative for you to try out without having to do much with your hair is a pigtail with a hat. Pigtails are one of the few hairstyles that go well with a hat.
Styling tips: One style you can go for is from the middle, divide your hair into half. Then bring those strands in front of your shoulders —  afterward, space down tiny elastic bands down the tail into equal spaces. You can then tug the hair in each section for added volume and a bubble effect.
Bandana Bun
https://www.instagram.com/p/BqiAQ3rBvwd/
Don't have any scrunchies, headbands, or bobby pins around? A bandanna or handkerchief can also be used to tie up your hair. This way, you save yourself from the heat but also look sexy while you're at it. This is an attractive look for most guys and a practical solution when you don't have much to secure your hair with.
Wet Look
https://www.instagram.com/p/ByF4sz1pqbC/
This look is perfect for giving the summer vibe. This hairstyle makes it look like you've just got out of the swimming pool or beach. All you need to achieve this look is a high-gloss pomade.
Summer Hair Care Tips
Having the right hairstyle for summer may not be enough. Not only can the hot weather and dry humidity damage your hair, but you can also do so by styling it. Here are some tips to help you avoid damaging your hair all summer long.
Avoid exposing your hair to too much heat. This can be the heat you directly receive from the sun when you go out or from the blow dryers or flat irons you use to style your hair. Instead, when you go out, try wearing a hat or use an umbrella. If you don't think this is enough, you can also try purchasing a conditioner containing SPF protection. Keep your hair styling tools to a low heat setting. Let your hair dry naturally instead of using a hairdryer.
Tight hairstyles can damage your hair because of the pulling and tearing of the hair. This becomes more frequent given the hot weather. Thus, it is important to keep your hair in loose hairstyles. Tight hats and ponytails should also be avoided. These can result in a condition which can cause hair loss called "traction alopecia."
Don't Over-Wash your Hair

Frequently washing your hair removes the natural oil which protects your scalp. Make sure to avoid this by washing only two to three times a week. Also, try always to use conditioner on your hair.
Protect your Hair from Chlorine

Most swimming pools are cleaned using chlorine. When you use pools, you risk exposing your hair to such chemicals which can ultimately damage your scalp. To avoid this from happening, make sure you saturate your dry hair. Your hair often acts like a sponge, and in this way, it will absorb less water containing chlorine. You can also try applying a mild conditioner or using a swimming cap.
Avoid Too Much Hair Treatments or Products

Hair products such as hair gel, wax, hair spray, and many more can damage your scalp. Try preventing yourself from using these products too much and too often. Also, hair treatments like coloring your hair or straitening it should be kept to a minimum. You wouldn't want too many chemicals on your hair and repeatedly having it treated can damage your hair significantly.
Freshen yourself by getting a trim. This way, you can keep your hair neat and well-kept. Get rid of those split ends and get a haircut every four to six weeks.
Healthy is often related to any part of your body. Make sure to keep healthy by exercising, having a balanced diet, and getting enough sleep. These factors often reflect your hair health. Also, don't forget to stay hydrated and drink two to three liters of water a day.
With all these ideas you must be excited about your new look. As you try new styles, always make sure to take care of your hair. The heat and dry humidity can be very damaging. Always watch out and be prepared. Did your favorite hairstyle make it to our list?