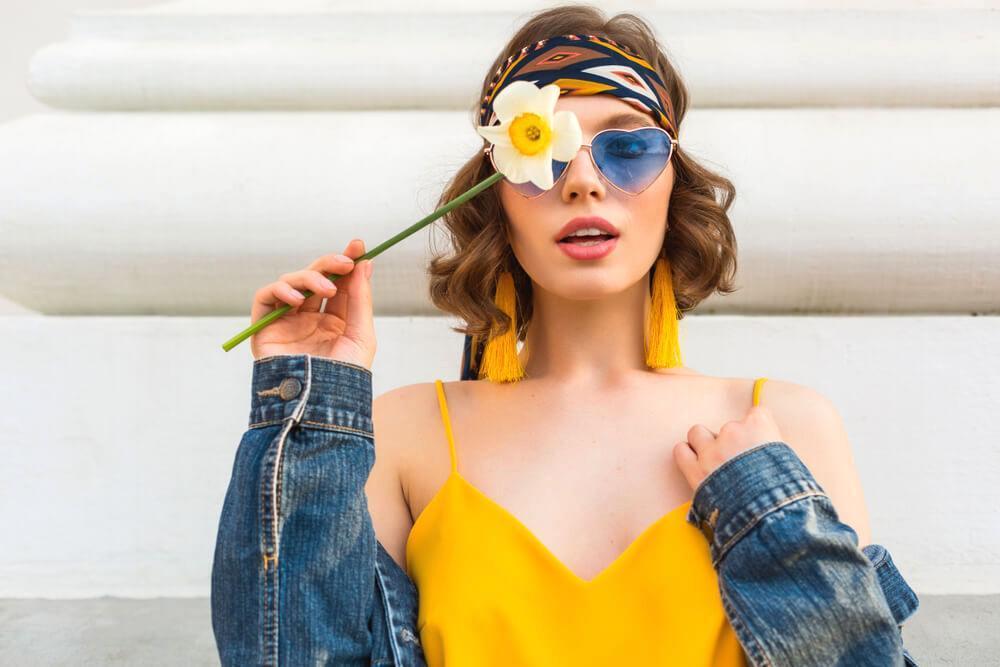 Summer is here, and now it is time to set aside those cute sweaters for a bit and start pulling over those flowing summer clothes. Now that it has become too hot for long sleeves, you can begin to rocking instead loosely held outfits and flaunt your skin for a little while. Perhaps it would be a great help to look into a couple of summer fashion styles that you should try this year.
High Waist Bikinis
https://www.instagram.com/p/BzK-0yNn60H/
Are you still deciding if you will pull off a one-piece or two-piece? Fret not! High waist bikinis give you the best of both worlds. Whether at the beach or in the poolside, these bikinis provide a little bit of a retro vibe whenever you rock it this summer. It is also a little bit sporty and comfortable to wear, so there is an assurance of comfort.
For most women, it is also waist-enhancing, thereby making your already beautiful body shape even more attractive. The high waist bikini is just the proper mix of sexy, playful, and modern, but also offering the right amount of coverage. It comes in various designs from halter tops to plain colors, polka dots, fruit patterns, and other vibrant prints.
Matching Sets
https://www.instagram.com/p/BzKuJJJgLwT/
Coordinated pieces always make it among the best fashion styles to try during summer. Combine your crop tops with wide legged pants, flowing skirts, short skirts, or cute shorts, and you will never go wrong.
Whether it be in plain colors, florals, stripes, or checkered, these matching pieces are the best ingredients of a lovely summer look. These matching sets also make dressing up way more comfortable. Once you have picked your matching top and bottom, all you have to think about are your shoes and bag. Now, you're good to go!
Hippie Clothes
https://www.instagram.com/p/BzDndvhFjOv/
These vintage outfits which date back to the '60s and '70s have made their way to this generation's summer fashion, and they were especially famous in summer music festivals.
Probably the best thing about the hippie style is it is very comfortable and straightforward, yet it overflows with that bohemian flair and positive vibe. You can easily pick from a wide range of pieces, including sexy crop tops, cut-offs, ripped jeans, lace shorts, rompers, cute scarves, and a lot more.
You can also add boho accessories like flower crowns, colorful bracelets, beaded necklaces, rounded sunglasses, and the likes. Are you feeling hippie yet?
Crocheted Clothes
https://www.instagram.com/p/BzLDtMTJJZ7/
Outfits joining the ranks of linen and cotton, crochet clothing is now one of the favorite summer-friendly fabrics in town. It comes in various forms such as a sleeveless blouse, off-shoulder top, crop top, halter top, casual dress, cool romper, cute bralette, mini shorts, and many other kinds. Also, it could go with other apparel like sneakers, block heels, or strappy sandals.
Finish off the look with a straw hat and a summer bag probably made of rattan. These crocheted clothes allow you to exude that chic vibe in you during this scorching heat of the summer sun.
Off-Shoulder Dresses
https://www.instagram.com/p/BzK2PDQpMde/
Off-shoulders are always a thing for summer, regardless of skin color and body type. Why? It is because it just fits perfectly as it accentuates your shoulders and collar bones. The clavicle-baring look is here to stay. It gives just the right amount of sexiness and allows you to flaunt your upper body effortlessly.
Off-shoulders are also very comfortable and cool to wear as they come in various styles. You can have it as an off-shoulder crop top, blouse, dress, or romper. So grab that off-shoulder that fits you the way you are and off you go for a perfect summer OOTD!
Midi Dresses
https://www.instagram.com/p/BzLpvFmi_ZO/
These dresses come with their hem ending halfway between the ankle and the knee. They are very stylish and vibrant for summer, especially with their light fabric and cool colors.
Midi dresses have a bit of a flirty vibe, and you can show off more skin as you wish. They often come in a spaghetti strap, off-shoulder, or without a sleeve at all. You can comfortably wear them to the beach or in the restaurants near the shore. It fits you perfectly wherever you go. To finish up the look, put your hair in a bun, perhaps with a scarf, slip on your summer sandals, bring your handbag, and of course, never forget your favorite sunglasses!
Bike Shorts and Blazers
https://www.instagram.com/p/ByW8mUjIRc0/
It is a summer fashion style that no one would have possibly expected, but it was a big hit. Together with the cycling shorts, rock an oversized shirt, structured blazer, or a loose long sleeve and finish it with platform shoes.
This outfit is filled with an athletic promise, making you cool and on-the-go in this overly hot weather. It is so simple yet surprisingly versatile, making you look both fresh and elegant. It is also a sleek alternative to long dresses if you ever want to feel a bit more sporty but still very fashionable.
Floral Patterns
https://www.instagram.com/p/BzLqEb2CvvK/
Lovely flowers will probably never leave the list of summer fashion trends year in year out. Wondering why? It is because they help you nail that stylish and dainty look for your every summer OOTD.
The beautiful thing about it, aside from its already refreshing look, is that it can go with any other clothing that already exists in your wardrobe. You can match it with a denim jacket, pastel shorts, high waist pants, wide-legged bottoms, or anything. It just effortlessly, yet flawlessly, matches with everything and there is no such thing as too much flowery in here.
Tie Dyes
https://www.instagram.com/p/BzGsFX4l6NH/
The tie-dye might have been a dead fashion style before, but now, it is one of the fastest growing fashion search keywords of the year. It is also the 9th hottest women's product.
Tie-Dye is back. This pattern is usually in loose t-shirts, but it has also made its way to denim, puffer jackets, wool jumpers, mini-dresses, A-line skirts, and many other fabrics. It is a very contemporary spin on the '70s popular trend with more sophisticated color combinations and fabulous shapes of various sizes. It is laid back, yet very colorful and fun vibe, definitely makes it a must-try for your summer wardrobe.
Animal Prints
https://www.instagram.com/p/BzLvkleg_Sr/
Prints such as leopard, snake, and zebra are all making a buzz as one of the most fabulous fashion styles in summer. Set to bring a wild side to your vacation look, feel free to rock those animal-inspired fashion pieces. You can flaunt that look from head-to-toe, in discreet touches, or even in your summer accessories.
No need to worry because animal prints suit every skin type, and it presents you with a unique character. Prepare to channel your inner spirit animal with that chic and feminine vibe but with an untamed roar. Are you ready?
Neon Prints
https://www.instagram.com/p/BzDSnrjlha4/
Now, neon style is not for the fainthearted because it takes a lot of confidence to be able to pull it off. These fluorescent shades are not entirely new. They have hit the summer fashion trends in the previous years, and now they are here to stay. They come in lime green, blinding yellow, extra hot pink, flame orange, and many other ones.
Neons give off a lot of fun vibes, which is perfect for sunny weather. They are so stylish and creative, making your summer a whole lot colorful and alive. These attention-grabbing pieces are one for the books.
Rainbow Stripes
https://www.instagram.com/p/By3VUQgH8qV/
Especially with the advent of pride month, rainbow stripes summer outfits are one of the must-try summer styles. While most of the summer fashion has been a play of colors such as neon and pastel, rainbow stripes have pushed for the collection of all that ROYGBIV strokes.
Rainbow-striped swimsuits are now a good summer pick. It will surely give this season a splash. It would be best to pair your rainbow outfit with another piece that is rather plain to make the colors stand out. However, it turns out; there is no wrong way of using rainbow stripes. It all depends on what makes you happy and confident in your skin.
Belt Bags
https://www.instagram.com/p/ByrGImcAsCL/
These little belt bags did not receive much accord when it was first introduced in the summer fashion runway because it dates back to the '80s trend of fanny packs. However, do not be too quick to judge.
The new belt bag now comes in more wearable styles, and it can now easily jive with your chic outfit. Just strap it around your waist in a secure manner, and it will surely add detail to your overall look. Also, you now have an alternative to shoulder and sling bags. In that tiny belt bag, you can put your daily essentials but still, look as fashionable as ever. How amazing!
Bucket Hats
https://www.instagram.com/p/BzGUIdHCgPQ/
Surprise, bucket hats are no longer just for skater boys or golf-loving dads. They have also made their way to the latest summer runways and are now being used by a lot of women around the world in summer.
Whether you choose the psychedelic, neon, patterned, or plain bucket hat, you will surely be able to rock that classic retro vibe. It comes in various colors and styles which you can easily modify depending on your overall looks. The hats look great on cotton shirts, denim jeans, plain-colored shorts, or even with high waist pants. Finally, it is time for bucket hats to be in the spotlight.
Oversized Straw Hats
https://www.instagram.com/p/BzJxeyNg1NI/
More common than bucket hats, straw hats are here to complete your summer look. It caps off your OOTD and gives it the summer vibe like never before. While it comes in various colors, the usual one is beige, and it matches perfectly with whatever outfit you choose for the day.
Oversized straw hats also come in different designs, some with ribbons or flowers attached to it, thereby giving off that soft feel. Most importantly, being oversized, it is guaranteed to provide shade because of its umbrella shape, saving your face from the intense heat of the sun. How useful!
The Sarong
https://www.instagram.com/p/BzLebbkBwFH/
Here is also another summer piece that is making a comeback. The sarong is also poised to break this summer and make every fashion-girl head over heels this summer style.
Commonly, people wear sarongs over a one-piece or two-piece swimsuit, but you can also wear it the French-girl style. Wear your sarong with a t-shirt, bucket bag, and cat-eye sunglasses, and you are ready to go.
There are also various ways of folding it so you will never run out of a summer look even with just a few pieces of the sarong. It comes in multiple patterns and prints, but you can always opt for the monochrome if it pleases your skin color. It is also very airy and, so it is sure to make your summer venture to the beach light and breezy.
Summer Sandals
https://www.instagram.com/p/BzLsIR1nF1x/
What an excellent way to spend your summer vacation than feeling free to break out your open-toe shoes and let your bare feet breathe fresh air? It is what you will experience if you try the hottest summer sandals of the season.
They come in various forms such as minimalist, animal print, bright-colored, woven, and many others. Using these summer sandals is a great way to finish your overall look. It keeps you very calm and on-the-go. It is also effortless to use and bring wherever you go. You do not need to worry about it getting wet from the beach. What a relief!
Summer is a season that we all love. As much as we can, we want to make it exciting and memorable, and whether you like it or not, your outfits have something to do with that. They influence your comfort and confidence throughout the day.
These summer fashion styles give you a range of options to choose from to complete your summer OOTD. You do not need to worry because inevitably, you will find one that suits your body type, skin color, and personality – whatever makes you happy. These summer fashion styles are worth the try.