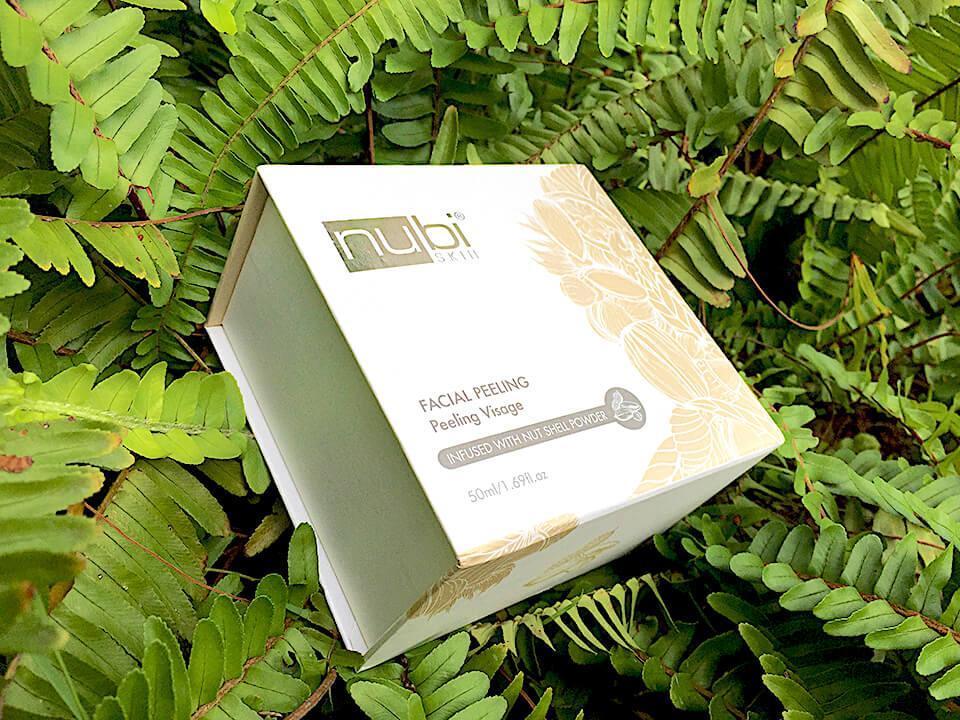 Exfoliation – Barbaric ritual or healthy habit? Here is the story of how one woman found the perfect balance in the Nubi Facial Peeling.
When it comes to exfoliation, I am of two minds. The devil-may-care part of me says, "Exfoliation is the most obvious solutions for skin issues. If you don't like how the top layer of your skin looks, simply scrub it off! There's another layer under there and it looks a lot better. Besides all the cool kids are doing it" Then there's the other, less free-wheeling part of me saying,"What are you crazy? Scrubbing off your skin? Women have spent years overcoming stereotypes about beauty obsessions! You're taking us back to the dark ages? How about rubbing on a little arsenic while you're at it?"
However, I oversimplify. Exfoliation is not simply the scrubbing off of the top layer of skin; it is more accurately the scrubbing off of dead skin cells from the top layer of skin to encourage the growth of new cells underneath. Sounds a lot healthier when put that way.
As it seems with most things in life, this issue has gone from one extreme to another. In the more extreme category is the chemical peel, and compared with this, exfoliation seems like child's play. Surely, any procedure that involves blistering the skin with chemicals in order to peel off the top layer makes exfoliation seem like small potatoes. What was all the fuss in a little harmless skin peeling? The key seems to be in moderation. The consensus was that exfoliation was fine, it just needed to be kept down to a two to three day a week application, giving the skin enough time to recover between processes. That way, we could all enjoy a little healthy dose exfoliation without the nasty side effects.
Yet, there were still the exfoliation extremists; convinced that there could never be too much of a good thing. There were some who claimed to be able to exfoliate every day without a consequence, with brilliant skin to back it up. In fact, Beyonce's stylist claimed that she exfoliated every day. Mike drop? For most of us, Beyonce's face was all the reason we needed to justify daily exfoliation. Plus, the Koreans swore by exfoliation as a crucial part of the 10-step, and 700 billion or so years of experience can't be wrong. Who were the brain police on exfoliation?
Let's Talk About Me
Let's talk about me for a moment. I am just about the age where I am willing to do about anything to reverse the aging process on my skin, although the chemical peel does sound a bit scary. Have I mentioned my tolerance for pain is very low? Plus I think I've watched a few too many horror movies and reality shows on botched plastic surgeries to resort to that. However, I am willing to try a few of the skin treatments that come with cautionary tales, as long as there are enough success stories and scientific proof to make them seem credible. So, when it came to exfoliation, I was game – maybe a little too game.
If you've ever exfoliated, you know it is one of the most instantaneously gratifying parts of the skincare routine, and instant gratification can be a dangerous thing. Anyone who has eaten a chocolate cake one too many times can tell you that. After my first time exfoliating, my skin not only looked more alive, it felt more alive. I could actually feel it sloughing off the dead skin cells, and see the newer, younger looking skin emerging. If only I could do this every day! How could anything that felt this good be so bad, and if it was bad, then I didn't want to know what good was. And then the dark shadows started to appear, or should I say, the red patches.
After exfoliating every day, I noticed them on my skin, the red patches, and this was no rosy hue. They were circular patches that had a defined shape to them, nothing attractive about these at all. They were especially noticeable on my forehead, plus did I mention the peeling skin on my nose? The party was over.
That's when I thought I needed to get smart about this. So I did a little research. Have you ever heard that ignorance was bliss? I found out so many scary things about certain exfoliating scrubs that I was about to abandon all hope and stick with the basic CTM. You've heard the expression there are many ways to skin a cat, well I found out that there were just as many ways to scrub your skin, and it was really important to choose the right one. Apparently, it all came down to the beads, or the particles that did the scrubbing in the scrub.
The Rub on The Scrub
In the beginning there were microbeads, and microbeads were ok for your skin, but not okay for the environment, so they got banned, which caused beauty companies to look for more natural alternatives. Then there were products like walnut shells that were totally biodegradable and great for the environment, only they caused microtears in your skin with their jagged surfaces, which didn't seem so great for anyone. Suddenly the idea of chemical peels did not seem all that unappealing (pun intended.)
So now I knew the problem, I just had to find the solution. Ok, so walnut shells; bad, but, what was good? Well, as it turns out, the nut idea was pretty well thought out it, was the shell in which the problem lay. Nuts have always been known for their skin enhancing properties. Their abrasiveness makes them highly effective in dealing even with the thickest skin. However, the large particle size is not often recommended for the delicate facial area. Nonetheless, when crushed to a powder, they retain the extreme hardness of the shell, while acting as a soft abrasive in an exfoliant, which is ideal for use in a natural exfoliant where refining was needed. I had my answer in a nutshell.
Now I just had to find the right product.
My Nutty Adventures
As soon as I realized I was dealing with nuts, my mind immediately went to the Nubi product line, for two reasons. One, because Nubi was my go-to for all my natural beauty products. All of the purchases I had made from Nubi were filled with botanicals and natural ingredients which worked well on my skin and hair, so it was a no-brainer that Nubi would be in the know when it came to nuts. The second thing was the smell. No other product line smells more like the beach than Nubi. Everything that comes out of their jars and bottles is filled with the warm, nutty, tropical scent that makes you want to cover yourself in the product no matter what part of the body it's intended for. So maybe it was a scent association as well.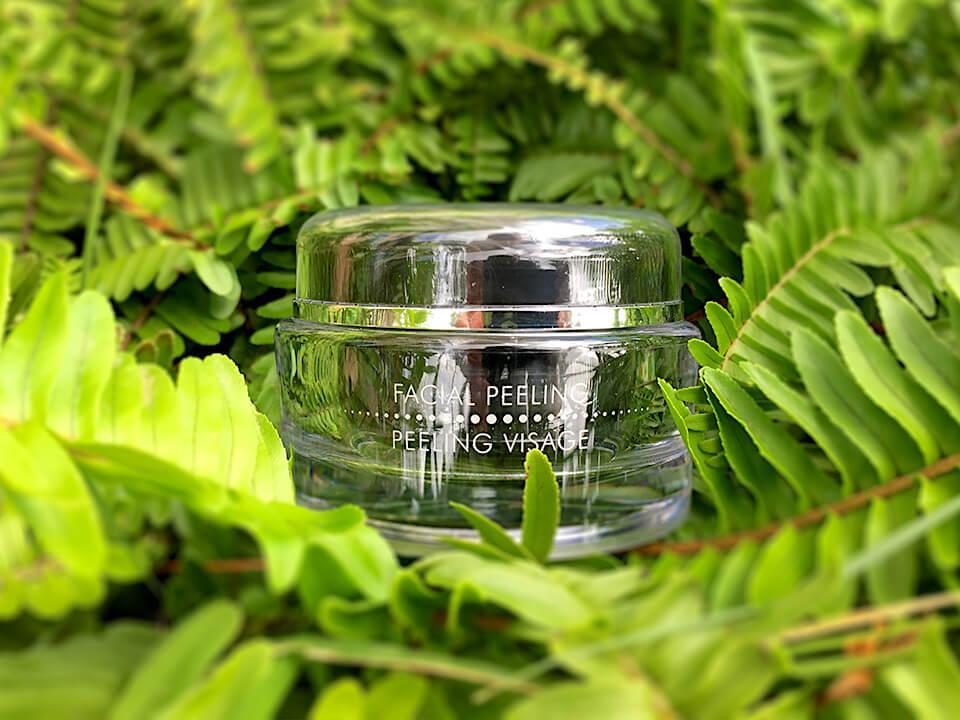 I guess the nose knows because Nubi ended up offering the perfect solution to my exfoliation dilemma. The Nubi Facial Peeling was not only made up of muti-active botanicals, it was infused with nut powder! How could I go wrong? My favorite brand, and a nut-based bead! Let the party continue.
One of the things I love about Nubi is its earthiness. Not only do its ingredients come from the earth, there is an earthy element to every part of the Nubi experience, and that goes into everything from the way it packages its products to the way it does business.
The Nubi Facial Peeling arrived in an expectedly elegant, yet noticeably recyclable box, and the product itself came in a sleek looking modern jar that would get preference of place on any vanity table, plus it was sealed with a safety seal that George "The Animal" Steele may have been hard-pressed to open.
Nonetheless, I prevailed. I noticed the consistency of the product, most noticeably that the powder, which showed up like mesmerizing flecks of gold in the clear exfoliant. I saw that the particles were visible in the product, retaining their nutlike abrasive properties while blending in to the soft lotion. The smell was intoxicating.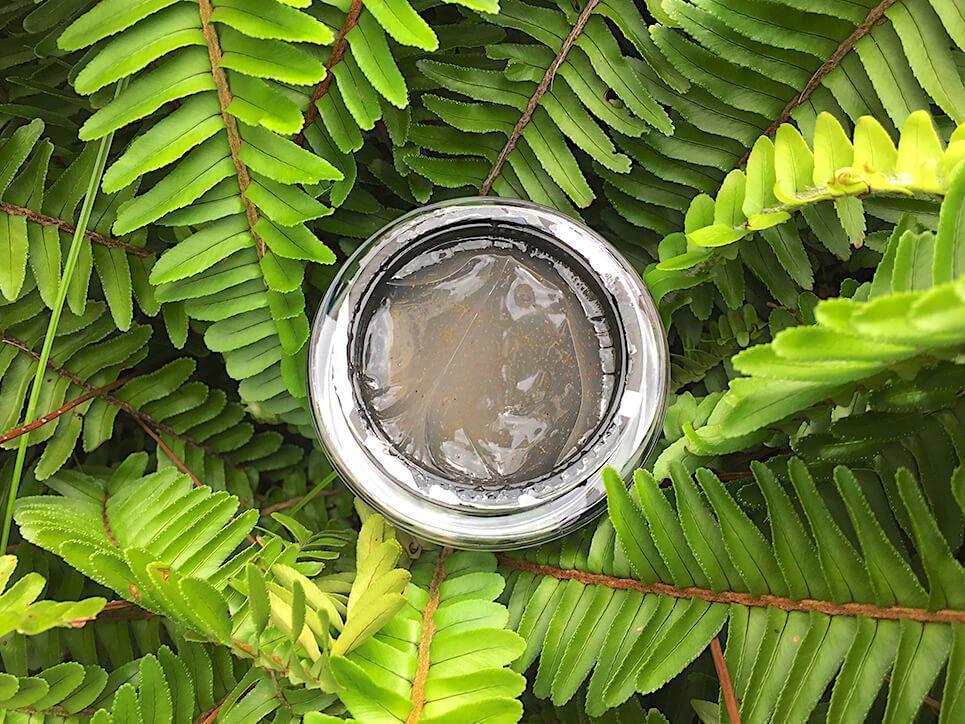 I gently massaged the product into my face using circular motions for 20 or 30 seconds, feeling its invigorating grittiness as it sloughed off the dead skin cells and then rinsed in cool water. Immediately I recognized the familiarly satisfying feeling of a good exfoliating experience. When I looked in the mirror, I was greeted by a smoother, more radiant complexion, without excess oil, and no irritation. I was a believer.
Nut Powder Power
Now that I've officially gone nuts, what can I tell you about exfoliation? First of all, it is definitely not a barbaric ritual as long, as your not using barbed wire as your exfoliant. An exaggeration, maybe, but seriously, there are some really jagged exfoliants out there, so beware of sharp edges. Nuts are not only an ideal natural abrasive, they also have a host of other skin healing properties, so you really can't go wrong with nut powder.
Another thing, everything should be done in moderation. Maybe Beyonce can take exfoliation every day, but c'mon she's Beyonce. She woke up that way. However, I can say that Nubi Facial Peel was extremely gentle on my skin. It's full of botanicals. I use it every other day, and I have yet to see a rash, flake, or red patch, and I would highly recommend it for more sensitive skin types.
As for the perks, there are quite a few with the Nubi peeling exfoliator. Not only does the Nubi contain nut powder, it also contains sea salt which balances your skin's pH, cleanses pores deeply and wards off production of bacteria, as well as glycerin, a natural humectant that draws moisture from the air and locks it into your skin, so your skin retains hydration without overdrying. You'll also love the smell, and you'll feel like you found gold every time you see that nut powder suspended in the product.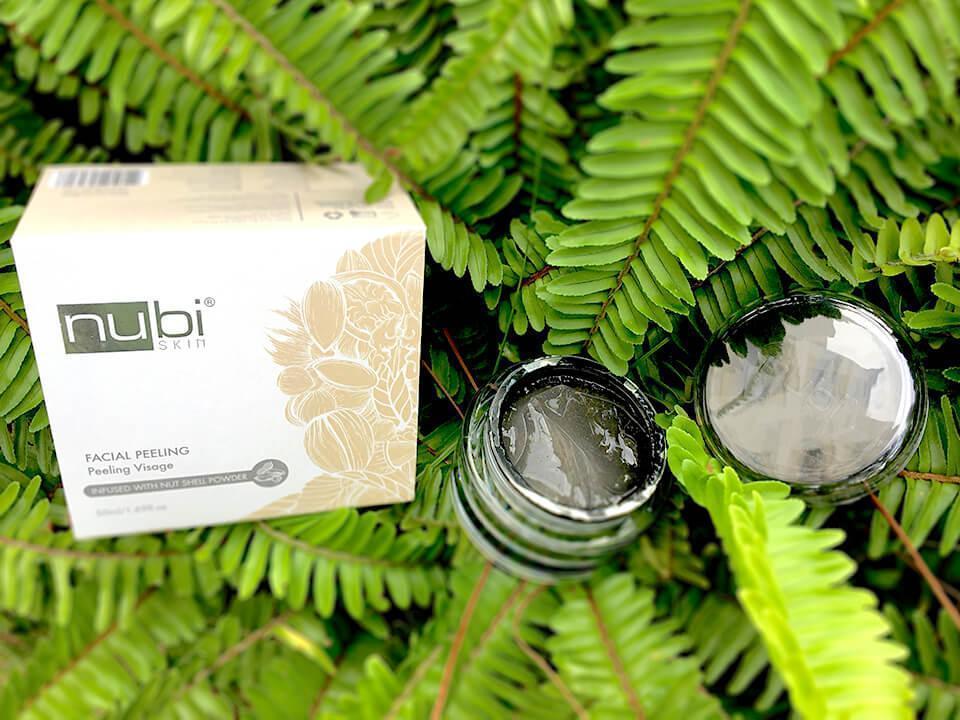 Another thing, I can truly say is that since using Nubi Exfoliating Peel my skin has never looked better. This is no fly by night, one and done kind of thing. Nubi's in it for the long haul. Sure, it's instantly gratifying, but it's also lastingly gratifying. My skin looks fresher, younger, cleaner, and more radiant, and less oily and I can say that every day I use it brings me a day closer to the luminous, healthy skin I want. In fact if you saw my before and afters, you'd not only see how much better my skin looks ( sans the red patches), but how much happier I look in the after pictures (you will be too). Try the Nubi Facial Peeling for yourself and feel the powder of the nut on your skin, and see what great things can happen when you get a little nutty.