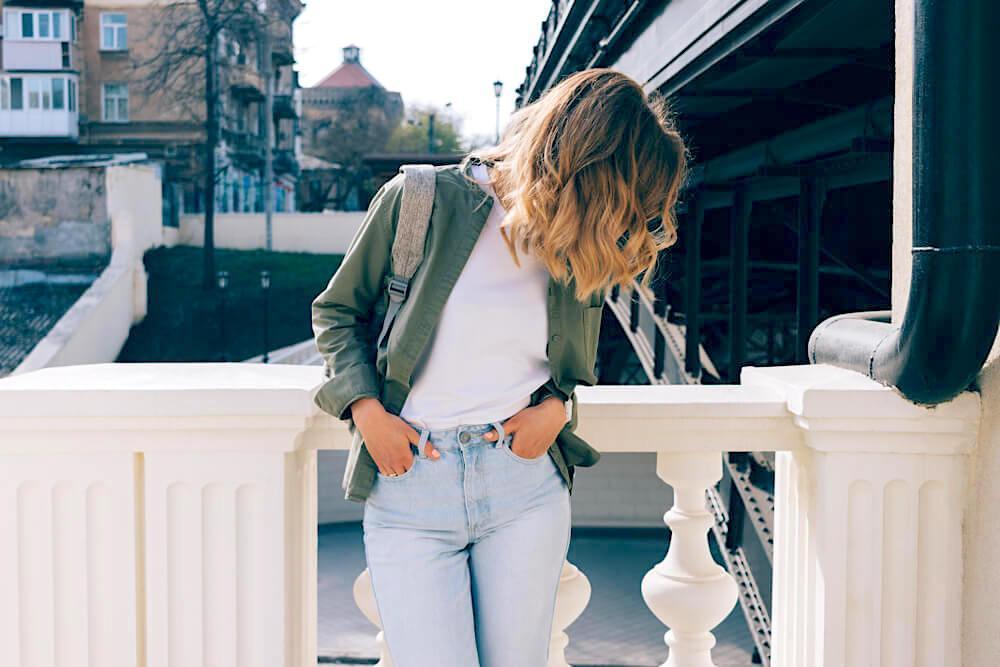 If you are confused whether you will go for a dark hair or light hair, the best thing to do is to give the ombre look a try. Ombre is a blend of lighter and darker dyes which, when done correctly, can give your hair a more natural look than other kinds of color. 
So, why should you push for an ombre hairstyle?
First, it can provide both you and your colorist the best of both worlds. Some girls often find themselves stuck in the middle whether to dye their hair blond or brunette. Ombre enables you to do both. Going with this look also allows you to easily coordinate your eye shade and skin tone with your hair. On a side note, any shade of ombre hair can be great for all seasons of the year too. 
This hairstyle is also easy to try and needs low maintenance. You do not have to regularly color and cover your roots to achieve the perfect look. These root touch-ups are not that necessary since the colors on these tips add some more accent to the style. 
To help you choose which kind of ombre look fits you, here is a list of our favorite ombre hairstyles on Instagram. Check them out, and you might find your 2009 look! 
Traditional Ombre
https://www.instagram.com/p/BkBePk0Hz2e/?utm_source=ig_share_sheet&igshid=1oshhxdb69knf
If you are looking for a more commonplace hairstyle, this is perfect for you! This look starts with a dark root hair which blends slowly into a lighter shade of the color. For example, if you have a brunette hair, to begin with, make sure to dye the lower part of your hair with either a lighter shade of brown or blonde color. It is best if the pair is within the same color spectrum. This design is also the most ideal for those who wear long hair.
The traditional ombre is probably the most natural look you can go for if you are gunning for a graceful transition from spring to summer to autumn to winter. 
Platinum Blonde With Ash Brown
https://www.instagram.com/p/BsoFbrhF4mH/?utm_source=ig_share_sheet&igshid=i5xmipymcmti
Platinum hair is becoming a hit nowadays. However, people find it difficult to go with this look since it is hard to coordinate. If you are looking for an understated approach, try starting with a dark, ash brown color at the roots and slowly transition into a bright blonde. Do this until the color reaches the platinum color at the tips. 
This look is perfect for those with short hair since the blending transition is quick. 
Unicorn Rainbow Ombre
https://www.instagram.com/p/BsqHBrGHfax/?utm_source=ig_share_sheet&igshid=rdp0xdnei5ru
Some people prefer going for a more playful yet clean look. If you are that person, you should try out the unicorn rainbow ombre. This ombre is composed of a combination of pastel colors of pink, green, blue, purple, and yellow. It is your choice which base to use. However, some individuals opt not to have one and blend the colors in approximately equal amounts. 
Since this color is far from the other traditional ombre, it will be difficult to bring off. Aside from the fact that not many colorists have mastered how to put this, some people are also not used to the loud colors brought about by the look. 
Do not be bothered by those stares because, believe it or not, you are rocking this look! 
Copper Hair With Ombre Highlights
https://www.instagram.com/p/Bmg226GALq3/
Copper ombre is a trend in the fall season! This base color is perfect to combine with ombre highlights everyone is clamoring for. The coppered roots should transition to honey blonde tips at the middle to be able to create a fantastic color transition. The highlights can range from white to blonde to ash colors—as long as it has a lighter shade than your copper base. 
This kind of hairstyle greatly fits cold weather. This way, you can add some fiery and hot ambiance to a gloomy and dull environment. 
Low-Transition Honey Blonde
https://www.instagram.com/p/BslnIqig3Sl/?utm_source=ig_share_sheet&igshid=1n0e8uo3v59qy
The low transition honey blonde is perfect for those who do not want a loud and sharp ombre look. This style starts with a dark base since the roots cover the hair past the shoulders. Once the hair has reached this spot, create a three-layer transition. One inch can be a touch of ash brown followed by a lighter shade of brown. Icy and white tips should be the third and final layer. 
Remember, however, that this is only fit for those who have their hairs reaching their waist. If you have a hair length shorter than this, it will be difficult for you to achieve this look properly. 
Frosted Ombre Look
https://www.instagram.com/p/Bsl-qkFAMwE/?utm_source=ig_share_sheet&igshid=wkerpex63g6q
The tip for this look is to choose an icy color which will suit your eyes and your skin color. The best way to start is to color your base with a dark ash brown base color. The color black can also be an option for you. 
Once you have done this, you can color the hair three inches below the root tips with your chosen color. Remember not to cover every area with this color. Do it in groups or highlights to add an edge to your look. 
This frosted look is perfect during the summer—especially when you are on your bikini on the poolside or the beach shore. 
Blue to Black With Bangs
https://www.instagram.com/p/Ba-tc1Zg-2M/?utm_source=ig_share_sheet&igshid=5x1f0s5yxgyq
The blue-to-black ombre starts with black hair color. You must apply this black base to the bangs at all times. Whether you sport a long or short hair, make sure to carefully transition with the color blue once your hair reaches the side of your lips. The maximum length you can apply this technique is once the black hair is leveled equally with your chin. 
To achieve the best possible look for this style, make sure to choose a blue gradient which will perfectly go along with your skin and eyes. You can even put some black eyeliner to give you a bit of emo or gothic look. This style is perfect on your winter escapades, night parties, and school dances. 
Ombre Top Knot
https://www.instagram.com/p/t5u0uHAMyD/?utm_source=ig_share_sheet&igshid=yn5luk5mjj12
Top knots are getting trendier and trendier by the minute. It is already stylish on its own, but when you add an ombre touch to it, you will be whom everyone will talk about for a long while. Achieve that look using these four steps:
Bend your head over and gather all the hair into a smooth ponytail.

 

Next, twist the ponytail. You can start from the base up to its end to create better output. Then, wrap your twisted pony around itself to achieve a top knot.

 

If you are content with the twisting you have done and the resulting top knot, do not forget to secure the look with bobby pins. Doing this will help you lock it in place.

 

This fourth step is optional, but it would be best if you spray a small amount of hair shine to your hairstyle. Doing this will add some addition hair appeal to it.

 
The ombre top knot is only fit for those with long hair. In addition, if you are concerned whether what kind of ombre shade to pair this with, do not be. Any type of color combination will do. 
If you are not used to your hair clumped together, you can also try to use only a portion of your hair to do the ombre top knot. You can leave some of your hair on the sides hanging to add elegance and style to your look. 
Dark to Chocolate Ombre
https://www.instagram.com/p/BsocpkkHCU4/?utm_source=ig_share_sheet&igshid=wk0dc00t3g7w
If you are wondering whether two dark colors can go together, let us tell you they can! This beachy and texture hairstyle has a dark-colored base of black or dark brown. A soft and subtle chocolate color technique comes after. It may not be the trendiest and loudest hairstyle out there, but it is worth the try! 
Some of those who use this look recommend applying a volumizing cream or mousse to your hair first so it can achieve a fuller style. From here, blow-dry your hair and turn it into thick curls. The thick curls give more accent to the look since the colors are not that loud. 
A piece of additional advice? If you have a skin tone that is medium to dark, do not hesitate into trying this. Rest assured this will perfectly go along with your skin shade. 
Vibrant Gray-Purple
https://www.instagram.com/p/BhVEb01h85W/?utm_source=ig_share_sheet&igshid=15zkp9pf3iu0k
Most people prefer a gray base instead of gray tips. The reason for this is that it is easier to bring off this look. 
To start the vibrant gray-purple look, you should choose a purple gradient, preferably a lighter shade, as your base. Afterward, begin making a smooth transition in the middle with the color gray. The tips should then be covered purely by either bright silver or white. To put more accent on your look, you can also add some streaks of this gray on the top areas of the head. 
Just a teeny bit of advice: if you are wearing short hair, it is better to cover the whole hair with the purple base and add some silver highlights throughout. Do this instead of dividing your hair with a solid base and silver tip. 
Spectrum Ombre Hairstyle
https://www.instagram.com/p/BG9xkJpiPwH/?utm_source=ig_share_sheet&igshid=h8qbzlao48p
In the spectrum ombre hairstyle, the color of the roots is auburn. It has slight touches of purple and red which melts into the caramel blonde and honey tips of your hair. If the dyes blend properly, it will most likely look like a painter has splashed a combination of different colors onto your hair. 
This hairstyle perfectly fits those with long hair since it will be able to display the color gradient brought about by the design. 
Summertime Vibes on Caramel
https://www.instagram.com/p/BIpyZKkgfwv/?utm_source=ig_share_sheet&igshid=15amjy41hxr1q
The summertime-vibe ombre look requires a base of a combination of reds, blondes, and browns combined with vibrant colors (e.g., purple, bright blue, copper, and maroon) on top. You should spread out the transitions on each color so that they will be evident and give that scream of summer. 
If you have short hair, this look will probably be challenging to pull off. However, if you are eager to achieve this hairstyle, one technique is to use vibrant hair color as a base instead of the original ones. 
Mint Green Ombre
https://www.instagram.com/p/BsrTa6QFtG9/?utm_source=ig_share_sheet&igshid=1lvx2n0obkrjs
The best ombre looks for medium-skinned individuals are those with a shade of jewel tones—emerald to be specific. This color usually brings out the color of the eyes as well and gives a positive aura to the wearer. Do not be discouraged even if this style is not the most requested. At least you are unique and look great. 
If you are considering this kind of ombre, here are some of the tips to maintain the emerald vibrancy: 
Take a bath using cold water.
Use dry or sulfate-free shampoos.
Use low-heat blower.
If you are not aware, green has the most longevity among all of the colors. So, what are you waiting for? Try this out! 
Black to Silver Ombre
https://www.instagram.com/p/BGuGrTeIP0Q/?utm_source=ig_share_sheet&igshid=1uynvgttet19g
If you are gunning for a bolder look this 2019, you should try the black-to-silver ombre. Since black is optimal to any skin and eye color, this base is perfect if you are still confused on what color to go with. You should then dye the lower half of your hair with either silver or sprinkly white to give your look elegance and sexiness. 
Just keep in mind to only stick with two shades in this hairstyle. If you add an additional gradient into the equation, you may not really like the results. 
There are endless choices if you are going for an ombre hair color. Always keep in mind these hairstyles if you are wondering which one will fit your features and personality. If you still cannot decide, go with what your heart is telling you. That will always be the best choice for your look this 2019!