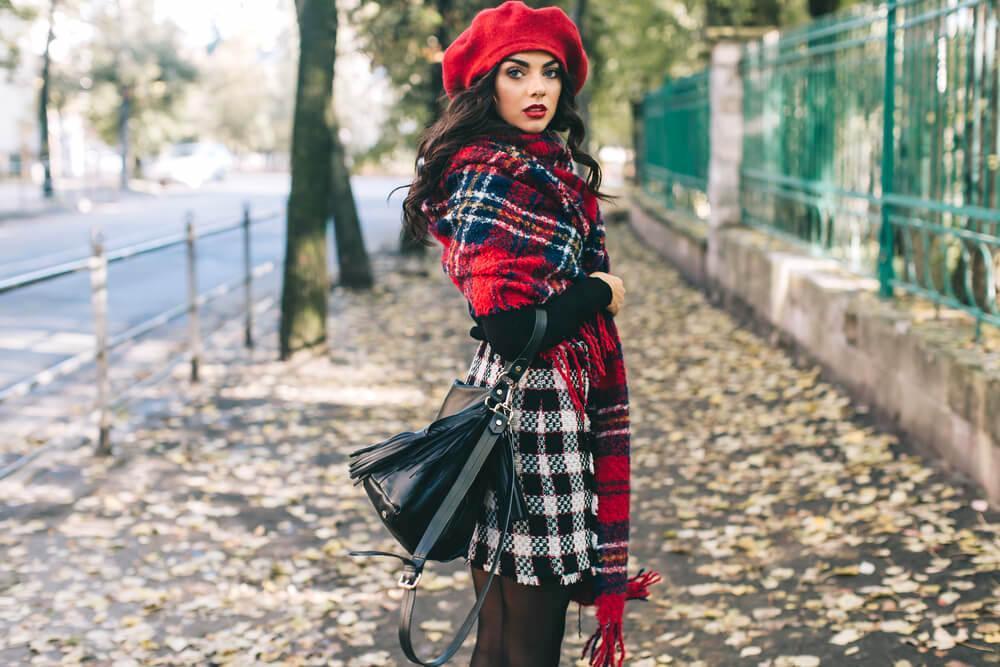 Times are changing and so is the climate! With the windy season fast approaching, you might be wondering how you can utilize that old scarf of yours to complete your everyday look and at the same time, keep you warm and cozy. 
If you don't know exactly how you can flaunt your look using the scarf that has been kept too long hiding in your closet, by reading until the end, you'll have more than enough ideas and options to choose from. 
The One Loop Method
The One Loop Method can be considered one of the basic ways of how to wear a scarf. You can wear this style on windy days, and it usually pairs up well with any outfit. Here are the steps to do it:
Wear the scarf along your shoulders in a way that each end is parallel to one another.

 

Once it's parallel to one another, pull the other end a bit so that the other end is longer.

 

When you've finished with the previous step, pull the longer end and wrap it around your neck in one loop only, making it lead back to where it came from. However this time, the end which used to be the longer one is now relatively the same length as the other untouched end.
Make sure that when you loop it around your neck, it's not that loose but also not too tight to give you enough space for breathing.
In trying out this style, there are many ways to experiment on it. You can either add on the loops or change the lengths of each end.
It really depends on what you're more comfortable with but to give you an excellent tip: one loop looks better if you're going to wear pants or jeans, and more loops would look better on dresses or flowy outfits.
In this way, you don't look overdressed, and you're ready to make people turn their eyes while you walk on the road!
French Knot
For our next option, we have the French Knot. The French Knot is called as it is because of its French-looking vibe. You'd probably see more of this if you pay a visit to Paris and see the locals in the windy season.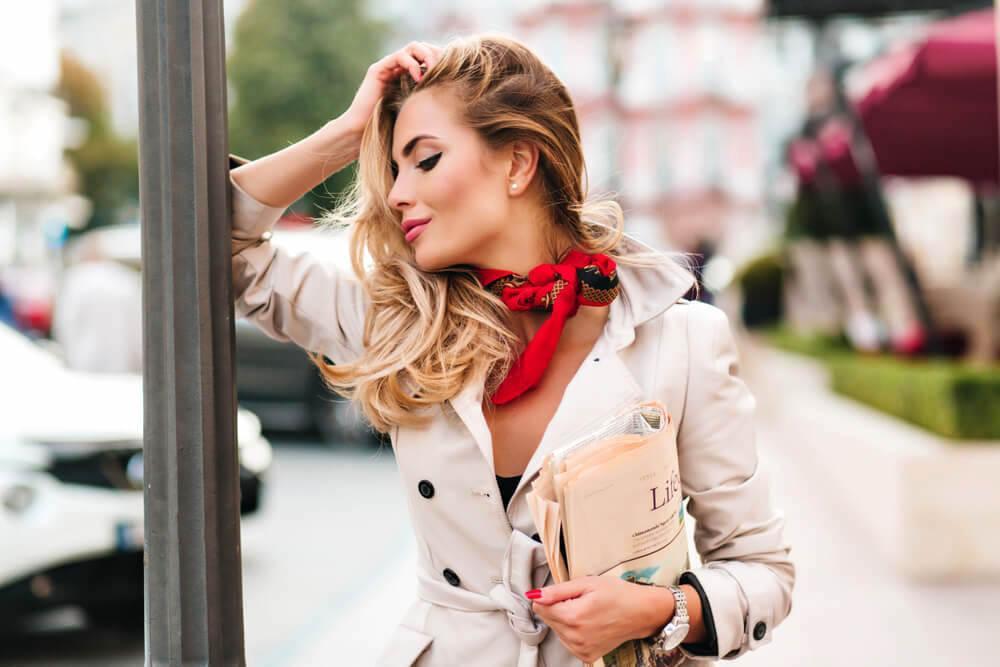 This style is most suitable for dressy or chic outfits. It will give you a combination of fancy and casual to provide you with the right twist when taking a walk outside the park. Here are the steps for the French Knot:
First, divide the scarf into two parts without hanging it first on your shoulders. Once you have folded the two parts, that's when you put it around your shoulders.
Next, all you have to do is grab one end of the scarf, pull it over and under the loop which will be formed in the process.
Take the other end and do the same.
It may be hard to do at first, but once you've practiced enough, it'll be a go-to style in no time!
Braided Scarf
To give your look some extra glam, why not give it some braided details? The Braided Scarf look is very recommended if your outfit for the day looks very simple.
I suggest that if you plan to wear your scarf in a braided fashion, make sure that your clothes are in monochromatic colors, and your scarf has a bold or bright color. In this way, it will really make you stand out!
In doing the Braided Scarf style, remember the following:
First, wrap the scarf around your neck and on to your shoulders.
Once you're done with the first step, take one end and pull it up to the middle part of the opposite side of the scarf. In this part, you should be somehow making a circle.
Since you only have two "strands" at hand, alternately braid the two ends making it look like a braided crown. One end should be going upwards, while the other end should be going downwards.
Remember that you don't need to braid the whole scarf but just a portion of it. When you're satisfied with the braided area, you can simply leave the ends since the braided process will make it strong enough to hold its position.
The Bib Necklace
If you're familiar with a bib, it's what we usually wrap around babies to avoid messy accidents when eating. In this particular way to wear a scarf, the end product will somewhat look like a bib necklace.
In this method, it's better if your scarf is shaped like a square since it will be easier for you to make the necessary folds. Now, here's how you can do it on your own:
First, divide and fold the scarf halfway but in a triangular position. Meaning from a square, you will have to make ends meet to result in a triangular figure.
After folding it into a triangular shape, locate the base portion of it. The base is usually the longest one compared to the other two sides of your triangle.
After locating it, place your hands on each end (one hand on each side), and make the two ends meet in the middle. Tie a simple knot to secure it.

 

After knotting it, wear the scarf with your head in the middle, and twist the lower part, making it form a number 8-shape, then insert the second hole into your head. To put it simply, there should be two loops already in your head by the end of the process.
When you've finished tying and knotting everything in between, you'll notice that you're like wearing a necklace or a big adult-sized bib. 
The Bib Necklace scarf style is best worn with a jacket. If you really want to level-up your fashion game, try wearing it with a leather jacket. In this way, you'll be protected from the cold climate, and you might as well be a fashion icon to your friends!
Cardigan Wrap
If you're not into trying, knotting, and doing all sorts of experiments to your scarf, the Cardigan Wrap is the easiest way for you to wear a scarf!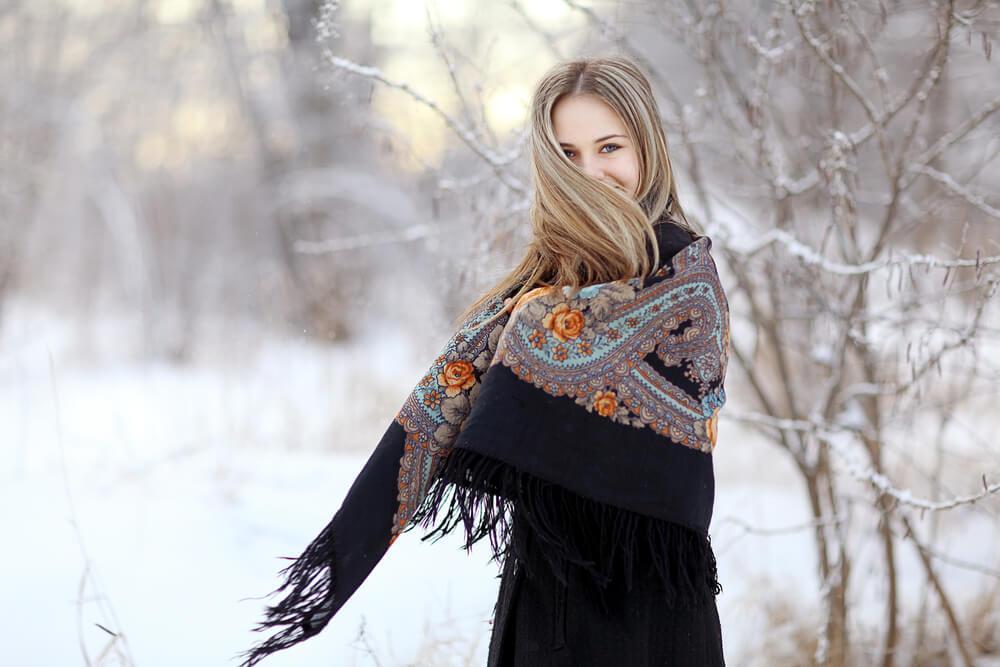 All you have to do is:
Wrap the scarf around your shoulders, covering the back part of your body, with the two ends snaking around your arms. That's it!
The Cardigan Wrap is best worn for occasions where a scarf may seem optional. You can wear it as a cover-up while wearing a Sunday dress or you can even wear it as a beach cover-up if you're planning to get some ocean breeze in the future!
Simple One-Hole End
Some fashion critics call this style the European look because it's a very common scarf-wearing technique in their area. This technique is very easy, and it will take no more than one minute to do. Here's how to do it:
Divide it in a lengthwise manner and wear the folded scarf over your shoulders.

 

Make sure that the open ends (the one without a fold) have more length than the other. Once you've ensured it, insert the open ends into the loop created by the folded part of the scarf. Use the loop to tighten or loosen it to your liking.
Simple, right? Well, not only is this style very simple but it's also very versatile and flexible! It can match almost any outfit you wish. But, to make sure you still look fabulous, watch the pattern of your scarf and your clothes. If your outfit has a pattern, make sure your scarf is plain-colored. On the other hand, if your scarf has prints on it, make sure your outfit is plain to not make it in contrast to one another.
Chic Ribbon
Another way to experiment on how to wear a scarf is through the Chic Ribbon style! This style is best worn for girly or chic outfits which can really put an added twist on your look for the day. If you're planning to wear this kind of style, make sure you pair it up with some glamorous boots or heels to make sure everything is well-complemented by each piece. 
Now that I've given you some fashion tips on the Chic Ribbon, here's how to do it on your own:
Wear the scarf around your shoulders ensuring that one end is longer than the other.
Wrap the longer end around your neck once, looping it once for now.
Take the upper portion of the untouched part of the scarf and insert a small portion of it inside the looped section near your neck, creating a half-circle. (Tip: Make sure your hand can fit the half-circle!)
Once you've done that part, insert the nearer hand onto that half-circle, and take the opposite end. Pull it over the half-circle then tighten it afterward.
After pulling the other end, you will notice that you look somehow like a present with an unfinished ribbon at the front. Adorable, right?
Hanging Piece
For this style, the goal is to create a long necklace-looking end-product to complement your loose outfits.
The Hanging Piece scarf style can be a very handy idea to remember if you run out of fitted clothes.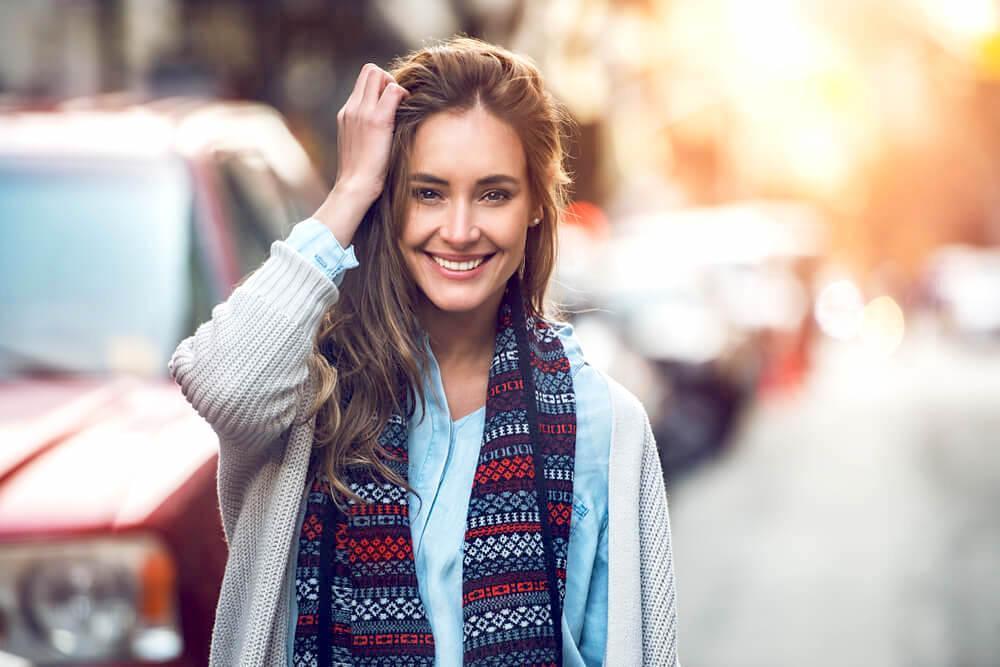 Pairing it up with loose clothing will reduce the tendency for you to look like a closet hanger, and make you look more like a Hollywood star casually walking around the streets of New York.
Here's how you can achieve that look:
First, make sure that the scarf you're going to use for this is quite long and rectangular. By ensuring this, you won't end up looking awkward when you've finished tying up all the necessary knots!
Next, divide the scarf into two, and hold the two ends carefully. Once you've secured the two ends, create a small knot, making it look like a big, long scarf necklace.
Once you've tied the two ends, wear the scarf around your neck, and you'll notice that it's a bit too long. With this, make an infinity sign and loop it around, then wear it again around your neck.

 

When you've finished making two loops around your neck, you will end up looking like you're wearing a very fashionable long necklace. Perfect to keep you warm and add some detail to your outfit!
Belted Blanket Scarf
Last but definitely not the least is the Belted Blanket Scarf! This particular way to wear a scarf is deemed as one of the most creative and resourceful ideas!
If you're planning to make your look more fashionable, this is the perfect option for you! In this method, the two most important factors are having a blanket scarf (make sure it's right about your size!) and a fashionable belt.
Here are the simple steps to do it:
First, wrap the blanket scarf around your body, making two parts of it intersect one another.
Once you've fixed how the intersection looks like, finish it up by wearing a belt to tighten and place the scarf intact.
If you've noticed, this style can be an alternative to when you don't have a coat or a blazer! Perfect for the windy weekend night outs!
Now there you have it! We've listed 9 ways to wear a scarf altogether, and it's meant to help you save time when choosing your everyday look. Perfect for the windy weather but of course still fashionable and budget-friendly.
Hope you learned a lot from this and be able to apply the different styles to your everyday outfits!