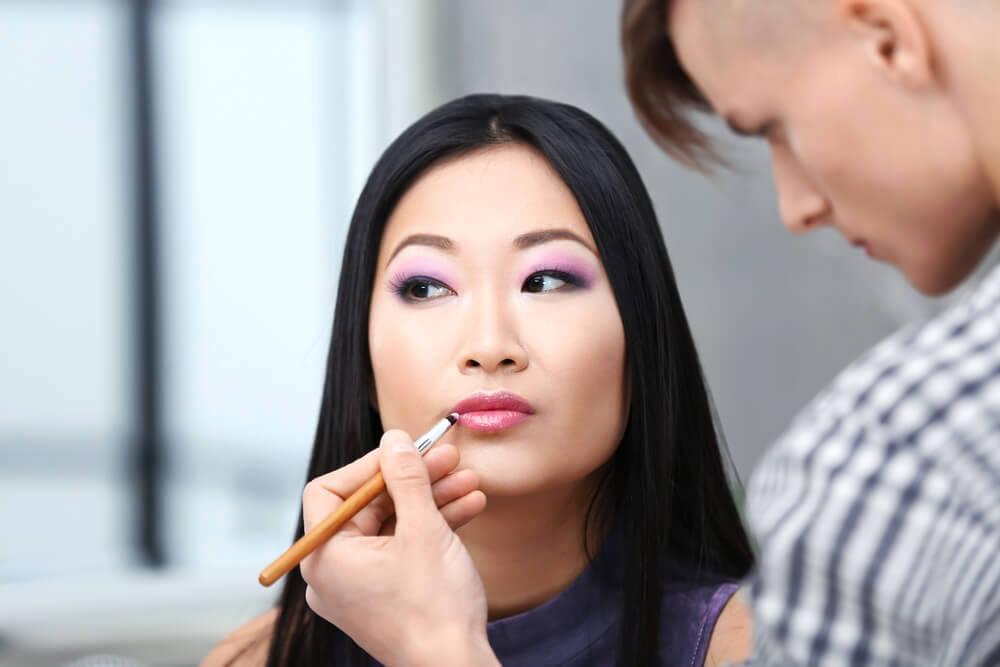 Pastel shades are always trendy in the months of spring, not only when it comes to clothing but also with makeup. Pastels tend to work so well with just about every skin tone, as well as eye color, making these such universal shades that everyone can make the most of.
Need some inspiration when it comes to using these soft and feminine pastel colors?
Here are a few pastel makeup ideas to try this spring…
Pretty in Purple
For those of you who would like to try out a purple pastel shade in a fun and interesting way, this look is ideal.
It features a swipe of pastel purple eyeliner along the waterline.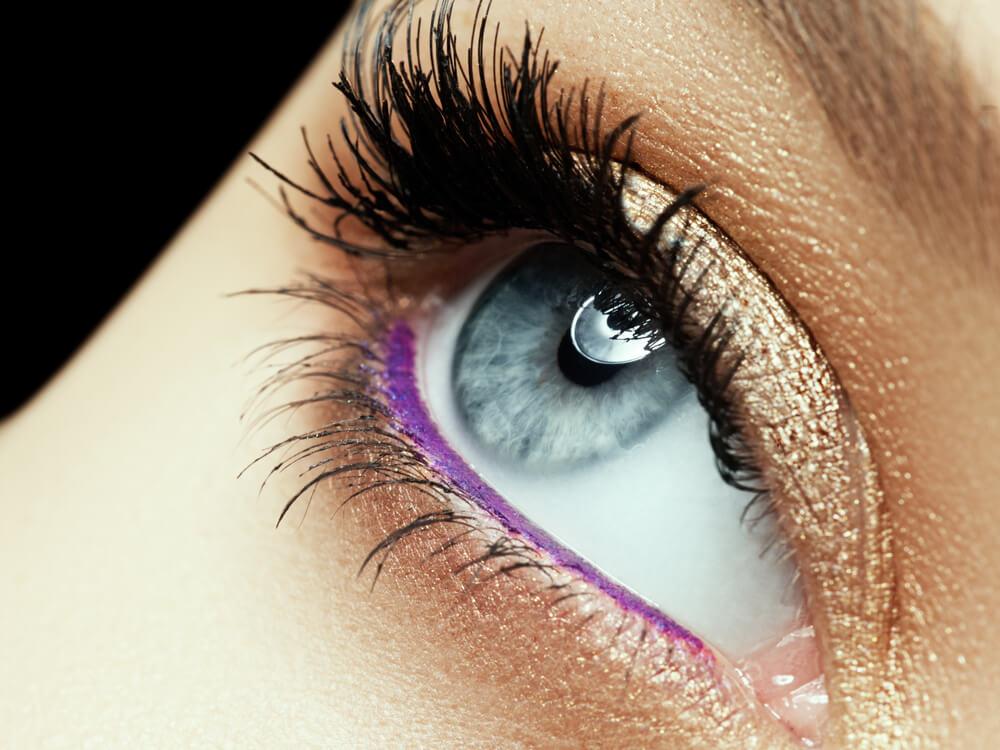 Wondering what the waterline is?
It refers to the inner rim of your bottom eyelid, and yes, this area is extremely delicate. Anything you apply to this area ends up coming into direct contact with your eyes, and this could cause infections, so you need to be cautious when lining your waterline.
If you already have sensitive eyes, then this is something that you should probably avoid. For everyone else, make sure that you choose an eyeliner that has been designed for use along the waterline. Freshly sharpening your eyeliner before applying it to your eyes will also help to minimize the chances of infection.
What's the difference between these and a standard eyeliner?
It all comes down to the ingredients…
Eyeliners designed for the waterline do not contain anything harmful, and will also use safe colorants, although these do still pose the risk of scratching the eye. 
Now that you have chosen your eyeliner, you may need to apply a couple of layers in order for the color to really pop.
Do you have watery eyes that seem to wash the eyeliner away in no time at all?
The trick here is to set your eyeliner with a powder eyeshadow of the same color, but, again, make sure that you choose a product that is safe for use on the waterline.
Lilac Lipstick
Are you feeling slightly daring?
If so, then this is a look that you should definitely try.
Of course, do it wrong and it could be a disaster…
So, how do you go about doing it right?
The key is to liven up the rest of your face, as this helps to balance out the boldness of the lilac.
Not only should you curl your lashes, but add some mascara too, plus a bit of highlighter to your cheekbones and the corners of your eyes to give your face some extra definition.
A subtle eyeliner and eyeshadow can also help, as can a pink-toned blush. 
You may be thinking…
"Wait! Go back to the lipstick! Do I go for a matte or glossy finish?"
There are so many different types of lip finishes out there, and each one has its pros and cons.
These are a few of the most popular:
Creamy –

these are almost in the middle of being both a matte and a glossy, and are able to moisturize the skin on the lips while providing long-lasting color
Glossy –

while they may remind you of being back in high school, glossy finishes are making a huge comeback
Stains –

extremely long-lasting with formulas usually being gel-like and quick to dry
Perfect Peach Eyes
This is quite a simple look, but that is what makes it so perfect for daytime use, as it subtly gives your eyes a pop of color.
Thanks to its simplicity, it is also so easy to put together, taking no more than just a few minutes.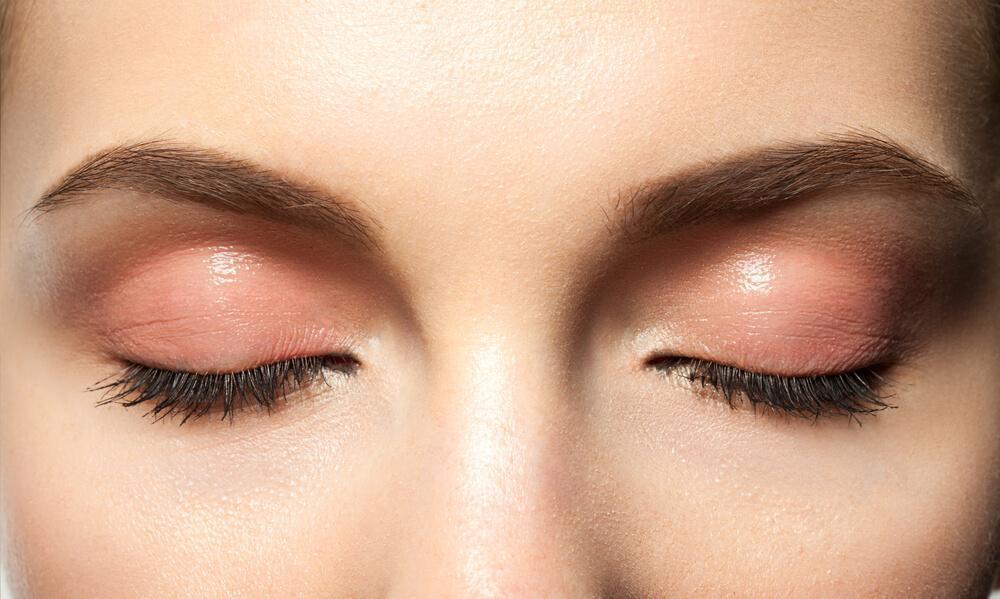 To begin with, you will need to create a base, as this will help the peach shade to stand out. Sweep a matte white eyeshadow across your eyelids a couple of times, until they have a solid covering of the color.
Then, reach for your peach eyeshadow, and use a pointed brush to apply this to the crease of your eyelids. Follow this up with an angled brush, blending the color upwards across your eyes. 
Now all you need is a couple of swipes of mascara and you're ready to go!
Do you have darker colored skin?
If so, you may find it difficult getting the peach shade to really pop.
One great trick is to first apply a layer of foundation to your eyelids, before topping this with some sheer white eyeshadow. This will help to create a base for the color you then apply, giving it the chance to really make a statement.
Pastel Brows
This is another great look for those who are feeling daring, and was first seen on the runways of the Badgley Mischka show.
It is also so quick and easy to create, so if you do not like it, it will not have been much of a waste of time.
All you need to do is…
Dab a pastel-colored cream eyeshadow onto your eyebrows, and then follow this up with an eyeshadow of the same color. Some makeup setting spray will help it to last longer and prevent the color from fading.
Of course, in order to be able to pull this look off, your brows do need to be immaculately groomed.
Could yours do with a bit of a touchup?
Begin by finding the best possible shape for them.
How?
Hold a pencil vertically at the middle of each nostril, pivoting this to the outside of your iris, and then to the outer corner of your eye, to create the perfect arch. 
When it comes to hair removal, you have a few options available to you:
Waxing –

while this can be painful, it lasts for at least a month. If you are doing this yourself at home, you need to be extremely careful since you will be handling hot wax so close to your eyes
Threading –

this is an ancient Middle Eastern and Indian technique that also lasts for at least a month, and while it does cause some discomfort, it is not too painful. It is also one of the most sanitary methods of hair removal, but needs to be carried out by a skilled professional
Plucking –

this is one of the most common at-home methods, and lasts for around two to three weeks. While this is easy to do, it can be a long process, and can also be slightly painful
Laser –

if you want to remove hairs for good, this is the best way to do so, as long as you follow through with all of the treatments needed for permanent results 
A Mellow Yellow
Yellow is not a shade commonly worn on the eyes, because it can be a difficult one to pull off.
However, yellow eyeshadow is right on trend for this spring, making now the perfect time to learn more about how to make this look work for you.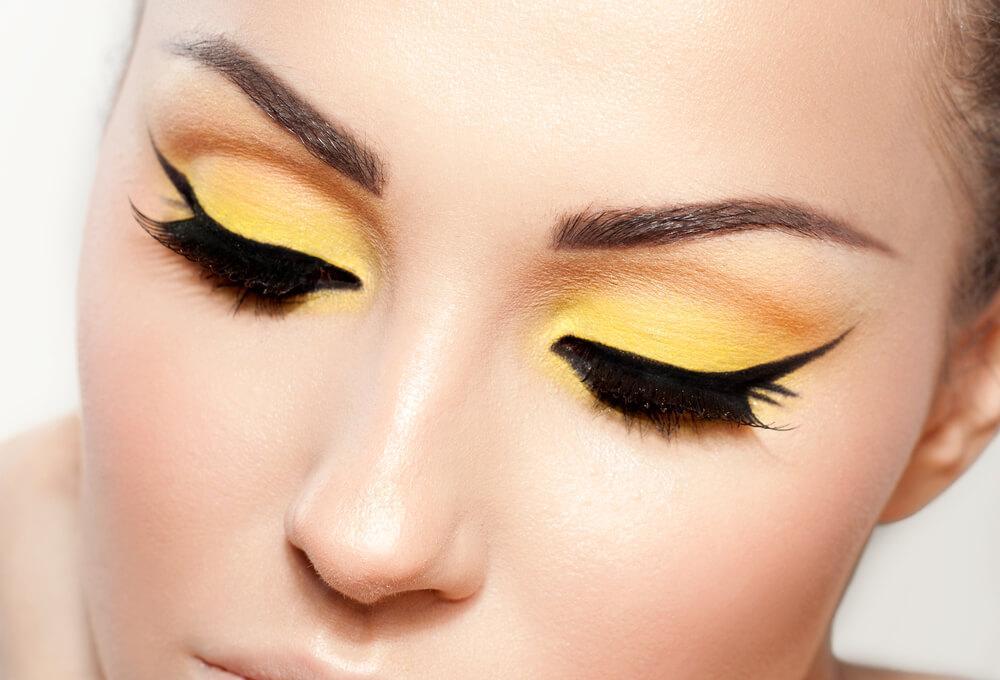 Yellow eyeshadow actually works with just about every skin tone.
Do you find that hard to believe?
Well, it's true, because everybody has varying degrees of yellow undertones in their skin, meaning that yellow on your eyes will end up complementing and bringing out these undertones. 
Once you have decided to give this a try, all you need to do is apply the shadow all over your eyelids. Try to keep the rest of your face quite natural, as this allows the yellow to really shine.
This does not mean that you have to go bare-faced…
Instead, opt for some lip balm and a dusting of peach blush on your cheeks. You should also ensure that your eyebrows are well-groomed, as this can really make or break the look.
Pastel Color-Blocking
Have you ever tried color-blocking your makeup before?
This basically refers to selecting at least two different shades, before combining them side by side, usually in some sort of geometric pattern.
Want to give this a try?
Begin with a crease-proof primer, as you want the colors to really stand out.
Then, pick the eyeshadow colors that you want to use, preferably opting for matte versions of the shade, as this will prevent them from looking too overpowering.
Now, pick your first pastel shade, and then apply this from your lash line to your brow bone, blending this in well along your crease.
You will then need to use a pencil-tipped brush to apply your second pastel shade, using a windscreen wiper motion to evenly spread this across your lids. Begin at the outside of your crease, working your way in, making sure that the second shade does not end up blending in with the first.
Finish the look with a few swipes of mascara to really emphasize your colorful eyes.
The Monochromatic Look
Pastel makeup looks do not have to be too outrageous…
In fact, the monochromatic look is one of the most subtle, yet complete, ways to wear pastel colors.
Not sure what this means?
It means wearing the same shade all over your face, on your eyes, cheeks and lips.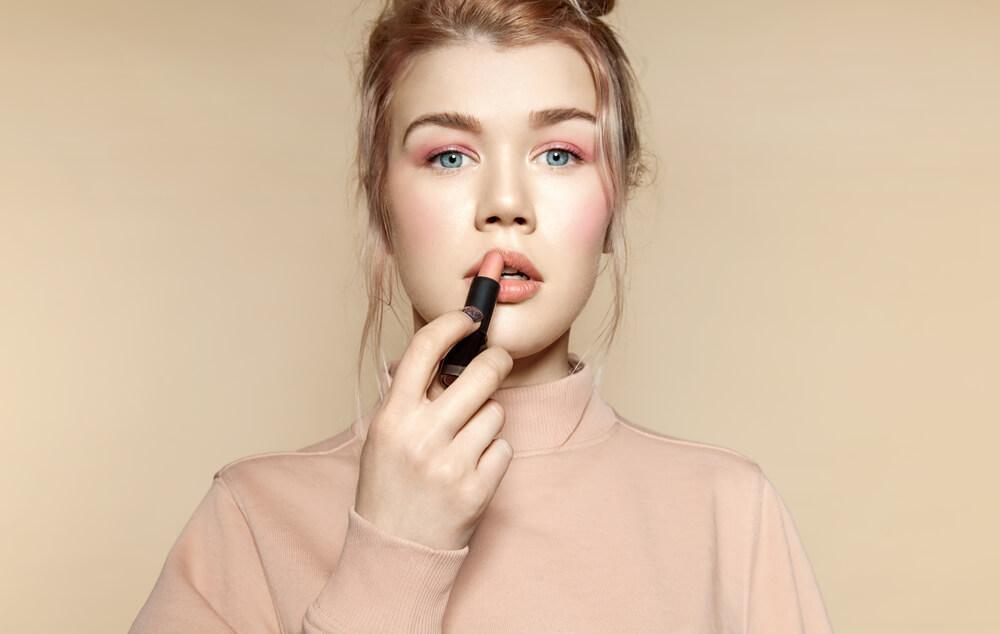 Of course, this does mean that you need to be a bit more careful about the colors you choose, as certain shades, such as yellow or blue, will simply not work all over the face.
Wondering what colors to go for?
Here are a few ideas:
Peach

Coral

Rose

Soft orange
Baby Blues
A really gorgeous pastel shade is blue or turquoise, and, again, this works for so many different skin tones.
Don't believe that?
Everyone from Kristen Bell, who has a lighter skin tone, to Rihanna, who has a darker skin tone, has managed to pull this shade off, not only showing how versatile it is, but also that this is a pastel color right on trend at the moment.
Simply apply the shadow all over your lids, before blending this upwards to extend out the color. Feel free to experiment with this, as this step has a huge impact on how subtle or bold the final look is.
Pair the blue with a sun-kissed bronzer on your cheeks, as these warm tones will help to complement the blue.
Classic Pink Lips
If you want to keep things as subtle as possible, you cannot go wrong with a pastel pink on your lips.
Of course, there are multiple different shades of pastel pink lipstick out there, so how do you know which one to pick?
The key here is to match the shade with your skin tone and your skin undertones, as this will help to ensure that it really is complementary.
Not sure what your skin undertones are?
Take a look at your veins:
Blue veins –

indicative of pink undertones

Green veins –

indicative of yellow undertones

Both blue and green veins –

indicative of neutral undertones, which means similar amounts of yellow and pink
Your actual skin tone refers to how dark your skin is.
Now that you know your skin tone and undertone, here are some guidelines to help you to choose the perfect shade of pastel pink:  
Fair skin tone –

candy-colored pastel pinks will really bring out your undertones to create such a vibrant look, while peachy pinks will downplay them, therefore giving you a softer look
Medium skin tone –

just about every shade of pink will work for you, just stay away from those that contain any touches of blue or purple, as these will end up washing you out. A pastel watermelon-esque shade would be perfect for you
Deep skin tone –

go for something bold and bright, and do not be afraid to experiment with pinky purples either 
Pastel shades work so well with the months of spring, and these looks will no doubt give you some new ways in which to wear pastel makeup. Whether this may be on your eyes or on your lips, do not be afraid to experiment with different looks until you find what really works well for you.