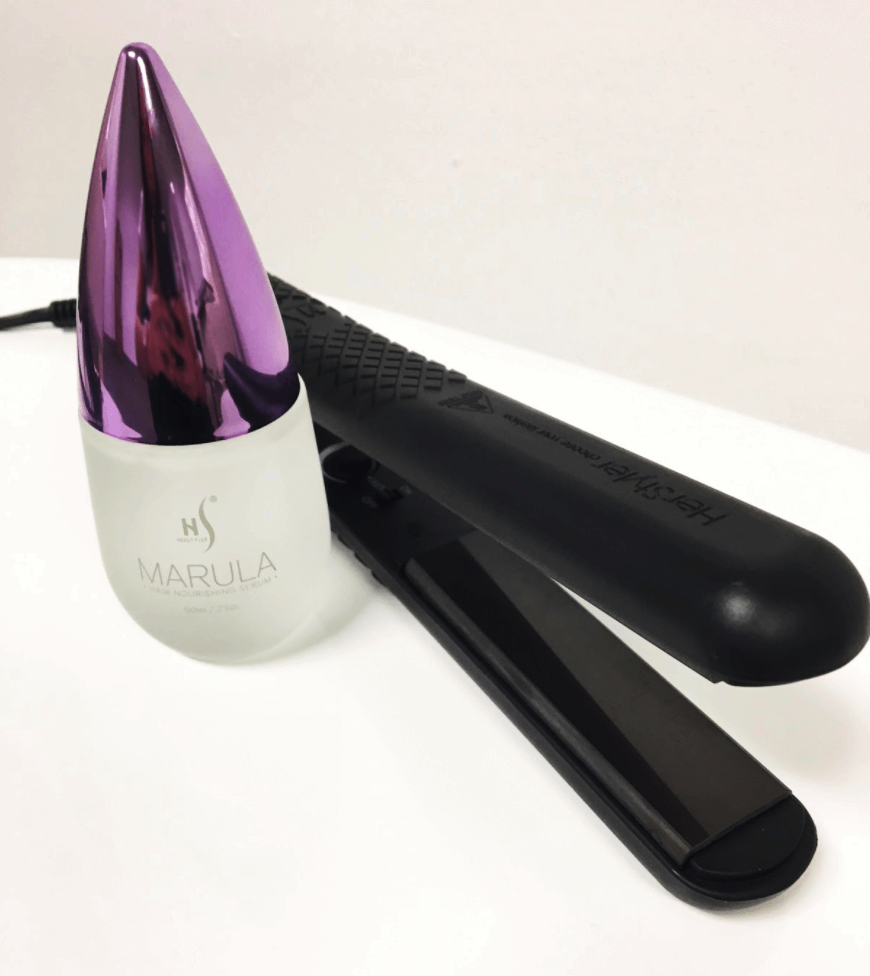 Sometimes we think that straightening our hair too often can cause some damage in the long run, right? I'm not the only one here?
Well, behold! the perfect hairstyling duo is, basically, here:
HerStyler's Marula Oil & The SuperStyler Straightener (in black).
Don't We All Want Good-Looking Hair?
I normally straighten or curl my hair every once in a while during the week, especially if it's for a special occasion or for work. But let's be honest, no one wants damaged, unhealthy or dried hair. As women AND men, we want beautiful, smooth, healthy and strong looking hair. I mean, who can blame us, right?  
Herstyler Marula Oil: Product Review
Before going into my really great experience and personal review of this fine duo, let's take a minute to understand the importance of Marula Oil, its benefits and what it actually is, shall we?
What is Marula Oil?
Let's begin by thanking the creators themselves: Trees. Marula Oil comes from the Marula tree and there are actually two types of Marula oil, one of them is extracted from the nut and the other from the seeds in native Africa. These oils bring not only benefits to your skin: acne, redness, among others, but it's also very beneficial for your hair. It helps protect the hair from harsh environments and UV rays, it's super hydrating and, most importantly, it helps reduce what a lot of us hate to get:  frizziness.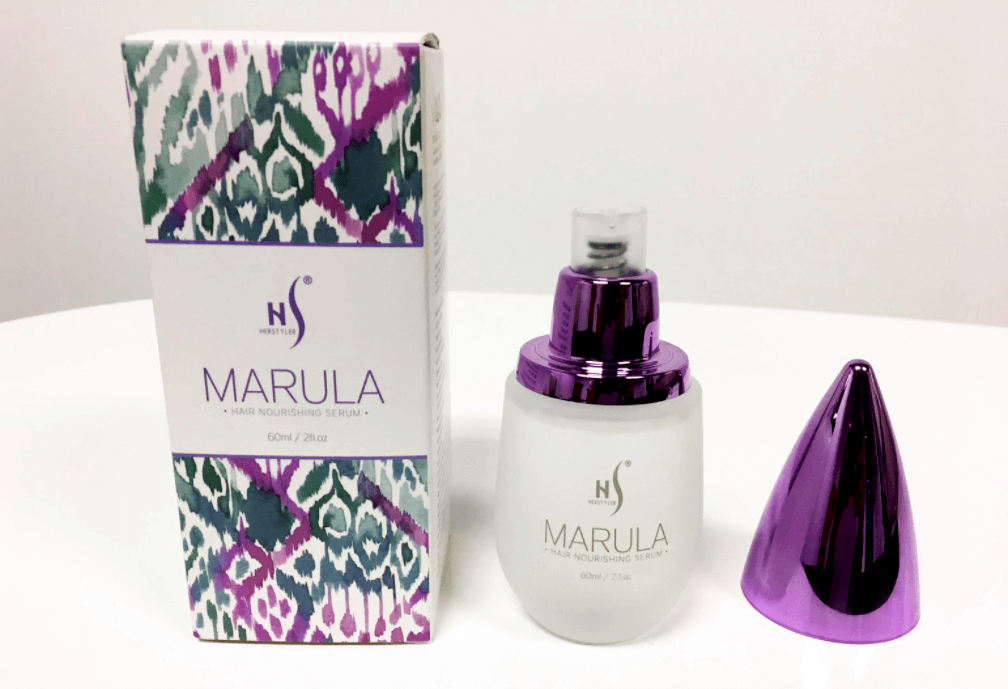 Not only does the HerStyler's Marula Oil have a clear type of color, it has an incredible and soothing aroma. It's one of the things that got me interested in testing it out with the HerStyler's SuperStyler Straightener.
The product itself is beautiful with its clear body and a metal violet cone lid. The product is physically attractive, which is a plus when adding this to your hairstyle product stash. Packaged in a colorful and elegantly designed box that is not only easy to open but it protects the product inside as well.
HerStyler specifically designed this product to renew the hair from dull and frizzy to soft and manageable. It's created to absorb easily into your hair without leaving it oily or greasy, so you'll have smooth, silky and radiant results.
How to:
I opened the lid upward.

I pumped a small amount on the tip of two of my fingers. This step may vary depending on how long or short your hair is. In my case, my hair is short at the moment, so it wasn't necessary to apply so much, which is great because with a small amount I covered all of my hair.

I started applying the straightener.
Herstyler SuperStyler Straightener: Product Review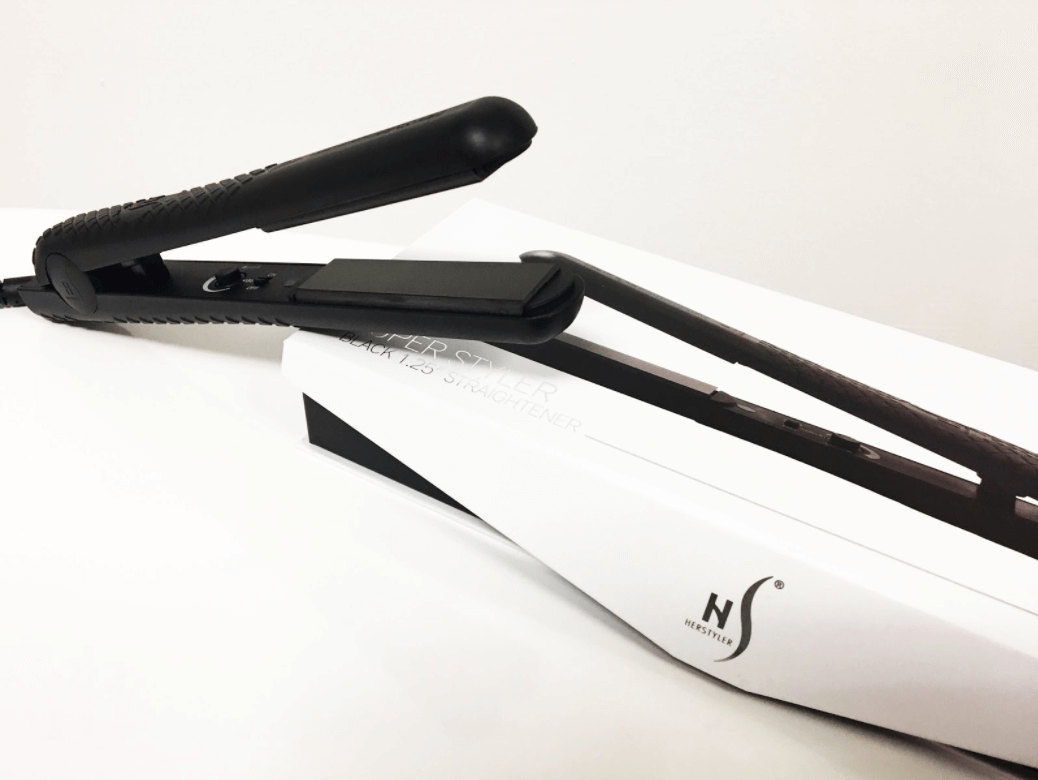 This last step brings me to the other part of this great duo: HerStyler's SuperStyler Straightener. This product is unlike any other straightener that I've used before. The beautifully made packaging has a unique white box design. It presents steps, benefits of each feature, recommendations, among others. The straightener is safely secured and comfortably placed inside the box.
Its technology heats the hair from the inside out to distribute heat evenly causing less damage to the surface. This is actually helpful when doing your hair because it allows you to not get a damaged-looking style when finished. Knowing that my hair tends to get frizzy a lot of the time, especially after using a straightener or blow dryer, this feature made me feel more comfortable and positive about the product itself. Knowing that I won't be causing so much damage to my hair.
When you grab it for the first time you'll feel how easy it is to use it. That, in part, is thanks to the easy grip handle which is not only on the top part of the straightener but on the bottom part of the straightener as well. This easy grip handle allows you to easily hold the straightener while you do your hair. The best part was that I felt comfortable holding it and not getting my hand hot, like other straighteners do sometimes. It allows you to hold it firmly and comfortably while you style your hair, whether it's straightening or curling. Yes, you can create some pretty curls in your hair when using this product.
All Tech-ed Up With Negative Ions
Negative Ion Technology is another feature that this product uses. Ion Technology has been heard before in recent time, especially in the beauty industry. Its negative ions neutralize the atoms in the hair, helping to eliminate frizz and making the hair smoother with a shinier look.
Let's face it, no one wants to spend time doing their hair and end up having a head full of frizz. When someone goes into taking time to do their hair, whether it's straightening, curling, creating waves, among others, we expect beautiful and good-looking results. I've used straighteners in the past that haven't featured Ion Technology and now having the opportunely to use one with this specific feature, I can tell you that the difference is big.
Growing up I always had straight/wavy hair and whenever I would use a straightener I noticed the frizz in the back of my head. Yeah, because they decided to actually hide from me so I won't go crazy. Good job, hair.
Some of the other benefits this feature also brings, aside from reducing frizz are:
Leaves your hair smooth & silky for more beautiful results
Repairs damaged hair to keep it more healthy
Revitalizes dull and lifeless hair
Smoothes split ends
And let's face it, during the past couple of years, hair products have evolved immensely, from oils, heat protectors and serums to more technologically advanced straighteners, curlers, among others. The advanced technologies have help beauty obsessed people like me to be more open to try out new products, which is one of the many reasons I decided to give this product a try. And according to the U.S NRC, "these products are not expected to create any health impacts.", which is great because no one wants to be affected after using a hair product.
Serve It Up With Floating Ceramic Plates
Aside from the Ion Technology, the SuperStyler also features Floating Ceramic Plates. These plates are a huge help.
Why, you ask? Well not only do they help with eliminating frizziness as well but they also allow flexible movements along the central axis. They're great at pulling the hair comfortably when straightening or curling and they also don't end up having that burnt smell that some straighteners tend to give sometimes. These plates are so flexible, they are one of the big reasons this straightener, aside from the easy grip, has the ability to create curls or waves.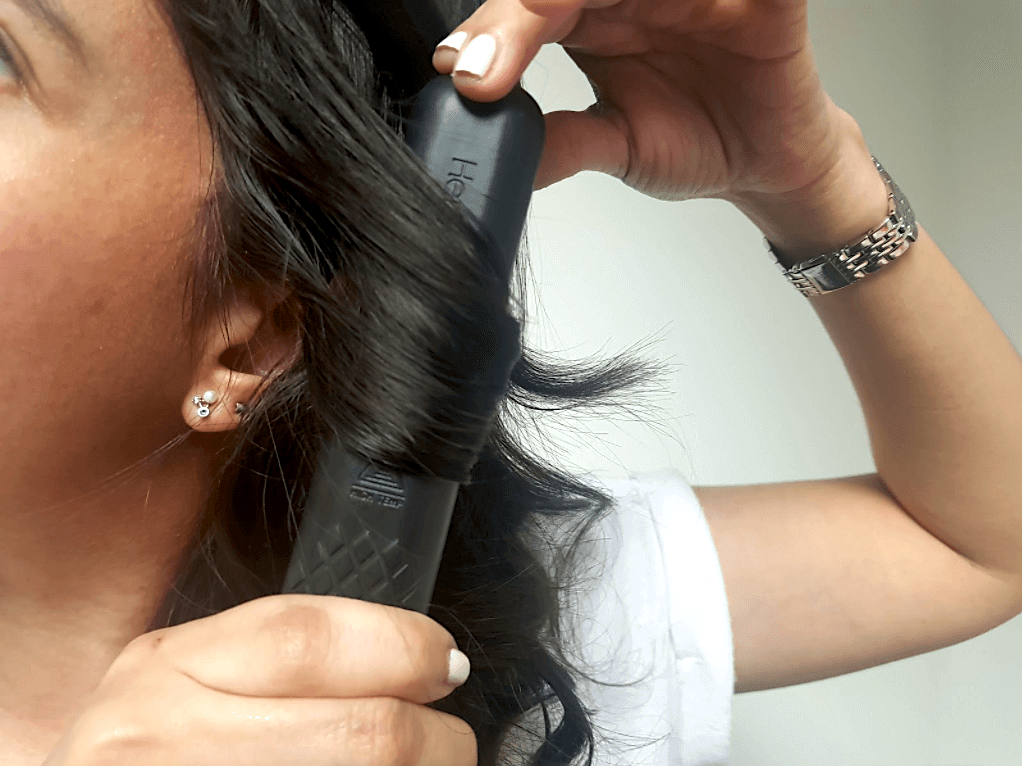 I looked up different ways to style my hair using a straightener and the results, I may say, were magical. It's fascinating all the possibilities you have to create so many different hairstyles with just one product.
I remember seeing a stylist when I was little using 2-3 different products when creating different styles and now everything is not only easier, but it's less damaging to our hair. Maybe these tips can also help you guys out as they did to me. This feature is combined with the option to heat up to 500°F, which can accommodate to any type of hair, and the ON/OFF Power Switch.
Make Your Moves with Long 360° Swirl Cord
One of the last, but not least, features this straightener presents is a Long 360° Swirl Cord. This professional-length swirl cord prevents the cord from getting itself tangled and easily damaged. Sometimes while doing our hair we get either tangled or we almost trip over the product's cord.
It's important to prevent any damages to yourself and to the products, believe me, it's happened to me way too many times in the past before discovering this type of straightener. A swirl cord doesn't just help you prevent these types of accidents, but it also helps you manage your straightener more comfortably. I noticed this while doing my hair with the SuperStyler, it allowed me to not only straighten/curl it but it also helped me manage my movements as well. It helped me accommodate and move the straightener in a more comfortable way so I didn't have to worry about getting the cable tangled or getting it unplugged by mistake.
This makes me go back to highschool when I used a straightener for the first time. I used to have one with not that much technology, I'm talking about almost ten years ago. I remember it being very nice looking and purple, my favorite color.
I was not very aware of the importance and use of a straightener, like I do now, so I wasn't fully understanding what the proper steps were to follow, but I decided to give it a try anyway and surprisingly it went pretty well but just as I'm finishing doing my hair, I get tangled in the cord. I literally saw my life pass before my own eyes, no joke. I got lucky and ended up on my bed, so I didn't have a bad fall. But it got me to be a lot more cautious about being way more careful next time when using it.
So believe me when I say that the fact that this straightener has a swirling cord that goes 360°, it's a huge help when the time comes to styling your hair. It prevents serious accidents from happening.
Protect Your Hands with the Meta-Aramid Yarn Glove
And finally, an important and additional plus from this product is that it not only brings a warranty card, it also brings as part of the packaging a Meta-Aramid Yarn glove. This black and pink glove is designed to help you from burning your fingers while creating different styles in your hair. It's a plus for those who constantly use products like this. It doesn't frizz your hair if you touch it while wearing the glove. See it as your personal assistant while doing your hair.
This final feature of this product brings me to the second part of my process:
After applying the Marula Oil on my hair, I started heating up the straightener.

I accommodated the temperature switch halfway, not too hot but not too warm.

I divided my hair using hair pins. You can get those anywhere.

I started curling my hair by section and already started noticing how soft it was in my hair. Because by the size and heaviness of the product, I thought it would be too strong for my thin hair. But it didn't either pull my hair nor give me that burned smell.

After curling all my hair, I noticed it didn't create frizziness. Not only did the Marula Oil helped, the straightener did its job as well, which made me very happy.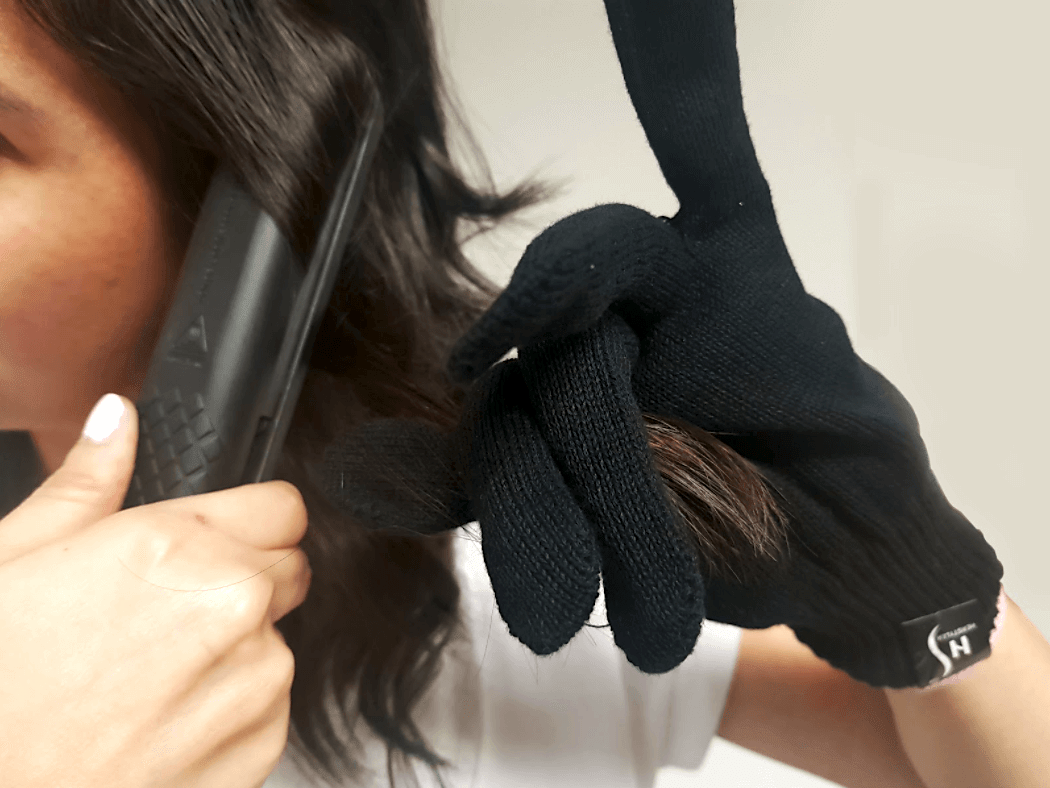 I'll be honest, I wasn't expecting to have really good-looking results. My hair was very smooth and looked healthy. I've had moments where I would get frizz and split-ends. 
My Experience After Two Days
Using these two products together gave me the results I wanted. But, of course, I also gave the straightener the chance to impress me on its own a couple of days later.
I used the SuperStyler without the Marula Oil, even though it's recommended to always use either an oil or even a heat protector before using a straightener, but I gave it a shot. I did the exact process I did a couple of days earlier:
I heated up the straightener to the same temperature as before.

I divided my hair in sections using hair pins.

I started straightening and creating curls in the sections of my hair.

When I finished I took a good look in the mirror to see if there was any difference.
Of course, you may think that this process didn't give me similar results to my previous process, but on the contrary, it did. My hair, of course ,wasn't as soft as before, let's remember that I didn't use the Marula Oil this time around, but my hair still looked smoother than previous times when using other straighteners.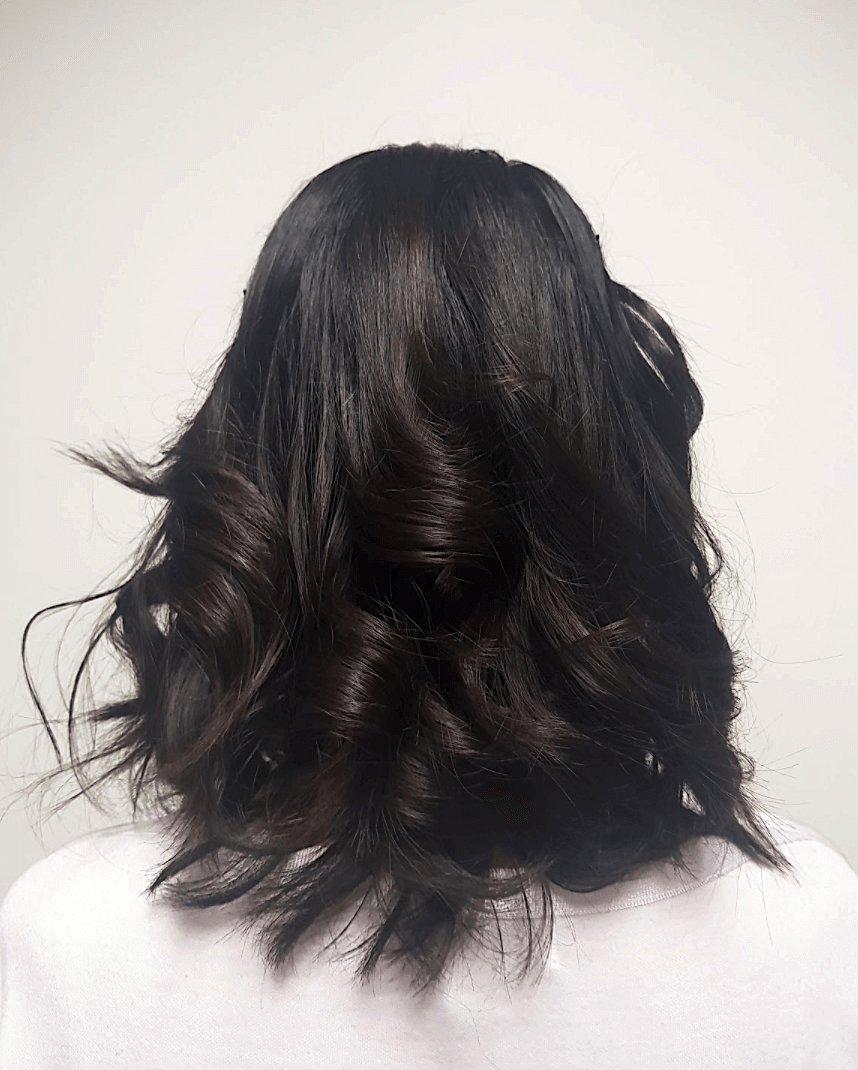 It didn't appear to be frizzy, dry or damaged. The reason I did this process was to take into account the features the SuperStyler presents (the ones mentioned previously). This is the reason I recommend this product to use on any type of hair, as well as the Marula Oil. It not only helps your damaged hair and helps prevent frizziness, but it helps you create effortless hairstyles in a comfortable way and they help you go out that front door looking like a runway model.