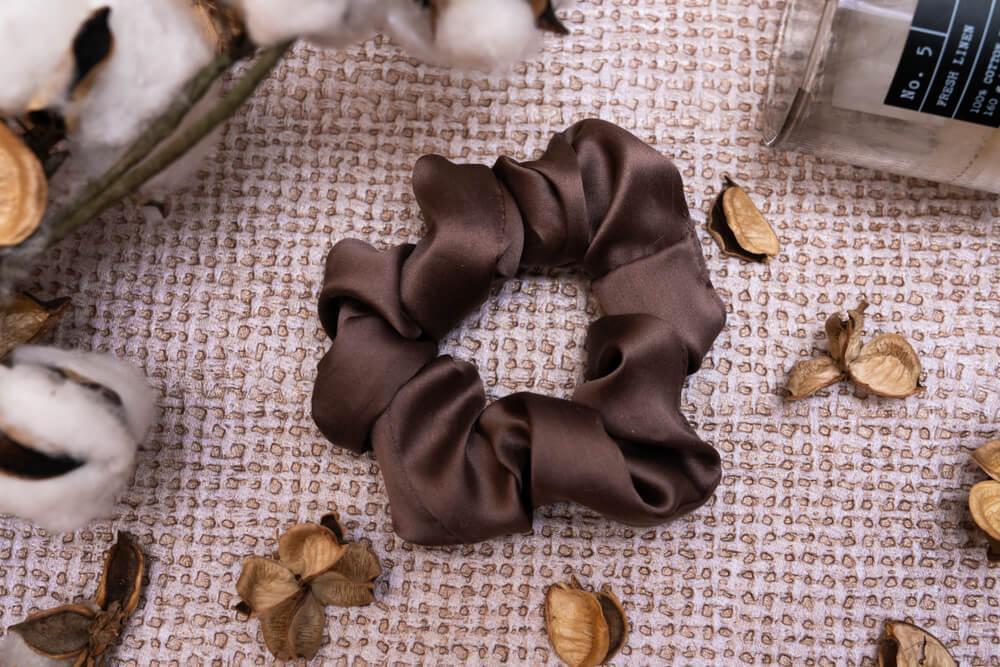 Trends really do come and go—some for the worse, but a lot of them for the better. In the world of fashion, every trend that comes back leaves a mark, not just on the fashion-forward crowd but practically on almost anyone.
We see plaid skirts, kitten heels, and a lot of vintage pieces making their way back to the runway, or worn by some of the most-beloved Hollywood celebs. From here, the trends trickle down to giant fast fashion shops, making the comebacks accessible to anyone outside of high fashion.
Scrunchies: Now Trending (Again!)
There is one specific trend that we are very much willing to ride. If you're a certified 80s or 90s baby, you would know how it felt like to wear dozens (okay, maybe not that many) of colorful scrunchies on your wrist. Remember them? Whether it's for tying your hair or solely for display, scrunchies were undoubtedly a staple accessory for almost every girl back then. Bet you already know what we're trying to say, huh?
Scrunchies are back! Yup! You read that right. The old high school staples are now back in the fashion scene, and if you've been dying to get your hands on these cute hair accessories, now is your chance! 
You're probably thinking about how you can get in on this trend without looking like a walking throwback to the 80s. Don't worry, that's where we come in! See, the fun part about comeback trends is that you can now style them in so many more ways. It's way more flexible. So, if you want to know how you can wear scrunchies (again) in the chicest and most fabulous ways, keep reading!
1) Loose Ponytail Look
https://www.instagram.com/p/B4VMCCslCUP/?utm_source=ig_web_copy_link
Let's start this list off with something basic, perfect for all those who are still easing into the scrunchie trend. This look might be all too familiar for those who had this as their staple hairstyle back then. 
The look is pretty straightforward—you can do it in just two easy steps:
First, gather your hair back loosely.

Then, take your scrunchie and tie it twice (or just once if you have thick hair) around your hair.
Easy peasy! You don't want to appear too sleek with this hairstyle (we're saving that for another look); instead, this gives off a more laid-back vibe. You can choose whether you want this to be a high ponytail, but we recommend a low ponytail close to the nape of your neck.
Looking for a way to complete your laid-back vintage look? Sporting a loose ponytail with a scrunchie might be your answer! 
2) Twisted Low Ponytail
https://www.instagram.com/p/B4nE0KpFkJA/?utm_source=ig_web_copy_link
This second look builds from the first one, only with a few twists—literally! The twisted low ponytail has some variety, and you can choose your style depending on your mood or skill.
The first style will put your braiding skills to the test. Start by dutch-braiding the upper half of your hair. Once you've reached your neck, stop braiding, and get your scrunchie. Then, follow the first look, and you have yourself a low braided ponytail. 
The second variety is for those who aren't too blessed with braiding skills but are still keen to look cute. Here's what you have to do:
Gather your hair into a low ponytail, and tie your scrunchie loosely around it.

Now for the fun part! Lower the scrunchie a bit, then part your hair into two, just above the scrunchie. You will want to achieve sort of a hole.

Once done,

take the lower part of your ponytail and slip it over the gap you made

. And you're done!
https://www.instagram.com/p/B4mmC6_DRAk/
Voila! Some of your friends will be sure to ask you how you did it, but they'd never know it was this simple.
3) The Classic Half-Up, Half-Down 
https://www.instagram.com/p/B5BNK1cgyxb/?utm_source=ig_web_copy_link
Everyone loves this ultra-feminine and princess-y hairdo! A lot of us did go through a Princess Bella stage after all. I bet most of you already know this hairstyle, but the scrunchie trend is sure to elevate the entire look. 
It's all very simple:
Part your hair horizontally and gather the top part into the back.

Then, tie the upper part of your hair and leave the lower half of dangling in perfection. 
Again, you can do this as sleek or as loose as you want. But, we personally love a casual tousled touch for this look. If you're aiming to achieve that, you can use a good sea-salt or volumizing spray for the upper half. No worries if you have neither! You can slightly tease the upper part of your hair with a narrow-toothed comb, before tying it back with a scrunchie.  
Want to elevate this already-cute look even more? Instead of simply tying it back, make a small bun out of the top part of your hair before securing it with a scrunchie. Instant upgrade!
4) Messy Bun
https://www.instagram.com/p/B5BICD1pBwv/?utm_source=ig_web_copy_link
Messy buns have always been a crowd favorite. Who can blame them? Sporting a messy bun is great for the most laid-back vibe, especially if we have a bad hair day and we just want to hide all the hair up. However, it can get a little boring, so to spruce up this look, use scrunchies!
You know the drill. Gather all your hair on top of your head. Then, give it a good twist and finish off with a scrunchie of your choice. Pull out a few strands to frame your face (this trick is always a favorite).
Pro tip: Use a medium- to large-sized scrunchie to achieve maximum cuteness. If you have one with a bow, this is the perfect time to bring it out of your drawer. 
This messy bun look is quick, easy, and cute. It's perfect for lazy days or if you're on the go. This hairstyle is a sure favorite, especially when matched with a wide variety of outfits from sundresses to shirts.
5) Side Braid with a Twist
https://www.instagram.com/p/B5BRIndgBhw/?utm_source=ig_web_copy_link
Braids have always been the best go-to style if you're bored with your usual look. There are a multitude of braid styles ranging from simple to very complex that are all sure to win you compliments all day long. This look takes inspiration from when you want to look more delicate for the day. 
For this one, you can pick any side braid of your choice. We love a classic french braid, but a loose fishtail braid is also a great option! Then, ditch your boring black hair tie for a sec and grab a favorite scrunchie. The pop of color and style at the bottom of your hair is sure to turn heads. Isn't it just the cutest accent? We think so too!
6) Sleek Sock Bun
https://www.instagram.com/p/B1NiVNzHeWg/?utm_source=ig_web_copy_link
We've raved about loose and laid-back styles for a while now. But we know some of you want a cleaner look as well. So, it's time to give you ladies some options. 
The idea is just the same as a regular bun. But, you would have to use a sock bun for this to achieve the clean look. Using gel or hairspray is ideal for cleaning up the edges or any baby hair.
Then, think of the scrunchie as the frosting—it's the accessory that would give this bun a personality. That said, go ahead and choose a large scrunchie—printed, velvet, tulle, whatever! If you ask us for recommendations though, we're in love with the scrunchie-scarf, and it's perfect for a chic Parisian look.
If you're one of those who prefer having an ultra-clean and sleek do all the time, this one's for you. It's totally your call if you want the whimsical strands hanging down.
7) Pineapple Hair, Don't Care
https://www.instagram.com/p/B1uCrvMFGz9/?utm_source=ig_web_copy_link
We're showing some love to all our curly-haired girls out there. Pineapple buns are a staple style for keeping your locks protected overnight, but they're not only a before-bed kind of do. Pineapple buns are also great to rock if you have thick hair, which is why they're a favorite of curly-haired ladies.
Choose a scrunchie closest to your hair color for this look. Then, do as you would a usual pineapple bun. That is, (messily) gathering your hair on top of your head. No need for twists and turns here, as the pineapple bun look is best when it's messy. Secure everything with a scrunchie, and rearrange the distribution of your hair according to your preference.
It's the perfect chance to rock that high ponytail look, but with more hair falling in front than in the back. Talk about rocker chic!
8) High-Up Ponytail
https://www.instagram.com/p/B5mxytalWI5/?utm_source=ig_web_copy_link
We all tie our hair up in an extremely classic ponytail once in a while; really, it's almost muscle memory. This look is just an unbeatable hairdo that will surely last until the end of time. If you find the other hairstyles to be a little daunting, we got you covered! We made sure we had some fool-proof dos for our ladies who are not so hairstyle-savvy.
While this may sound like your old boring ponytail, the trick is to get is as high as you can. It's time to live out your cheerleader dreams, so go all out in getting that ponytail up there. Grab a statement scrunchie, secure your hair, and you're done!
For extra oomph, you can either curl your hair after tying or use some sea-salt spray to achieve that wavy effect. We don't know about you, but even a shirt and shorts combo would look great with this hairdo. Now, that's a look.
9) Layer It Up
https://www.instagram.com/p/B4248ljAbJF/?utm_source=ig_web_copy_link
Want to be a head-turner? Let's make that happen. We're sure you have an entire scrunchie collection at your disposal for this look! Make good use of them for this banging hairdo. Just make sure none of them are clashing in color or style. 
There are endless ways on how you can layer your scrunchies. Our favorite is a half-up, half-down, braided low-pony combo. Scroll back to the other hairstyles for reference and see the amazingness unfold. You can also go for a layered bubble ponytail if you're feeling a little adventurous and out there. 
https://www.instagram.com/p/BxfF5KulUx7/
What we love about this is that the sky's the limit! The main goal is to drive your creativity in ways you didn't even know possible. On top of that, it's time to express yourself with this hairdo. Truly, fashion and style are excellent avenues for self-expression!
10) Wrist Candy
https://www.instagram.com/p/B5nJ4ZxA7C0/?utm_source=ig_web_copy_link
In fashion, there are no rules (or you know, you can always break them). Using pieces outside their specific function or style is totally forgiven. In fact, doing so shows how brave you are in exploring fashion boundaries. Scrunchies are hair accessories, sure, but they're more than just that. See, we absolutely love wearing scrunchies on our wrists! Yup, no updos, no braids, just wear it like a bracelet. 
Scrunchies are versatile in form and material, which is why they're great as an accessory regardless of your personal style. Want to know what's even better? They're immediately at your disposal when you need to get your hair out of your face!
https://www.instagram.com/p/B5ABH0ZjRiW/?utm_source=ig_web_copy_link
More Scrunchie Tips
Thinner Scrunchies Look More Modern
If you're iffy about riding this trend because you're not much for the Heathers look, choosing thinner scrunchies might be the answer. These will look less chunky and will fit your overall aesthetic better. Once you're comfortable, maybe you can switch to thicker ones soon!
Mix and Match!
We're fans of how Hollywood celebs and couture models match scrunchies with their outfits. You can go for a monochrome look or color-block, depending on your fit. If your wardrobe is full of colors, then try getting scrunchies in different colors too so you have options. Go ahead and try it!
Explore More Styles and Materials 
Scrunchies come in many varieties. You can find them made with:
Cotton

Velvet

Tulle

Satin

Organza

Corduroy
Furthermore, you can check out printed scrunchies or scrunchie scarves too. Doing so will help you appreciate the trend and find more ways on how you can fit this into your style. 
Final Thoughts
Have we already mentioned how much we love this scrunchie comeback? Allow us to emphasize it once more. There's nothing better than a fashion piece that is effortless in bringing chicness. Our busy lives certainly take a toll on how much we're able to look after ourselves. But if you're like us, you'd know how great it is to look good and feel good. That's why this trend has definitely awoken our younger selves once again.
Scrunchies are back in the fashion scene with a punch of nostalgia, and we are all for it! So, whether you are a laid-back type of girl or you're more of a made-up look kind of lady, you will find something suitable for you with this fashion comeback.