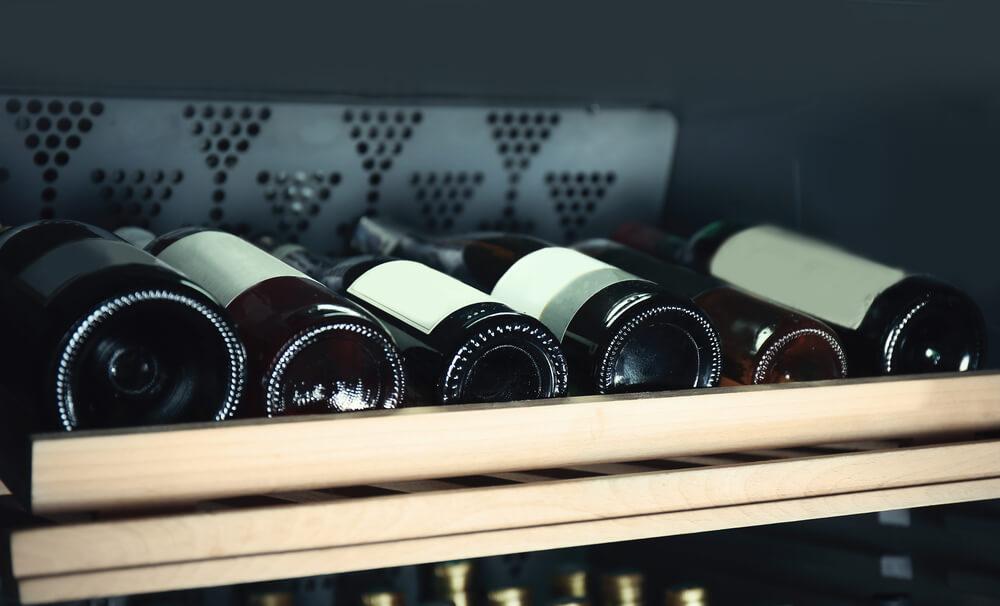 Imagine this: you're entertaining guests and need a bottle of perfectly chilled wine.
You certainly don't want to serve tepid wine. Or, even worse, warm wine! (God forbid!)
Well, for that perfection in a bottle, you have two options – a wine cellar, or a wine cooler.
And, as most of us don't have a cellar to begin with (or if we do, it's full of junk), the only option seems to be a wine cooler.
But, don't worry, the investment will pay off.  
And your taste buds will certainly be grateful.
Your New Year's resolution could be a wine cooler. A new cooler for the new year.
Types of Wine Coolers
Wine coolers are simply a must if you enjoy hosting dinner parties for your friends and family.
Let's face it – no one likes warm wine.
Well, there are perhaps people that do, but they are on a whole different level.
Now, before you rush into anything and buy the first thing that catches your eye, you have to decide which type of wine cooler you need.
But choosing the best wine cooler can be quite exhausting if you're not sure what's in offer.
Here's what you need to take into consideration when you decide to get a wine cooler:
Its cooling technology

Its structure

Its design
The wine cooler's cooling technology is actually what chills your wine, right? Well, smart people thought of more than one ways this can be done so, today, there are basically two options to choose from:
Compressor wine coolers

Thermoelectric wine coolers
Compressor-based wine coolers use, you may have guessed it, compressed air to cool the bottles. They are basically like standard fridges, except smaller (but sometimes, not even that much smaller), and they use the vapor compression cycle to chill the interior of the cabinet.  Their main advantage is that they are quite fast and can reach quite low temperatures. Also, they don't operate constantly, only powering on when it's necessary to maintain the temperature. And, you guessed it – that means lower electric bills.
Thermoelectric wine coolers have metal rods inside the cabin and they chill the cabin within just a few minutes. Inside, there is a fan that regulates the cool air and ensures efficient circulation of air. The main advantage of thermoelectric wine coolers is that they're easy to maintain, mostly silent and more durable than the compressor wine coolers. Also, they are environmentally friendlier than their fridge-like counterpart (precisely because the latter resemble refrigerators).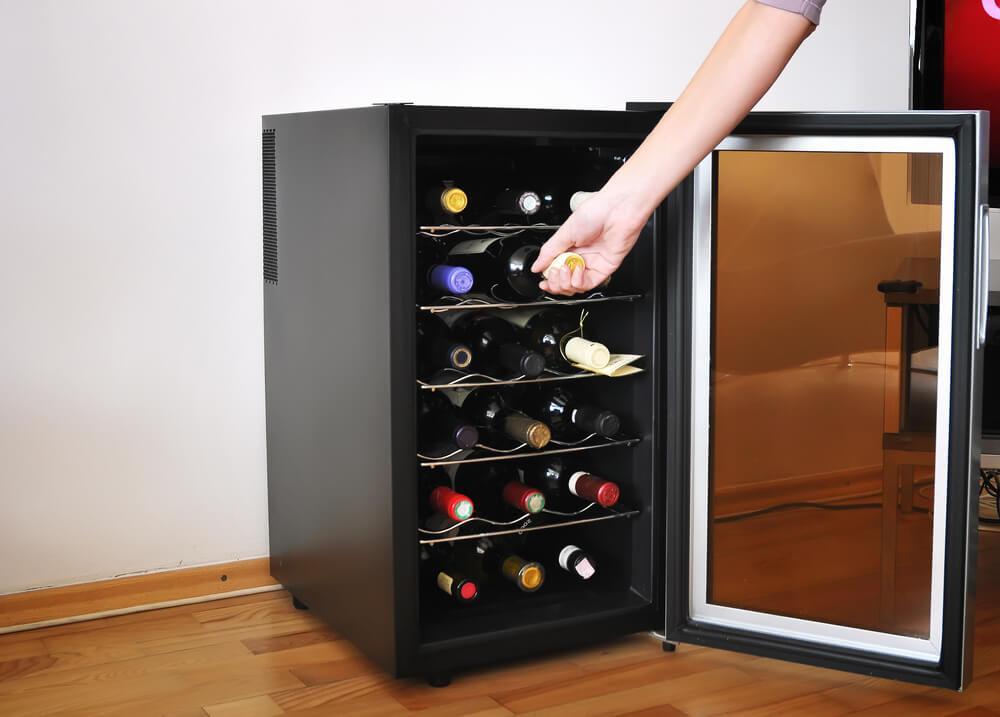 In addition, your wine coolers can be divided into:
Single zone wine coolers

Double/dual zone wine coolers.
Single zone coolers are perfect for people who do not want to keep too large a stock in their bar. They, of course, have a lower capacity to hold wine bottles and they are great for people who only occasionally drink wine. Their main advantage is that they're compact and are quite easy to use.
The dual zone wine coolers are simply perfect for wine lovers, because they can hold a variety of wines. They have two separate zones, which makes it more organized and helps you keep the different types of wine separate. If you prefer to enjoy wine on a more regular basis, such wine coolers are simply perfect for you.
Also, as far as your choice in the design of the cooler, you also have a couple of options:
Counter-top coolers

Freestanding coolers

Built-in coolers
Now, as far as counter-top coolers go, if you don't have too much space, this is the choice for you. Usually, they can store somewhere between 4 and 24 bottles of wine, depending on the model.
Freestanding coolers come in all sorts of sizes. However, they also range from some quite compact to some as big as refrigerators. Their main advantage is that you can place them basically wherever you want. Just don't get too crazy ideas.
Built-in coolers are simply perfect if you don't want to take up floor space. Their main advantage is that they don't need ventilation around them. However, that is also their main disadvantage, as they are expensive precisely because of that. But, before you buy a built-in cooler, you need to check and measure (always measure!) how much space you have for this cooler.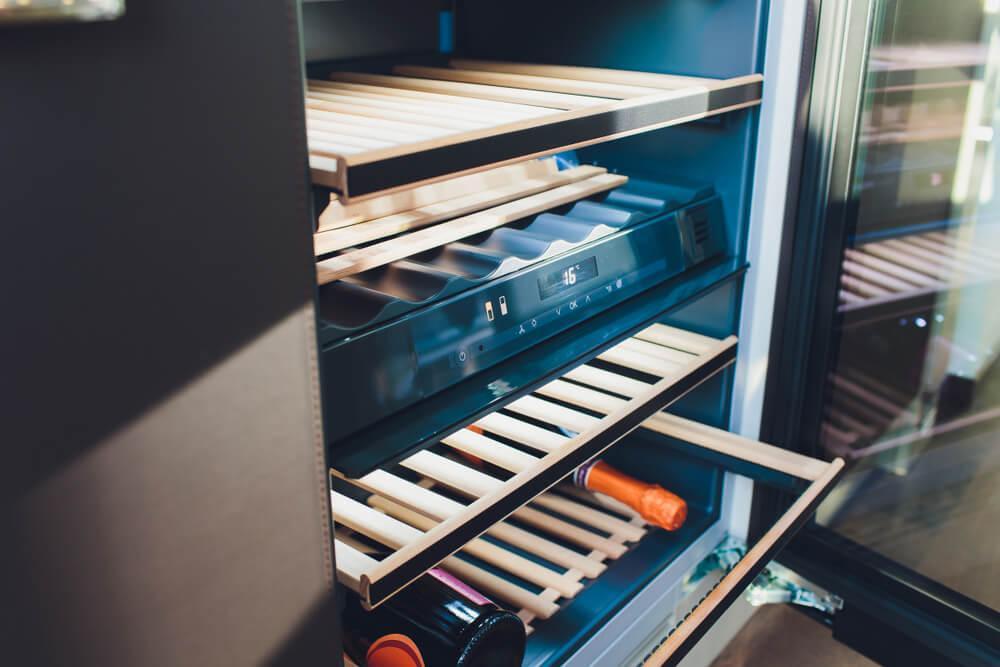 Chillin' in Style
Now, if you're set on buying a wine cooler, you might be feeling a bit overwhelmed with the offers on the market.
That is why we've narrowed the list down to the best of the best. They vary in size, so you can easily pick whatever suits you.  
Counter-Top Coolers
1) Magic Chef 6 Bottle Wine Cooler
https://www.instagram.com/p/BlqxSjeHSf4/
This is one of the best small wine coolers on the market today. It has enough room to hold six bottles of wine while still being small enough to fit on your counter-top. It can be easily moved around (if, per chance, you'd like a wine cooler on your night stand).
It is perfect for storing both red and white wines and it has a thermoelectric cooling system, which means it is silent (an additional reason to put it on your night stand!). Its temperature range is 46-66 ℉.
As for its appearance, you can hardly find something as stylish as this little fellow! Its black cabinet is well-paired with a black door and two highly-polished chrome shelves. It even has a blue LED light on the inside that will certainly add elegance to the atmosphere.
When it comes to parties, it will certainly be a hit!
2)
NutriChef 12 Bottle Wine Cooler
If you're not certain the 6-bottle wine will cater to your needs, there is a 12-bottle option that is also quite chic. Again, with the thermoelectric cooling system, you'll find that it doesn't disturb the wine bottles nor the peace and quiet in your home.
Again, it has stylish blue LED interior lighting, which adds to the ambiance and it has a touchscreen to control the temperature levels and the interior light. The construction is sturdy, made completely of metal.  
But the best part is – check this out – that bottles can be stored horizontally, as well as vertically. It has polished chrome partitioned racks and it is simply convenient. As with the previous model, you can place it nearly anywhere you want, and it won't be a mistake. Try it, we dare you.
3)
Ivation 8 Bottle Counter-Top Wine Cooler
We simply had to offer something for the middle-ground. Sometimes, you and your friends are merely medium wine-drinkers. You go through the small cooler pretty easily, but can't seem to get nowhere near the 12-bottle mark.
If you feel like the 6-bottle one is too small for you, but that the 12-bottle one is simply too big, we have found the perfect match for you.
This wine cooler has an elegant smoked glass door and a digital display, so you really don't even have to open the door in order to adjust the temperature. When it comes to its interior, it is insulated, ensuring an odor-free environment and constant humidity, for which your wines will be grateful. It has soft interior lighting that you can switch off, if need be, and it has pull-out oak wood shelves.
It offers the perfect temperature for both red and white wines. Again, since it's thermoelectric, it is practically soundless and will not disturb your wines. On the outside, aside from the smoked glass, there is the stainless steel trim. A must have for parties.
Free Standing Coolers
4)
AKDY 21-Bottle Freestanding Wine Cooler
https://www.instagram.com/p/Bt1zsOZFrz4/
This model has a high tech thermoelectric cooling system that is simply heaven for keeping your wine at juust the right temperature without causing noise or vibration. Of course, that means that it is quite suitable for wines whose sediment needs to settle.
You can control the upper and lower zones of the cooler with the control panel that separates the two sections. The top is quite perfect for cooler wines (since the temperature can be adjusted to between 44 and 66 ℉), that is, white or desert wines (which are great for cocktails, if we may add). When it comes to the bottom, it is great for slightly warmer wines (as the temperature can be adjusted between 50 and 66 ℉).
It has a sleek black casing with a stainless steel handle and black trim on the glass door. Also, it has pull-out wooden shelves that really add style to its appearance. Another special feature is that the zones are not even – you get a small one at the top and a larger one at the bottom. All in all, this wine cooler truly looks like it could be placed in any front room of a posh restaurant.
5)
Avallon 23-Bottle Freestanding Wine Cooler
This is a compressor-powered wine cooler able to fit 23 bottles. It has five wooden shelves and dual-zone cooling. Each of the zones has a control panel and an LCD display, so you can control the temperature separately.
Its cooling system allows for different temperatures, as per the requirement of the wines you've put in. The circulation fan evenly distributes the air inside, ensuring that cool air covers the entire unit.
But the most impressive and the most stylish part of this choice is its slim design and the stainless steel door and door handle. You can alter its LED blue and white lights, so you can actually adjust it to the design of your living room/bar.
6)
Newair 28 Bottle Wine Cooler
We chose this one simply to present you with a variety, since this is not a dual zone cooler! (This deserves a collective gasp!) However, it does tend to whatever need you may have. It holds the temperature perfectly and, since it uses a thermoelectric cooling system, it doesn't emit a sound that is too loud. In fact, all you will be able to hear (if you try really, really hard) is slight humming.
As far as its looks are concerned, again, it could be front and center at an elegant restaurant, without problem. It has a clear glass door so you can keep an eye on your wine, it is finished off with a metallic grey color and it has a blue light on the inside.
There are six racks on the inside, which can be removed if you want to put in larger bottles. This is ideal if you want to store other beverages in there too. 
Built-In Wine Coolers
7)
Whynter 18 Bottle Built-In Wine Cooler
https://www.instagram.com/p/B33aEb9nj0K/
The Whynter cooler works on a compressor-based cooling system which is perfect for achieving lower temperatures. It is meant for someone who doesn't have too many wines, but wants to store them properly. The ventilation actually comes from the front and it can be used even as a freestanding cooler.
When it comes to its appearance, it has a slim tall black cabinet with a stainless steel door. The handle, which stretches from top to bottom of the cabinet, is also stainless steel. The door is double-paneled and made from tempered glass which means that you can even put it in the sun during the day (a word of caution – you can, but don't).
It has six chrome shelves and simply add to the elegance of the unit. This model has even an optional box that can be put on the top shelf for humidity control.
8)
EdgeStar 30 Bottle Built-In Wine Cooler
This cooler has a compressor-based cooling system. However, it also has rubber bushing installed, and this truly helps absorb the noise and the vibration, so it's not as loud. This is quite a decent-sized built-in wine cooler for anyone looking to increase their collection. A special feature of this particular model is that it has a carbon filter and an auto-defrost function.
The model is quite compact in size (which is quite a feat, since it can store 30 bottles!). The cabinet and the edge of the door is black. Its shelves are finished in wood, and the glass are double-paned and tempered. Again, it has a handle that reaches from the top to the bottom. Overall, it is quite elegant, with quite a rustic feel to it, so it works like a charm for almost any kitchen out there.