Tis the season of BBQs, patio beers, and cocktails by the pool! There's no better time to let your taste-buds explore than when you're lounging poolside, so try out some of these easy, fun cocktails and see what happens!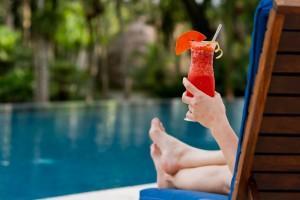 Canadian Caesar
Nothing tastes better than Caesars in the morning! This is the number one prescribed hangover cure for most Canadians, so make yourself a Caesar before settling down to enjoy the morning sun. To start off, rim your glass with celery salt. Then all you need to do is mix 1 ounce of your preferred vodka, 2 dashes of hot sauce (you can add more or less depending on your tolerance for spice), 4 dashes of Worcestershire sauce, and 4 ounces clamato juice in a glass. Top it off with a celery stick and lime wedge, or some green olives as a garnish. To get a truly Canadian experience use bacon flavored vodka.
Watermelon Mojito
This is the perfect summer drink for sipping poolside while reading a book or magazine, and it's super easy to make! Grab a glass and mash together a good amount of watermelon chunks and juice one lime into it. Add teaspoons of sugar, a few mint leaves and add 2 ounces of white rum. Add some ginger ale to give it some fizz and give it a taste!
Chocolate Banana Martini
If  a straight up fruit cocktail isn't to your taste, try this delicious drink that combines one of my personal favorite flavor combos. Be careful with this one though, as with most martinis it contains only alcohol, so enjoy responsibly! All you need to do is mix 2 ounces of vodka, 1 ounce crème de cacao, 1 ounce banana schnapps, et voila! To make this flavor combo even better, garnish with a dollop of peanut butter!
Elderflower Champagne Punch
Having guests over? Impress your friends by mixing together a batch of this tasty punch. Get a big punch bowl and stir together 1 cup of freshly squeezed lemon juice, ½ cup superfine sugar, 2 bottles of chilled champagne or white wine, 1 cup cranberry juice cocktail, and 1 cup of elderflower liqueur. Pop in some ice cubes and lemon slices or add them to each glass, and you're ready to enjoy this drink on the patio!