Summer's in full swing and with it comes the most magical time of the year: festival season! Every year more and more food, arts, and music festivals are being announced, giving us more opportunities to flaunt our fun festival looks while seeing our favorite bands and artists. Here are the must-have items to complete your look and channel your inner-hippy.
Hat
Nothing makes me think of festival season more than sunhats! They're the perfect way to make a statement and draw the eye, especially if you're rocking some nice braids or loose waves. Of course, they have the added benefit of keeping the sun out of your eyes, so they're practical too. If sunhats aren't your thing, a flower crown would be a great alternative if you really want to leave your hair free to blow in the wind!
Sunglasses
I have a bit of an obsession with sunglasses, and I think they're a key component of defining your look. This year's retro trends fit perfectly with the throwback feeling I always get from festivals: cat eyes; big and round; and you can never go wrong with aviators. Some fun new styles to try are floral, embellished, or mirrored, and anything with color to make you stand out in the crowd!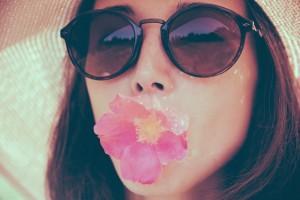 Jewelry
Though my motto for hats and sunglasses for festivals is the bigger the better, when it comes to jewelry I think it's best to go small. Avoid clunky items and necklaces, and focus instead on letting your hands and arms shine with lots of rings and bracelets! Or, bypass physical jewelry all together and get yourself some flash tattoos. If there's ever a right time to layer on these trendy metallic temporary tats, it's at a festival. No matter what you choose, remember that there are going to be lots of people around you, and with such a big crowd there's bound to be some unintentional bumping and rubbing of strangers, so try to avoid anything that could get caught or yanked easily. The last thing you want is to lose your favorite pieces, so be cautious about your jewelry choices.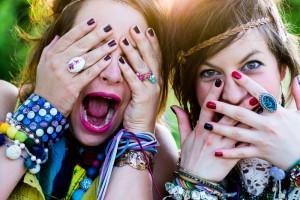 And last but not least, don't forget your sunscreen and a smile! They're all you really need to have a good time.