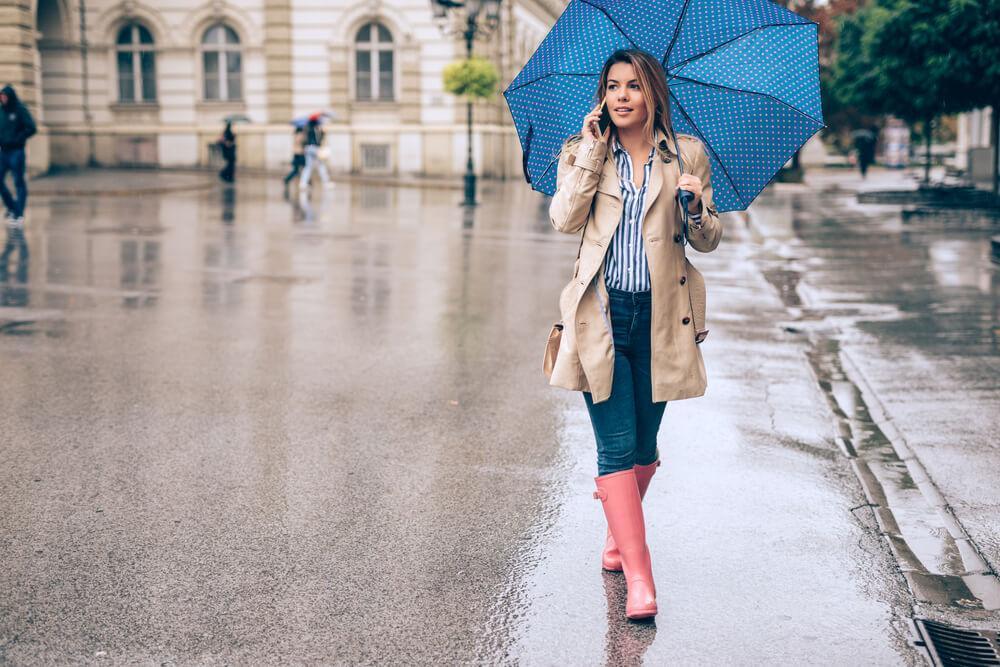 There's no doubt about it, cold weather is on the way! And, whilst we love the chill in the air, the winter festivities, and the excuse to pull out all of our favorite sweaters and coats, the impending rainfall always threatens to spoil our fun and soak our toes!
Well, no more. This year, we've scoured the net to bring you all of the most stylish rain boots out there. Trust us, they're so gorgeous, you'll be wishing for the skies to cloud over!
Classic Black Rain Boots
When it comes to shoes of any kind, narrowing down your list of favorites can be super tricky! That said, if you can manage to have just a few pairs, you'll love how much space you're able to save and how much quicker it is to pull outfits together.
So, if you're currently trying to be more mindful of your space (and your bank balance), we highly recommend investing in a good quality pair of black rain boots this winter.
Why?
For so many reasons!
Firstly, they're incredibly versatile. Black is the coverall shade that will go with pretty much every item of clothing and accessory that you own. They're also super easy to dress up or down. We're not suggesting you pair them with your favorite evening gown or anything, but, adding black rain boots to a pair of blue jeans, a knitted sweater, and a trench coat looks surprisingly chicer than a bright yellow or classic green pair!
In addition to this, black rain boots look just as amazing with pants and they do with skirts or dresses. You can even wear them over tights for an added layer of winter warmth.
So, if you're totally convinced and are now on the lookout for your very own pair, we don't blame you. Thankfully, you won't be searching for long thanks to the Betty Rainboots by Chloé. These stunning heeled boots have a PVC upper and a rubber sole which, as you've probably guessed from the name, makes them perfect for wet weather. They look amazing with dresses and jeans, plus, they also come in beige and navy if you feel you need more options.
Chic Brown Rain Boots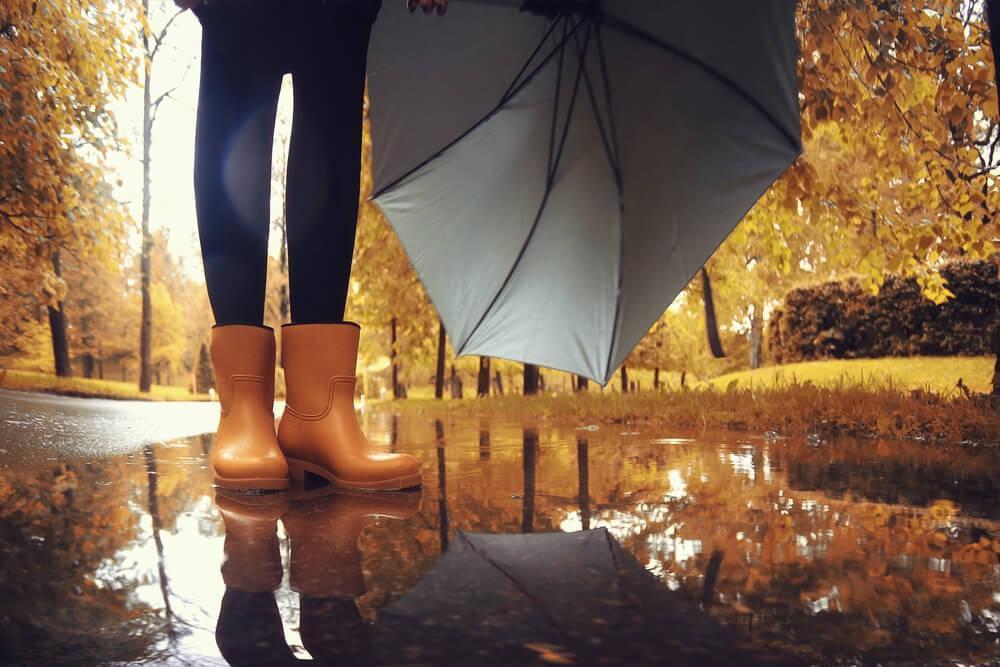 Continuing with the theme of classic boots colors, no winter closet is complete without a pair of gorgeous brown boots. And, if you find the perfect pair of rain boots in brown, you're onto a real winner!
As much as we adore black rain boots, brown ones have a super elegant edge that just can't be replicated. We adore how they contrast with both black and blue jeans, and how they elevate the shades we're all wearing right now. Trust us, your winter floral dresses will be immediately elevated with the simple addition of the right pair of brown rain boots.
We're sure you agree and have already been shopping both online and in-person to find the perfect pair for rainy days. Happily, you can now call off the search because the Toffee colored rain boots by Everlane exist!
These gorgeous boots come in 4 colors and are made to be worn with thicker socks or tights so you can wear your regular size and still be comfortable. Meanwhile, their 100% rubber uppers will make sure the rain stays well away from your toes all winter long.
Add A Pop Of Color
Classic boots colors are, of course, a necessity when it comes to footwear you can wear on repeat. After all, you want to get the most out of your shoes and neutral colors are the best way to ensure that happens.
That said, fashion should also be heaps of fun! Therefore, we always suggest introducing at least one statement pair of boots into your rotation. This will give you and your footwear collection a boost and is sure to put a spring in your step. Even when that step's into a huge wet puddle!
So, which color should you choose from all of the many options out there? This is totally up to you, however, we'd argue that you can't go wrong with red when the time comes to make a statement with your footwear!
If you agree, you're about to be extremely happy, and it's all thanks to Hunter. Their new and improved Chelsea Boots, come in the most stunning shade of red we've ever laid eyes on! And, seeing as Hunter was founded back in 1856, we're pretty certain this British boot company knows a thing or two about keeping your feet dry in style!
Stylish Symbols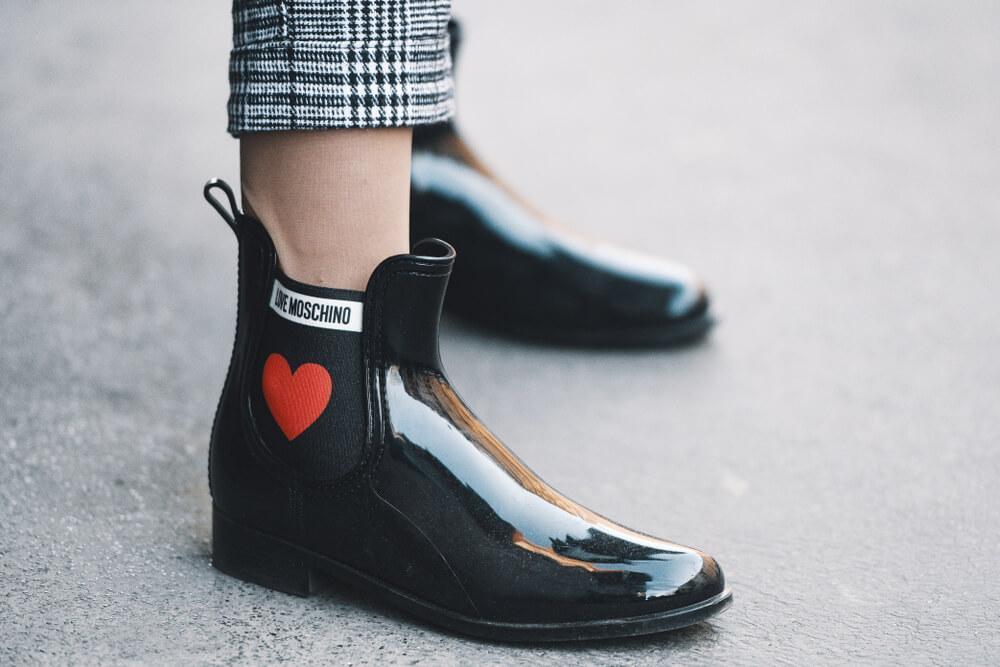 Searching for something a little different?
We have you covered!
Showing off your sense of style and adding personality into your outfit is the perfect way to keep your clothes and shoes feeling fresh and authentically, you. Your rain boots needn't be any different and if you thought you'd be stuck with plain ones for the foreseeable, you're in luck!
Moschino's PVC Rain boots with a heart logo printed on the side are just what you've been looking for. These gorgeous black ankle boots will look great with every outfit you put on this winter. But, unlike other plainer boots, they add a little something extra to your look.
Not to mention, these stunning designer boots have a reflective PVC upper and rubber souls. This combination will undoubtedly keep your feet dry and your outfit stylish!
High Boots
Though we may be on the lookout for rain boots, we don't necessarily always want them to look like rain boots. For example, say we're rocking a gorgeous new midi/mini dress or skirt. When that happens, we also want our boots to be the main feature that complements our outfit choice. Unfortunately, many of the rain boots out there just don't cut it in terms of style which can ultimately ruin our whole look!
We'll go ahead and assume you feel the same as we do. Therefore, it's likely you've been searching for those dream boots for forever also. Well, we've found them!
Where?
Hunter has come through again with their amazing Slim Fit tall rain boots in black!
These boots will keep your feet and legs dry and look super chic whilst doing it. Designed for city living, these boots have a tailored shape that's super lightweight, yet fully waterproof. These will, as we said, look amazing with skirts and dresses but they'll also add a classic vibe to your jeans and chunky knitted sweaters as temperatures, and rain, continue to drop. Ahh, finally.
Lace-Up Boots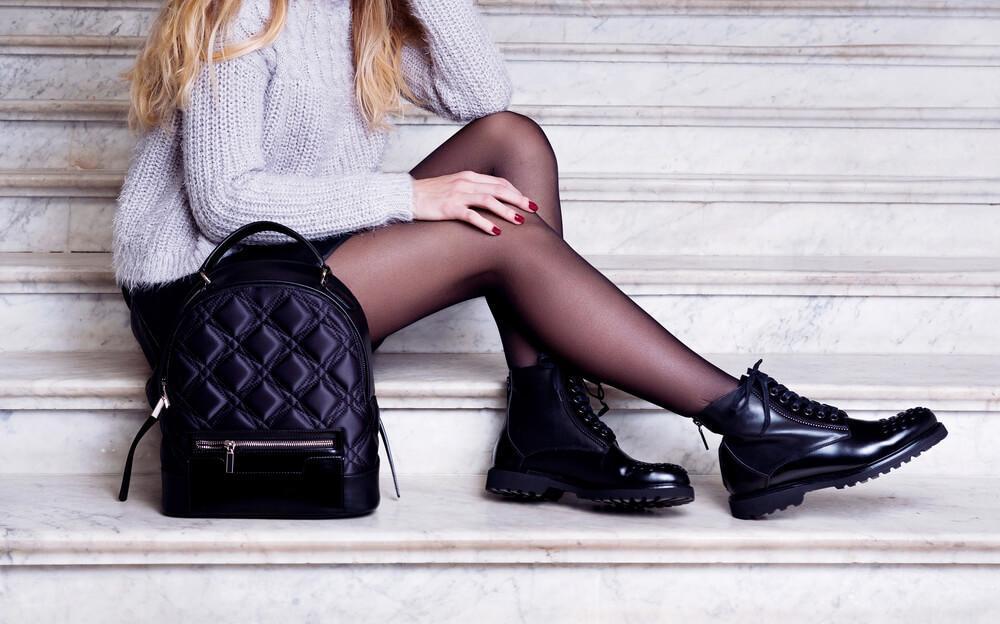 When we think about rain boots, it's easy to picture those bright yellow, knee-high yellow things we used to wear whilst splashing around in puddles as a child. However, thankfully, time a fashion has moved on and we're able to get out hands on some seriously gorgeous, rainproof shoes these days.
This can be especially important when it comes to work or social events at which we need to look and feel somewhat smarter than usual. On these occasions, shoes that take forever to pull on or that squeak as we walk are an absolute no go! That's why we intend on adding Timberland's beautiful Sienna Waterproof high boots to our shoe rotation as quickly as possible!
These gorgeous and brilliantly versatile boots have modest 2.5-inch heels which makes them perfect for dressing up or down. Additionally, though they appear to lace up, which looks amazing, they actually have a side zip meaning you can get them on and off quickly and simply. This means we can forget about lacing them up and down each time we wear them. Ideal when you're just getting in from a full day of being rained on!
Additionally, these boots come in both black and brown, are made with waterproof leathers, and are sealed with an internal waterproof membrane to keep your socks and feet dry and cozy.
Heeled Boots
Unless you're blessed with the high of a runway model, you likely wear heels to work, and whenever else it's socially acceptable to do so! However, when the rain sets in and it's super soggy underfoot, sliding around on what quickly become two, 4-inch death traps, rapidly loses its charm!
All this aside, we still want/need something with a heel to give us the height we're used to and to finish off whatever outfit we're wearing for the day ahead. That goes for workdays, and weekends off. Well, fear not. We've done your homework for you and discovered that fashionable, heeled rain boots actually exist, who knew?
Apparently, Jeffrey Campbell did! His Hurricane Rain Booties, might just be the most beautiful shoes designed for wet weather we've ever seen. Honestly, rain or not, we plan on rocking these beauties right up until spring.
Not only will they look flawless with every outfit, but they'll also add the height to your look which you'd usually get from your go-to work/ night-out heels. What's more, they can be easily styled up or down thanks to their entirely black construction and smooth finish.
Slip these boots on and step out with confidence. You'll look stunning and will be safe in the knowledge that the rain can't touch you! Well, it can't touch your socks anyway.
The Prettiest Pastels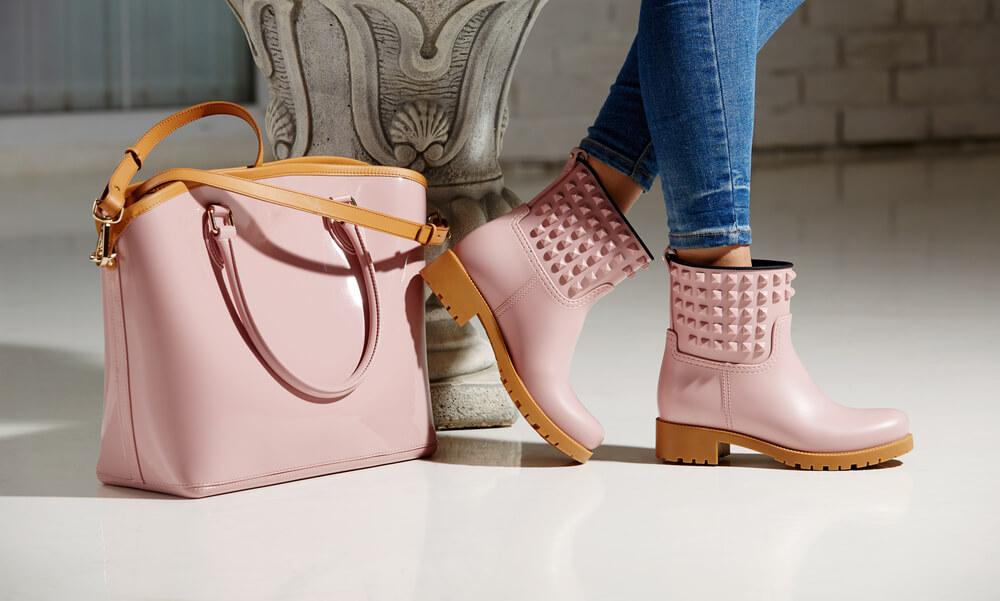 If prints aren't your thing but you still want to give your wet weather outfits a boost, do something unexpected and opt for pastel-colored boots! It's the season of moody color pallets with few softer colors in sight. Therefore, your boots will certainly cause a stir when you opt for shades usually associated with summer!
But which color should you choose? This decision is totally up to you! However, we just have to point out the incredible Generate lace-up wellie boots in pink! These will look incredible with jeans and a simple sweater and with dresses and skirts too!
Use them to pick out certain pink shades in a winter floral dress or to contrast the darker items within your winter rotation. However you wear these boots, you and everyone around you is sure to be instantly smitten with them!
Timeless Prints
When the rain's seriously torrential and nothing but rubber boots will do, there are a few things you may want to consider before purchasing a pair. Firstly, the design you choose is super important!
Why?
We're so glad you asked.
Since these will be your most reliable pair of boots when the rain comes, they need to have a design that goes with any and every outfit you'll be wearing during this weather. So, although a floral pair might be super cute on the shelf, they're pretty much going to clash with everything you own unless your entire wardrobe is completely neutral.
That said, we're definitely not suggesting you avoid prints altogether, where's the fun in that?! It's more about choosing patterns that will go with the colors already in your closet and that will be in style for years to come. This will make your investment much more worthwhile ensuring you get lots of wear out of your new shoes.
Therefore, when it comes to patterns and prints, our go-to will always be classic checks. Timeless and chic, yet super-cute and fun to boot!
Happily, Burberry have you covered with their Belt detail check and rubber rain boots. Let these take center stage and style with a chunky knitted sweater, jeans, and a winter coat and scarf. All eyes will be on your boots as you strut down the street much happier than usual to see the rainfall!