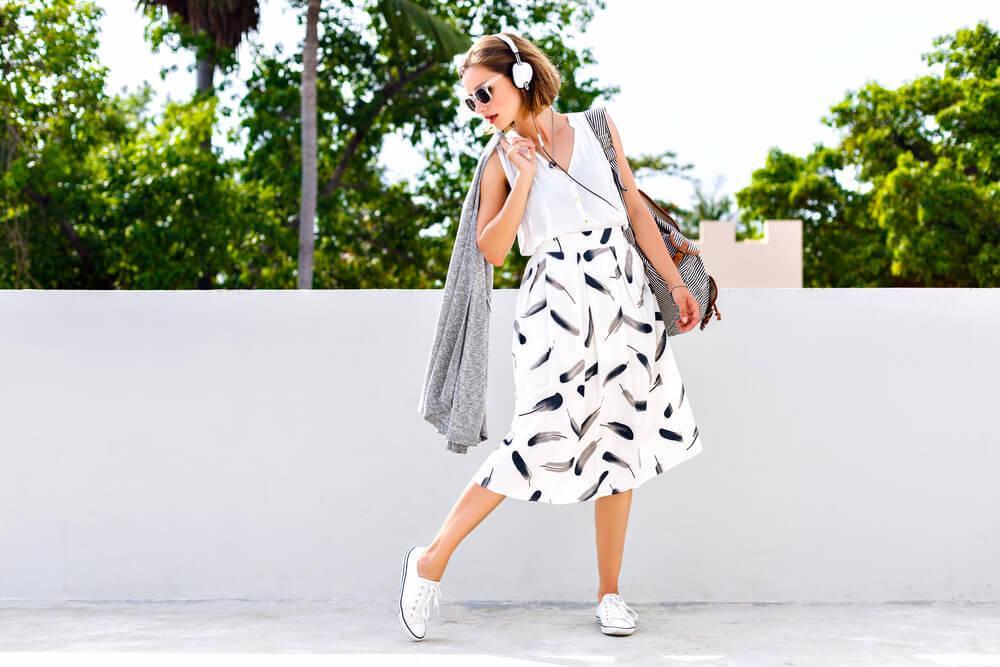 Fashion trends can be so much fun to follow, but being petite does bring with it a few extra challenges when it comes to the latest trends.
While not every trend is going to flatter a petite frame, here are 15 of the best trends for petite women to try out.
1) Haute Denim
Just about everybody has a denim item of clothing in their wardrobes, because this is a fabric that is so incredibly versatile, as well as practical. With this being the case, denim is a fabric that never really goes out of style, and instead just updates and evolves with each season.
So, what are the trends when it comes to denim for 2018?
Haute, upscale denim.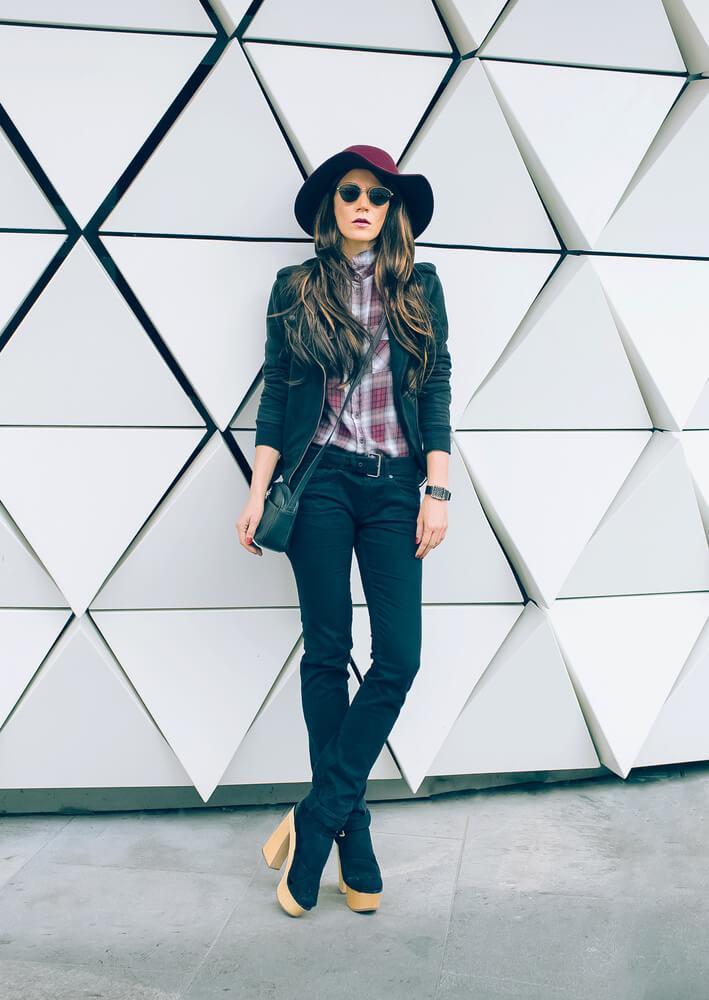 Wondering what this means?
Rather than going for lighter shades, haute denim refers to deep and dark blues, with a strong, rather than lightweight, structure.
This is actually great news for petite women.
Why?
Because darker shades of denim are so slimming and flattering on smaller frames.
Don't forget…
Denim means so much more than just jeans. If you are not a fan of jeans, try a denim shirt, or even a denim dress.
2) Slim-Fitted Pants
While wide-legged and baggy pants may have had their moment, 2018 is the year for slim-fitted styles, and this is something that petite women all over will be happy to hear.
Slim-fitted pants are one of the best pant cuts for petite women to wear.
Why?
Because they streamline the silhouette and elongate the legs.
Wondering if slim-fitted pants are the same as a skinny cut?
The answer is no. While skinny cut pants hug the entirety of the leg, slim-fitted pants have a straighter cut, bringing more sophistication to an outfit.
3) Peep-Toed Shoes
There are so many different trends out there just when it comes to shoes, and one of these is the peep-toe trend.
This style has been seen on so many different types of shoes, from ballet pumps to boots, and are so well suited to a petite frame.
Since these show a flash of skin right at the bottom of your outfit, peep-toed boots are great for making your legs seem even longer than they actually are, which will then make you appear taller.
4) Cinched In
Being a petite woman, you are likely already well aware of how the simple addition of a belt can really make or break an outfit.
This season, belts are back big style, with so many different designs being seen across multiple runways.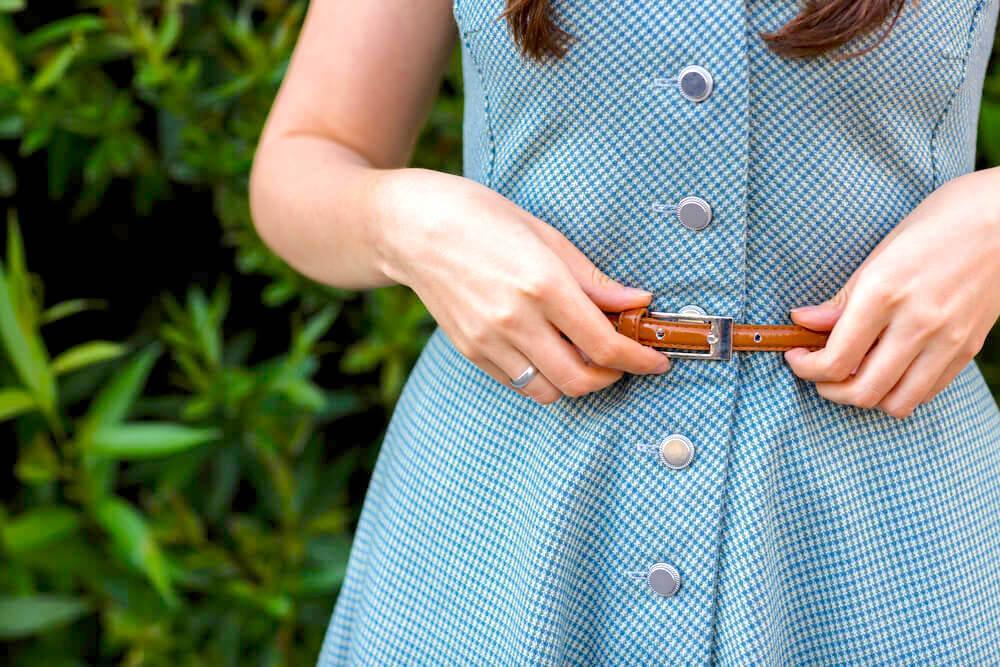 Never really been into belts?
Here are a few tips to get you started:
The

width

of your belt is extremely important. Wider belts work well with longer torsos, as they shorten the upper body. However, a petite frame needs the upper body to appear longer, so skinny belts are the way to go

The

length

of your belt should also be taken into consideration. Try to find a belt that fits onto the middle hole

Choose a belt that

works with your own personal style

, as this will make it much easier to incorporate into more of the outfits that you wear
Wondering what you should add your belt to?
Try a dress, as a belt can really change the whole look of a dress. Belts also work well on high-waisted skirts, as well as pants, but make sure that they have belt loops. If not, your belt will end up slipping throughout the day, making your proportions look rather strange.
When it comes to matching your belt to an outfit, don't get too caught up in this…
While there is nothing wrong with matching  your belt to your shoes for example, this does tend to often look quite conservative. A mismatched look will give you a more casual and fun edge. 
5) Prints, Prints and More Prints
Prints are always popular in the warmer months, but many style guides out there will advise petite women to stay well away from prints, insisting that they will overwhelm a petite frame.
While this is true to a certain extent, there are still so many ways in which a petite woman can pull off prints, no matter how bright and large they may be.
Want to know the secrets to this?
Begin by finding the right print. This may take some time, and quite a bit of browsing, but trying on a wide variety of prints will help you to learn which ones work best for you.
Tempted by a large, bold print?
Go for it, just learn how to tone it down a bit. All you need to do is throw a blazer over the top of it, or pair it with a plain colored item of clothing. 
When it comes to the more subtle prints out there…
Vertical stripes are your best friend. These will elongate your body, while having a slimming effect too.
6) Smartly Tailored
One of the hottest fashion trends for 2018 is suits, and these come in all shapes and sizes.
The suit is an outfit that combines both power and style, making it a popular choice for women all over the world.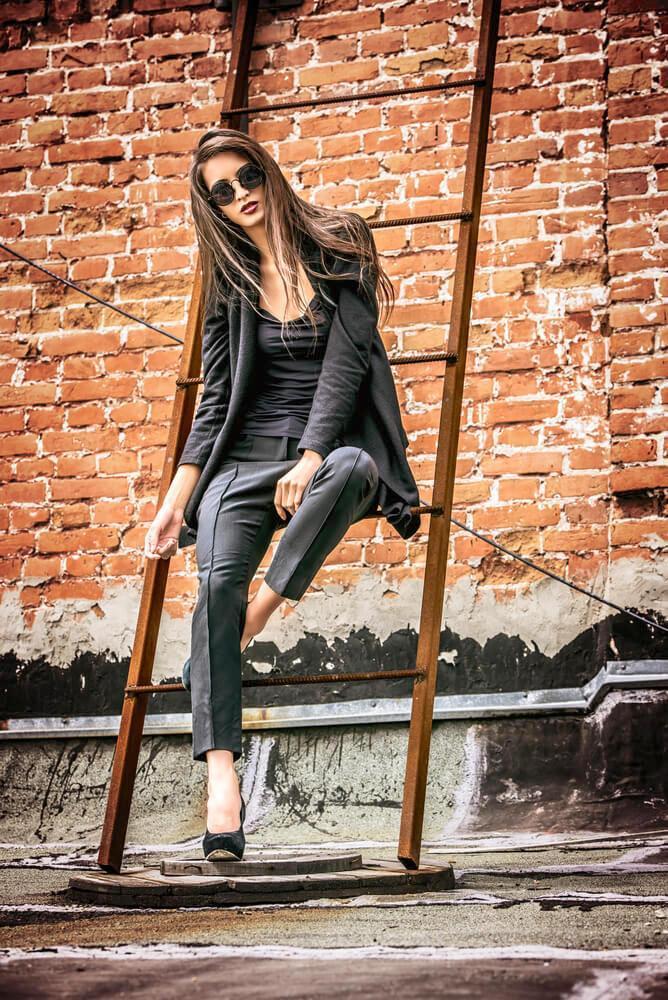 As always, every designer has put their own spin on this classic, from the large pockets at Loewe to the shimmery metallic shades at Balmain. 
Seen a suit that you love?
Since you have a petite frame, it is unlikely that a suit will immediately fit you perfectly.
The key here is to find a good tailor.
This will enable you to have the suit altered in a way that perfectly fits your body, highlighting your best features.
7) Micro Purses
You have likely already seen micro purses quite a bit, because they became a huge hit with a number of celebrities in 2017. However, it is only now, in 2018, that they have become more mainstream, meaning that there are now so many different designs and styles available.
The micro purse trend is a fantastic one for petite women to try out.
Why?
Because their small size will give your body the illusion of height, whereas a larger purse would have shortened your body.
When it comes to the different micro purses out there…
Luxe fabrics, such as faux snakeskin or velvet, are going to be the most popular, and work especially well when worn attached to a cross-body chain. 
8) Long Scarves
Everybody should have a few scarves in their wardrobe, as this accessory can really add so much to an outfit.
The key, when it comes to petite frames, is in the length of scarf you choose.
Longer scarves will likely suit you much better than shorter scarves.
Why?
Because a shorter scarf will fall somewhere around the middle of your body, and will shorten your proportions. On the other hand, a longer scarf will elongate your body, giving you a more streamlined appearance.
There is one more thing to keep in mind when it comes to longer scarves…
Try to avoid wearing it looped around your neck, as this cuts your body off at your neck, making you appear shorter. Instead, let the scarf fall vertically down either side of your neck, allowing it to flow as you move.
9) Maxi Dresses
Maxi dresses seem to make a comeback every spring and summer, and 2018 is no exception.
There are so many style guides out there that advise petite women to stay away from maxi dresses, claiming that this style will overwhelm their frame, but this is not strictly true.
It all comes down to the way in which a maxi dress is cut.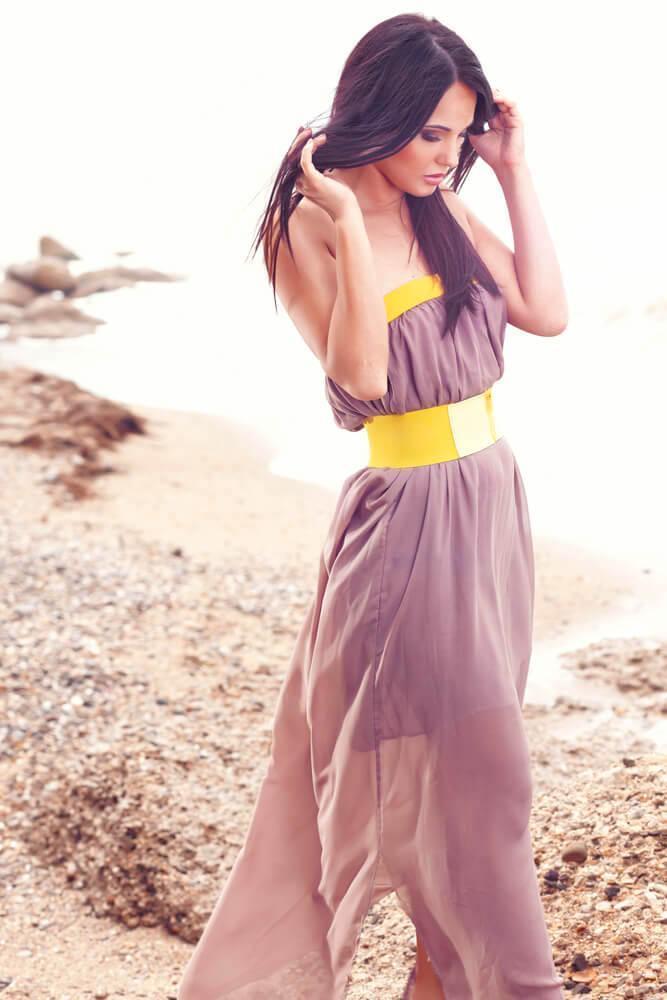 Rather than opting for flowy, kaftan-esque maxi dresses, go for something more body-defining, so that it contours your figure rather than hiding it.
Lighter fabrics, such as organza and georgette, do this well.
Try to stay away from too many ruffles and other distracting details, as you want to give the illusion of height, not width.
10) Fringed Dresses
Fringing is being seen on so many different runways, and are actually a very flattering trend for petite women to try out.
Of course, in order for this to really complement you, you do need to keep a few things in mind…
When it comes to the actual fringing itself, look for something long and thin, rather than wide, as you want to emphasize length not width. 
Make sure that the fringing falls either above your knee or just below your knee, avoiding anything that falls to mid-calf.
Why?
Because this will only cut your legs off and shorten your proportions.
11) Strappy Wedges
It goes without saying that heels are the best way for a petite woman to gain some height, but these can often become uncomfortable, especially if they need to be worn for a long period of time.
Wedges had their moment in the past, and then they disappeared for a while, but are now back with a vengeance.
There are so many different styles out there, and these can be worn with everything from a maxi dress to jeans.
Need some help finding some stylish wedges?
The classy and elegant J. Crew Espadrille Wedges

The fringe-trimmed Rosea Ankle Wrap Sandals from Sole Society

The pastel colors and cactus print Dallas Wedge Sandals from Kate Spade New York

The mini Wedge Sandals from Splendid Justin

The neutral shades with rainbow stitching on the Platform Wedges from Pelle Moda Onos 
12) A-Line Mini Skirts
Showing off the legs works well for petite women, meaning that the a-line mini skirt trend is perfectly suited to you.
This works especially well for those who are petite and busty at the same time, as the silhouette of the skirt will help to balance out your proportions, so long as you wear it with a fitted top.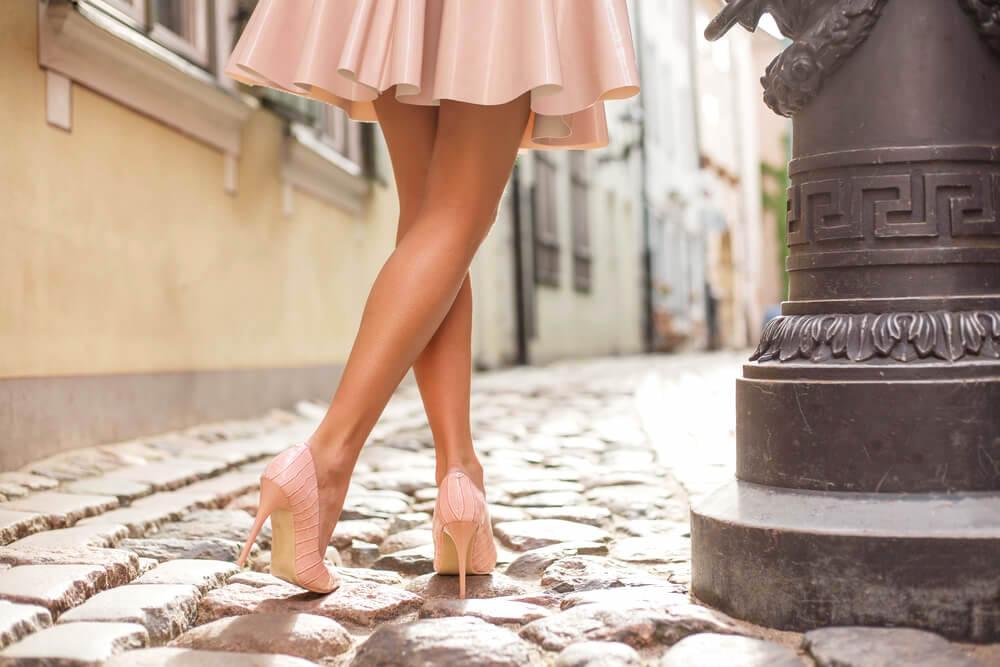 Want to give yourself even more height?
Look for a high-waisted a-line mini skirt, as this will make your legs appear even longer.
13) Statement-Making Tees
Got something to say?
Say it with a slogan t-shirt.
These outspoken t-shirts have not only been seen all over the runways, but all over the streets too, and are a great way to speak out for what you believe in.
Whether this may be a serious political message or a humorous statement about your favorite food, having a message emblazoned across the front of your t-shirt is such a fun way to bring even more of your personality into your outfit.
Take a look at some of these tees for inspiration:
Linguini and Clams

from Kate Kimmel

Equal Pay Now

from Rachel Antonoff

Less Regret More Sweat #ActuallySheCan

by Le Motto
14) Short Kimonos
Japanese-inspired styles have slowly been making their way into the spotlight recently, especially when it comes to short kimonos.
Since these are short, they are a great length for a petite frame, but do make sure that the wide kimono sleeves don't overwhelm your body.
Wondering how to wear a short kimono?
Try it as a top, paired with some slim-fitted jeans or leggings, or wear it as a dress and show off your legs.
15) Tiny Sunglasses
The oversized sunglasses trend stuck around for quite a while, and while some petite faces could pull this off, many more could not.
Now, the eyewear trend is all about tiny sunglasses, and these are perfectly suited to petite faces.
Some of the most popular and trendy tiny sunglasses can be found at Roberi and Fraud, as their styles have been seen on so many different celebrities, from Bella Hadid to Millie Bobby Brown.
Urban Outfitters also have some fun tiny sunglasses. Check out their Vintage Clueless Square Sunglasses, which feature a wire frame and optional pink or green lenses. 
While not every fashion trend out there will suit petite women, there are still plenty to choose from. Whether you give maxi dresses a try or purchase your very first power suit, these 15 trends will all beautifully accentuate your petite frame.