When it comes to fashion, street style has become just as influential as the major runway shows themselves.
For those of you looking for some new fashion inspiration, here are 17 street style trends that will be huge this year.
Trench Coats with a Twist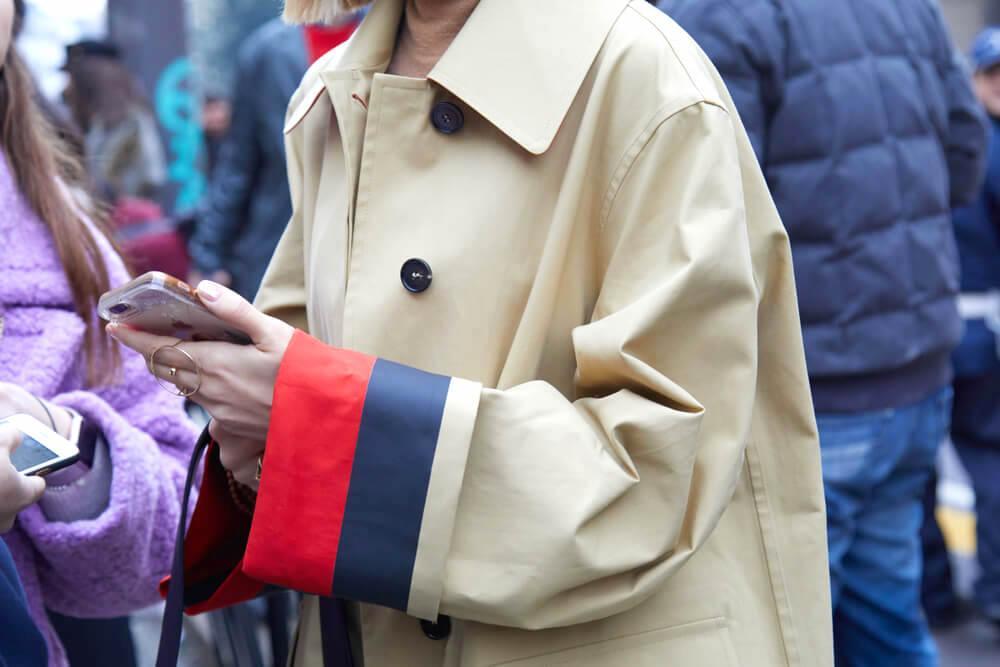 Trench coats always tend to be on trend in the spring and the fall, because not only are they lightweight, but they still give you some warmth, making them perfect for those days when the weather cannot seem to make its mind up.
While trench coats may come back into style each year, 2018 mixes up the classic design a bit, with interesting new elements and details.
From cropped trench coats to unusual colors to detailed cuffs, the street style trench coats for 2018 definitely have quite the twist added to them.
When it comes to styling trench coats, they pretty much go with just about everything. Even if you have opted for a more unusual trench coat, they can generally be worn for both day and night, and will likely quickly become your favorite go-to piece of outerwear.
Sock Boots
Whether you love them or hate them, sock boots were first brought into the limelight by Balenciaga, and while they may not often be seen on the runways, they are definitely all over the streets.
Part sock and part boot, these stretchy footwear pieces are actually quite versatile…
With a wide range of colors and styles available, you will no doubt be able to find a pair of sock boots that work with the items you already have in your wardrobe.
Polka Dots
Polka dots are a pattern that many are afraid of.
Why?
Because they can be quite bold and loud, but this all depends on the actual polka dot print you choose, as well as the way in which you style them.
For those of you who do not often wear polka dots, now is the time to give this pattern a try. Not only have polka dots been seen all over the runways for 2018, but they are also a huge street style hit.
This means that you are likely to be able to find quite a wide variety of polka dot patterns out there.
Need some help styling polka dots?
Here are a few ideas to get you started:
Paired with a chunky knit

Polka dots and denim actually go extremely well together

A polka dot dress, whether this may be a maxi or a mini

A polka dot blouse with some jeans to keep them casual,  or a skirt and heels to dress it up

A polka dot jumpsuit for those who really want to stand out 
Football Scarves
Athleisure fashion has really taken off in recent years, and 2018 is no exception.
While football scarves may not seem like a high fashion item, they are an accessory that is everywhere on the streets at the moment.
Not a football fan?
That's okay, because the football scarves of 2018 do not really sport the names and logos of actual football teams.
Instead, they are emblazoned with everything from fashion brand logos to quotes, so you will no doubt be able to find one that matches your personality.
Side-Striped Trousers
Side-striped trousers have been seen all over the streets this year, and really do make quite the statement.
As always, there are so many different versions out there, and just about all of them will have the effect of making your legs seem even longer.
Whether you decide to opt for cigarette pants, jeans or straight-legged trousers, try to go for a darker shade with a couple of bold stripes down the side, as anything more than that can seem a bit over-the-top.
Dark and Sharp Denim
Just about everybody has a denim item of clothing in their wardrobe, whether this may be a pair of jeans, a denim jacket or a denim skirt.
Of course, denim comes in so many different shades and styles, which is exactly what helps to make this fabric so incredibly versatile.
While this may be the case, 2018 street style sees quite a specific type of denim becoming a hit.
Wondering what this is?
Deep and dark shades, with sharp and polished silhouettes.
So, if you tend to wear lighter colored denim with slouchy silhouettes, now may be the time to put these to the back of your wardrobe and opt for structured, darker types of denim clothing instead.
The Tucked-In Sweater
For those of you who keep a close eye on street style, you have likely already seen tucked-in sweaters quite a bit.
These really give an outfit a cool, understated edge, looking casual but chic at the same time.
Can't seem to get it right when tucking in a sweater?
It does take a fair bit of practice, so here are a few tucking styles to experiment with:
The Mushroom Tuck –

this one is all about silhouette, with the tucked-in part forming quite a bit of volume, but then the clothing you wear below it being quite fitted to the body
The Mullet Tuck –

keeping the front tucked in, with the back untucked, resulting in an air of sophisticated nonchalance
The Naval Tuck –

placing a thumb-sized tuck right underneath the belly button 
The Bum Bag
Also known as the belt bag, the bum bag is an accessory that you may remember from quite a few years ago.
Just like so many other fashion trends, this one is making a comeback, and has been seen all over the streets in recent months.
From sporty pouches that you can wear across the body to luxury designer versions, this is a bag that is not only extremely practical, but has also now become so stylish.
Perfectly Tailored Suits
There are some items of clothing that are really worth spending money on.
Why?
Because they will be classics, meaning that you will be able to wear them year after year.
Tailored suits are the perfect example of this, and are something that every woman should have in her wardrobe.
There are so many different styles out there, from printed and bold to soft and professional, so explore all of your options.
Elevated Cowboy Boots
For those of you who like the Americana-inspired aesthetic, you will love this street style trend…
Cowboy boots are going to be huge in 2018, with so many unique styles out there.
From embroidered cowboy ankle boots to knee-highs with a detailed pattern, the cowboy boots you will see this year have definitely been taken up a level.
Midis and Knee Highs
Depending on where you live, the weather can often be erratic, and knowing what to wear in order to stay stylish but warm at the same time can be tough.
Fortunately, one of the hottest street style trends for 2018 has solved this problem…
Midi skirts paired with knee high boots not only keep your legs covered up, but still have such a flirty, feminine edge.
Like this idea?
When putting together your outfit, try finding a skirt or a dress that just about grazes the top of your boots.
Tiny Sunglasses
The trend for tiny sunglasses, the type you have to peer over, was started by Rihanna, and has since had a huge influence on street style.
Although oversized sunglasses have dominated the streets for quite a while, this has already begun to change.
Yellow
When it comes to clothing, yellow is a color that many people often avoid.
Why?
Because it is quite bold and loud, and can be difficult to match with other colors and other items of clothing.
However, yellow is actually much easier to style than you think…
Want to know the secret?
Finding the right shade of yellow to complement your skin tone. Here are a few guidelines:
Fair or light skin tone

– Darker yellows, as well as mustards, work best, as lighter shades can often wash you out
Medium or olive skin tone –

vibrant and bright yellows will really complement your skin tone
Dark or tan skin tone –

Just about all shades of yellow will work with your skin tone 
When it comes to styling a yellow item of clothing…
If you want to keep your outfit low-key, pair it with a black or a white garment.
However, if you want to inject some fun into your look, try wearing yellow with everything from blue to purple to orange. You may think that this will not work, but the way in which the colors contrast can actually really pull a look together.
Balloon Sleeves
Last season, bishop sleeves were so popular, and this year, the silhouette is similar, but in the form of a balloon sleeve.
Not sure what this is?
A balloon sleeve features a rounded, voluminous sleeve with a tight cuff, creating the effect of a balloon.
Since this gives any outfit quite a bold silhouette, this is definitely a stand-out style to wear if you really want to make a statement.
Wondering what to pair this with?
Ideally, something that is more fitted below, as you do not want your silhouette to start looking too crazy. Wearing something fitted will allow the balloon sleeves to really grab attention and speak for themselves.
Transparency
Transparency has been featured in so many different ways in street style so far this year.
Transparent shoes are always a popular way to try this style out, especially if you often wear interesting tights or socks.
Alternatively, take a look at some of the transparent bags that are out there.
Sound crazy?
Yes, and you will likely need extra pouches within to hide personal belongings from public eyes, but transparent bags do have something about them that make them quite appealing. Plus, you will no longer have to go rooting around in a bag to find a small item.
Net Bags
Net bags recently became so popular that larger brands have now started designing their own.
Wondering what a net bag is?
It's simple…
A bag that looks like a net.
While the downside to this is that any items left loose inside the bag will fall out, so you will need extra pouches within it, the bags do add so much texture and interest to an outfit.
Want to know where to bag yourself a designer net bag?
These designers all have highly-coveted versions:
Vetements

Hillier Bartley

Celine
Statement Belts
Statement belts can actually be so much fun to wear, and can really change the entire dynamic of an outfit.
This year, statement belts are back in, big time…
They have been seen all over the streets, used over everything from a simple t-shirt to outerwear, always managing to pull an outfit together.
However, you do need to put a bit of effort into choosing the belts themselves…
Begin by taking a look at the width. Narrow belts work best for short-waisted women, while wider belts help to make longer torsos look more proportional.
The length of the belt is also important, as you ideally want it to fit at the middle hole, so that it will lie against your body in the right way.
Finally, make sure that you choose a belt that matches your personality and taste…
For example, if you would not wear large gold jewelry, do not purchase a belt that features a large gold buckle.
While magazines and runway shows are definitely great places to look at for some fashion inspiration, nothing quite beats the down-to-earth edginess of street style. This year, there are so many versatile trends to try out. Whether you want to give polka dots a go, or like the look of balloon sleeves, these street style looks promise to be all the rage in 2018.