Stripes have been all the rage this year and that trend shows no signs of stopping any time soon. Whether you're going for cool, casual, or chic, stripes can show you the way. Though stripes can be a fairly traditional look, the runways were full of adventure and experimentation for Spring/Summer with designers really embracing the look and taking it to a new level. Playing with colors and mixing macro with mini stripes with create a sense of youthfulness and fun that we could all use a little more of in our wardrobes!
Though stripes have come and gone as trends in the past, this year it's a bit different in that it is much more playful. There are no rules or limits to what you can do with this trend this time around—mix and match vertical, horizontal, or diagonal all in one outfit to really play with the eye! I love the mix and match option because it's almost as if it's playing an optical illusion on your eyes, while still looking sleek and stylish. The more angles you create by playing with difference sizes and width, the more it will make you look like a walking installation of Art Deco artistry. To really bring to mind that sophisticated movement, stick to simple colors like black and white or silver and black and err on the side of thin stripes. Or if you're looking for a more simple look, the structure of a horizontal stripe blouse with a cute black pencil skirt give you a classic silhouette that will never let you down.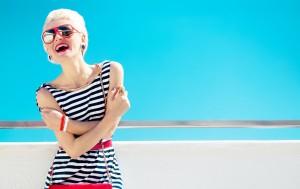 Eccentricity is in this year, so get into the spirit of the trend by getting colorful! Look for multi-colored prints with variety in dimension if you want to make a splash on a girl's night out! Or, if you're looking for a more casual look, you can't go wrong with the classic black and white horizontal striped tee matched with your favorite pair of shorts or jeans. Whether you want to get creative or stick with the classics, stripes are at your disposal as one of this season's hottest trends.