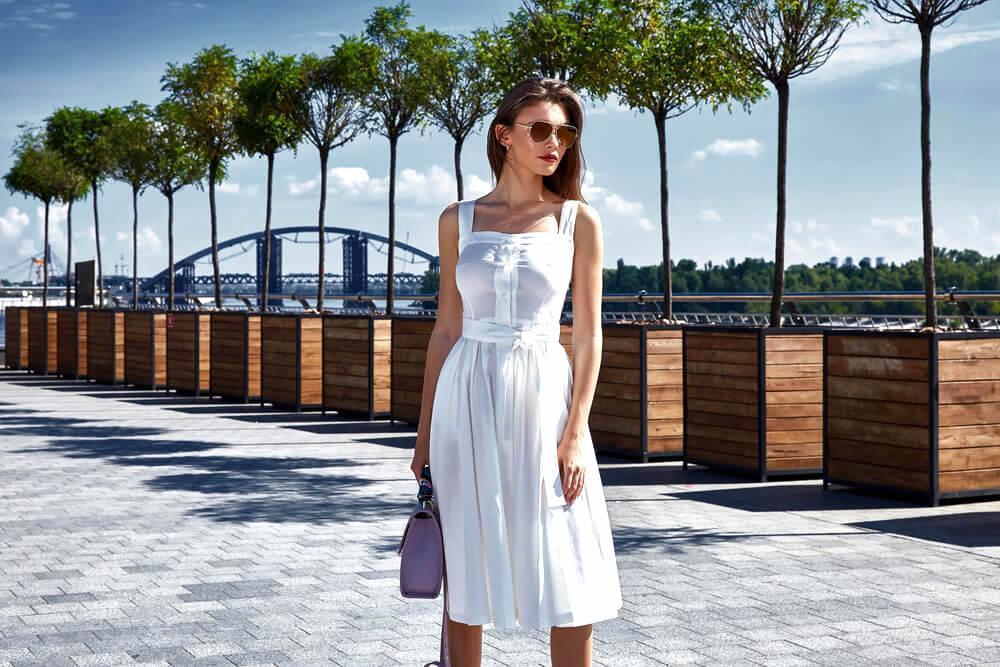 Every time we don't know what to wear, the go-to solution is to turn to the foolproof wardrobe staples, those trusty companions that always come to your rescue in a fashion pinch.
These closet must-haves vary between different people, although some of the most ubiquitous items include the classic blue jeans, the crisp white shirt or the little black dress.
This season, you might want to introduce another item to your go-to pieces: a midi dress.
This type of dress features a flattering cut that extends to your knees or just below them, hovering in that comfortable territory between a coquettish mini dress and a full-on gown.
Due to its versatile fit, a midi dress is not only incredibly easy to style around, it can also be worn for just about every occasion.
Whether it's a casual cotton dress you can quickly throw on for a daytime date or a sleek, party-ready bodycon, midi dresses come in so many different styles that it's hard to narrow down the very best.
And to help you out pin down just what kind of mini dress you should slip into, here are some of the most stylish cuts that you will be able to seamlessly incorporate into your day-to-day looks.
Off-the-shoulder Bardot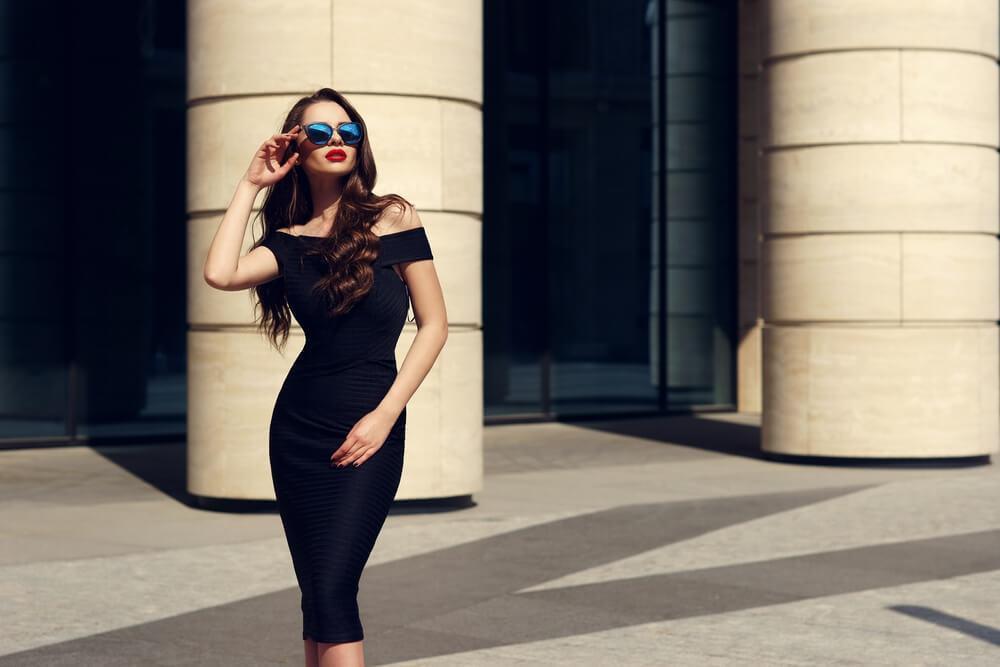 This sleek, sexy number features the iconic shoulder-baring neckline named after the voluptuous '60s babe, Brigitte Bardot.
It's no wonder it hasn't gone out of style since the days of classic French cinema – the flirtatious cut is not only effortlessly stylish, it's also extremely flattering for all body types.
If you want to embrace the full sensuality of the iconic Bardot, you can pair this midi dress with a pair of strappy stilettos and a chic clutch.
And what if you're not quite ready to go down the full '60s sex kitten path?
Not to worry!
Despite its daring vibe, the Bardot midi dress is incredibly easy to tone down and rock on everyday occasions.
You can dial down the Bardot by going for the super-appealing dress and sneakers trend, which is only becoming increasingly popular among fashion enthusiasts.
If you don't necessarily feel like revealing your décolletage, simply layer your dress with a denim jacket or a loose cardigan.
Nautical Stripes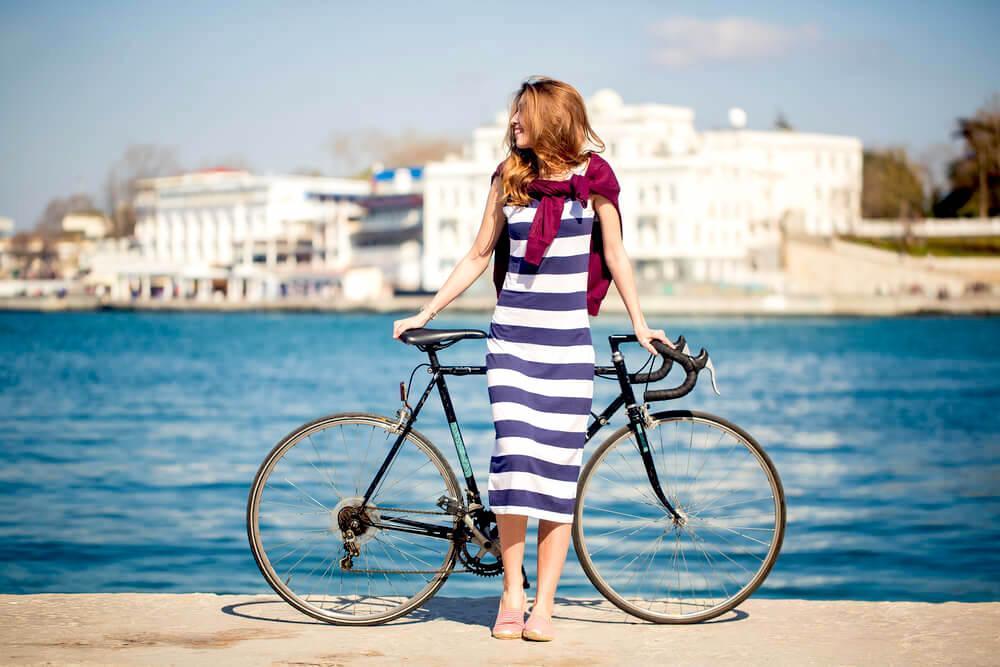 If you're on the market for an understated mini dress that will work with just about anything else in your closet, you might want to go for this classic two-color striped piece.
As this style is a little more breathable and comfortable compared to the more figure-hugging bodycon dresses, it can be a godsend during the scorching summer months.
And when it comes to print, you can rest easy – Breton stripes are one of those designs that never go out of fashion – which means you won't have a problem looking stylish regardless of fashion world's output du jour.
Like most other mid-length dresses, the stripy style can be dressed up; however, you will find this piece will work like a charm when kept cool and nonchalant, with a pair of crisp white Converse or loafers.
For chilly summer nights, layer your midi dress with a white or navy knitted cardigan and you will immediately exude the preppy, nautical vibe.
Statement Ruffles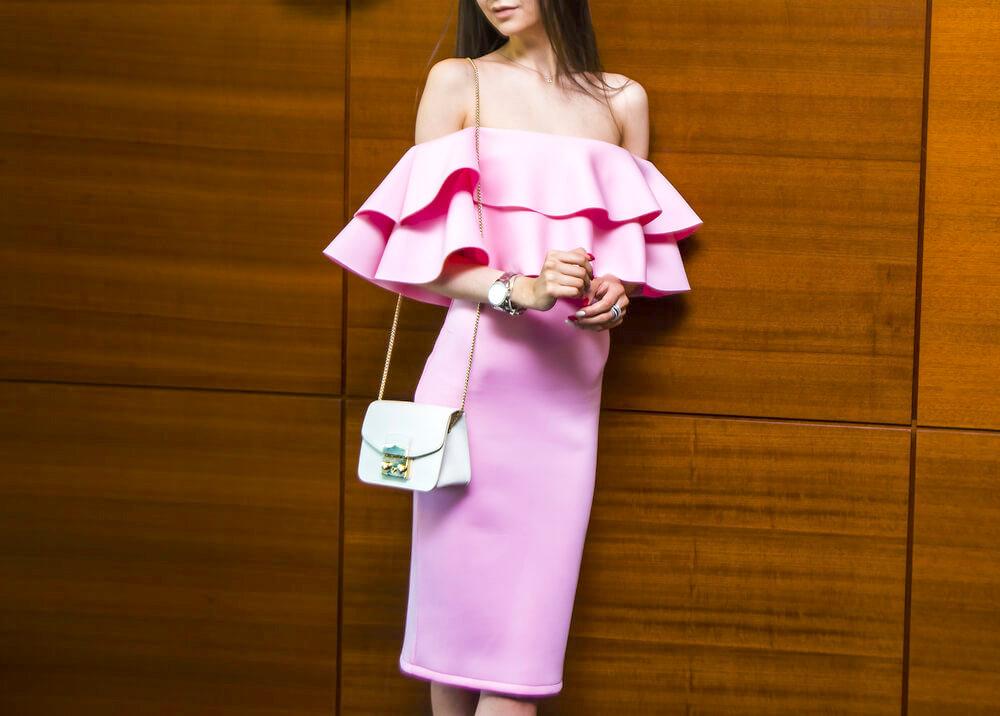 If you enjoy the off-the-shoulder cut, but feel like your dress still needs that extra dose of va va voom, then you might be the right candidate for this eye-catching style.
This stunning lilac-colored midi dress features a simple, yet elegant cut, wherein the hem hits the leg just below the knees.
However, the centerpiece of this dress are the dramatic, oversized ruffles, which give the entire look a romantic, yet unmistakably chic feel.
The cascading neckline is a statement enough on its own; still, if you want to amp out your outfit, add a chain strap handbag and simple jewelry.
The fullness of the ruffles can be counterbalanced with a pair of elegant, barely-there strappy heels.
Polka Dot A-Line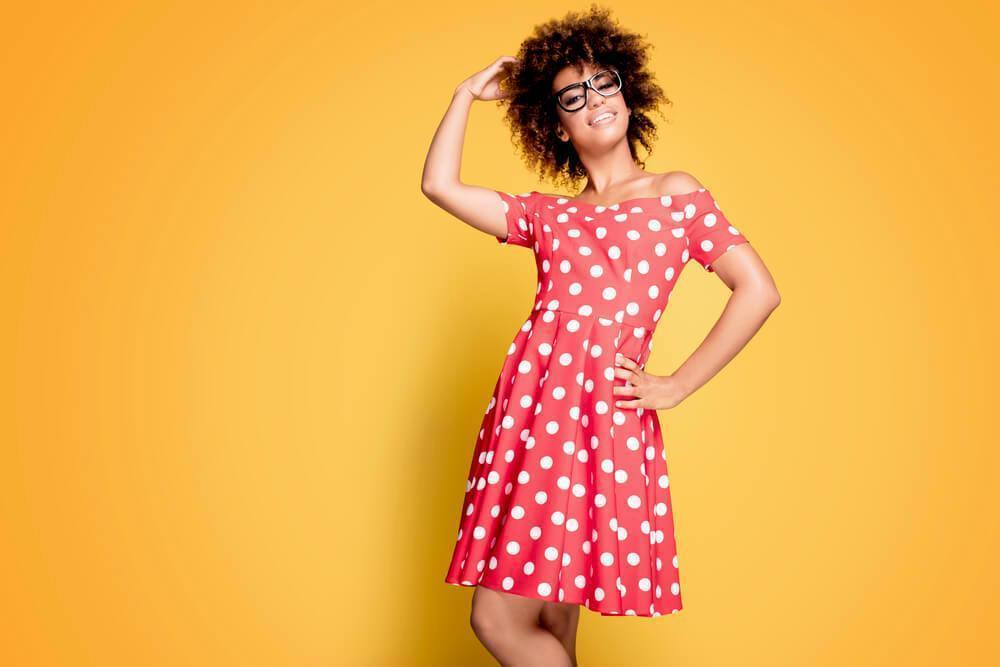 And if you are looking for a dress that's a little less serious and a little more wearable, you might be the right fit for this fun, graphic midi dress with a vintage feel.
And there's no better pattern for evoking this aesthetic than the classic polka dot print – which, although it never quite went out of style, has definitely become a designers' favorite in recent years.
To give this iconic, Yayoi Kusama-inspired pattern a more modern feel, opt for a dress made out of light, flowing fabric.
A simple detail like off-the-shoulder neckline will also add a touch of flirtiness to this look.
When it comes to styling and accessorizing, you can complete the vintage vibes by pairing it up with a colorful pump, or stylish kicks for a more youthful look.
'50s Glamour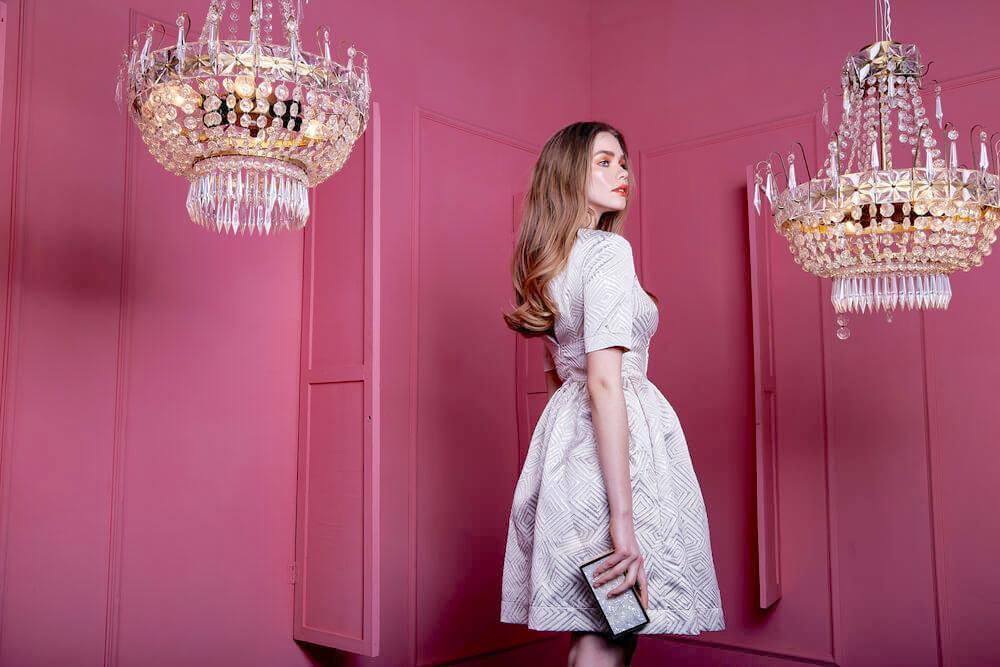 The structured A-line midi dress is a perfect choice for any gal looking to channel her inner Betty Draper.
This classically feminine cut, evocative of the Old Hollywood actresses, features a full skirt, above-the-elbow sleeve and a cinched waist.
The classic hourglass silhouette is perfect for weddings or any other formal and semi-formal occasions.
And if you really want to nail the '50s starlet aesthetic, accessorize your midi dress with a classy clutch and a simple, elegant pump.
If you are intrigued by this iconic style, but have doubts as to how this dress would translate to everyday outfits, fret not!
There are still ways you can play with this retro style and make it more appropriate for a day-to-day setting.
For example, you can tone down the formal vibe of your A-line dress by combining it with a with a pair of pointed flats. This way, you will be able to rock it in a casual setting without the fear of looking a little too prim and proper.
Figure-hugging Fit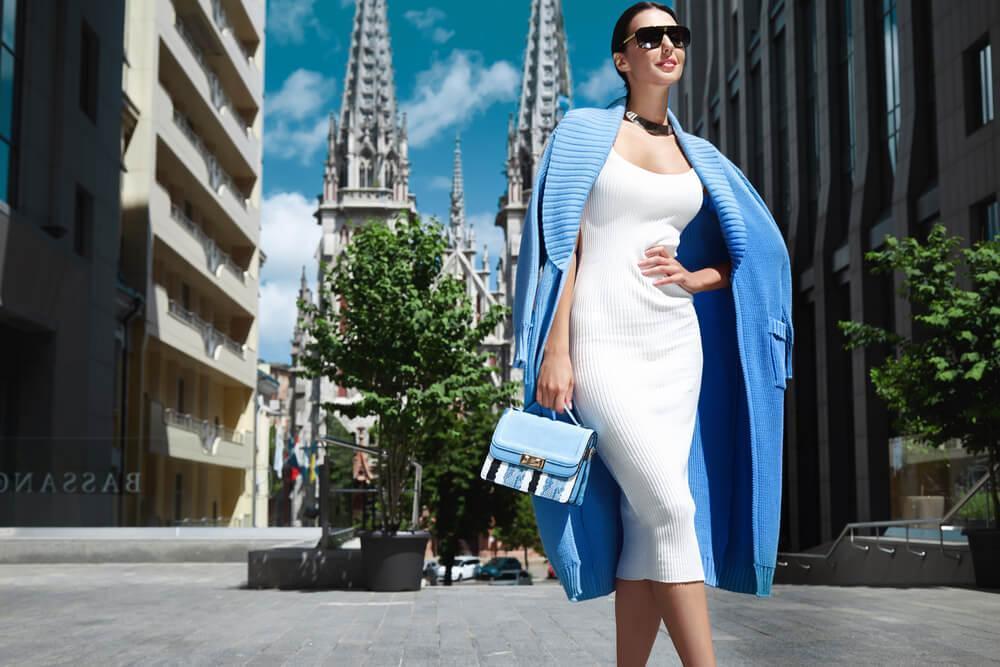 An absolute fashion hit in the world of midi dresses, the sleek mid-length bodycon has been storming all fashion spheres, from haute couture runways to Instagram feeds, without any signs of slowing down.
And for good reason, too – this simple, yet seductive design creates a flattering, curve-emphasizing silhouette, a godsend for nights out and any other events that might require glamming it up.
If you want to go all out, pair up your midi dress with a pair of dizzying stilettos and a statement clutch, and we guarantee you will turn heads wherever you go.
However, if you want to enjoy the curve-hugging look while remaining low key, throw a denim jacket or loose cardigan over your dress, or combine it with a fresh pair of sneakers.
For celebrity fashion inspiration, look into Kim Kardashian's style – the reality show queen is known for her love of curve-hugging bodycons.
Lovely Lace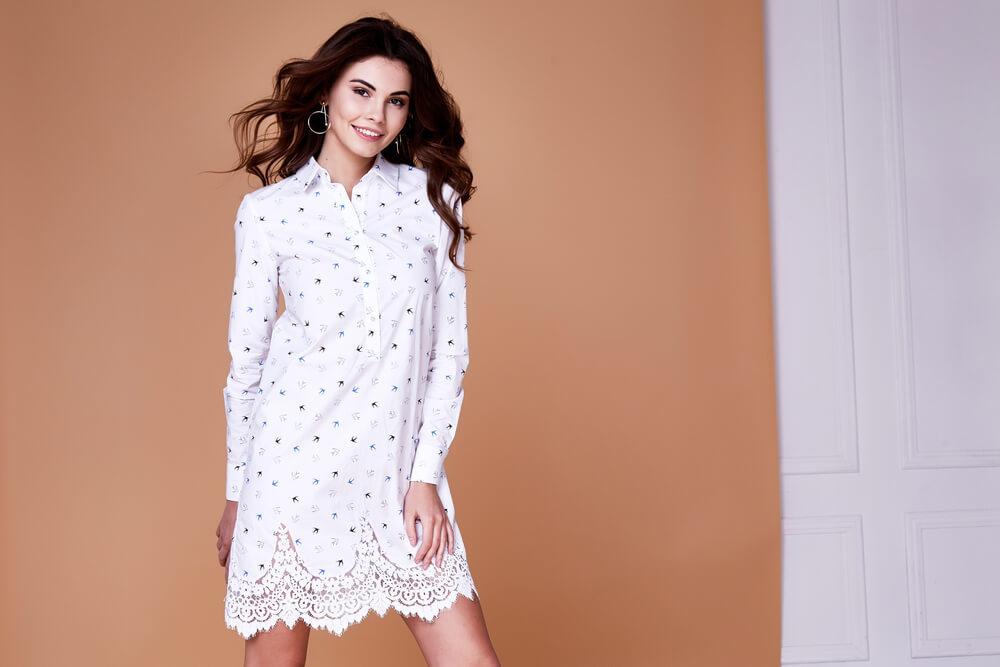 If you are finding yourself in that weird netherworld where you want a dress that's casual, but not too casual; perhaps a piece that will be able to charm, but not necessarily hug every curve on your body.
We have good news – you can achieve all of this with one piece: a romantic, lace-adorned midi dress.
The long sleeves and the slightly loose fit give this piece an effortless vibe, while the lace-lined bottom combined with the button up details give it a complete, well-rounded look.
Moreover, you can easily dress this style up or down, depending on your mood or the occasion. For example, a pair of strappy heels with perfectly compliment the delicate touch of the lace, while flats or sneakers will give a more toned down appearance.
Complete the look with a stylish hat and a brightly colored handbag – and you have your ideal springtime outfit!
Wrap It Up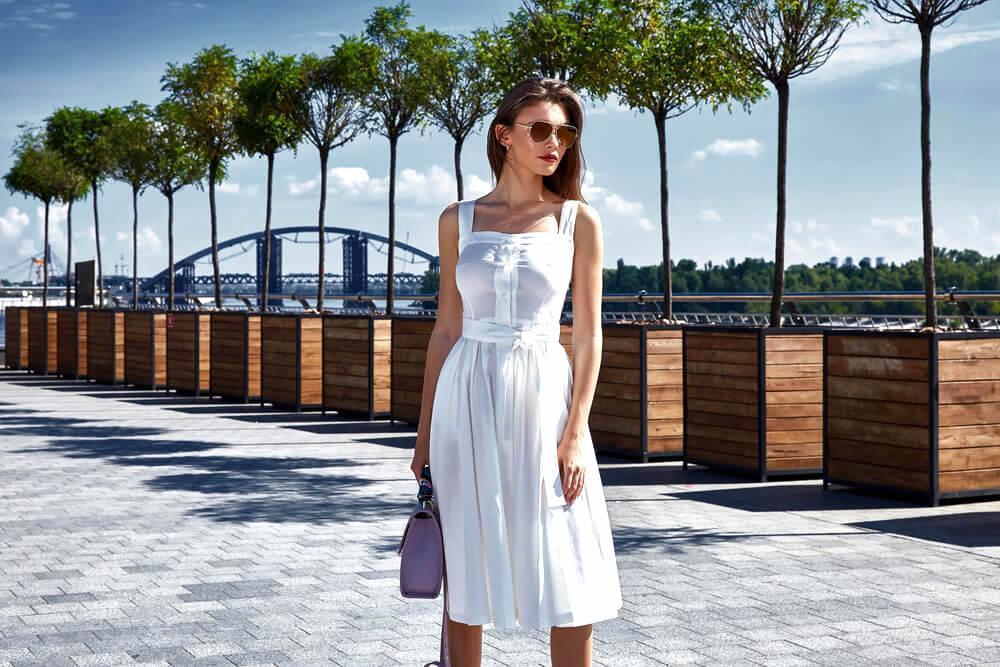 A perfect shortcut for looking stylish with minimal effort, this midi dress cut features an airy, flowing skirt and a bodice-style top part with wide straps.
The hourglass figure is even more emphasized thanks to the wrap at the waist, which is reminiscent of Diane von Furstenberg's timeless designs.
The combination of the body-hugging top and the loose skirt makes this dress an ideal companion for daytime events, especially during the warm summer days.
You can give this piece a touch of Côte d'Azur style by accessorizing it with chic wedges, a wide-brimmed hat and a stylish beach bag.
Alternatively, keep it understated with a pair of chic flats.
Structured and Stylish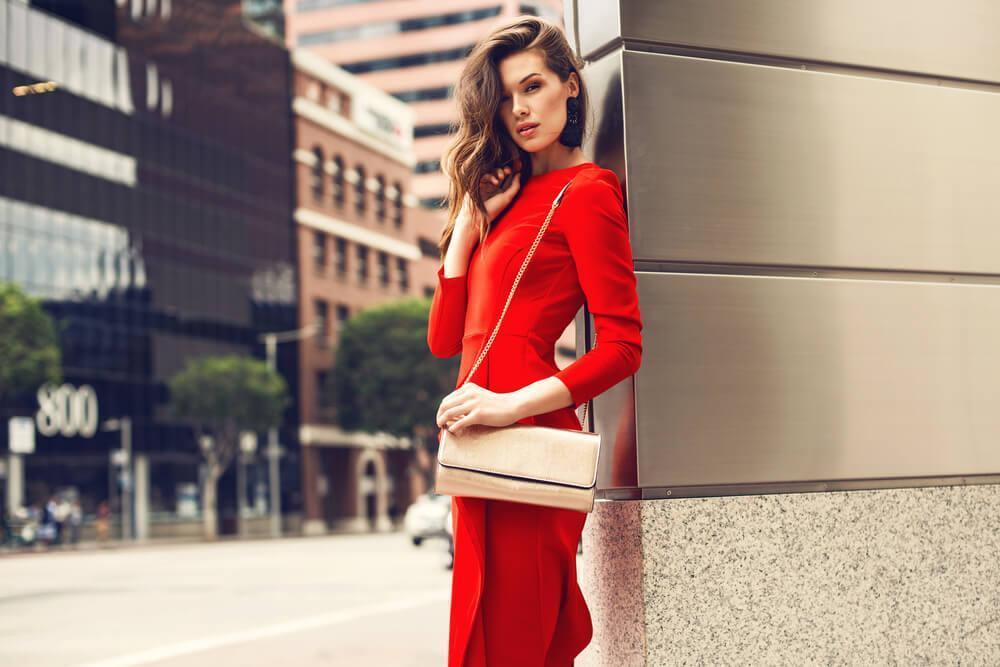 Not only are midi dresses suitable for nights out, casual dates or summer holidays, they are also a great option for office attire.
An elegant, yet structured piece with ¾-length sleeves with instantly give you a smart, yet sartorial vibe.
Throw on a sleek blazer and a chic purse and you will instantly look sharper than ever.
When it comes to colors, if you want to keep it muted and minimal, your best bet are creams, greys and black. You can always add a pop of color and perk up your dress with bold shoes or graphic handbag.
On the other hand, if you want your dress to be an absolute show-stopper, go for a fiery red or cobalt blue.
It goes without saying that this style can also be worn outside of office environment – weddings and other formal occasions are ideal for rocking the bold, well-defined look.
And if you can't wait for the next special event, bust out your classy midi dress when you want to ooze executive couture in your everyday looks!
For the Love of Print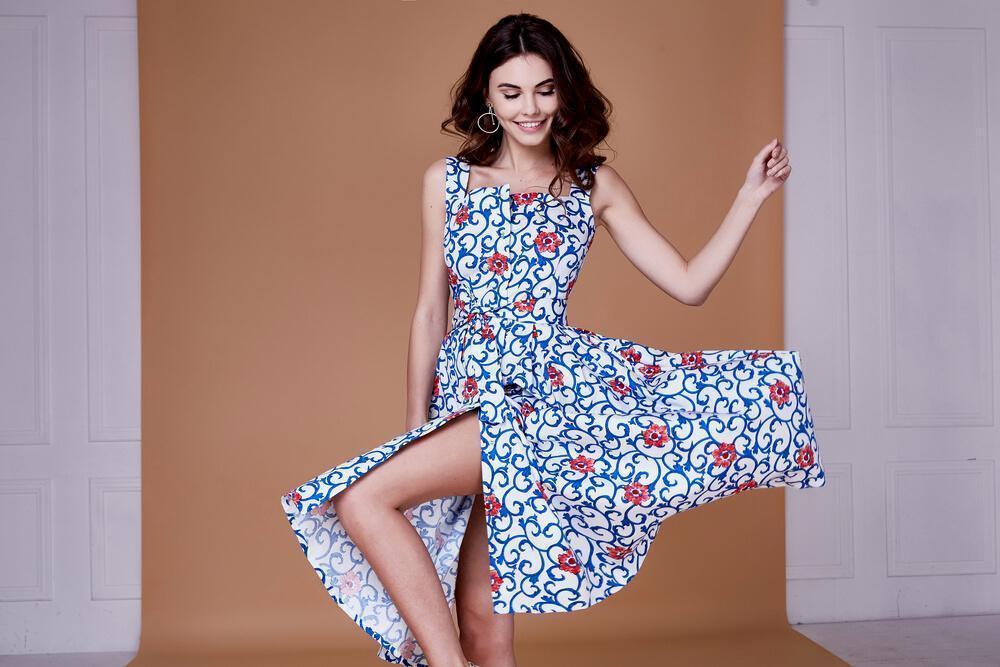 You probably haven't missed the memo that the most popular styles for midi dresses always seem to come in form-fitting cuts and monochromatic, muted designs.
But where's the fun in that, you ask?
Well, it sounds like you might be a better match for a flowing, dynamic mid-length piece with a vibrant print.
A foolproof choice for warm summer days, this playful style is bound to brighten up your wardrobe and your mood all in one.
And if loud, graphic prints seem a little daunting to you, you can always break the pattern by adding a neutral cardigan or jacket.
On the other hand, if experimenting with prints and fabrics is your jam, then you can make this fun dress even more creative by styling it with a another pattern in different design.
Button Up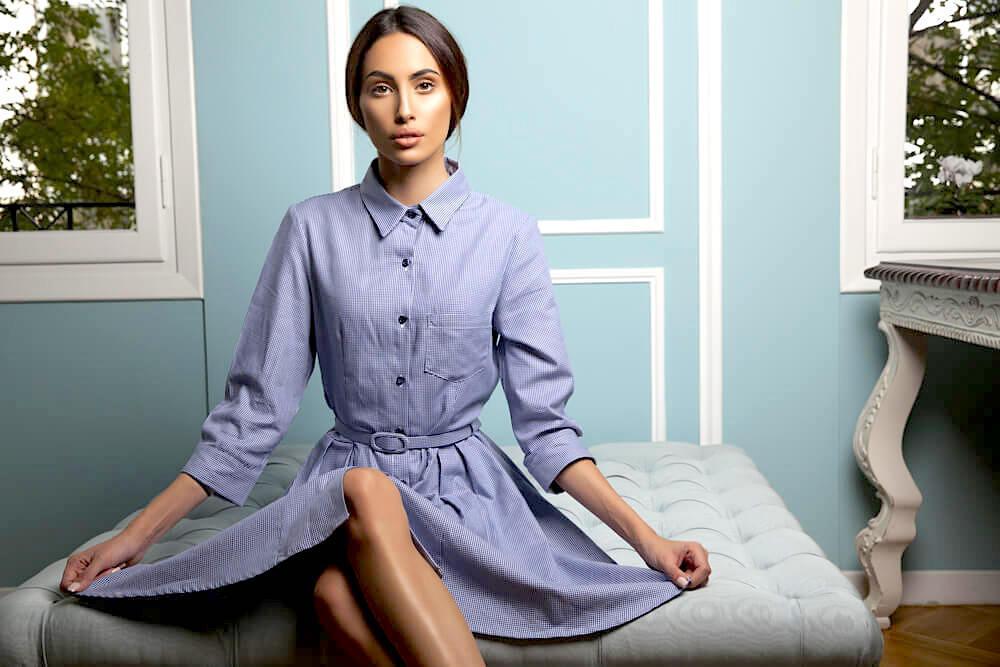 This iteration of the midi dress features a minimal, yet stylish cut that is just ideal for any and all occasions when you want to achieve a thought-out look without putting a lot of effort into it.
The breezy skirt gives this midi dress a cozy, effortless feel, while the belted waist, the ¾ sleeve and the button up detail provide it with more definition and a touch of sophistication.
Thanks to this alluring blend, you can style the button-up dress in a myriad of ways.
To give you a few ideas, pair up your dress with a pair of casual espadrilles or sandals and you will instantly give it a romantic, Mediterranean look.
Alternatively, combine it with pristine white sneakers and your look will hit that perfect balance between elegant and athletic.
Boho Babe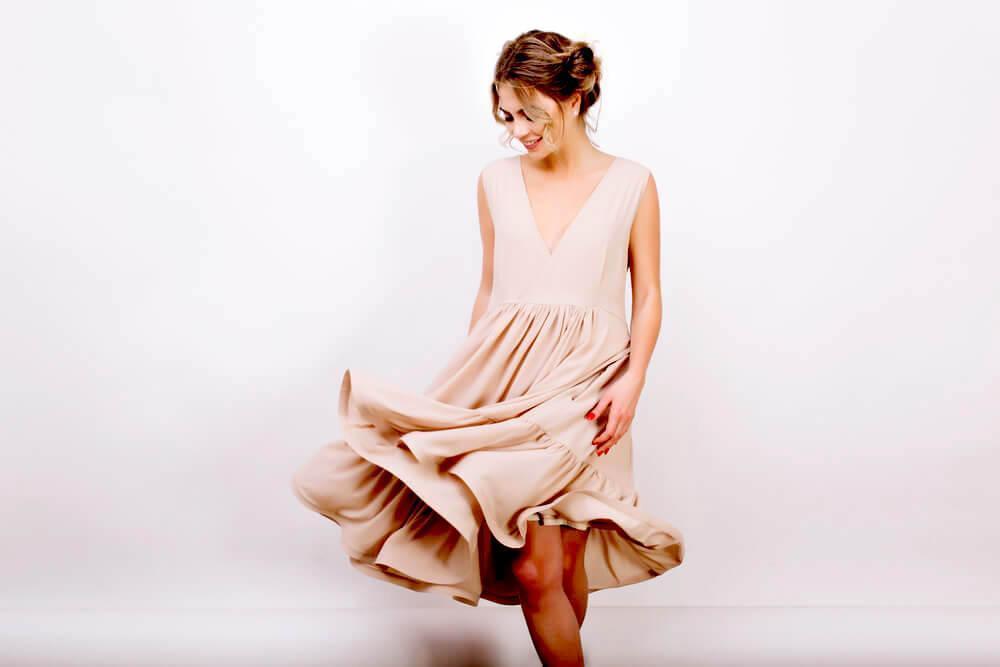 This loose, yet flattering cut is a perfect wardrobe addition for all the free-spirited fashionistas who are inclined to veer towards the relaxed Bohemian aesthetic.
The cut features a rich, flowing skirt and a wide-strapped top with a plunging neckline.
Despite its casual, nonchalant vibe, this iteration of the midi dress can easily be taken up a notch when combined with an elegant clutch and a pair of chic, strappy sandals.
However, if you are looking to embody the hippie Californian feel through-and-through, pair up your breezy boho midi dress with a pair of simple flats, oversized sunnies and a wide-brimmed hat.
And voila, your look is complete – we're sure Rachel Zoe would be proud.
We hope this round up has made the case for the all-powerful midi dress. Between all these diverse styles, we are positive you will find one that will fit your personal aesthetic to a tee – whether you are an athleisure enthusiast, vintage fashion lover or minimalism aficionado. Happy shopping!