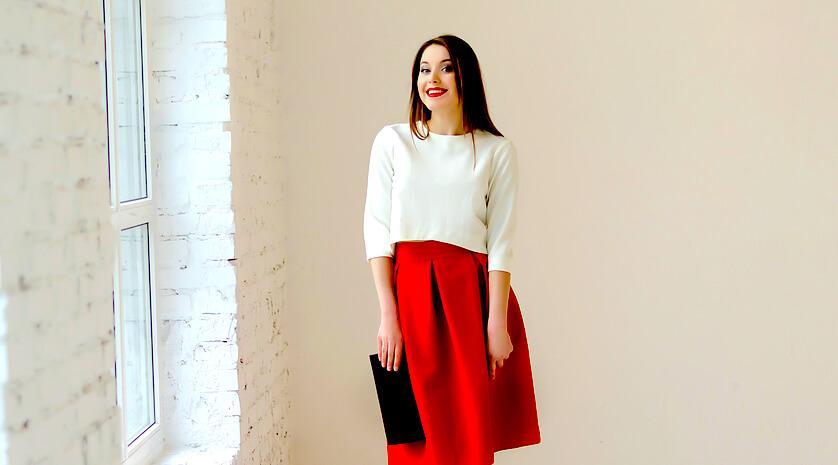 When it comes to deciding what to wear, choosing outfits that work with your body shape will really help to flatter your figure and accentuate your best assets. From hourglass to rectangle to apple, here is your go-to guide for learning how to dress for your body shape.
How to Work Out Your Body Shape
Before reading about the do's and don'ts for dressing for your body shape, you need to actually identify exactly what your body shape is.
Women can usually be categorized into one of five different body shapes, although of course there will be exceptions. Here are some of the characteristics for each body shape:
Pear/Triangle:

Your hips are wider than your shoulders, while your bottom is rounded and you have a well-defined waist
Hourglass:

Your body is curvy, with your bust and hips sharing similar measurements, and your waist well-defined
Rectangle/Athletic:

Your hips and shoulders are a similar width, your bust size is small to average, and you do not have many curves
Apple/Round:

Weight tends to settle on your stomach and bust, and your waist is not defined
Inverted Triangle:

Your bust is quite large and your shoulders are wider than your hips
Not sure which parts of your body are wider than others?
Then it is time to grab a measuring tape and take some measurements. Here is exactly what you need to measure:
Shoulders:

Place the tape at the tip of one shoulder and wrap it around yourself, like a shawl, until the end meets the beginning
Bust:

Stand up straight and wrap the tape around your back, as well as the fullest part of your bust, ensuring that you do not pull too tightly
Waist:

Wrap the tape around the smallest part of your natural waist, just above your belly button
Hips:

Wrap the tape around the fullest part of your hips, just below your hip bone, so that it circles the largest part of your bottom before coming back to the starting point
Now that you have your measurements, you will be able to visibly see your proportions, and work out your body shape. Alternatively, there are many body shape calculators online that you can put your measurements in to, after which you will be given suggestions as to what your body shape is.
Also, while you may have worked out what your body shape currently is, do keep in mind that this may change as the years progress. Whether due to aging or to weight gain or loss, it is always a good idea to reassess your body shape every few years, or when you know that there has been a major change. 
How to Dress a Pear-Shaped Body
If you have a pear-shaped body, your best assets will usually be your torso and your shoulders. You should try to emphasize your arms and your waist, while adding volume to your upper body to balance out your proportions.
Elongating the body is key, and you should put together outfits that draw the eye upwards, paying special attention to the necklines of your tops.
One easy way to accentuate your upper body is with statement accessories, such as earrings and necklaces. For those of you who are pear-shaped, investing in some dramatic pieces could be well worthwhile.
Here are a few tips to keep in mind when buying dresses or tops:
Choose a

neckline

that accentuates your shoulders, such as a plunging or scoop neck

Go for a

silhouette

that is slimming for the hips, such as a tulip skirt

A-line silhouettes can also work well, as the hem is wide enough to balance out your hips

Strapless dresses are great for showing off your arms and balancing out proportions

Fitted or structured tops will add definition to your shoulders
Since the top half of your outfit needs to be quite attention-grabbing, you need to keep the bottom half relatively subtle. Go for darker colors, and styles that balance out your upper body, such as flares or bootcut jeans.  
Now for the outerwear…
Waist-length jackets, or outerwear that reaches mid-thigh, are extremely flattering on a pear-shaped body, especially if you opt for an A-line or princess cut.
Why?
These styles really emphasize the waist, and will not drown out your figure.
Now that you know what you should be wearing, here are a few tips on styles to avoid:
Narrow-legged pants, culottes and cropped styles

Details, such as patterns or large pockets, on the hip or thigh area

Straight skirts and pencil skirts

Hemlines that stop on a full point of your legs, such as your thighs
How to Dress an Hourglass-Shaped Body
When it comes to dressing an hourglass-shaped body, there are two main points that you need to keep in mind:
Define your waist

Show off your gorgeous figure
You have one of the most enviable body shapes out there, meaning that you will really be able to pull off fitted pieces that hug your body in all the right places.
So, when it comes to choosing tops…
Keep them well-fitted! Whether it is a dressy wrap top or a classic t-shirt, fitted styles will really show off your beautifully narrow waist.
Again, when it comes to outerwear, jackets that show off your waist are the best ones to go for. Fitted blazers will always work well, as will a classic trench coat. However, stay away from boxy styles, as these will only hide your curves.
Now, on to dresses…
Classic cuts will really highlight your hourglass shape, so try styles such as a wrap dress, a fit and flare, or an empire silhouette. If, for whatever reason, you do need to tone down your curves, opt for a dress with a simple silhouette in a darker color.
For jeans and pants, here are a few styles to go for:
High-waisted to show off your waist

Low-rise and hip-hugging if you have a flat stomach

Stretchy skinny jeans to show off the curve of your hips

Fitted jumpsuits
In terms of accessories, belts are your best friend. These can be thrown on to just about any outfit and will accentuate your narrow waist, making just about any style work for your body shape.
You have the most versatile of all of the body shapes when it comes to choosing clothes, so do take advantage of this and experiment with all that is out there.
How to Dress a Rectangle-Shaped Body
The rectangle body shape is also often referred to as the athletic body shape, but, no matter what you call it, you have two main goals when it comes to dressing for your shape:
Show off your arms and your legs

Create the illusion of curves
When purchasing tops, you should try to opt for styles that will add some curves to your upper body, while drawing attention to your arms. Sweetheart and scoop necklines are fantastic at doing this, while ruffles, collars and other design details can also help.
High neck, open-backs and halter top styles are also worth looking into, as your body shape will be able to pull these off better than the others.
If your bust is slightly smaller than you would want it to be, make sure that you are wearing a well-fitting bra, as this can really make all the difference. A shocking 80% of women are not aware of their actual bra size, so take the time to get yourself measured up professionally.  
You have quite a few options available to you when it comes to your jeans and pants, so try to simply choose a pair that works well with the top that you have chosen. If your top is quite flowy and over-sized, fitted pants or skinny jeans will work well, and vice versa.
Since your body shape is quite straight, layering is key, as this will help to add volume and dimension. Just about everything can be layered in some way, including your accessories, but just make sure you do this in a way that does not overwhelm your overall look.
In terms of dresses, you are lucky in that just about every style will work with your body shape, so the key here is to decide which of your features you love and want to emphasize:
To show off your legs, go for a mini

To emphasize your bust, choose a strapless dress, or one with a plunging neckline

To accentuate your waist, throw on a belt

Dresses with ruching down the side will really help to add some curves
How to Dress an Apple-Shaped Body
Women with an apple-shaped body tend to have a full bust, as well as legs and arms that deserve to be shown off.
This can be quite a difficult body shape to dress for, but this does not mean that you need to hide away under oversized garments, as there are still plenty of stylish ways in which you can dress.
When choosing a top, flowy and relaxed silhouettes will tend to work best, such as A-line cuts, loose tunics and v-neck tops. Purchasing these styles in a slightly heavier fabric, such as tweed or a thick cotton, will give you a bit more structure.
Since your top will have more of a looser structure, fitted jeans and pants will work best with this. Skinny jeans, as well as leggings, will help to emphasize your shapely legs, while flares or bootcut styles will work well if your legs are long, or if you want to elongate your body.
High-waisted pants are also a great option, as these will help to cinch in your waist and give you some extra curves.
With dresses, you have quite a few options available to you:
Strapless dresses are great for accentuating your arms

Maxi dresses with a plunging neckline will flatter your figure

Go for a mini if you want to show off your legs, or draw attention away from your mid-section

If you love your curves, opt for an A-line style

Certain patterns, such as diagonal stripes, as well as darker colors, will help to slim down your shape
How to Dress an Inverted Triangle-Shaped Body
Also known as the wedge shape, women with an inverted triangle-shaped body usually look best when their legs and lower body are accentuated, while the upper body is kept soft and subtle.
This is actually one of the least common of all the body shapes, but this does not mean that it is difficult to work with…
Since you want to draw attention away from your upper body, here are a few tips to keep in mind when choosing a top:
Avoid anything that adds volume or detail to your shoulders, such as shoulder pads, big collars or bright colors

With necklines, crew necks, scoop necks, or deep V-necks work best, as these draw the eye downward

Sleeves that minimize your arms will flatter your body best, such as raglan and kimono

Go for soft, draped fabrics, or fine knits, rather than thick, heavy fabrics

Opt for darker, more muted colors on top, and then go brighter with your pants
You have quite a wide selection available when choosing jeans and pants, as your legs are likely to be one of your best features. If you want to ensure that your lower body balances out your upper body, look for a heavier fabric or a brighter color, or even front pleats.
When it comes to outerwear, the silhouette that you choose is extremely important. Structured and tailored jackets are usually a no-no, as these will only emphasize your upper body.
Instead, go for single-breasted styles that have fluid lines, as well as a small amount of waist definition to balance out your proportions.
Wondering what your body type can pull off better than all the others?
The answer is jumpsuits, as these were made for the inverted triangle body shape. However, remember to still keep the above-mentioned tips in mind when choosing one, as you will still want to ensure that you do not draw too much attention to your upper body.