Between sweltering heat, non-stop sweating and simply less materials to work with, it might seem like peak summer might not be the best season for creating interesting fashion combinations.
But there are ways to keep your outfits stylish and eye-catching – even in hellish weather! All you need to to is stick to lightweight fabric and chic, summer-ready styles.
Crop Tops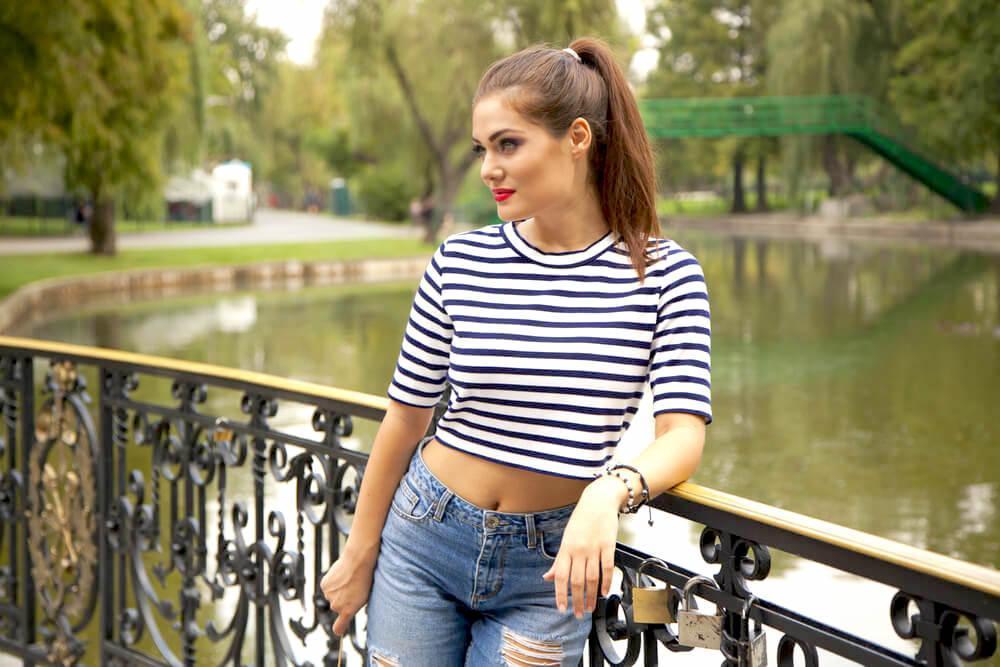 Summer simply begs for the classic t-shirt and shorts combo.
However, even the simple shirt sometimes feels like too much material on your body. Luckily, one of the most beloved trends of the '90s – the playful crop top – has steadily crept up back into our wardrobes in recent years.
And if you don't have one, make sure to hop on this fashion trend ASAP – not only will it allow you to bear your midriff and provide relief from the sizzling temperatures, it will also do so in a supremely stylish way.
Other than being a summer lifesaver, crop tops are also incredibly flattering for every figure – they can help define your waistline and elongate your legs.
When it comes to styling, crop tops play beautifully with high-waisted pieces life shorts, skirts and jeans.
And best of all, even if you don't own one right this second, you can even quickly craft one, DIY-style. There are countless ways you can create your very own crop top: with old shirts, button-ups, scarves and even leggings!
Distressed High-Waisted Shorts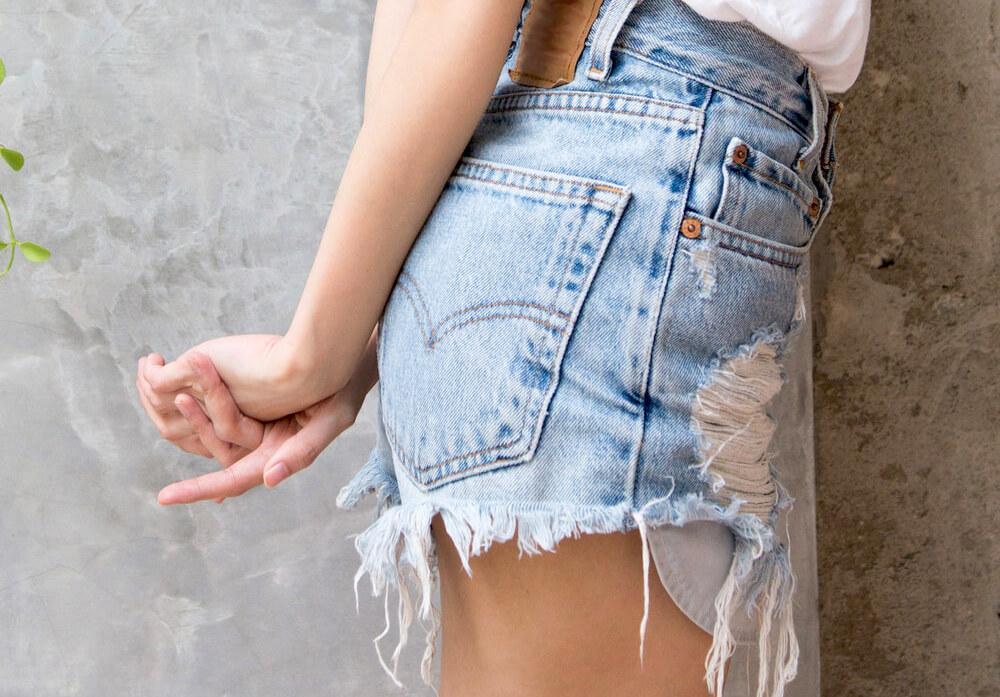 Denim shorts are one of those timeless summer essentials, which you can easily slip to in just about every summertime occasion.
However, the plain shorts you've probably been wearing since you were in 6th grade could be in dire need of a makeover.
This summer, perhaps you should consider going for a more jazzed up version of this classic piece.
For example, a fringed short can be a great way to add a rock'n'roll edge to your summer outfit.
Instead of your usual single-color denim, maybe you can opt for a bleached or distressed look to add more texture and retro-feel and make your ensemble more dynamic and interesting to look at.
When it comes to cut of your denim go-to for the summer, why not choose a high-waisted style? They can provide a more defined look to your figure and make your summer outfits look more up to date.
Pair them up with a stylish crop top or tuck in your favorite crisp white button-up shirt and – voila – you have a gorgeous, fresh heat-proof outfit.
Skort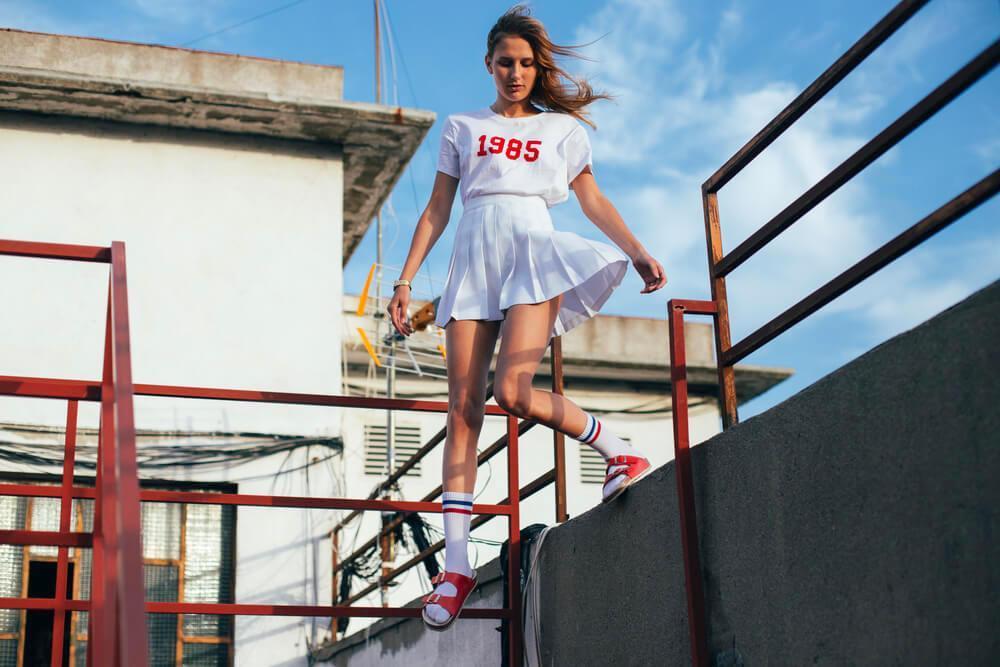 Everyone knows that skirts are a girl's best friend during boiling summer weather.
However, as fun as they are, skirts can sometimes restrict your movements, which is definitely not welcome by all of those who like to keep busy and active during summer months.
Lucky for you, there is a clothing items that combines all the convenience of short with the flirty aesthetics of skirts.
The so-called skorts, a revolutionary 2-in-1 piece, has long been favored by the tennis player and, these days, you too can afford the same blend of practicality and style.
Not only will skorts will help you keep your outfits cute and girly, they can also be worn anywhere from the beach to a full-on night out.
For an athletic, yet stylish look, combine your skort with fashion-forward sneakers and a fun top.
And if you want to exude more girly vibes, pair up your skort with a romantic, off-the-shoulder top and cute flats.
Off-Shoulder Tops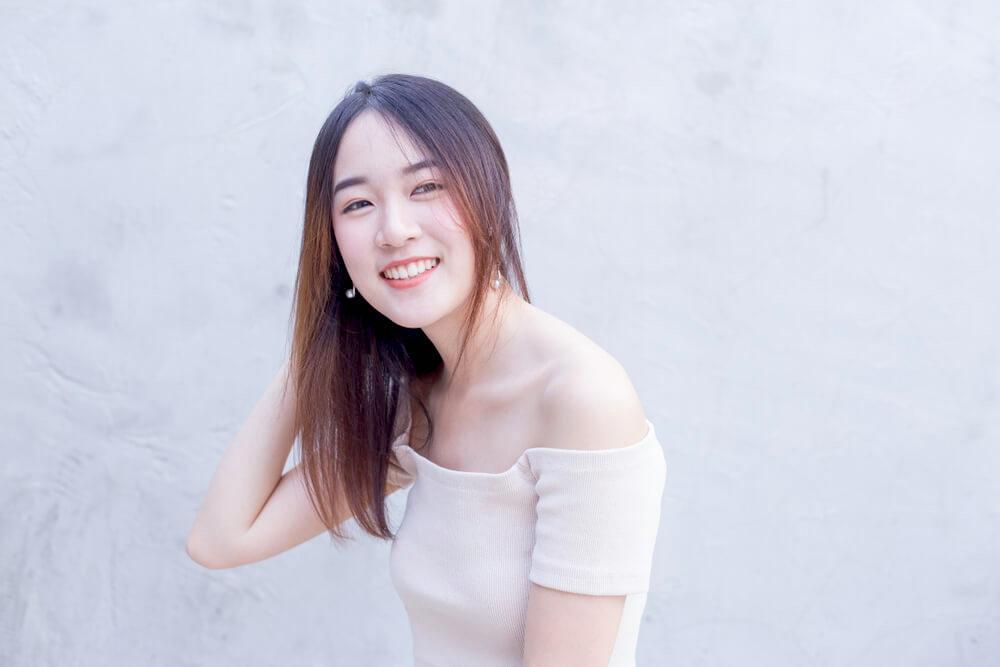 If you've been paid any attention to current fashion trends, you might have noticed that everybody is rocking bare shoulders these days.
This is because the iconic Bardot cut has has been gracing everything from shirts and dresses to rompers and jumpsuits.
It should come as no surprise that this style has taken over the fashion world by storm: it's fun, sensual and incredibly flattering – making it an ideal accessory for every summertime occasion.
If you want to emulate the classic '60s look, go for a figure-hugging, solid color piece (choose black for the extra dash of femme fatale vibes) that will help you achieve that Brigitte effect.
On the other hand, if you want to evoke the romantic, delicate vibes, then go for a flowing designs that will let you accentuate your shoulders and collar bones while keeping the rest of your outfit light and airy.
Shoulder-baring tops work like a charm with delicate jewelry, so make sure to pair up your piece with a dainty necklace or a pair of understated dangly earrings.
Maxi Dresses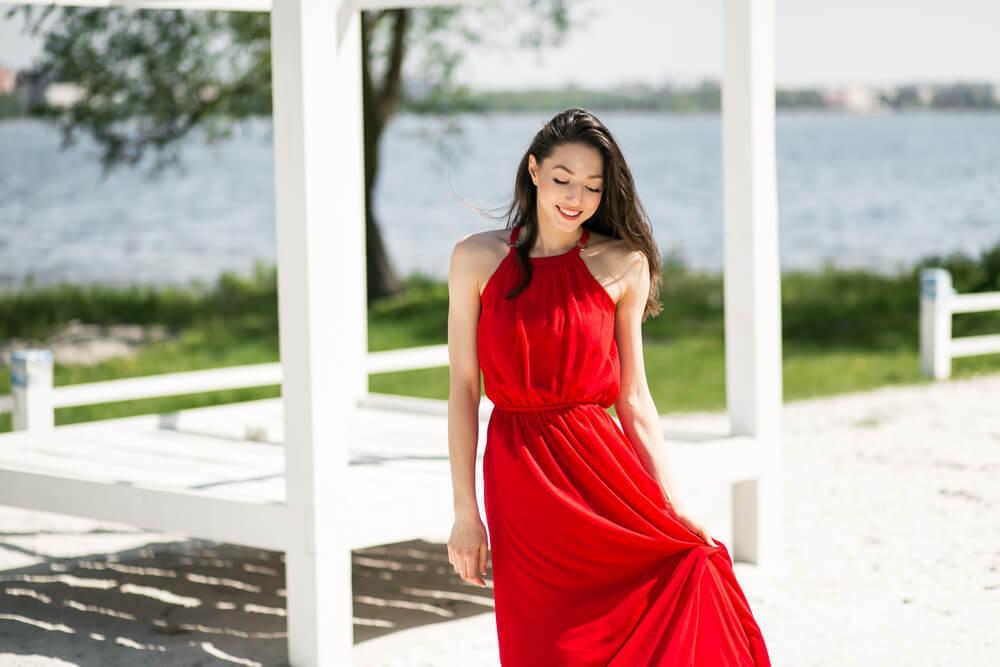 Not all summertime sartorial choices have to boil down to skimpy, barely-there pieces.
You can still rock the long, flowing silhouettes, as long as you keep it lightweight and airy.
And no fashion piece is better for channeling these laid-back summer vibes that gorgeous, floor-length maxi dresses.
When it comes to styling, maxi dresses can look as ethereal or as dressed up as you want them to be.
If you want to channel your inner boho goddess, don a wide-brimmed sunhat and a pair of oversized sunglasses.
Alternatively, for a more understated look, accessorize with romantic jewelry and an understated clutch and you will achieve a perfect romantic summer ensemble.
Rompers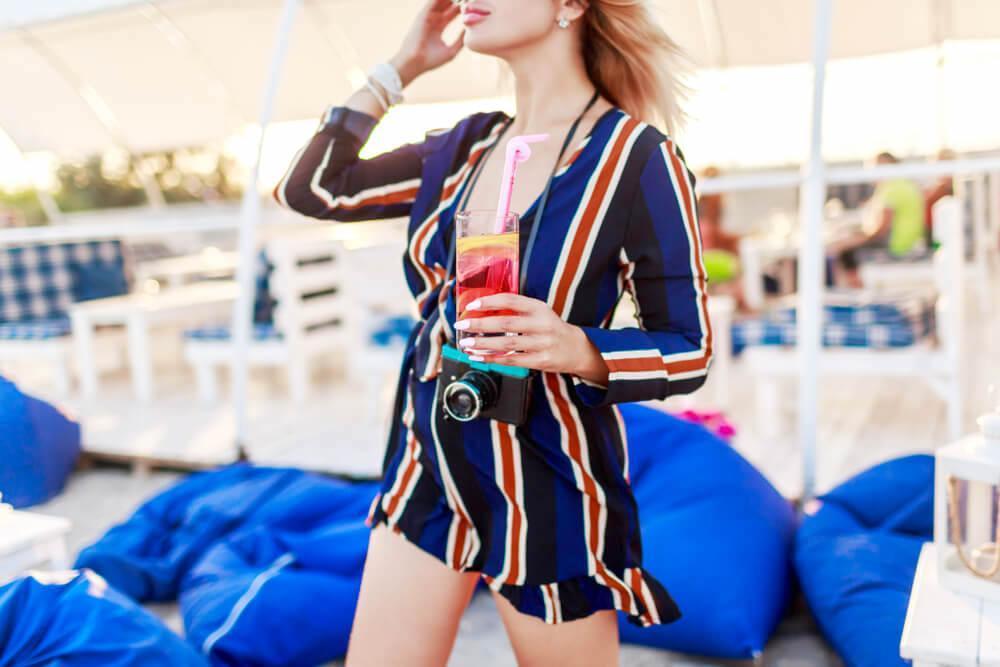 If your summers are all about seizing every moment of the sun-filled days, chances are you want a wardrobe that's replenished with simple, yet stylish pieces that you can easily slip into without thinking.
A classic summer essential that combines all of these factors is none other than the romper, an ideal wardrobe addition for anyone who doesn't want to overthink their summer fashion choices.
An ideal companion for every summer occasion – from running errands to visiting the beach to dancing the night away in a seaside bar – the romper can be styled into whatever kind you outfit you need.
For example, if you want to keep things polished and elegant, go for a structured romper that you can combine with sky-high heels. You will immediately achieve a look that can be worn for every summer occasion that requires a bit more dressing up. And if you need to take it up a notch, you can always elevate your romper-centered outfit with an oversized necklace, a statement bag or a stylish belt that will provide more definition to your waistline.
For a more nonchalant look, pair up your romper with chic sunglasses, a pair of stylish flats or sneakers and messy beachside waves. And voila, that's all it takes to nail the ideal laid-back summer ensemble.
Culottes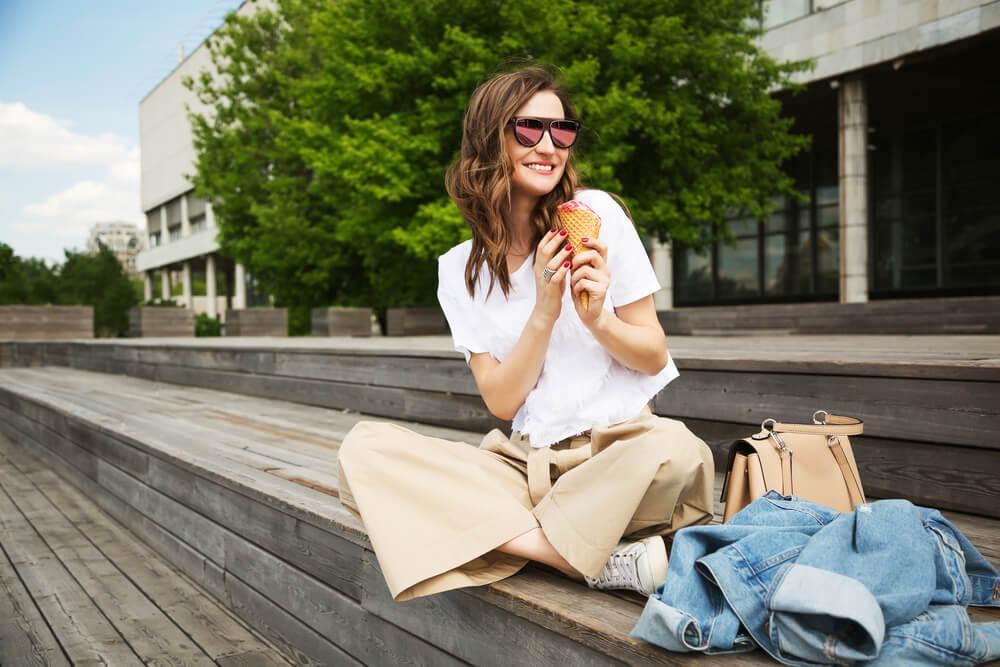 Okay, so we may have spent the last 10 years living just about every day in out favorite skinny jeans, but it seems like that era is on its way out.
Before you start despairing, think about it this way: you won't have to squeeze in skin-tight denim that will restrict your blood flow in order to look fabulous, plus you will finally get to experiment with new styles and silhouettes.
But wait, what is the alternative to skinnies, then?
The answer is wide-leg, cropped pants or culottes, as you will often find them referred.
This light, breathable design is perfect for all those occasions when you need below-the-knee length, but would somehow like to skip skin-hugging cuts and materials.
Other than being supremely comfortable and easy to slip into at any time of night or day, culottes can also work with any type of top or shoes.
For example, you can combine them with a crop top or a body-hugging shirt for a more defined figure. They also work well with all types of shoes, but if you want to achieve an especially eye-catching combination, pair them up with crisp white sneakers for daytime events or dizzying stilettos for a glammed up evening look.
Jumpsuits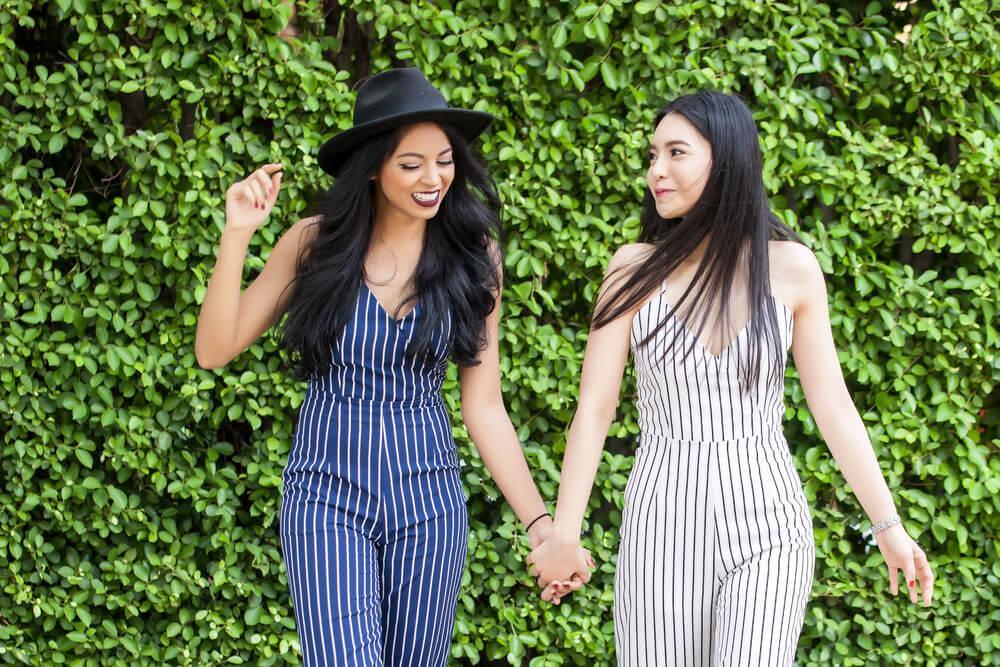 When weather gets to hot to function, planning an entire outfit might become an even bigger hassle than usual.
A good way to kill two bird with one stone – look fabulous and spend minimal time on creating your ensemble – is simply to don a chic jumpsuit.
Best of all, they can fit into any fashion aesthetic – from seaside boho to full-on executive realness.
This stylish all-in-one piece will be the perfect summer power move; it will enable you look sharp and put together even in the worst of heat.
So, if you want to exude a professional vibe, go for a tailored piece with a defined waist line and structures sleeves and legs. Make sure to combine it with sleek heels and a statement handbag for an even more polished effect.
On the other hand, if you're on the market for a more casual style, opt for a jumpsuit with a wide leg and a loose top part.
To avoid looking like an oversized toddler, you can always round up your outfit with a pair of chic heels, statement bag or bold jewelry.
Also, if you want all eyes to stay on you this summer, go for a solid bold color that will make sure your jumpsuit doesn't stay unnoticed.
LWD (Little White Dress)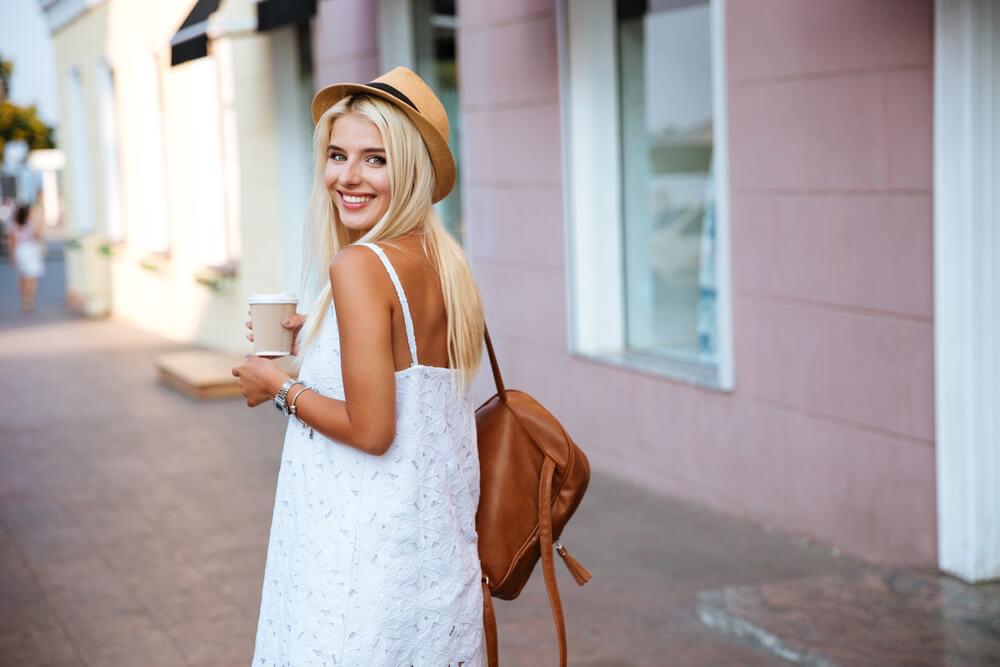 We know all about the convenience of owning the famed Little Black Dress – most women own one or two in their closets.
However, as versatile as they are, wearing an all-black ensemble in the summer might feel a little overbearing – not to mention the fact that black attracts even more heat.
So, why not turn this trend on its head and make the LWD – the Little White Dress – your summer wardrobe staple?
A crisp white piece like this one will not only be super convenient to rock during the summer, it will also help you look clean and fresh on even on the sweatiest of days.
Not to mention the fact that a pristine hue like this one will help accentuate your sun-kissed skin.
Of course, when it comes to lengths and styles, the fashion world is your oyster.
If you want to secure a sexy piece that will accentuate all the right parts on your body, go for figure-hugging bodycon dress.
Otherwise, if you're more in the mood for something casual, a looser dress with spaghetti straps will be a perfect addition for every outdoor or holiday ensemble. Combine it with chic flats or espadrilles, understated backpack and a stylish Havana hat and – boom – you have the perfect outfit for any summertime holiday.
Pleated Skirts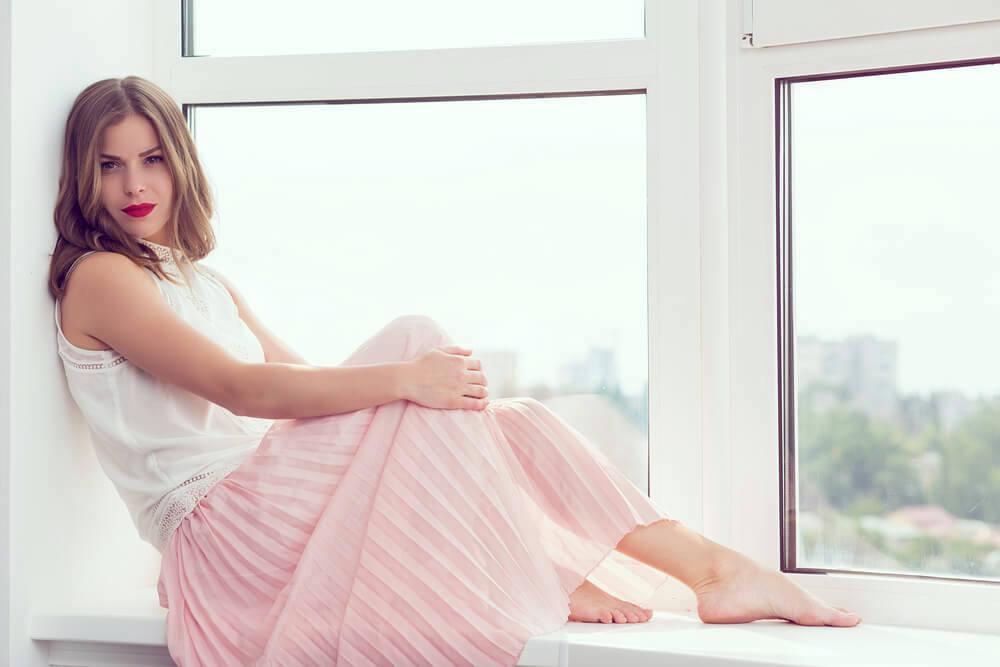 You might have noticed that pleated designed have been ruling the show; everyone from celebs to fashion bloggers to runway models seem to be wearing one these days.
Should we be surprised? Not at all!
There are several reasons why a cute pleated skirt might become your new go-to for the scorching summer months.
For one, they look more interesting that plain-cut skirts; the plaited design will make any ensemble look more defined and dynamic.
Moreover, the longer hemline means you can rock this kind of skirt to events that require a more dressed-up style without looking too stuffy.
Finally, pleated skirts can easily be styled around. For example, combine it with a chic crop top or a loose shirt for a relaxed, bohemian vibe. On the other hand, if you pair up your pleated A-line with a crisp button-up shirt, you will instantly look more stylish and fashion-forward.
When it comes to shoes, there are no limits. For a polished look, pair up your skirt with dizzying stilettos. If you want to keep it cute and daytime-friendly, a pleated skirt will work like a charm against crisp white sneakers. On the other hand, if you want a chic and versatile look that will work day to night, combine your pleated piece with sleek, pointed toe flats.
And with this, we will wrap up our list of summer-friendly fashion essentials. Armed with these helpful style advice, we are positive you will lock just the right kind of pieces for surviving the summer heat while looking fresh and fabulous.