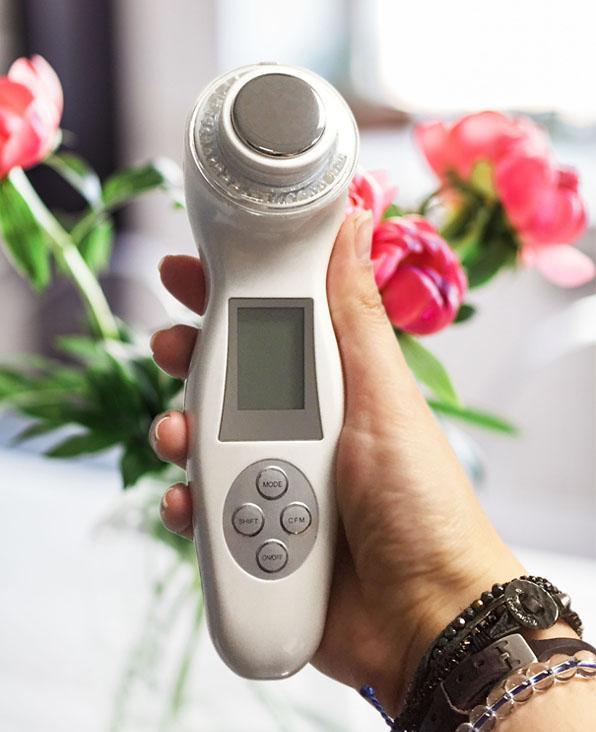 This beauty queen is always on the hunt for the latest and greatest. If Kim K has tried it, I've got to try it. If Allure Magazine wrote on an article on it, I'm on it too. It's not that I necessarily want to give in to the hype out there but I am fascinated by it and always want to investigate for myself. Who knows – maybe with luck – one day I'll be a celebrity/beauty reporter. Heaven knows I've got the scoop!
I've had my eye on a LED facial tool for some time and I finally picked one up from Jelessi. The Jelessi brand is dedicated to creating top of the line beauty technology devices to improve and enhance the appearance. Just what every woman needs! Their Facial Rejuvenation tool has a bunch of different functions depending on the results you're going for.
To begin my discovery, I decided to try the massage function. The product manual includes directions on exactly how to massage your face. It even has a little face map with arrows pointing in the direction you're supposed to use it. Let me just say that if you're going to put on a face cream anyway, you might as well do it using this facial tool. The massage felt so refreshing on my skin and I felt like the cream absorbed into my skin faster than usual.
The next time I tried the tool, I decided to do the anti-aging treatment. The anti-aging treatment uses the massage, ultra-sonic and light functions all in one. After washing my face, I put on my night cream and turned on the Ultrasonic Negative Ion- function at the highest intensity and massaged my face according the manual's directions. Then I selected the red-light mode and massaged my entire face again.
Even after one use, I felt like my skin looked smoother and firmer. I just looked more awake in general, which was a shame since I used it at night! I guess this means I'll just have to give it another go soon. So if you're wondering would I purchase this product on my own? The answer is a resounding yes! I'm beyond thrilled to have this magic wand as part of my beauty treasures.