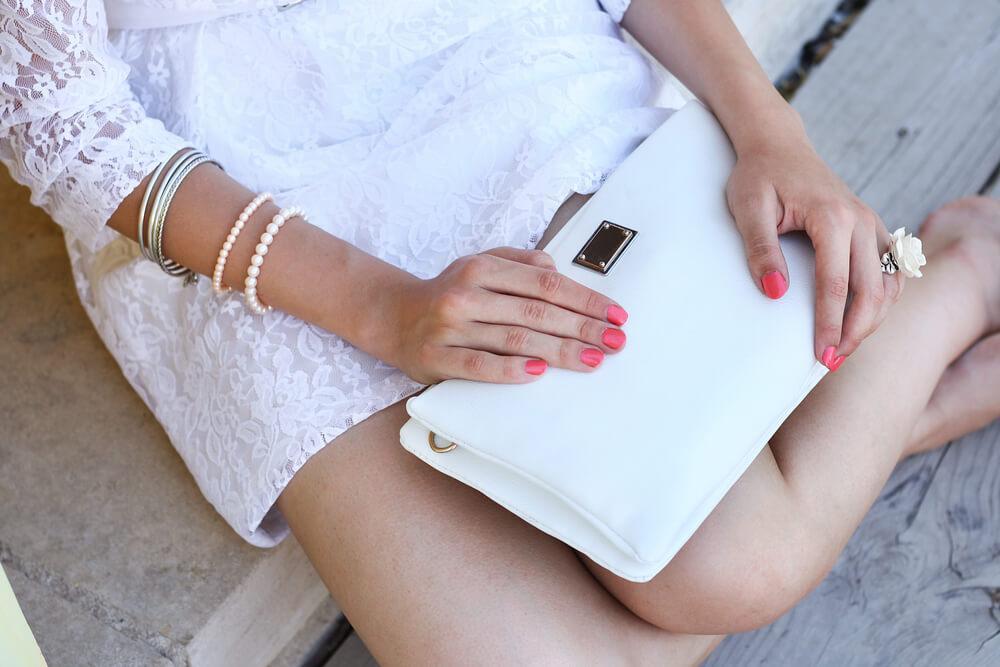 Back in 2017, fidget spinners were all the hype and everyone had to have one and for varied reasons. Apart from the elegant design, these toys captured the minds of a generation with their tactile and visual appeal. The fidget tools have gone to a whole new level and are now part of a new line of jewelry. So, can fidget jewelry really reduce stress and anxiety?
If you easily get nervous, then you understand the power of distraction when dealing with an uncomfortable situation. Let's delve into the fidget jewelry subject to find out if it can measure up to its fidget toy counterpart…
What is Fidget Jewelry?
Fidget jewelry are personal ornaments that combine functionality, beauty, and fashion. At a glance, this type of jewelry looks like any other. The only exception is that the ornaments come with small movable parts that can be manipulated. This can be beads that spin or move around the core of a ring, repeatedly.
The jewelry can also be made of buttons or dials that move on the slightest of touch. As such, to move these small parts, you don't need to see the ornament. You can be touching and playing with it while concentrating on other things such as reading or talking.
In essence, they distract your mind from wandering off from your current activity.
As Lisa Capanneli, a fidget jewelry maker, explains, they provide "A sense of focus. A sense of distraction too. I need to do something with my hands. When you're talking to somebody, for me, anxiety-wise, it helps to have my mind think about the jewelry and moving the beads rather than other invasive thoughts."
Just like other jewelry, they are made of materials such as gold and silver with less costly ones being made of bronze and other such metals like stainless steel. The only difference is the repetitive sensations that you can eachieve while wearing them.
Types of Fidget Jewelry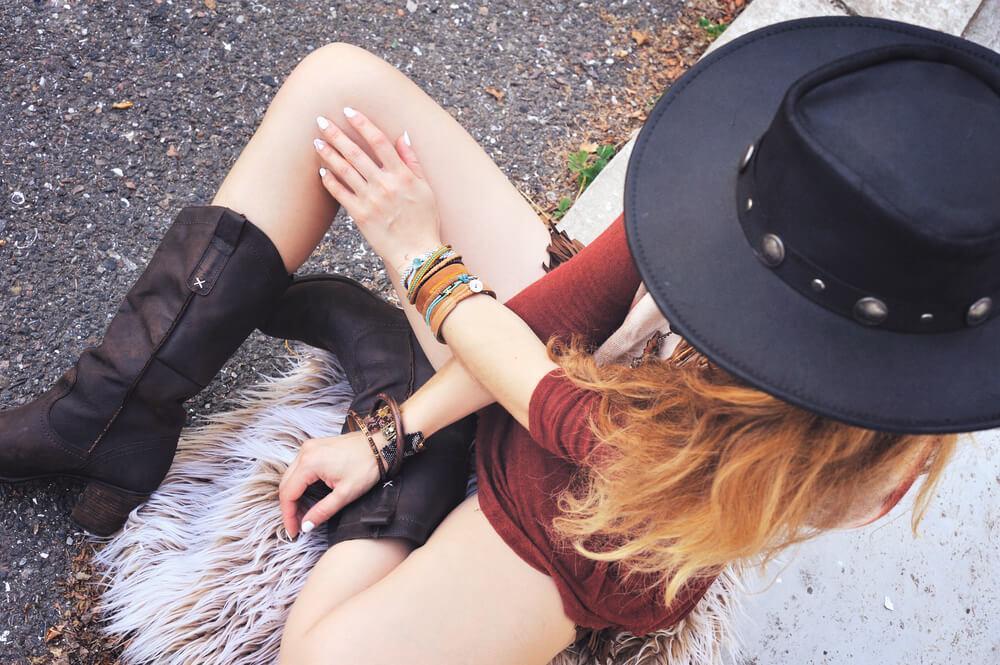 Any form of ornament that gives a pleasant sensation from spinning, fiddling, twiddling, or even chewing, is considered a fidgeting jewelry. Common types include:
Sensory Slap Bracelets
These are fashionable bracelets with rows of firm and soft spikes. Tactile input is from snapping the bracelet on your wrists for a caressing feel. The spikes are made of rubbers which makes for a soft sensation when run against your fingers or skin.
Also, the snapping effect provides an auditory sensation when wearing or removing it. However, it's worth noting that the spikes are not meant for chewing.
Spinning Rings/ Bands
These are finger rings designed with 2-3 layers of concentric rings. Each ring moves relative to the others, allowing for a spinning motion. If what you are looking for is visual simulations, there are rings with holes (windows) on the outer layer. When spun, the openings reveal patterns beneath them.
Fidget rings also come in other innovative styles such as extensions with beads added to the basic round shape. The extensions can be shaped as triangles, hearts, loops or horseshoes with the rotating part moving along the entire length.
Cord and Zipper Fidget Bracelets
Remember the rotary dial phone with a corded receiver and mouth piece? Well… before the smartphone, people used to fidget the cord while making a call. You can now experience the same feeling with a cord bracelet. These elastic cords twist in into perfect spirals that you can twist or squeeze without damaging the design.
On the other hand, zipper bracelets have an easy soft clasp that allows you to wear a zipper on your wrist. By moving the zippers to and fro, the jewelry gives a soft auditory sensation plus an unmistakable zipping sound. You can also just run your fingers along the teeth for extra vibrations.
Chewable Necklaces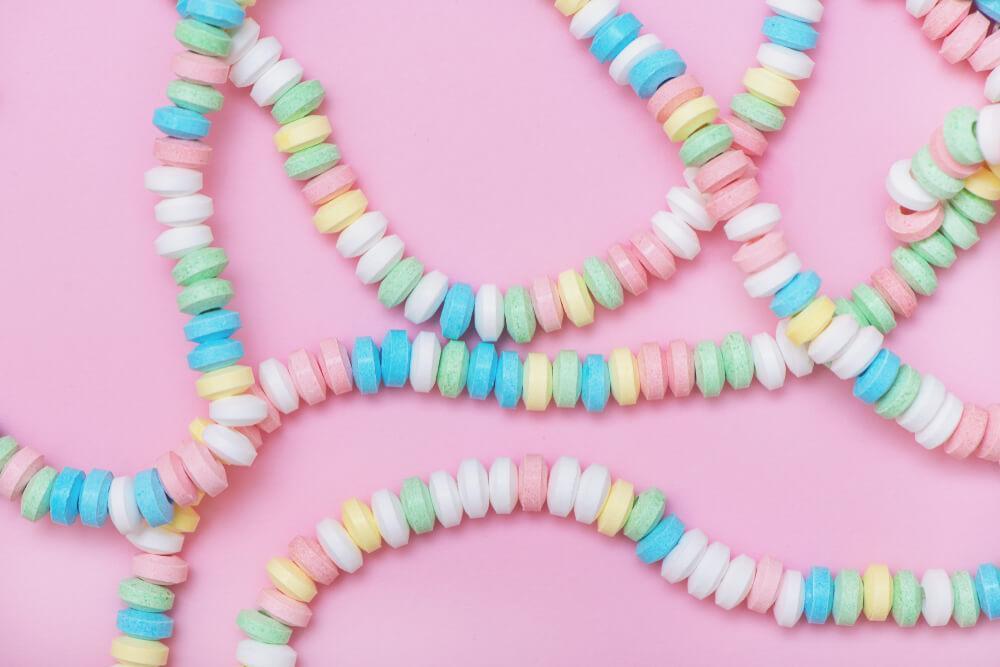 Necklaces are some of the most important accessories in any outfit. Fidget necklaces come with chewable parts made from materials such as 100% food-grade silicone. Usually, the chewy part is a pendant that you can bite on without leaving any teeth marks. They can be shaped as anything from a spaceman or shark tooth, to phoenixes and crayons.
Since the pendants are non-toxic, the ornament is safe for teething babies as well. This beats sucking on your thumb or biting your nails when anxious. These types of fidget jewelry provide both oral, auditory, and tactile satisfaction.
Can Fidget Jewelry Really Reduce Stress and Anxiety
From the above list, it's evident that these forms of jewelry are marketed for all age groups. Of importance though, is the claim that they can help people suffering from anxiety disorders such as:
ADD- Attention Deficit Disorder
ADHD- Attention Deficit Hyperactivity Disorder
OCD
PTSD- Post-traumatic Stress Disorder
Autism
Do fidget jewelry really bring about calmness and concentration? Apparently, they do. The repetitive motion of a fidget toy or jewelry forces you to focus by taking over the part of your brain that gets distracted by random thoughts.
As per a Forbes report on the fidget craze, "Imagine that your brain is a family that needs to make an important decision; if the young children in the family aren't occupied by toys, they may demand too much attention, interfering with decision making."
The report goes on to add, "fidgeting may prevent your mind from being occupied by obsessive and unhealthy thoughts. Another possibility is that body movements are actually part of the thinking and expression process."
The Science Supporting Fidgets
If you are going to spend your money on an item that is supposed to affect your health in any way, then its use should be backed by science! With this in mind, let's look at some of the studies touching on the effectiveness of fidgets as stress and mood relievers.
Researchers from The Polytechnic Institute of New York University published a report on effects of fidgets on workspace productivity. Among their findings was that "fidgets are intended to selectively modulate affect and shape cognitive state to support a user's productivity and creativity in their primary tasks."
The 2014 report also noted that "In 'hyperactive' and ADHD children, researchers have hypothesized that fidgeting is a coping mechanism the body employs to promote natural stimulant release, enabling the mind to focus on tasks. Anecdotally, encouraging fidgeting in the classroom … seems to improve focus in children."
Another study published in the Journal of Abnormal Child Psychology researched on 8 – 12 year olds with AHDD. From the findings, kids who took part in gross motor activities often outperformed their peers who stayed still during memory exercise. Simply put, those who were moving their limbs sustained attention longer.
They recommend that the results support the incorporation of "devices or techniques into classrooms that accommodate movement while minimizing its disruptive nature…. to the extent that movement facilitates task-relevant arousal necessary to support phonological working memory processes that are critical for completing myriad academic tasks".
In yet another study, 81 adults were recruited to test the effect of using a fidget spinner while performing motor-control activities. The research found that repetition is vital when it comes to controlling body movements and performance. As such "fidget spinners, by being diffuse and prone to repetitive usage, may represent an interesting tool for improving motor control."
Fidgets Could Be Just Toys Or Plain Accessories…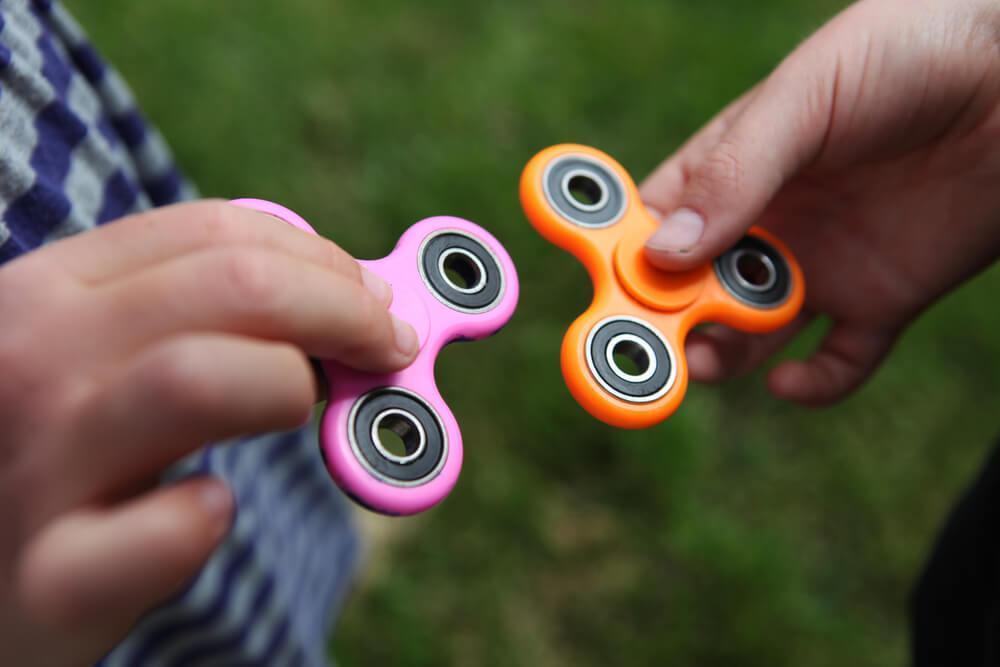 It's worth noting that not all academics believe that fidgets are of any help except as playthings. "We have to view it as what it is: It's a toy, a fun toy." This is a sentiment from Dr. Ruth Milanaik, a neonatal program director at Cohen Children's Medical Center, New York.
In fact, some schools are banning use of spinners as they distract others and are potentially harmful to the kids. Before the trend reaches the whole community, ensure that your fidget jewelry is not a bother to others.
That said, the simple fact is that fidget jewelry is like any other jewelry. Unless anyone is really concentrating on what you are wearing, they would never notice the difference.
Think of a nervous person in a meeting who is biting their nails or drumming with fingers, and one who is just shifting his toes inside their shoes. It goes without saying that the former will attract unwanted attention, while the latter will cruise through the meeting with no one noticing.
It is the same with fidget items. If the idea is to control your anxiety, without drawing attention which would make you even more anxious, then go for an inconspicuous item. If you decide to go with a necklace, then don't eat one with a palm-sized chewable pendant.
Also, be careful not to obsess over your fidget jewelry. Only use it when you need to, otherwise, you will develop a habit that will define you around your family and colleagues.
Fidget Jewelry Benefits
The use of fidget tools for stress and anxiety may be debatable, but there's significant research to show that it does help. If you shied away from other attention-grabbing fidget tools, then fidget jewelry is just another way of indulging while remaining inconspicuous.
Here are the main benefits of using fidget jewelry:
It Enhances Attention and Concentration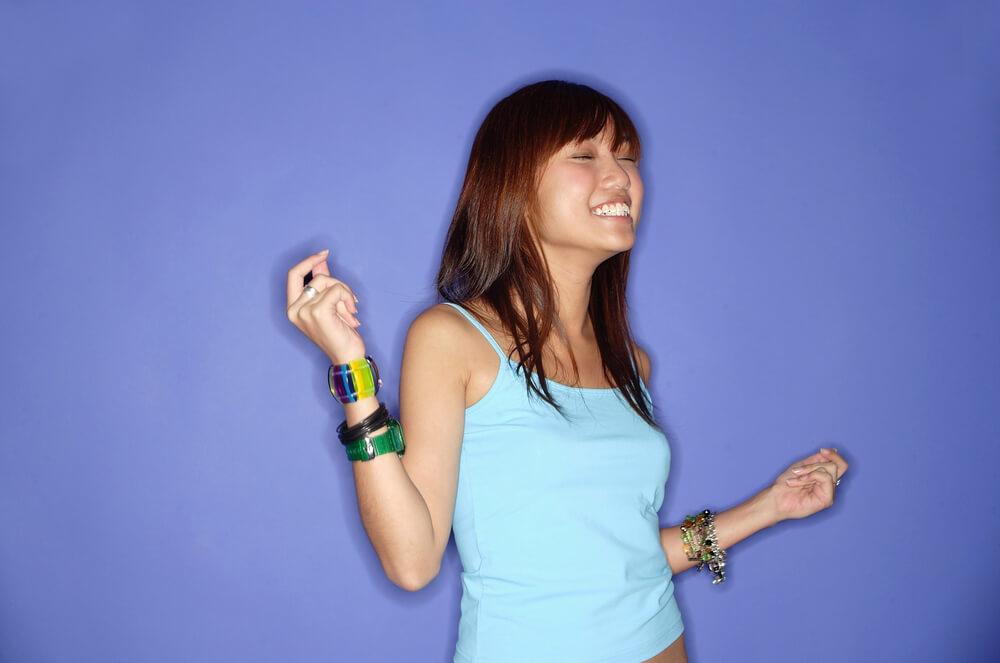 When anxiety hits, fidget accessories provide an instant distraction. Fidgeting forces you to do another activity other than what is probably triggering anxiety. This way, you kill boredom, release excess energy, and lead your brain to concentrate more on the task at hand.
It Fights Stress
Stress is a common trigger of anxiety. Way before anxiety hits, distracting yourself with fidget jewelry can help you calm down.
It Allows Discreet Fidgeting
Fidget tools come in designs, colors, and sizes. Notably, the majority of them are conspicuous and would suit kids more. Jewelry can be both functional and appealing especially for adults.
Even better, you can fidget with something you are wearing more easily and without drawing too much attention.
It's Good Exercise for your Finger Joints
Manipulating fidget jewelry is another way of exercising your finger joints. This helps to promote fine motor development in a kind of occupational therapy manner.
It Helps Curb Other Anxiety-Related Habits
What do you do when anxiety starts creeping in? Do you pick your skin, pull your hair or bite your nails. The habits can get even weirder but you can break them gradually by fiddling with or spinning your jewelry instead.
Emotional Attachment to Fidget Jewelry Reduces Loneliness
Like with other fidget tools, you can have emotional attachment to fidget jewelry. This helps to reduce loneliness. While the jewelry is not designed to replace human contact in your life, it does come in handy especially if you get anxious just being alone.
Safe Use of Fidget Jewelry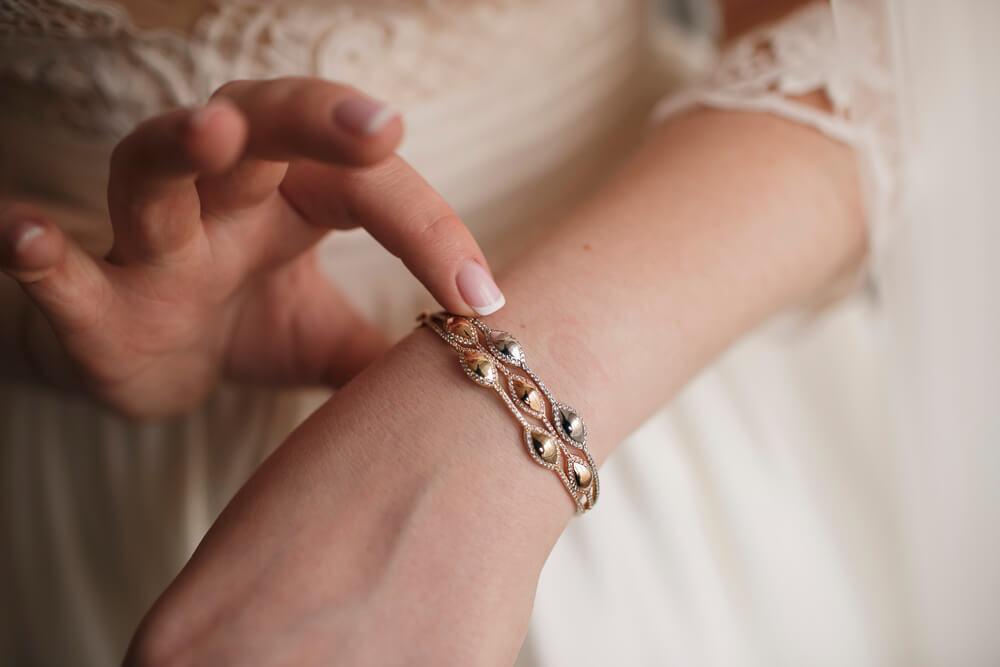 These types of jewelry may reduce stress and anxiety but they can easily become health hazards if you don't use them well.
Here are some tips on safe use of fidget jewelry:
Inspect your jewelry for faults
The fidgeting part is movable, which means that it rubs against the stationary section of the jewelry. This kind of motion is bound to cause friction which in turn leads to wear and tear.
Now, if yours is a metallic fidget, the tears can bruise you. The same goes for chewable rubber that can break into pieces and become a choking hazard. As such, inspect your item daily before use.
Buy from reputable sellers
Some fidget items have been found to contain dangerous amounts of lead. And since this is an item that will probably become part of your regular wear, the danger of lead poisoning is real.
Just like you need to check the ingredients in your skin care, go for jewelry whose constituent materials have been indicated. You can ensure this by buying from reputable dealers. Also, mind your allergies. An item doesn't need to be poisonous for it to trigger allergies.
In most cases, it's nickel-based jewelry that causes skin irritation. However, some people are allergic to rubber due to latex. So, before wearing any piece of jewelry, carry out a patch test to know how your body will react.
There you go! What is the perfect fidget jewelry for you? It is a ring, a bracelet or a necklace? You can even have pieces of each and incorporate them into your festive season accessories, because after all, it is just jewelry to anyone looking at you. Only you know the value that you draw from it.