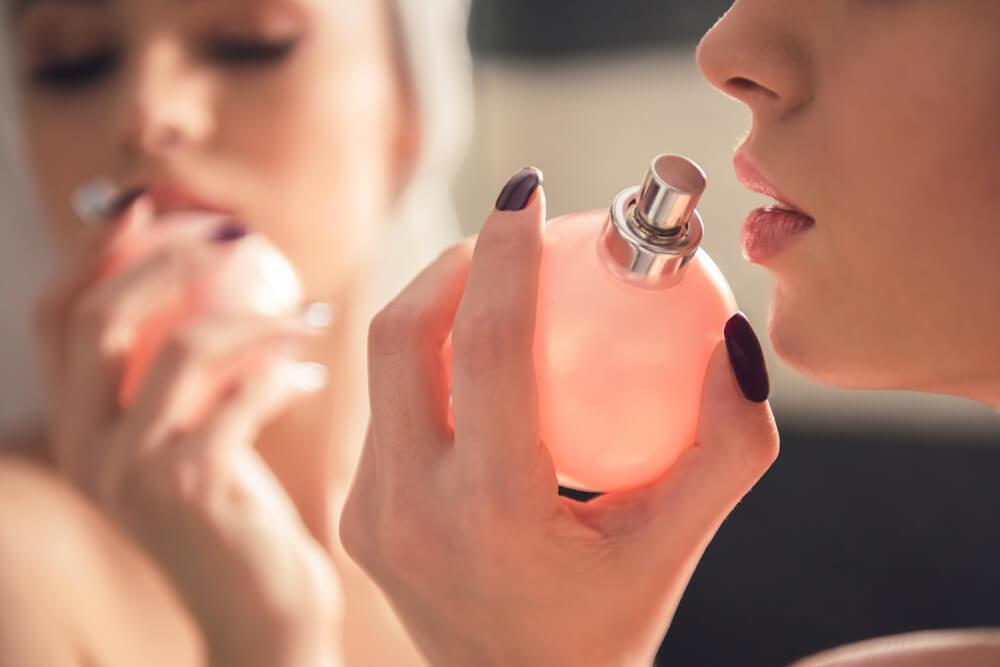 Picking the right perfume can be a life changer. It can help you seduce somebody in a second, make people turn after you, it can even help you land that job you wanted for so long.
Whether we want to accept it or not, first impressions do count, and there is no better way of making a fantastic first impression than choosing the right scent.
And if you're dead set on choosing something made by a celebrity, we've got you!
Decisions, decisions…
Frustrating choices nowadays come left and right, until you're an indecisive mess at the store.
And truly, with so many (so, sooo many) choices, it can be good to have a bit of help here and there.
One of the ways that people seem to solve their plight is by choosing a fragrance made by their favorite celebrity.
Hey, if it works, why not.
But then again, nowadays, there are even many, many perfumes by celebs that can make your head spin. In a good way, of course. However, that just means that you're back right where you started.
But there is a way of finding the best fragrance without so many dilemmas. We've compiled a list of the best fragrances by celebs that really do smell as good as they look.
1) Fame by Lady Gaga
When has Lady Gaga disappointed?
Let us answer that for you – probably never!
The same applies to her fragrance.
Her perfume first came out in 2012 in collaboration with her own company "The House Laboratories" and in association with Coty Inc.
And Lady Gaga, being Lady Gaga, wanted everything about this perfume to be uncommon. From the design of the bottle to the way the scents were combined.
The perfume uses the so-called "push-pull technology," where all the ingredients mix to emphasize the different aspects of each fragrant note at the same time, without any hierarchy. The scent was built on three main accords, the most interesting of which is the dark one which includes the poisonous Belladonna flower.
Apparently, Belladona is a tiny, shiny fruit and, while the fruit can be eaten, its seeds are poisonous.
No surprises here, her perfume is really the embodiment of Lady Gaga's style.
The liquid itself is also intriguing since it is black. However, when it touches the skin, it becomes transparent. It is, apparently, "black like the soul of fame but invisible once airborne".
The design of the bottle is very elegant but powerful and original. It definitely looks like something that belongs on a Paris Fashion Week runway.
It definitely belongs there!
It was the talk of the town because of its oval bottle with a gold, scarab-shaped lid. So you certainly won't make a mistake if you decide to buy it.
2) Heat by Beyoncé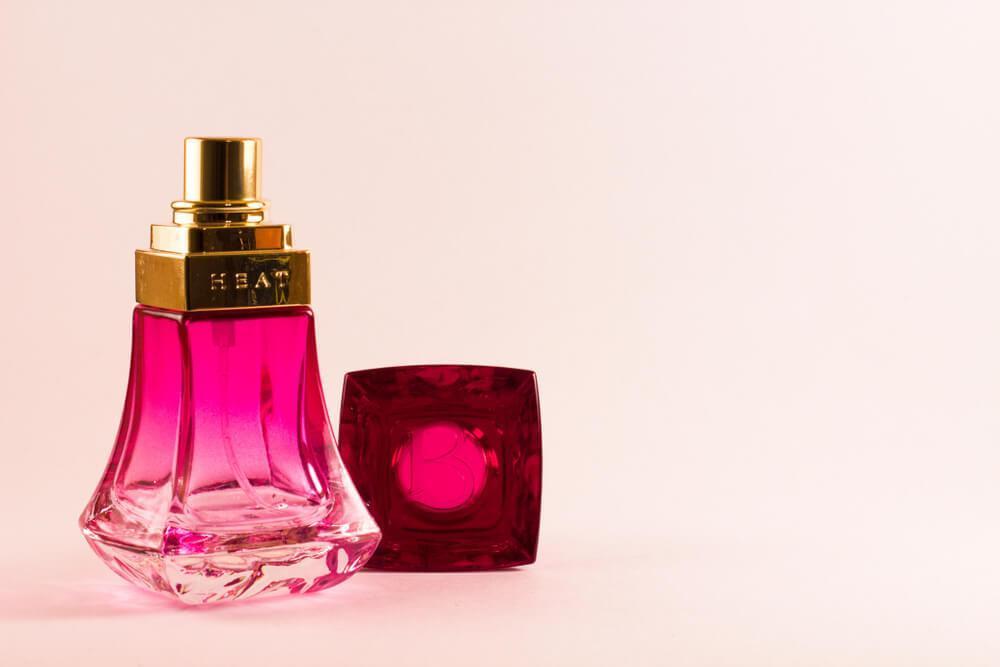 As Beyoncé said when describing the perfume, "I want woman to feel sexy, strong, empowered and I want them to feel like they can conquer anything."
Beyoncé established her fragrance brand in 2010, which now has up to 14 different fragrances made in cooperation with some of the best names in the business – Claude Dir, Olivier Gillotin, Honorine Blanc, Bruno Jovanovic, Carlos Vinals and Loc Dong.
She wanted something that would be a clear definition of her temperament, and there is no doubt that she succeeded. The perfume is fierce, with powerful notes of red vanilla-orchid, magnolia, neroli and peach. Since she thinks of herself as a very passionate person, she wanted for her product to be nothing short of that.
And such a delightful, sensuous smell can only be placed in an equally attractive bottle. The antique-shaped glass bottle is in red that slowly transforms into a fiery orange. It has a discrete detail which gives it a little something extra. The sexy design of the bottle fits its alluring smell perfectly and if you decide to buy this perfume, you will not be disappointed.
3) Riri by Rihanna
Intriguing, wild, yet gentle and sophisticated – this would be the right description of not only Rihanna's sixth feminine fragrance called RiRi, but also the advertising behind it.
Dressed in a pink gown with satin gloves and pearl bracelets, she is definitely going for a Marilyn Monroe glam. (And definitely succeeding in doing just that!) The sweetness and innocence of the ad is a depiction of both the design of the bottle and its content.
The pyramidal accords start with a powerful scent of passion fruit and mandarin and end with heavy sandalwood scent mixed with vanilla. The central smells are the ones of pink freesia, jasmine and orange flower.
The bottle itself is simple, elegant with clear edges and a black lid on top of which there is a glass bowl. Very pleasant to look at, even more when you try it.
4) Live Luxe by Jennifer Lopez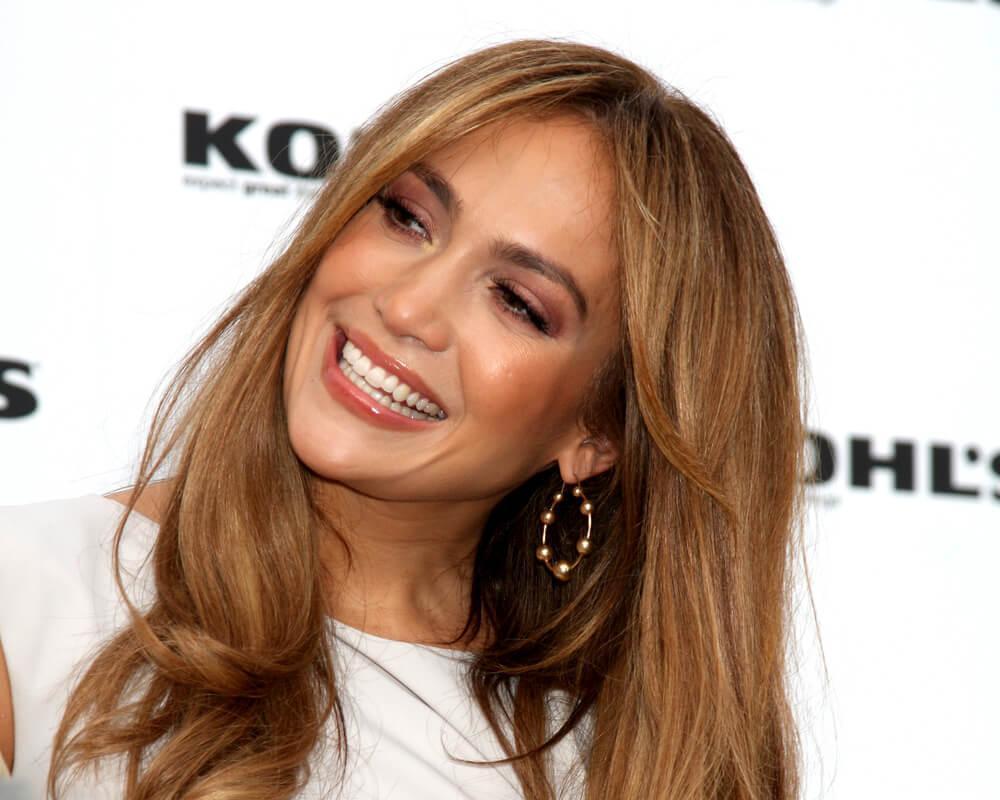 One of the best celebrity fragrances there is, according to reviews, is, undoubtedly, the Live Luxe.
From its unique design to its tantalizing smell, this fragrance leaves no room for discontent. It was made in collaboration with Dominique Ropion and inspired by J Lo's passion for dancing.
The bottle itself depicts movement and color, suggestive of floral notes, red currant, peony and violet, which are in the heart of this fragrance, whereas Sicilian lemon, bergamot and pineapple are the top notes. The base contains sandalwood, Tonka bean and caramel.
The design of the bottle is very dynamic with an optical-illusion effect, so if the name behind the fragrance doesn't attract you enough, the colors and the lines of the bottle surely will.
5) Curious by Britney Spears
When it came out, this perfume became an instant hit with over 500 million bottles sold all over the world. It was launched in 2004, as a first collaboration with Coty Inc.
A lot of time has passed since then, but it is still a winner.
Depicting Britney's essence as a young, energetic, and bright woman, Curious was made for a woman who is "romantic, independent, mischievous, one who's not afraid of risk."
The base accords contain floral notes, the ones of white flowers, with an addition of vanilla and musk, whereas the heart of the fragrance is made of tuberose, jasmine and pink cyclamen.
The bottle is light blue in color, with two dangling pink hearts. There are also several limited editions of this perfume such as Curious: In Control, Curious Heart etc. Spears commented on the names and said "As I get older, the names go with my age."
Britney might have grown older, but she managed to encapsulate her essence forever in this perfume.
6) Killer Queen by Katy Perry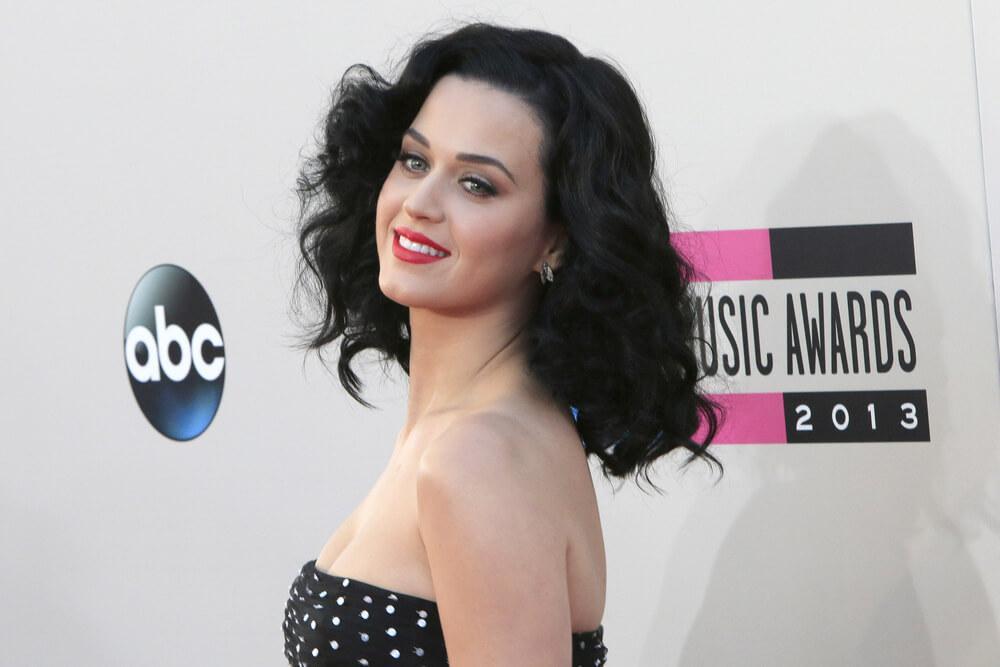 Katy Perry admitted that the perfume was named after the lyrics of the song "Killer Queen" by Queen.
As she said, Freddy Mercury described the woman she wanted to be in that song.
Sexy, playful and "dynamite" if you will, the perfume comes in a red box with gold touches, and the bottle is shaped like a red ruby. Laurent Le Guernec of International Flavors & Fragrances was the mastermind behind the scent itself, which is a mixture of wild berries, dark plum and bergamot accords in the top notes, whereas in the heart of it lies celosia, a velvety red flower, sambac jasmine and rainbow plumeria. Cashmere wood, patchouli and liquid praline form the base notes.
The name says it all, it was made for all the killer queens out there, strong, daring and unstoppable. Even the bottle of the fragrance reflects that since it was inspired by a queen's scepter.
The reviews are full of praise only, describing it as "amazing," "sophisticated" and "feminine," made for "a woman that takes what comes next and deals with it."
7) Sweet like Candy by Ariana Grande
After her first perfume was made public, the successes just kept rolling.
Ariana Grande's third fragrance Sweet Like Candy, after it was released in 2016, was the finalist in the Top 10 Finalists for the 2017 Fragrance Foundation Awards in three categories.
The perfume is delicate, elegant, and youthful and sweet, which is pretty much the way we would describe Ariana herself. It shows her essence in the smell of berries, candy and vanilla. The base accords consist of vanilla and precious woods, the heart couldn't be sweeter with the notes of cassis cream and marshmallow. The top notes are even more delicious, made of sugar frosted blackberries and Italian bergamot.
The matte pink bottle with a fluffy pom-pom hanging is very attractive and pleasant to the eye, again depicting the main idea around it. "I wanted this to be something my fans would love, so the vibe is sweet, fun and sexy," Ariana said.
8) King and Queen of Seduction by Antonio Banderas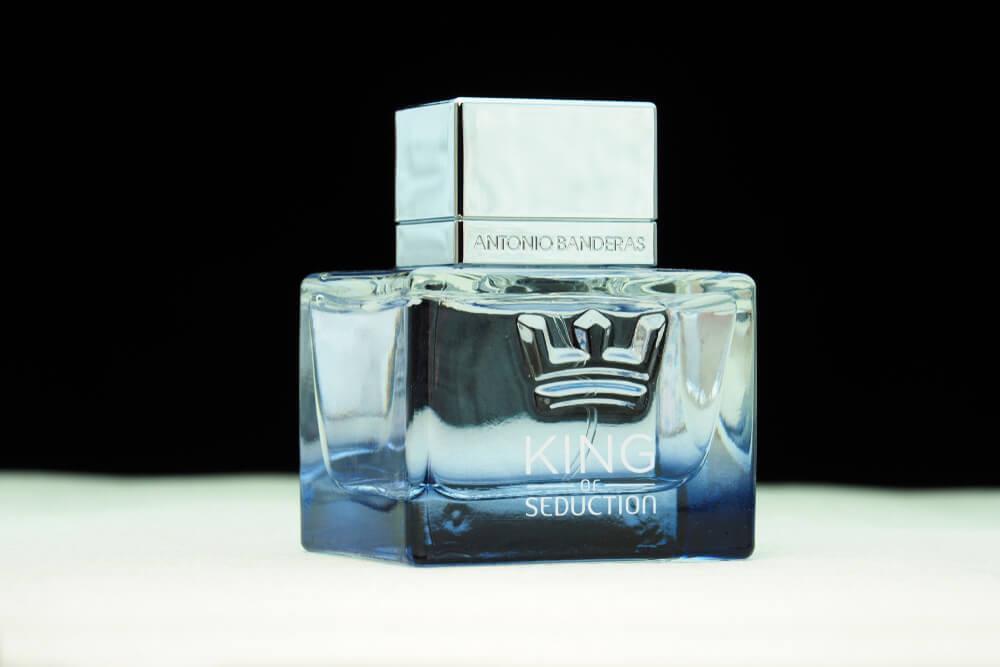 Antonio Banderas has an extensive line of fragrances for both women and men. His perfumes and perfume commercials captivate all senses. They not only smell good, but also look amazing, and he looks amazing in every single one of his perfume commercials.
What can we say – he really found the perfect way to sell a fragrance.
Also, just by hearing his voice saying the names of his perfumes, you feel an irresistible urge to buy whatever he is selling.
However, in this case, it is not only the advertising, but the fragrances themselves. The King of Seduction fragrance starts with the top marine notes mixed with jasmine, followed by the middle notes which represent "the marriage between earth and sky, rain and fire," embodied in the combination of cedar and vetiver, and finishes with the base notes of apple bergamot and musk.
The Queen of Seduction fragrance, like the King, represents a mixture of marine and floral scents with a little bit of fruity allure added to it. This invigorating smell opens with top watery notes blended perfectly with raspberry and grapefruit. Then you're introduced to the middle notes that consist of jasmine, peony, pink pepper and iris, only to be met by the base notes of amber, cedar and suede.
Both bottles represent elegance and sensuality in their simplest form, but most effective, with only a small crown imprinted on them.
9) Vivamore by Selena Gomez
A little-known fact is that Selena had this perfume made in collaboration with her fans. That is, they made a decision about the ingredients together.
The fragrance is really well-put together, starting from the packaging and the bottle to the fragrance notes. It is a genuine representation of the singer, her elegance, style and femininity.
The coloring of the package is a sort of soft, pastel green and the bottle resembles her original bottle, shaped as an evening gown. It is sealed with an unusual cap with a bouquet of white and golden lips.
The bouquet design of the cap actually suggests the floral notes of the smell, which include elegant calla lily, mixed with white tea ad melon. In the base there is Tahitian vanilla and caramelized sugar. The opening notes are very refreshing and calming, and the calla lily in the heart gives it little extra something, making it the perfect blend.
Its elegant look and intoxicating smell send the message that we should celebrate life and love and let those feelings overpower us.
10) Reb'l Fleur Love Always by Rihanna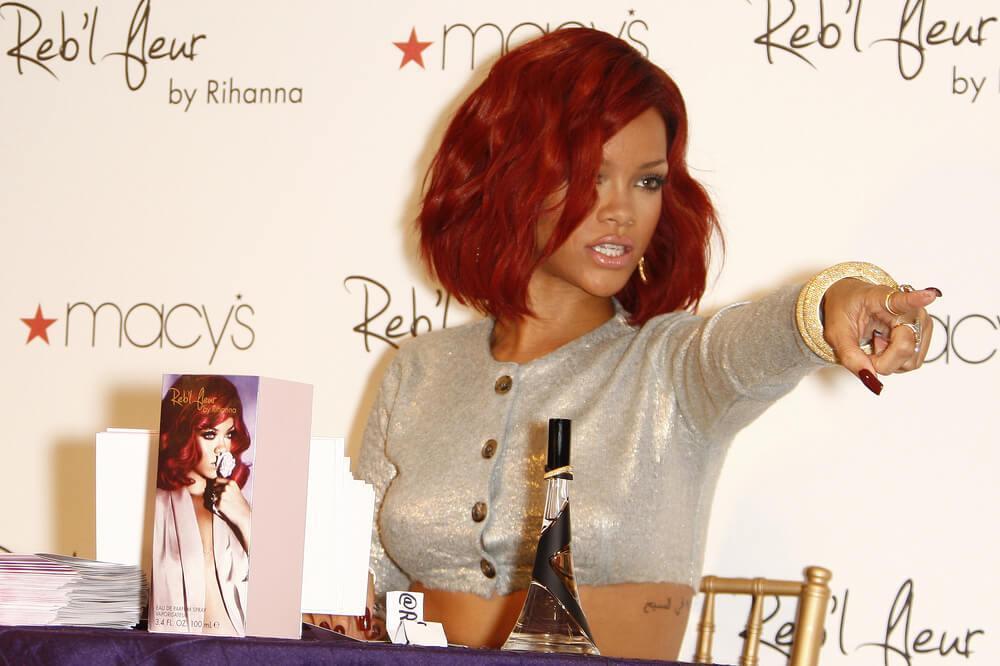 Only Rihanna can make it to every list twice, or more.
It's Rihanna.
And it's safe to say that this perfume is like her, fierce, unstoppable, one of a kind.
Reb'l Fleur Love Always was released in 2018, as Rihanna's tenth perfume, representing a variation of her first Reb'l Fleur perfume.
Just when you thought that she couldn't surprise you more, she releases such a powerful and alluring smell and there is nothing you can do, but buy it.
The black fragrance bottle screams sexy, with black ribbons wrapped around it and a black cap. It is an emphasized version of her first fragrance, meaning that the ingredients remained the same, but became more intense. Just like Rihanna.
The pyramidal structure of the fragrance starts with the top notes of red berries, plum, and peach, slowly displaying the mixture that comes next in the heart of the smell, that of hibiscus flower, violet, tuberose and coconut water, ending with subtle notes of vanilla, patchouli, amber and musk.
The main message behind this fragrance is feminine power and sexiness, and you will feel empowered for sure.