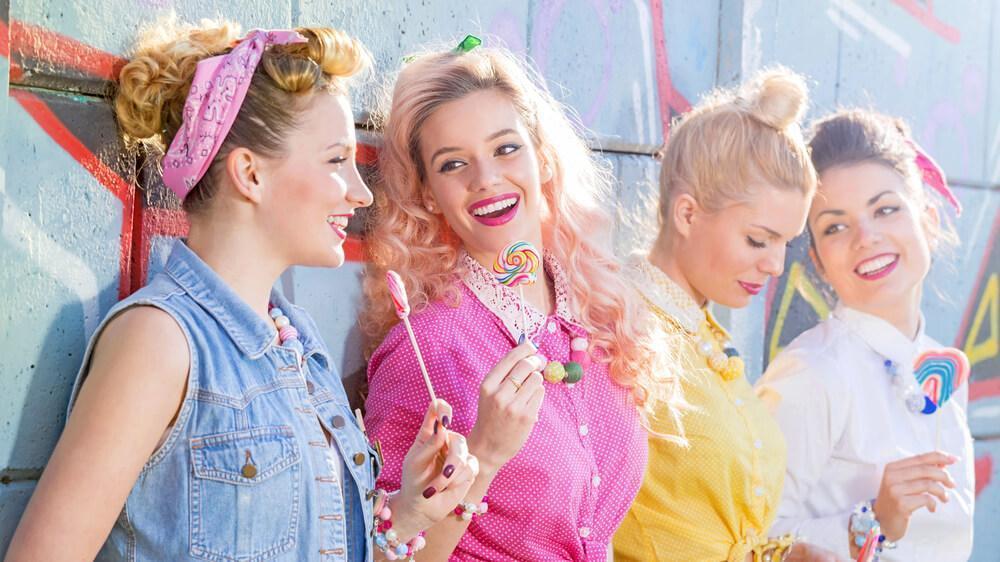 The 1950s saw an explosion of fashion after World War II. With a return of Dior to the world, change was bound to occur. America was ready for something new, fun, and flirty. The 50's style is what emerged from this, with pin-up skirts and accessory flair. Everything, down to their knickers, was unique from the previous fashion era, especially if you compare it to current trends.
Pulling off the 50's trend can take some research to nail it. It does help give your wardrobe a fun new twist. Keep in mind that you might not want to go all out, but you can still pull off the 50's fashion trend. There has been a resurgence in the fashion world in favor of these trends, making you look anything but outdated.
Primary 1950's Look
For both men and women, the defining aspects to the 1950's style were the celebration of life with color. They maintained a conservatism and clean-cut look that had been traditional beforehand while adding their new flair.
Women
After the war, women in the 1950s enjoyed increased opportunities to join the workforce. Many theorize this helped to jumpstart the American economy. With families once again having some sort of disposable income, the rise in consumerism came quickly. A large part of this helped the accessory-based fashion become suddenly popular.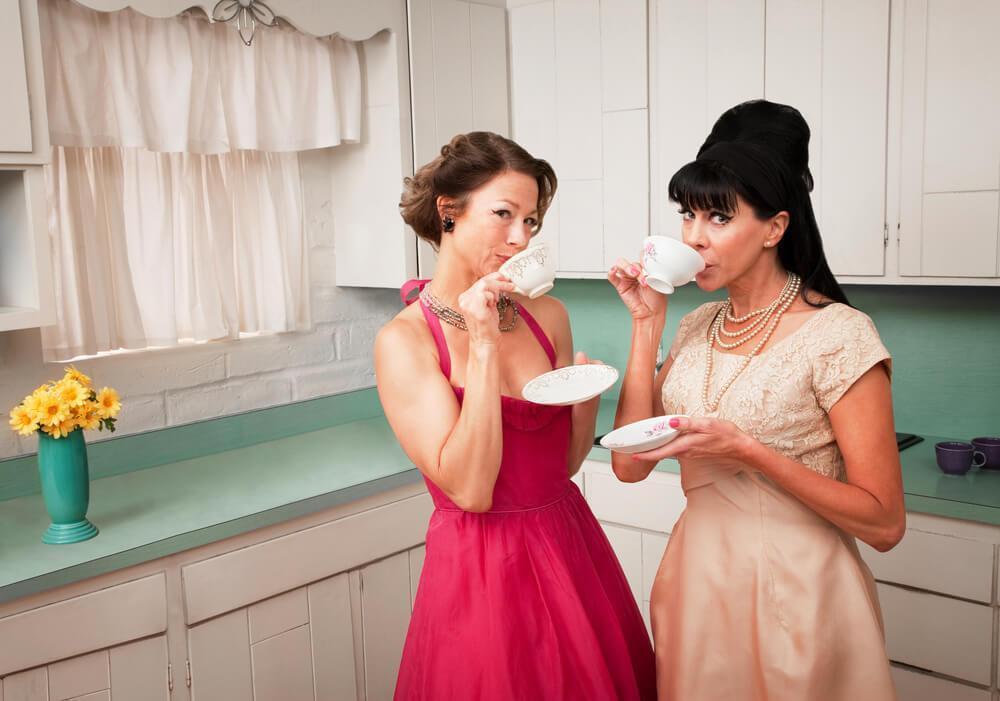 Here are the top three most recognized fashion trends of the 1950s for women:
Busty Sweaters
This look is also called the Sweater Girl Look. It began its arrival to the fashion scene in the 40s but remained popular throughout the 50s. Part of this is because of its preference to curvy women with large chests and small waists.
The sweater girl would have been surprising for anyone in modern times because of the bullet bra. The look was almost always paired with a bullet bra to make it stand out and look more fashion-forward than frumpy. They were meant to push the bust upward and out, coming to a sharp point.
These sweaters were often of a thinner material with buttons from the bottom to the top. They were made to fit the bullet bra underneath. They would look too short to us but were made to suit the waistline since the skirt or capris would come up to cover the belly button.
A Cinched Waist with Full Skirt
The full skirts of the 50s are one of the more well-known looks. These kinds of outfits could be worn more casually as well as for an elegant night out. There were a couple of tricks to this look. Again, a slim waist needed to be accentuated, and curves pronounced.
The skirts were full, falling only ever to mid-calf, never above it to maintain an air of discretion and conservatism. Evening wear dresses could be cut longer to appear more elegant than casual. The skirts were pleated to make them more full, and layers of net or chiffon were added underneath the dress to give it a full body.
Coming up from the flow of the skirt was a cinched waist, cut in by a belt that rested at what is considered the natural waistline, right under the bust and above a belly button. The belt could be thin leather or made with quite a wide ribbon.
The tops of these dresses, or shirt and skirt combos, varied. They were always cut modestly, but still low enough to be slightly suggestive. Highlighting the feminine form was a big part of this age, and this look helped do exactly that.
Pencil Skirt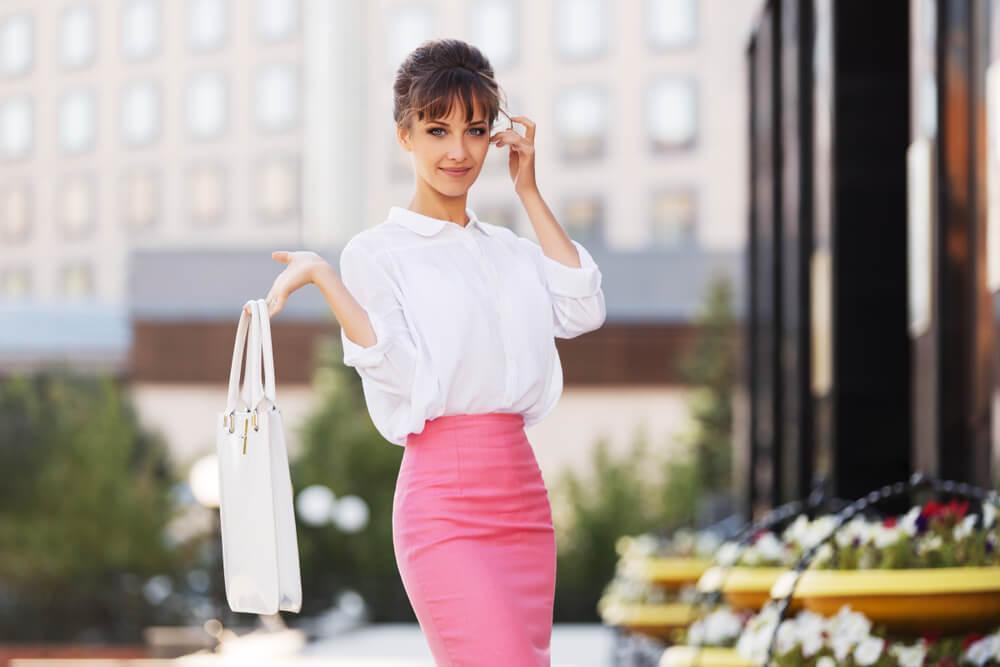 Pencil skirts are described as much because they are meant to be "as thin as a pencil." They hugged a women's frame tightly, and the addition of a belt right under the bust helped to accentuate the waist again.
These skirts could also be called hobble skirts because of the way that women walked when they wore them. The skirts fit so tightly around their legs that they were not able to take full strides. Instead, they either swayed elegantly or hobbled. The dress would be cut to mid-calf length.
Hairstyles
The poodle cut was one popular hairstyle, as well as a thick fringe cut. The poodle cut earned its name because of the stack of curls piled on top of the wearers head. They were permed up and loose instead of in the more modern coil. You can picture Lucille Ball when you imagine this hairstyle.
Having a thick fringe was also a fashionable look during this time. Bangs and long hair bobbed at the bottom went together well and accentuated the feminine features of most women's faces.
Men
Women were not the only ones who were able to appreciate the new fashion trends. Men made up the other half of the population and were just as joyful about the recent events in the world as everyone else.
Double-Breasted Suits: Movement in Dress Code
Some men lament that they don't have many options to choose from when it comes to clothing, especially dress wear. This era highlighted a new movement in dress wear for men, bringing suits back into fashion, especially the double-breasted suit. This style of the blazer was initially a street style to make men look broader and more masculine.
One of the more essential aspects of getting the double-breasted suit right is to have one that fits you well. Don't go for a gorilla suit style, since this would not be reminiscent of the fifties. The blazer should be perfectly fitted.
Preppy
With the rise in the economic status of an entirely new group of people, there was a rise in the average number of college attendants. Although not everyone could afford to go to university after the war, they could afford the look of one of these college boys.
The preppy look came about because of college dress codes. It is a relaxed look that speaks to your age and education. Critical aspects to it were the cardigans, previously only worn by the older generation, cricket sweaters, and cable-knit sweaters. During the summer, polos and khakis were common, tucked in with a low waist with a thin sweater swung around their necks or waists.
The color palette is another piece of this picture that stands out. For women, colors in the '50s were bold and bright, and it wasn't much different for the men. Navy blue was a favorite color for many or anything that nicely contrasted the tan khaki color. These also included scarlet, bright greens, and exceptionally manicured whites.
Oversized Casual Wear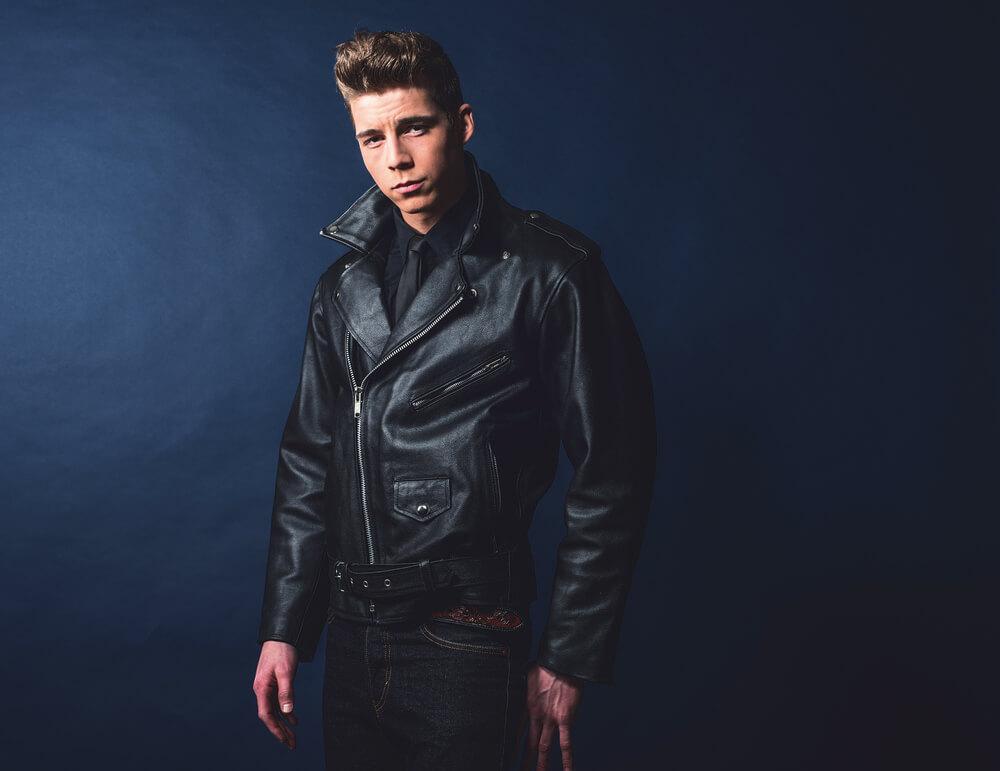 Casual wear and streetwear took on a new edge in the 1950s. Men's casual wear became distinctly oversized, extending the opposite direction from the cinched-in style encouraged for the women. They often had geometrical or graphic patterns that were long and wide in the arm and tapering to be more elastic at the wrist and waist.
Sportswear was typical during the '50s, especially for men. It was during this age that letterman jackets became more popular, as well as other large jackets. These included the bomber jacket, a fashionable highlight after being part of the uniform during the war, and the leather jacket. All of these would have large central pockets and collars to bring out the broad, oversized look.
Loafers
Shoes don't often get much of a mention when describing America's fashion movements. However, it wouldn't be an article on pulling off the 50's fashion trend without mentioning loafers. These shoes were paired with the preppy-casual style to give people an all-over casual look.
There are several styles of loafers, Gucci, penny, or tasseled. They are easy to pair with khakis and a cardigan or polo if you are going for the complete look.
Hairstyles
If you give a single thought to Elvis and his massive popularity in the 50s, you will know that hairstyles weren't only important for women. A lot of styling and time came with a good cut, and it was during this age that marketed hair products for men exploded.
A couple of the most popular hairstyles for men include the pompadour and the ducktail. The pompadour involved a more extended cut on the top that was blow-dried and held back with a strong pomade. The style was meant to be a wave backward, starting with a curve away from the forehead.
The ducktail was so named because of its close appearance to the back end of a duck. It can be considered a variation of the pompadour. Instead of being slicked back and over, it is combed forward to a point in front and back on the sides.
The Building Blocks
Men had their styles more cut out for them than women did. Casual wear was such a focus that it didn't take a lot of work beyond owning the right clothes. Women, though, needed to put more work into their outfit. Here are the top building blocks for putting together an outfit entirely in line with the 1950's fashion trend.
Get the Right Undergarments
If a woman from the 1950s walked into a department store today looking for underwear, she wouldn't ever find them. The underclothing trend has entirely changed multiple times since the 50s. Each trend was different to compliment whatever fashion style was growing at the time.
To look as sleek as 50s women did with their flared skirts and slim waist belts, you need underwear that extends to the same line as your skirt. Underwear that rides so low nowadays creates unseemly lines and stops the waist from being cinched where it should be.
Although this isn't a must, getting a bra that fills out the top of the outfit is undoubtedly a way to look the part. Trying to wear a bullet bra is going to approach a custom look, but go for something more along the lines of a push-up to give you that extra lift they valued.
Accessorize
Accessories were hugely crucial during this period. Even though the dresses were cute and colorful, they were not complete without an accent necklace, earrings, scarves, gloves, or belt. Hats were also trendy in the 50s.
To wear a hat now would make it appear like a costume, but it is still essential to discuss. Smaller hats were in-style during this period. Wearing a pillbox hat or a small lampshade style would have been all the rage, often with some form of netting around the top of the hair.
Wearing a belt was typical to cinch the waist. Scarves were worn everywhere, usually fashionably tied and lightweight. They could be worn around the neck or in the hair. Gloves were worn for elegance and sophistication with small purses dangling from their side.
Focus on the face and hair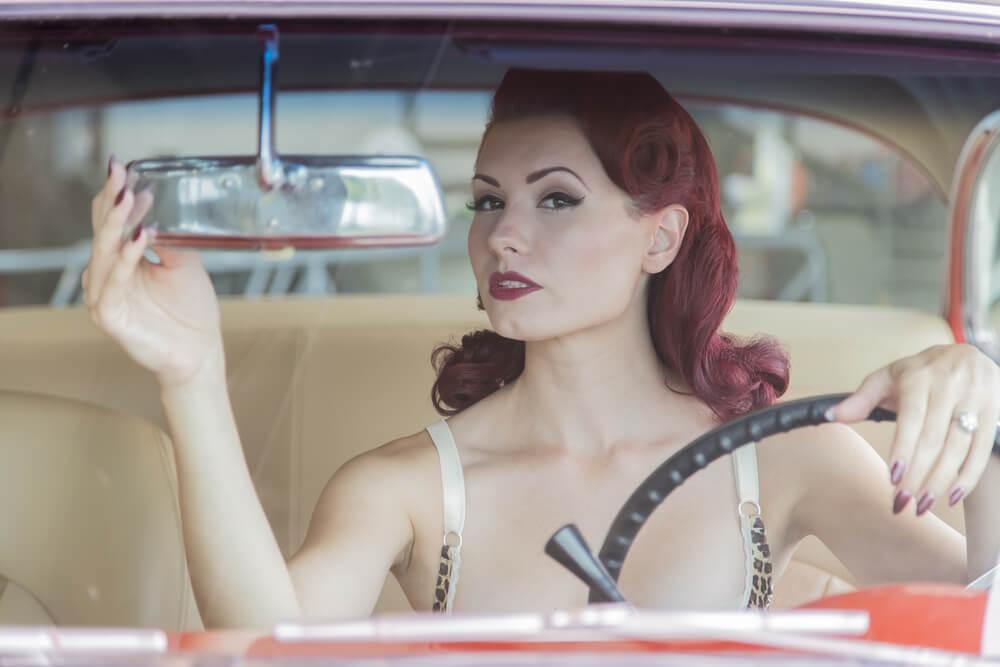 Finally, having done makeup and coiffed hairdos perfectly would have completed the style. Since we already covered some of the essential parts of hairstyles and tips for achieving them, we will focus on the makeup.
The most important part of having a put-together face was the lips. Lip liner was put on first, and then the rest of the lip was accented. Otherwise, a natural look was valued. Use eyeliner and mascara to highlight the eyes, but don't do too much to keep it natural. Pick one shade of neutral-colored eyeshadow to perfect the look.
In today's era of comfortable style and individual flair, can you imagine the amount of work that would go into each one of these looks? Yet people took pride and joy in them, regarding them as a celebration of their newfound freedom from the rations of war and increased poverty. If you want to try something new or feel like celebrating something of your own, why not take advantage of these tips and try on the 50's style fashion?