The Paris Fashion Week made headlines with its elegance and fast-rising fashion trends. If you are looking for some outfits to try on, the collections for this season can be one of your pegs. We have listed the standouts to help you cherry-pick the best items to add to your shopping cart. Let us check them out!
Bohemian Rock
https://www.instagram.com/p/BrzzrculH3Y/
Are you full of culture this season? If you want to show this side of you, the Bohemian rock will help you achieve this.
Most people see Bohemian rock as a fashion trend; however, it is more than that. This style is an actual culture that comes with history and ideologies. The designs are very much similar to the 60s and 70s era.
So, what makes the Bohemian Rock of 2019 distinct from the past Bohemian styles? This 2019, the color palettes are more fixated with dark red and light brown. It has a tinge of being a rebel in its way.
The best look for this is to pair this with light-colored dangling earrings, red heels, and an optional light brown headband.
Tailoring
Women have been performing well in the business world nowadays. If you are one of these empowered women, maybe the best go-to outfit for you is tailoring.
Celine, which is now on the creative hands of Heidi Slimane, presented an array of sharp black tuxedos. This outfit was pleasing to the eyes because of the unique design of the lower part of the tux. Instead of going for an inflexible fit, the creators opt to have a flowing cloth.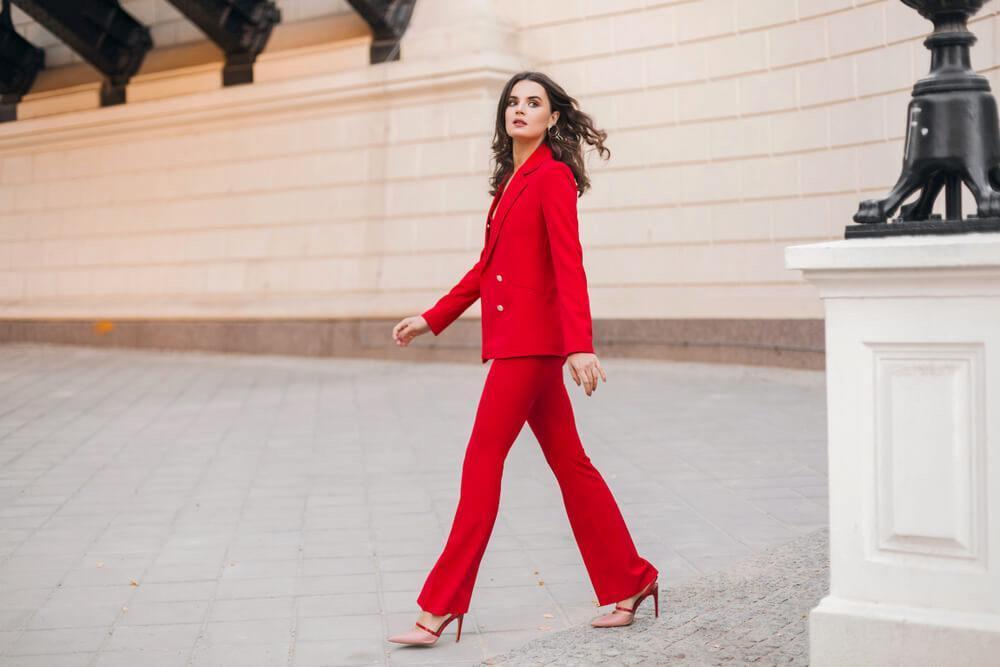 For those who are more into loud colors, there were also some talents who showed bright sartorial styles. The color ranged from bright pink to a green suit. Just remember to have a matching top and bottom to be able to achieve the full look.
"Gender-fluid fashion got a major boost thanks to John Galliano, who designed his Spring 2019 collection for, quite simply, whoever feels like wearing it. There were boys in dresses, and Hanne Gaby Odiele—an intersex activist and advocate and one of Galliano's muses for his new Mutiny perfume—looked utterly cool in this boxy suit," shares Virginia Smith of Vogue.
Billowing Sleeves
One of the talks of the town in the Paris Fashion Week was the billowing sleeves. Renowned fashion brands such as Leowe and Louis Vitton spearheaded this collection.
https://www.instagram.com/p/Bf9qNG8AUIq/
The billowing sleeves are something you can pair with anything—from mini dresses to statement blouses. This kind is best attached to clothing that is not too bulky. The bigger it is, and the more slender the top is, the better.
Most people would pair this kind of look with high heels. It is just simple fashion sense. If the top is bulky, make your legs longer by wearing heels.
However, what makes this look fantastic is that you can pair it with sneakers also! You can pull it off best with something with a nude color so that it will not take too much attention from your billowing sleeves!
Snakeskin
The snakeskin is a look that can boost your confidence. It has the makings of a design that can take over the world in a snap.
https://www.instagram.com/p/BKstbSAj1c3/
What makes the snakeskin fantastic is its ability to be paired with anything and everything. If you are going for a more inconspicuous look, you can show it off with just an off-white top or bottom. However, if you more on the bold side, you can pair it with neon pants! It is that versatile!
The snakeskin look is not only in vogue on blouses or pants, but it is also the main design for knee-high boots and trench coats.
Are you opting for a more elegant look? You may try the latest Peggy Snakeskin Print Trench Coat, one of the best attractions during the Paris Fashion Week.
Summer Denim
The summer denim is an old-fashioned design WITH A TWIST. Instead of having a solid, dark shade of blue as its main print, the summer denim designers introduced a lighter denim tone.
Designers Isabel Marant and Marques Almeida introduced the concept of starry blue denim. It looked like a sky full of stars but with a cloth just like that of regular denim. Their collection also included some cropped trousers and a denim jacket, both of which were splashed with a lighter shade of blue.
https://www.instagram.com/p/BuWmSeWHYSv/
If you are looking for an outfit you can rock this summer, the summer denim is the one for you.
High-Low Hem Gowns
Designer Giambattista Valli came up with the idea of the high-low hem gowns during her visit to a wedding in India. The dress of the bride was a unique sight with its short front and a longer back.
She incorporated this concept with some of her designs such as the little white dresses, the caftans, and the tiger prints. However, for this Paris Fashion Week, what she did was to combine the high-low hem look with exquisite florals. It is a casual collection you can wear if you want to spend the day at the beach.
https://www.instagram.com/p/BuaF6BeAOog/
"It's an undeniably pretty collection with jet-setting in mind, a mood that prevailed in Paris. Who can blame anyone for needing an escape—and a great wardrobe to wear on it," says Digital Fashion/Features Director Kerry Pieri.
Orange
https://www.instagram.com/p/BuaFuGVg05e/
Orange is a color that can make almost every skin tone glow. With autumn quickly approaching, designers opted to use the color tangerine on different clothing lines such as transitional jackets, silk shirts, and knitwear.
If you want to stand out more with this hue, better pair this color with a lighter tint of brown—brown shoes, brown belt, brown pants, and even brown shades! Some fashionistas also go to the extent of coloring their hair with a lighter shade of brown. Such a sight to see!
We cannot wait for you to rock this amber look this autumn!
Leather Jacket
We know what you are thinking. Too 20th century, right? So, what makes the leather jackets in the Paris Fashion Week different from others?
https://www.instagram.com/p/BqXidOyA7k5/
First, the jackets are much longer than usual. Some of the designs reach mid-thigh while others even go beyond it (yes, even up to the knees!). The rationale behind this design, according to Loewe and Celine, is for us to have a perfect transitional jacket.
If you are looking for a more summer-friendly style, the fashion world gave us something to try on. The burgundy Hermes style has a design with an open front and short sleeves.
Yes, you heard it right! Short sleeves.
So, what are you waiting for? Grab your trendy leather jacket now before the rest of the world catches up with you!
Leopard
The leopard fashion trend has disappeared for a while, but it is slowly clawing its way back into the runway! This design has been one of the go-to looks every winter season. However, the leopard print has also trickled into the summer collection.
https://www.instagram.com/p/BuOgWqalkAt/
The fashion brand Saint Laurent offered a variety of designs such as frilled deep V-front and long sleeves. Some talents even wore knee-high leopard boots which complemented their short leopard dresses. Other designers opted to clash designs by mixing fabrics and tones with the leopard design as the base.
The trending collection presented during the Paris Fashion Week was the two-piece leopard swimsuit with matching over-the-knee boots. This look went with leopard shades which gave it a little bit more swag.
There are endless ways on how to use this kind of design. What is your style?
Cycling Shorts
Another favorite essential item this summer is the return of shorts, particularly cycling shorts, in the runway. The designers displayed the flexibility of this piece of clothing, whether someone will wear it on a casual day or a more business-like setting.
https://www.instagram.com/p/BubvD2rHevA/
If you think that cycling shorts are just everyday black bottom wear, you are wrong. Some of the brands used a more unique and out-of-the-box design for it. The styles range from floral cycling shorts to denim-like cycling shorts and striped cycling shorts.
Believe it or not, there are even onesies which used cycling shorts as its bottom half. It is best for you if you have long legs so that the style can bring a little bit of balance on your stature.
If you are still not sure with this offering, maybe you can start with the plainest ones and slowly use the more complicated designs. This way, you will have a better grasp of what kind of look goes with this.
Yellow
The color yellow also filled the runway of the Paris Fashion Week. Its saturated tone added vibrancy to the colorful season. Zingy limoncello, golden sunshine, and sherbet pastels were the shades that stood out because of their ability to complement any skin tone and hair color.
https://www.instagram.com/p/BubqXzdnLuO/
The best way to put an additional accent to this look is by pairing it with the color black—black bag, black leggings, black hair pieces, black necklace and bracelets, and even black buttons.
Floral
The surprising theme presented on the runway during the Paris Fashion Week was the embracement of nature. It started with riding clothes, commitment to an animal cause, and floral prints.
The standout look, however, was the floral ones. With summertime fast approaching, the designers took advantage of this to be able to create the cutest summer shirts and dresses in the metro.
https://www.instagram.com/p/BuXEIzuhZo9/
Believe it or not, it is not your ordinary flowery clothing. We were so used with a multi-colored floral approach before; however, the Paris Fashion Week showcased pieces with a two-toned design. They only came in two colors—usually red and white together.
Netting
This style also made its way into the Paris runway after having a go on the runways of Milan, London, and Newyork.
https://www.instagram.com/p/BuHC6PwnDwg/
What made the netting different from the rest is that the designer used it in some areas of the clothes. Some pieces had nets as sleeves while others had it on the lower half of the dress. It was not a one-piece kind of netting which was similar to past styles.
The 50s and 70s Vintage Looks
The vintage collection was refreshing to the eyes once again. It was a perfect blend of chic and unconventional in its way. We loved how the designer played with only three colors, black, blue, and green, to be able to maximize the offerings the look can give us.
https://www.instagram.com/p/8lIZB8PAFx/?utm_source=ig_embed
The textiles of choice for this vintage style are tweed, knits, fur, and napa leather. They even paired this with David Bowie-inspired platforms and ballet flats. The talents also went for a minimalist look through their perfectly sculpted dark lips and pale faces to finish off the look.
This one is our forever favorite!
Metamorphosis
The concept of metamorphosis inspired the work of designer Sarah Burton. They focused on couture-esque embellishments, the intricate beauty of butterflies, oversized bows, and Scarab beetles and moths in tailored silhouettes.
https://www.instagram.com/p/Bt_WBP7gQOS/
This concept was paired with neutral colors such as white and black to be able to give way to the intricate design it has on its plate. What made this look a standout was the creative use of insects as the main accessories. There were butterfly pendants as the necklaces and beetle skin designs as the base for bracelets.
What surprised everyone was that the leggings even incorporated netting in its design. One standout look was the leggings which were made up of solid cloth on the left leg and mesh on the right leg. Such a unique sight to see!
Paris Fashion Week has been a blast. All of the designs were innovative, pleasing to the eyes, and out of this world! Make sure to use these styles as your peg in your next night out with your girls if you want to stand out.