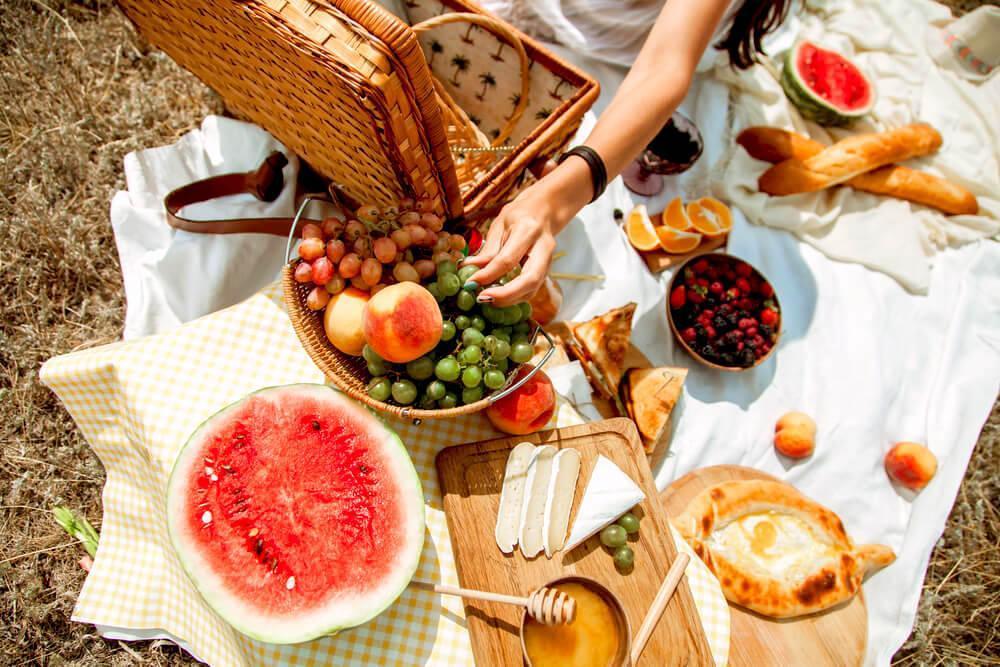 To picnic or not to picnic? 
On one hand, you get the chance to commune with nature, to sip wine beneath the boughs of the trees, to feel the cool breeze on your skin, to take in the sensual pleasure of food along with the sensual pleasures of the environment.
On the other hand, you have to figure out what to eat. What can you put in your picnic basket that travels well and doesn't require much prep that is actually healthy for your family and is tasty enough to enjoy? White bread is out and soda is unhealthful
If you're planning the menu for an outing, we can help you pack a picnic basket that will be the envy of Mother Nature herself. Here are some ideas.
Mozzarella with Herb Salad
Want to make your picnic feel as if it is taking place on the shore of a distant Italian Island just before siesta? The mozzarella and herb salad is a salad that will put the Mediterranean into your meal without needing a passport. Here's the easy recipe:
Ingredients:
8 oz. part skim mozzarella cheese cut into bite-sized pieces
2 tablespoons extra virgin olive oil
2 tablespoons chopped basil
2 tablespoons oregano
1 tablespoon fresh chopped flat leaf parsley
Kosher salt
Freshly ground black pepper
Directions:
Combine mozzarella, olive oil, oregano, basil and parsley into a large bowl.
Cover and chill for 2-4 hours
Season to taste with salt and pepper.
Whole Wheat Pita Chips
Whenever you host a picnic or party, chips are expected. Simple finger food, with not too much mouth involvement.  Easy to hold down a conversation and while keeping your hands relatively free to do other things.
For years, Doritos and potato chips have cornered the market on chips, but you want to provide foods with a little fewer preservatives and artificial ingredients, with something more to offer than empty calories.
Pita chips have it over regular chips when it comes to health. They have significantly less fat and salt, and the whole wheat kinds pack more nutrition than the ones made with white flour, but aside from health, the two most important things to consider when making pita chips are texture and flavor.
Here is a cooking method that guarantees all three.
Directions:
Preheat oven to 350 degrees.
Split 4 large pita bread rounds in half and cut each half into 6 wedges.
Arrange in single layer on ungreased baking sheet.
Bake for 10-12 minutes until edges are browned and crisp.
Let cool and include in your next picnic basket. Bon appetit!
Strawberry Pretzel Yogurt Cups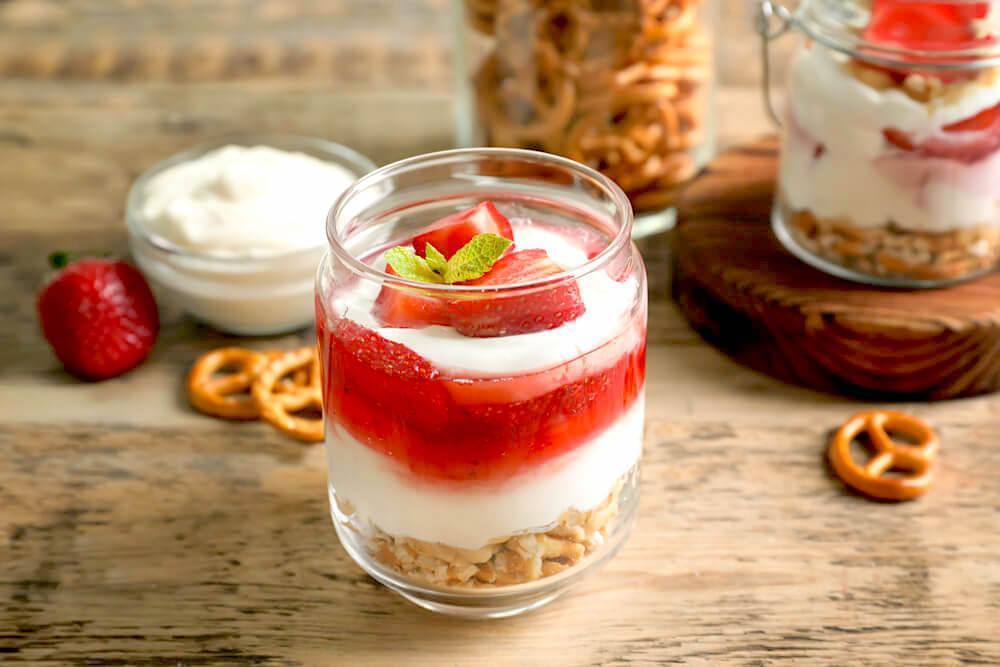 Better make enough for everyone, these strawberry pretzel yogurt cups are going to go like hotcakes. Parfait style; crush some pretzels on the bottom, cover with a layer of yogurt, add fresh strawberries, a dollop more of yogurt. Add a whole pretzel on top for a fixin' and let them do the mixin',
A delicious and healthy antioxidant and probiotic combo, easy to tote and a mess-free addition to your picnic.
Rainbow Rotini Salad
Remember when pasta salad meant noodles and vegetable swimming in so much mayo that they could just barely qualify as vegetables? Those days are so over. Here's a rainbow rotini salad to whet your appetite without killing your figure.
Ingredients: 
16 oz. box of rotini rainbow pasta
2 chopped tomatoes
1 chopped green bell pepper
1 chopped onion
1 large chopped cucumber
1 cup broccoli florets
1 cup fresh sliced mushrooms
1 bottle Italian style dressing
1 cup black olives, pitted and sliced
Directions: 
Make pasta as instructed on package.
Combine with vegetable and dressing.
Chill, cover and pack into picnic basket. Serve and be prepared to be hailed as picnic genius. Feel free to substitute veggies.
Red, White, and Blue Angel Cake Skewers
While we're on the subject of foods on a stick, let's take a look at some of the sweeter options. When it comes to dessert options, angel cake is a mild offender. It may be made mostly of sugar, but it is relatively low in calories as compared to most other sweets. So, you can eat it with very little remorse.
Not only do the berries give us our red and blues, but they also give us our fiber, vitamin C and potassium, plus they have some really high-quality antioxidants to protect us from all those free radicals we're likely to be taking in on our picnic.
To do Red, White, and Blue Angel Cake Skewer right, you'll need a few good berries, strawberries, raspberries, blueberries, and blackberries are our personal faves. For best results:
Halve or quarter strawberries.
Cut angel cake into 1" thick slices and divide into eight parts, one long cut down the center and three across.
Alternate cake bites with berries on skewers, making sure to leave a bit of room in between to avoid color and juice bleed.
And now for the icing on the cake…..
Everyone wants to put the icing on their cake, but it could get pretty messy when skewers are involved, which is why we use dips.
We love the taste of Nutella, whipped cream and Greek yogurt on our fruit and cake, so we just put some on our plates and dip as we go.  Chocolate drizzle, optional.
Veggie Sandwich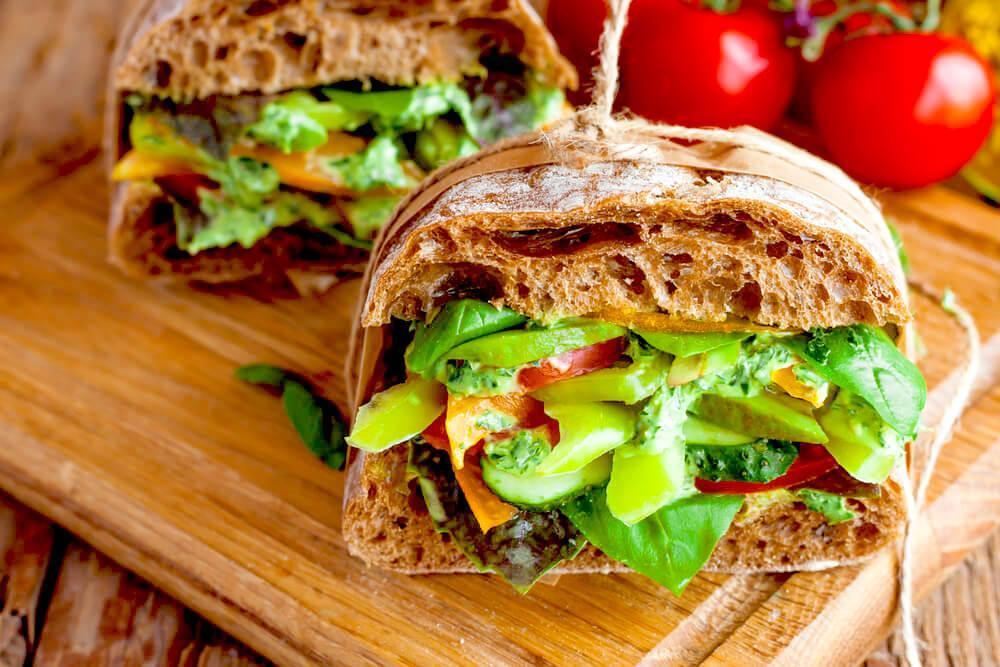 Remember when peanut butter and jelly was the answer to every food question? Lunch was peanut butter and jelly. If you didn't want your dinner, you could always have a peanut butter and jelly sandwich. They were easy to make, not too hard on the taste buds, and full of enough white sugar to start yourself on the way to a nutritional breakdown.
Of course, times have changed. Organic peanut butter is now available, jellies are made without sugar, and white bread has been substituted with multigrain, and the result; a healthier, but also somewhat more serious, and arguably less tasty PB and J.
We say, why settle for a second place PB and J when you can have a veggie sandwich?
For our stackable, we used:
2 slices of bread (may we suggest multigrain?)
Mayo and mustard to taste
6 leaves Romaine lettuce
1 small carrot
½ small cucumber
Salt and pepper to taste
1/8 head red cabbage
1 avocado
Handful sprouts
3 slices tomato
Thin red onions
Directions: 
Start off with a quick veggie prep. Julienne or thinly slice the carrots, cucumber, and cabbage. Pit the avocado and thinly slice.
Toast the bread and let cool.
Spread on condiments of choice.
Build sandwich. ½ lettuce leaves, carrots, cucumbers, salt and pepper, cabbage, avocado, sprouts, tomato, onion and top slice of bread, preferably in that order for maximum damage control.
Eat up and enjoy!
Spinach Chicken Strawberry Pecan Goat Cheese Wrap
Nothing is better than a sandwich you can barely get your mouth around, if your dining solo, but when in company, you might prefer things a little more, well neat.
Wraps are great sandwich alternatives for on-the-go eaters and make a wonderful addition to any picnic basket. Sure, the name is rather lengthy, but there's no part of this wrap that's not worthy of top billing. You've practically got all the food groups in here. There's spinach for your leafy green antioxidant, pecans for your omega 3s, strawberries for your vitamin C, and goat cheese for your diary. Now, that's a wrap.
Here's how to make it.
Ingredients:
1 slice flatbread or whole wheat tortilla
1 chicken breast, grilled and sliced
2 tablespoons goat cheese
1 teaspoon poppy seeds
1 ½ cups spinach
¼ cup sliced strawberries
¼ cup candied pecans
2 tablespoons creamy poppy seed dressing
Directions:
Roll the goat cheese into a ball, cover it with poppy seeds and set aside.
Combine strawberries and spinach into a large bowl. Toss with poppy seed dressing.
Lay the flatbread out and top with spinach and strawberries.
Top with grilled chicken.
Crumble the goat cheese covered in poppy seeds over the mixture, and sprinkle with candied pecans.
Roll flatbread tightly around the fillings, cut in half and enjoy!
Antipasto Shish Kebabs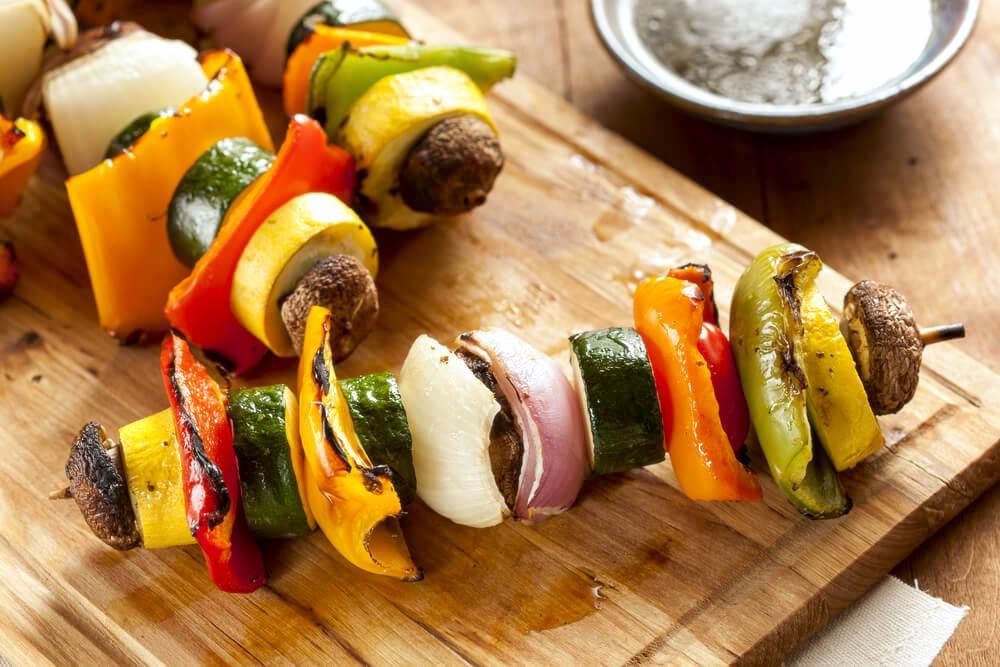 Fusion foods are big these days. There are eggroll burritos, mac and cheese pancakes, and gluten-free banana dumplings with vanilla bean maple butter. The idea of fusing foods from different cultures is hardly a new one but bringing it to picnics may be.
The antipasto shish kabob proves that not everything on a skewer needs to be Turkish and not all antipasto belongs on a plate. Try this Italian Turkish fusion recipe at your next picnic.
Ingredients: 
2 cups assorted fresh veggies (baby carrots, radish halves, bell peppers or squash all make good options.)
2oz provolone, mozzarella, Gouda or provolone cheese cut into ½ " pieces
2 oz cooked turkey sausage cut into ¾" thick slices and quartered
2 tablespoons refrigerated basil pesto
1 tablespoon white wine vinegar
12 whole basil leaves
Directions: 
Place veggies cheese and sausage in a sealed plastic baggie and set in a deep bowl
Stir vinegar and pesto together in a small separate bowl for marinade. Pour over veggie mixture.
Seal bag, turn to coat mixture in the marinade. Marinate in fridge 1-24 hours, turning occasionally.
Thread cheese, veggies, basil leaves, and sausages alternately on 4 12″ skewers.
Pack it in your basket and give your guests the sticks.
White Bean and Artichoke Dip
Now that you have the chips, you're going to need to dip. Artichokes are fat-free naturally and high in fiber, vitamin C and folate. Here is a healthy way of including them in your picnic basket.
Ingredients:
2 tablespoons extra virgin olive oil
12 cloves garlic, thinly sliced
1 cupped chopped onion
1 tablespoon chopped thyme
19 oz can white beans rinsed and drained
14 oz can artichoke hearts, rinsed and drained
1 tablespoon lemon juice
1/8 teaspoon cayenne pepper
Directions:
Preheat oven to 350 degrees Fahrenheit.
Heat olive oil over medium heat in a large skillet.
Add garlic, cook for 5 to 7 minutes until garlic is tender and golden brown.
Stir in onion and thyme.
Cook and stir for 5 minutes until onion is tender.
Combine onion mixture, beans, artichoke hearts, lemon juice, and cayenne pepper into a food processor.
Cover and process until smooth.
Cover and chill for 2-24 hours.
Bring out the chips, and let the dipping begin!
Watermelon Picnic Punch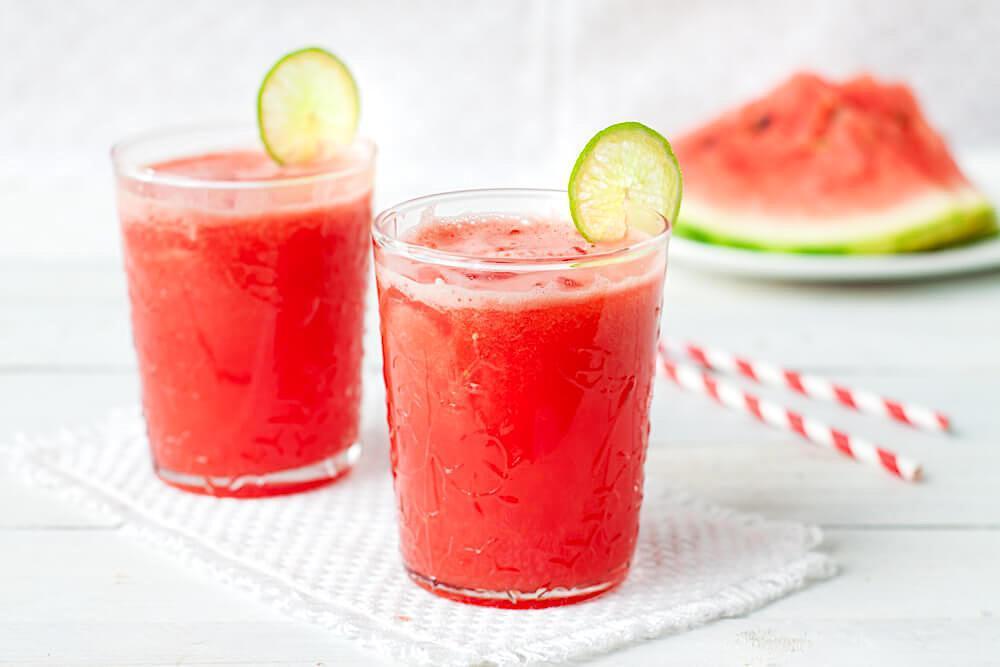 Now that you've eaten, you'll probably want something to wash it all down with. Dehydration can definitely put a bad end on a great picnic. Children are especially prone to fluid loss and sometimes they're having too much fun to notice how thirsty they are.
The best and most hydrating options are ice waters, sparkling waters, unsweetened ice tea and an assortment of low-cal beverages. You can freeze them overnight and use them as cold packs to keep the food cool the next day.
If there are some adults at the picnic, the best choices are light beer and wine spritzers. They're more refreshing than hard alcohol during the day and also lower in calorie content.
But if you're looking for a non-alcoholic bevvy, what better than a watermelon punch, which will deliver the vitamins with a bit of natural sugars? You can even make it yourself.
Ingredients:
1 mini seedless watermelon
8 oz. lemon juice
2 cups frozen strawberries
¾ cup sugar or sugar substitute
2 cups ice
Directions:
Slice watermelon in half.
Use a spoon to scrape the fruit off and place in blender.
Add the lemon juice, strawberries, sugar, and ice into a blender. Blend until pureed.
Pour into a pitcher, freeze overnight and pack in your picnic basket to keep food and drinks cold and you'll be literally packing a punch.
If you've put any of our picnic recipes to the test, we'd love to know how they turned out and if you've got some of your own for us, we're all ears. Until then, good luck and great picnicking from one nature lover to another!