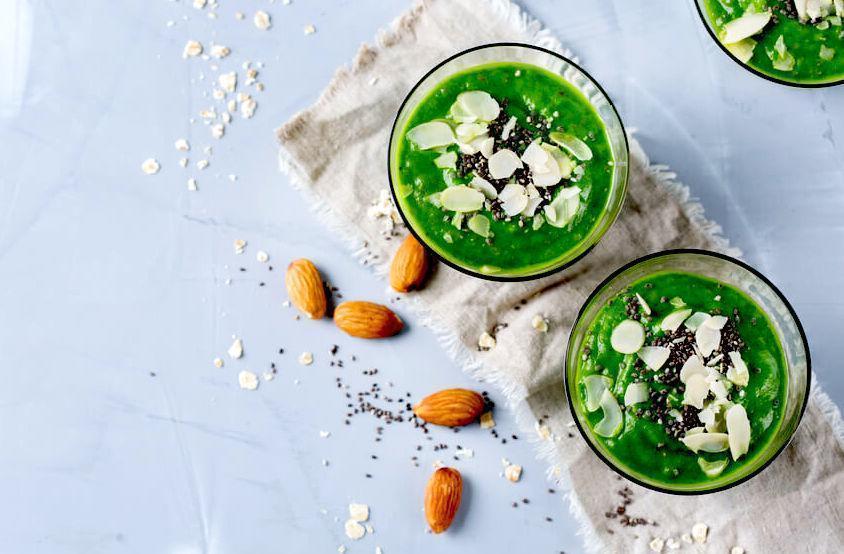 Smoothies have become all the rage in the world of fitness and healthy lifestyle.
And for good reason, too: they are the quickest shortcut to pack a ton of nutrients in one yummy concoction. They are ideal for folks who don't always have time or energy to eat all the fruit and veggies they need throughout the day.
Moreover, smoothies can serve as a great replacement for breakfast when you're in a rush or as a quick energy-booster after an excruciating workout.
Not all things labeled a "smoothie" are good for your body, though. Some tend to be packed with sugar and fat-laden ingredients, and can be an easy way to trick yourself that you're eating healthy, when in reality you're just drinking a liquid version of junk food.
That is why it's so important to identify what are the best ingredients to put in your blender, so you can avoid falling into the "unhealthy smoothie" trap.
One foolproof smoothie ingredients is leafy greens, which are enriched with all those nature-derived goodies such as Vitamin A, Vitamin K, and beta-carotene.
Worried that foods like kale and spinach aren't exactly among the most palate-pleasing foods?
Fret not!
There are many quick methods through which you can make your smoothie both healthy and a treat for your taste buds.
Regardless of whether you're already a seasoned smoothie-slurper or someone who is just at the beginning healthy lifestyle journey, our list of recipes for making easy, mouth-watering smoothies will definitely be a welcome addition to any health-oriented diet.
Get your blenders out and let's get going!
Spinach, Apple and Banana with Chia Seeds
Spinach is the ideal leafy green for beginner smoothie-makers. It is rich in metabolism-boosting nutrients, and it doesn't taste as bitter as kale or collard greens. Still, if you feel like your smoothie needs a dash of sweetness, you can always blend your baby spinach leaves with your favorite fruit and create a smoothie that's both delicious and healthy.
Here is a simple recipe that explains how to make a tasty spinach-based smoothie.
Things you'll need:
1 cup fresh, raw spinach leaves
1 apple, chopped
1 banana, chopped
1 tablespoon chia seeds
To make the blending process easier, put the spinach leaves in first. You can also add a bit of water. Follow up with fruit: apples can be a great way to squeeze in an extra dose of sweetness, while bananas can quickly make any smoothie thicker and more filling.
Finally, if you want more fiber to your smoothie, throw in some chia seeds once everything is blended. They are rich in protein and unsaturated fats, which means they will make any smoothie even more nutritious.
A bonus tip for making smoothies: make sure to clean your blender as soon as you're finished making your smoothie. If you let the mixture set, it will be a hassle to clean!
Supercharging Kale and Avocado Smoothie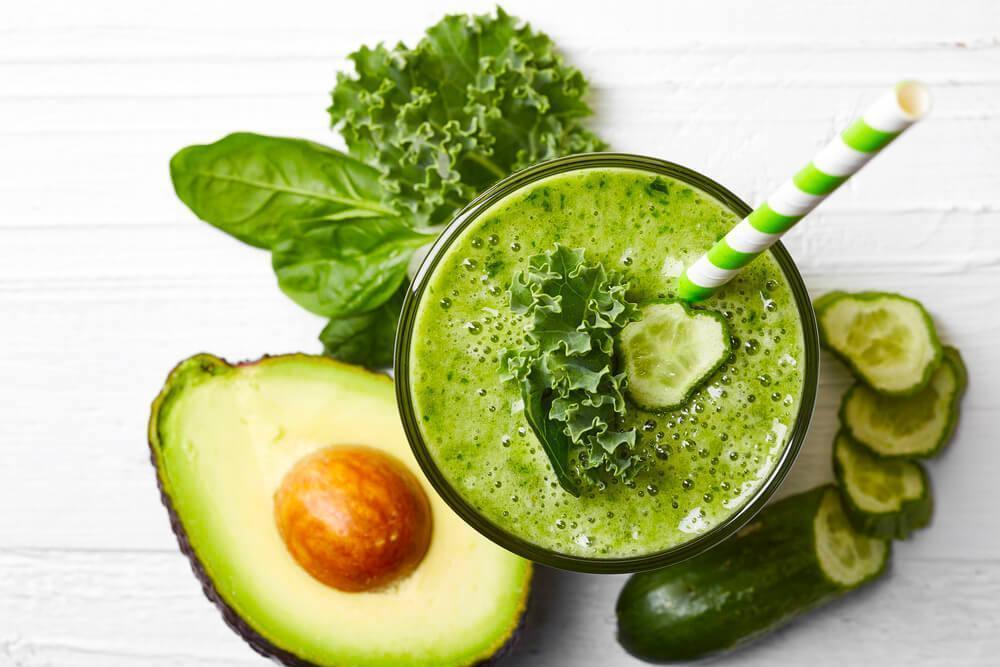 This recipe combines two of the most beloved ingredients of the healthy lifestyle crowd: kale and avocado.
Kale has been one of the most talked about ingredients in recent years – and not for nothing, either: this dark, leafy green is incredibly rich in protein, Vitamins A, C and K, as well as omega-3 fatty acids.
Avocado, on the other hand, is popular because it is chock-full of unsaturated fats, making it a healthy ingredient that can be used in a myriad of ways.
When combined, they make for a bombastic snack that's not only supremely healthy, but incredibly filling as well.
Here's what you'll need to make your own energizing kale and avocado combo:
half an avocado
1 cup DE stemmed kale
1 cucumber, chopped
1 frozen banana, chopped
1 tablespoon lemon juice
½ cup coconut water
To begin, place coconut water and kale in the blender. Mix well and follow it up with the rest of the ingredients. Pour into a glass or mason jar and sip away!
The Incredible Hulk Smoothie
Maybe you're not the kind of smoothie consumer who cares about taste and texture. Maybe you just want to pack in as many health-boosting ingredients in there as you possibly can. If that's the case, this body-repairing all-green smoothie is the perfect choice for you.
To make your own nutritious green bomb, prepare the following:
1 orange
1 cup of kale leaves
1 cucumber
1 apple, peeled and chopped
½ cup frozen mango
1 stalk celery
1 tablespoon fresh mint leaves
Slice the orange in half and juice it (you can also use coconut water as a substitute if you're not a fan of zestiness). Mix the liquid with leafy ingredients first. Then add the fruit, cucumber and celery. Blend until smooth and voila! You have a glass packed with vitamins, minerals and proteins ready to be slurped up.
Pomegranate-packed Smoothie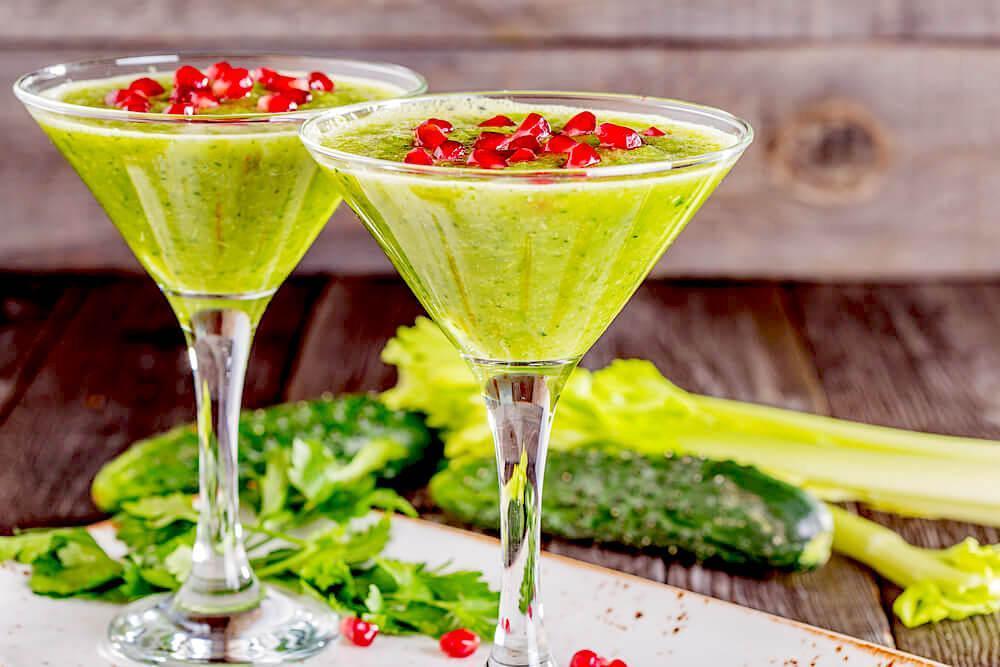 Pomegranate is one of those foods that often gets overlooked, even though it's super-rich in antioxidants, vitamins and minerals. Which means introducing it into your smoothie routine should be a no-brainer! This fruit goes well with all the staple smoothie ingredients, and here's one recipe idea on how to make your own pomegranate-powered mixture.
Prepare the following ingredients:
½ cup pomegranate juice
½ cup diced pineapple
1 cup spinach
½ cup coconut water or unsweetened almond milk
Begin by mixing your greens and your liquids. Add the pineapple cubes at the end and blend until smooth. If you feel like you need more texture to your smoothie, toss in a tablespoon of flax or chia seeds.
A Berry Healthy Smoothie
Blueberries, raspberries, cranberries – and just about any berry! – are all amazing, nutrient-packed ingredients that you can effortlessly incorporate into your diet. Not only are berries a quick way to give your smoothie a touch of sweetness, they are also rich in antioxidants, making them a welcome addition to any blend.
Here's how to make a delicious berry-infused green smoothie.
You'll need:
1 cup of spinach
1 cup frozen mixed berries
½ cup orange juice (fresh)
1 cup plain Greek yogurt
Mix in spinach leaves with freshly juiced orange. Add the berries and yogurt and finish blending. You can also thicken up your smoothie with a banana, but since berries are plenty sweet on their own, you might want to use plain, reduced-fat Greek yogurt as a substitute (and the same goes for all the smoothies on this list)!
To give your smoothie an extra dose of crunchiness, sprinkle it with coconut flakes, chia seeds or almonds. The berry bonanza is complete!
Spinach Smoothie with a Tropical Twist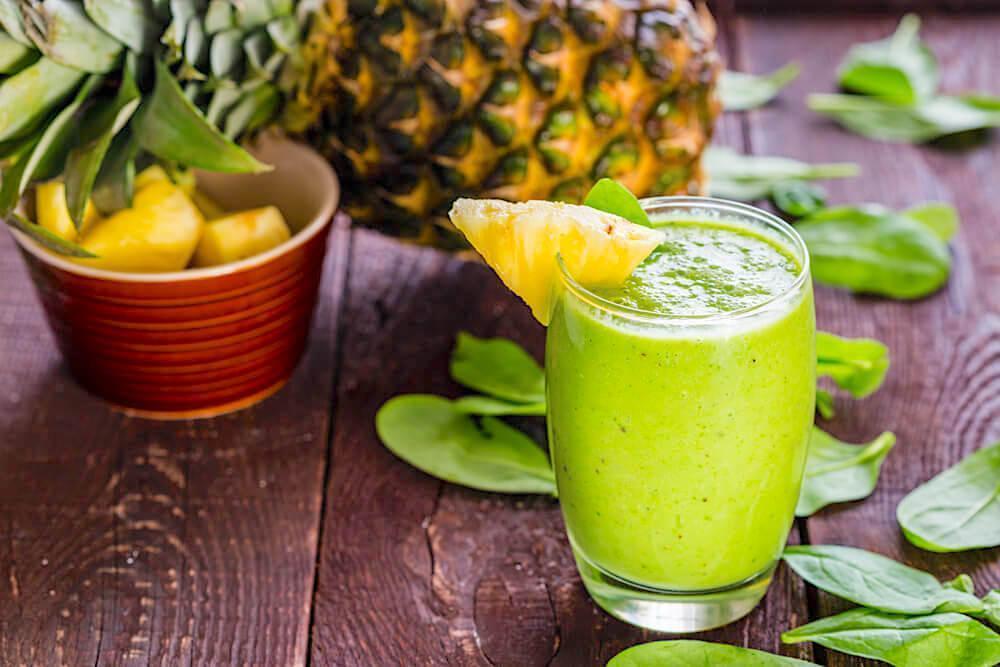 Perhaps you're on board with the spinach craze, but find fruit like apples a little too pedestrian. Not to worry – there are ways to give your smoothie an exotic edge. Just replace apples with delicious tropical fruit like mango and pineapple, and your smoothie will instantly become more exciting.
Here's how to make a lush smoothie that will feel like an exotic holiday in a glass.
Things you'll need:
1 cup of spinach
½ mango
½ pineapple
1 banana
Mix your leafy greens first, until the texture is smooth and without any chunks. Add the fruit and blend it again. To make your smoothie even more refreshing, use frozen fruit instead of fresh. This will make it an ideal drink for when want to cool down during scorching summer days.
Spinach Smoothie with Raw Oats
As wonderful as tropical drinks sound, maybe you're on the market for a more heavy-duty smoothie – one that will be able to replace your breakfast and keep you full and energized on gloomy winter days.
A foolproof way to perk up your leafy greens is to add healthy, nutritious oats into your smoothie. A delicious smoothie bowl that's rich in vitamins, fiber and magnesium will be the healthiest way to start your day.
Keep reading to find out how to make the ultimate smoothie bowl.
You'll need:
1 cup of baby spinach
½ banana, chopped
¾ cup almond milk
¼ cup raw rolled oats
Combine the spinach and almond milk first. Blend until the mix is smooth and without any clumps. Add banana and rolled oats to get extra texture.
Place your mixture in a glass, jar or bowl. You can also supercharge your smoothie by topping it with nuts (almond, walnuts), flax seeds or fresh fruit.
And that's it! A delicious smoothie that will please your palate and stave off hunger.
Collard Greens Smoothie
If you're ready for your smoothies to be elevated to next level, it's time to switch from the beginner-level baby spinach to something a bit more substantial. Some people tend to stay away from collard greens due to their bitter taste and tough texture. Which is a shame, since collard greens are loaded with antioxidants, Vitamins A and K, as well as more fiber than any other leafy greens. 
And with a little bit of know-how, you will be able to seamlessly incorporate them into your day-to-day smoothie routine.
The only trick is to counterbalance the strong tang of the collard greens with sweet, flavorful fruit.
Here is one idea how you can do it. You will need:
1 cup collard greens
1 peach, pitted and chopped
½ cup honeydew melon, chopped
1 tablespoon of fresh mint leaves
1 cup plain or coconut water
Give the greens and the liquids a good blend. You might need to keep the blender working longer than with other leafy greens, because collard greens are a little more resilient. Once it's all smooth, add the fruit. If you want to have even more hints of sweet, sprinkle your smoothie with bee pollen.
And there you have it – a perfect spring smoothie to sip on a sunny day!
Magnificent Matcha Mix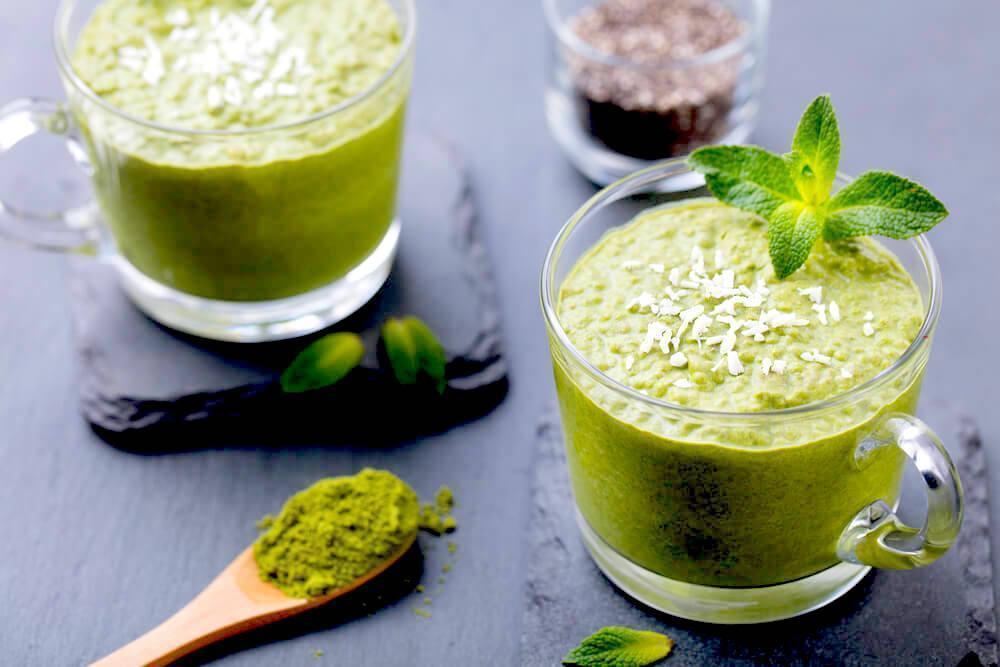 Long enjoyed in countries of the Far East, matcha green tea is slowly becoming a bona fide superstar ingredient among health enthusiasts. Produced from the same plant as green tea, matcha is known for its potent, creamy taste and richness in catechins or natural antioxidants. That's why it's an ideal choice for people looking to shakeup their usual smoothie recipes and enhance them with a new flavor.
Matcha green tea also contains a dose of caffeine (less than coffee, though), which makes it a welcome addition in those pick-me-up smoothies you make in the morning before work.
Luckily, matcha powder is also super-easy to use – here's how.
Things you'll need to prepare:
½ cup mango
1 banana
1 cup baby spinach
2 teaspoon matcha green tea powder
½ cup almond or coconut milk
Place the coconut or almond milk, spinach and matcha powder in the blender first. After you have mixed it thoroughly, add the fruit. Freeze the banana beforehand if you want your smoothie to be extra-creamy and refreshing.
Aromatic Fall Smoothie
Not all smoothies have to taste like blended salad. If you're a fan fd apple pies and all those delicious desserts that are traditionally enjoyed during colder months, you can also give your smoothie that autumnal kick that will make it even more delicious and fall-friendly.
Here is what you'll need:
1 apple, peeled and chopped
a pinch of cinnamon
a pinch of nutmeg
¼ cup blueberries
1 teaspoon vanilla extract
1 cup spinach
1 cup water
1 tablespoon chia seeds
Put water and spinach into the blender first. Once blended, add the rest of the ingredients, including the spices.
And if you don't feel like making a smoothie from scratch every time you need a serving of this delicious mixture, double the ingredients and make a larger batch which you can then stick into the freezer and use at a later date.
Hopefully this collection of recipes for making delicious, healthy blends will inspire you to create a habit out of smoothie-making if you hadn't done so already. And as for healthy diet veterans, we hope you've learned some new tricks and tips that will help you up your smoothie game.
Happy slurping!