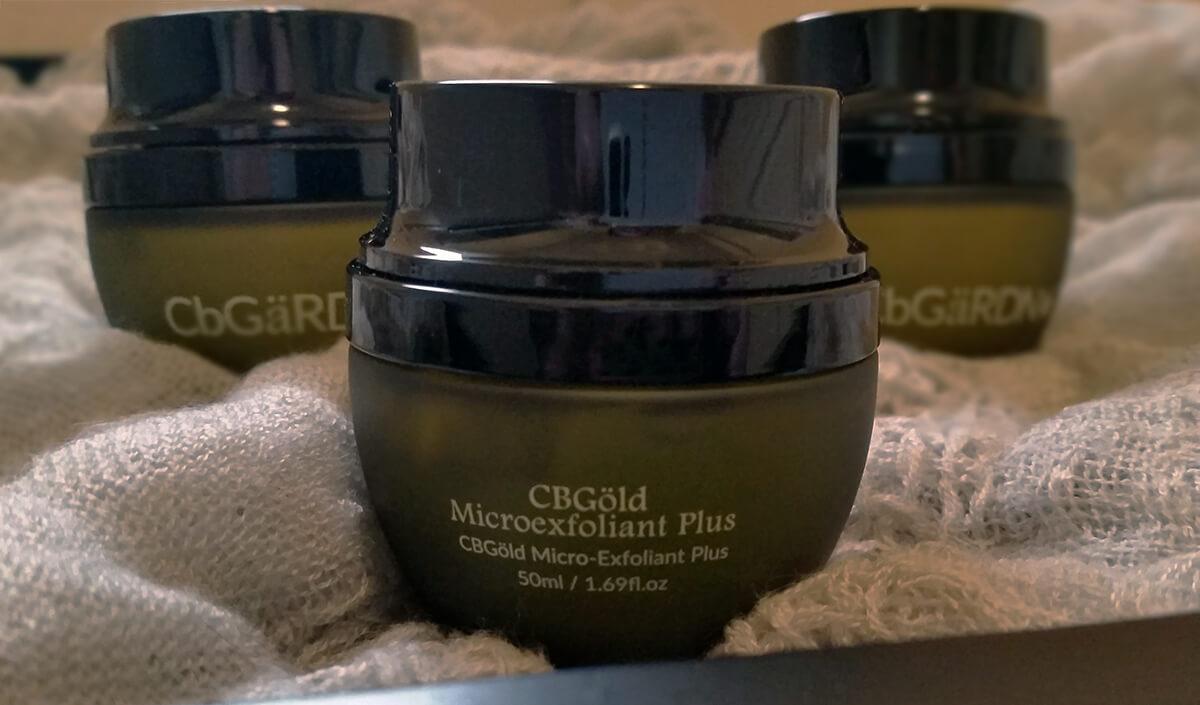 Review by Kahlia Meeuwsen
Skincare is often a large part of our everyday routines. Without the proper care, our skin can become dry, oily and sometimes covered in blemishes. Consequently, I'm trying out the CBGäRDN CBGold skin care set in an effort to find skin care products that deliver the right nutrients, avoid strong scents, and provide overall great care for my skin.
Below, I'm going to cover my experience with the set as a whole as well as my experiences with each individual product. That way, you'll get a clear view into what I experienced while trying out these products. Keep in mind that they all contain CBD, and many of them also contain gold. 
What Is CBGäRDN?
CBGäRDN is a luxury skincare brand that uses CBD as one of the main ingredients. The CBGold set is made up of several products, including the following:
CBGold Facial Cleanser

CBGold Facial Toner

CBGold Bio – Restorative Cream

CBGold Microexfoliant Plus

CBDGold Eye Serum Concentrate

CBDGold Anti-Wrinkle Confidence Solution

CBGold Night Renewing Creme
As a whole, this is a set that exudes luxury. Each product comes in its own classy box, designed to fit the container perfectly. The products that come in jars even include small plastic spoons to make reaching the product easy.
One of the first aspects I paid attention to with the set as a whole was the scent. As someone with sensitive skin, I wanted to make sure none of the products contained overpowering smells that might result in skin irritation. The good news is that all of these products have little to no scent. The pieces that do have scents are very mild and didn't irritate my skin in the slightest.
When adding that to the number of benefits CBD can have for the skin, this has proven to be a brand you really can't go wrong with.
Breaking It Down – Single Product Reviews
In order to get a complete sense for how this product line works, I'm breaking down my reviews into different sections for each of the products in the set. 
I'll start with the most basic items such as the facial cleanser, toner and moisturizer and work my way towards the extras that are designed for specific needs like eye care or wrinkles. This will give you a better idea about how each product works individually as well as how it all works together.
CBGold Facial Cleanser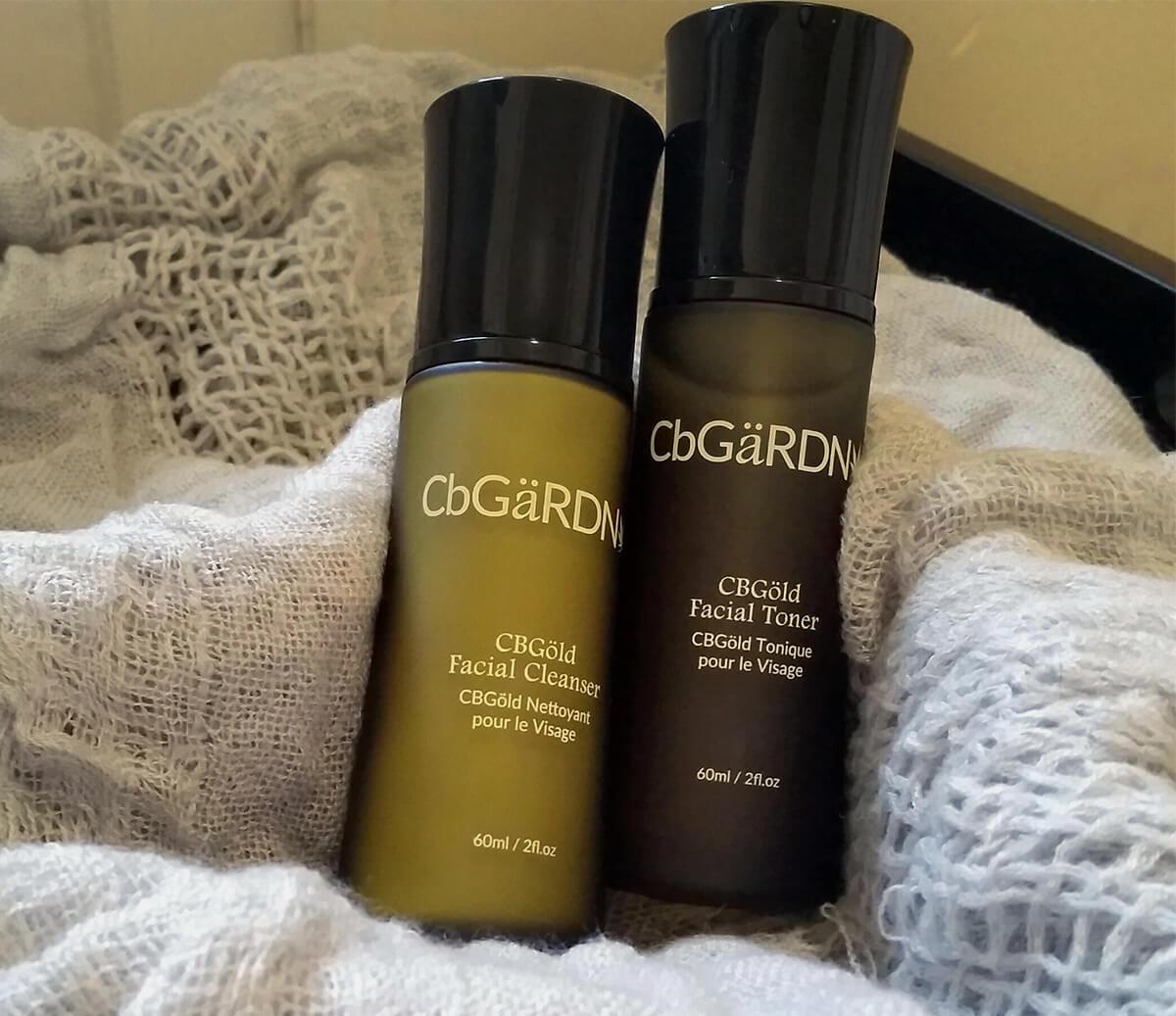 As can be expected, the facial cleanser is the first of the CBGärDN products I used. I was greatly pleased by the container, which looks great and makes product delivery easy with a simple pump mechanism.
The pump delivers just a small amount of the product, which is all you need to give your face a good cleaning. Additionally, the cleanser feels rich. It may feel a bit like a moisturizer when you're initially getting it out of the container.
However, the cleanser gives a thorough clean. There are no little beads or other additions that can sometimes do more damage to the skin than good. Instead, it provides the sense of a hydrating, creamy cleanser that will leave your skin happy and healthy.
On top of the great cleaning ability, the cleanser also doesn't leave my skin feeling too dry. This can  sometimes be a problem with cleansers that are tougher on the skin. Remember, you don't need to scratch up your skin in order to treat acne, oily skin or other common issues!
CBGold Facial Toner
Toner is something I'm often wary of, because I have such sensitive skin. In some cases, toners can sting or otherwise irritate my face. Luckily, that wasn't the case for the CBGold Facial Toner. It's easy to use, gentle on the skin and you can really feel the results quite quickly.
Much like the other products in this set, a small amount of the toner goes a long way. Just dab a small amount onto a cotton ball or cotton pad and you'll be good to go. Just make sure that your skin is completely clean so that you can get the best possible results.
Another worry I often have when dealing with toners is that they can be rather drying. As someone with combination skin, I have to be very careful to make sure the moisture in my skin stays balanced. It can dry out easily and it can become oily easily, which can be quite troublesome.
However, this toner leaves skin feeling firmer but not uncomfortably tight. My only recommendation would be to only use a toner as much as your skin can handle. If you're prone to dry skin, you may only want to use it once a day rather than twice.
CBGold Bio-Restorative Cream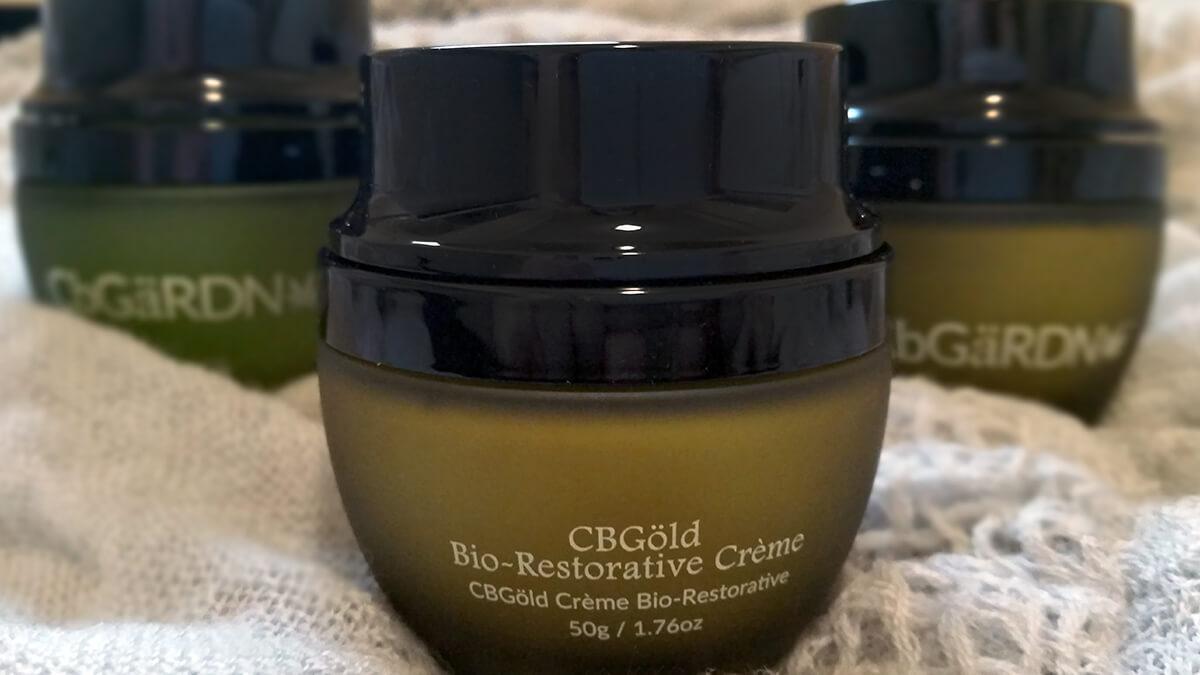 Many who have done their research on skin care will tell you, your moisturizer is a key part of your skincare routine. Our skin needs healthy moisture in order to remain soft and healthy. This is often something we can easily forget, especially if you're someone who deals with dry skin.
No matter what skin type you have, this Bio-Restorative Cream is an addition your skin will thank you for. You only need a small amount in order to get the effects and the handy spoon helps you to get it without ending up getting moisturizer under your fingernails.
Furthermore, this cream is a rich one. It's effective for providing moisture to the skin, but avoids becoming greasy. That's a sign that really signifies a moisturizer that will provide healthy moisture rather than oil. It's definitely something that leaves most lotions in the dust.
Moisturizer is something I tend to be particularly wary of when it comes to scents. That said, the scent of this moisturizer is extremely light and I haven't experienced any burning or skin irritation while using it at all. Regardless, it's a good idea to test all new skincare products out on your arm before using it on your face!
CBGold Microexfoliant Plus
It's worth knowing that there are a couple different kinds of exfoliants on the skincare market. The first involves physical exfoliants. Think small balls in your skincare products and special cloths or electronic cleaners you use on your face. These are made to manually scrub away dead skin cells.
Meanwhile, chemical exfoliants like the Microexfoliant Plus are designed to use chemicals to clear away dead skin cells. This ultimately keeps you from having to scrub your face raw in order to get old, dead skin off your face. Instead, this product is gentler on your face while getting your skin fresh.
While it may not include as much scrubbing, you'll still want to be careful how often you use this exfoliant. It's a powerful one, and it can result in skin irritation if you overdo it. Using the exfoliant just a couple times a week should be ideal for helping your skin to be glowy and clear.
What I enjoyed about this product is that there is no scent. While it may use chemicals to get the job done, it certainly doesn't smell like them. It's also nice to know that it's including natural ingredients like CBD to aid in keeping my skin calm and healthy.
CBDGold Eye Serum Concentrate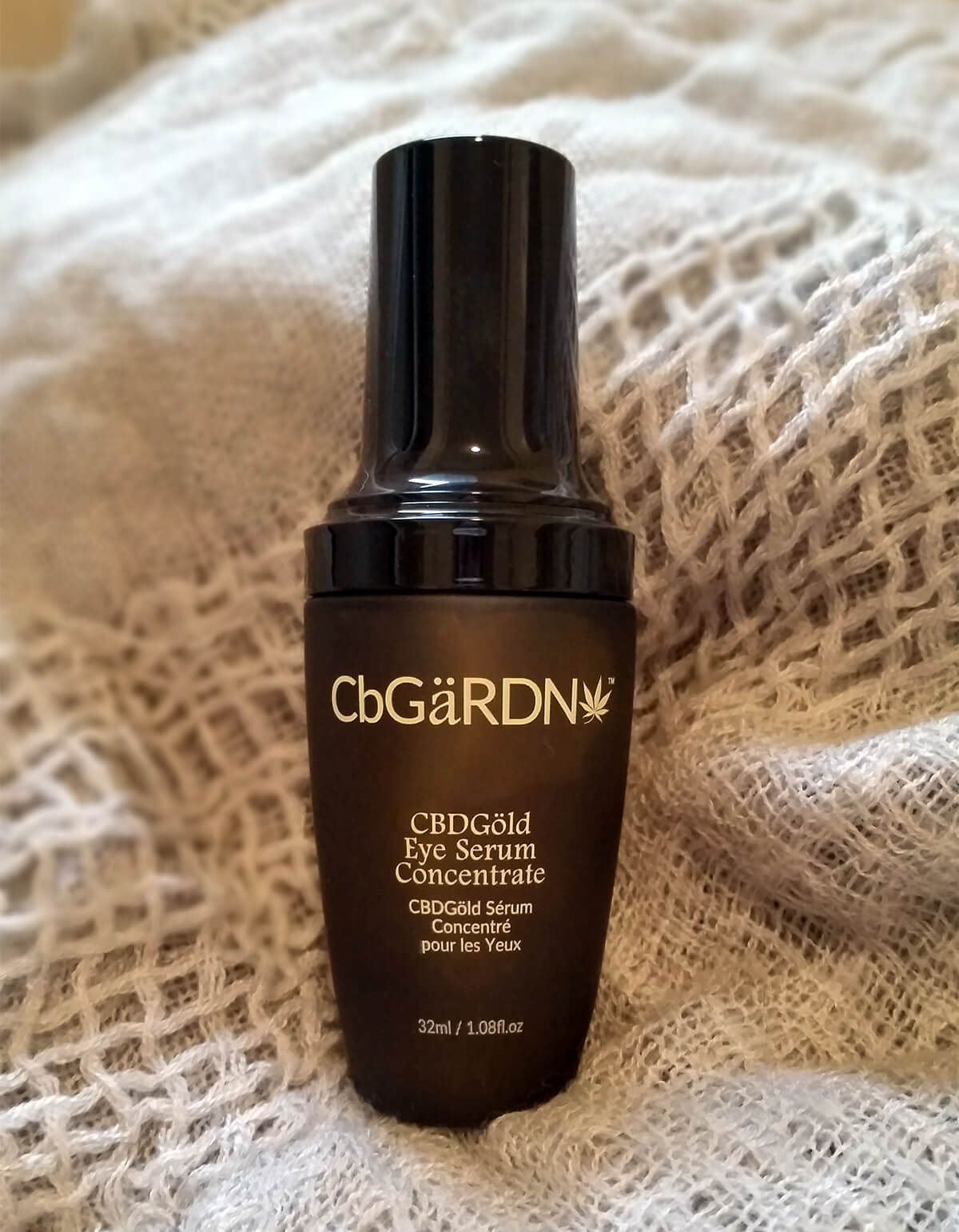 Our eyes are a common place for the signs of aging and stress to show up. Issues like crow's feet, undereye lines and general eye puffiness can leave us feeling less than confident. However, the calming effects of this eye serum are immensely helpful in keeping our eyes looking young.
One of my favorite aspects of this eye serum is the feeling of the coolness. Not only does it help to calm things down, it's also a feeling that reminds you the area is getting a bit of extra hydration. In the morning, it can even be a feeling that is helpful for waking your eyes up for the day.
Much like the facial cleanser, this eye serum comes in a simple container with a pump top. As a result, you'll be able to get just enough of the product for your eyes without overdoing it. Another nice touch is that the container is a darker color than the others, so you'll always be able to find your eye serum.
Depending on your needs, the serum can be used twice per day. Consequently, it's easy to add to your morning routine, evening routine or both. Just don't forget to do your regular face cleaning beforehand. Clean skin is skin that will absorb products much more easily.
CBDGold Anti-Wrinkle Confidence Solution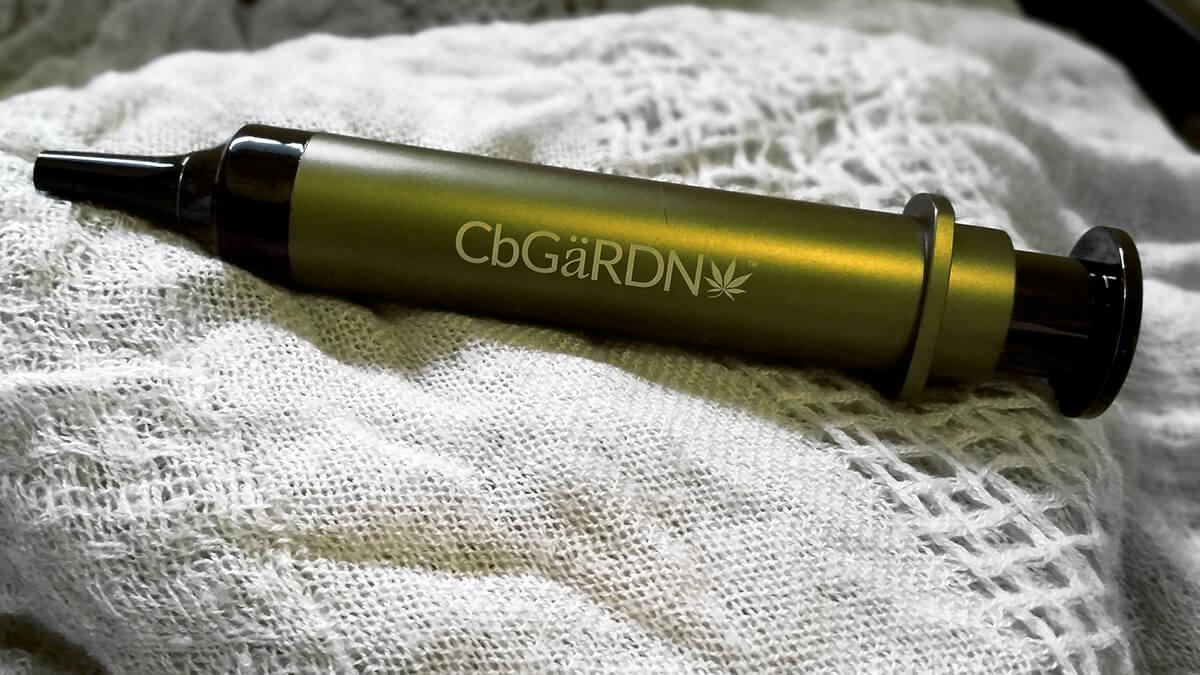 Who isn't fighting wrinkles these days? They are one of the most obvious signs of aging, and they're naturally the most obvious on our faces. Things like UV rays, wind, stress and more can add to their presence. As a result, it's up to us to find the products that will help to slow them down.
This Anti-Wrinkle Confidence Solution aids greatly in reducing the appearance of wrinkles and fine lines. It's also placed in a container that is designed to allow you to easily target problem areas without wasting the product. Just give one end of the large syringe and a small amount of the solution will expel into the correct location.
When using this solution, you might notice that the coloring is different from the other products in the set. Most have some kind of green tinge to them, reminiscent of the natural CBD within. However, this product is more of a peach color. I'm uncertain why this is the case, but it does mark the product as different from the others.
Personally, I'm not someone who already has a lot of wrinkles so I can't speak well to the reduction of wrinkles that already exist. However, I do believe in prevention and look forward to see how this product can help in avoiding, or at least slowing, wrinkles that may develop in the future.
CBGold Night Renewing Creme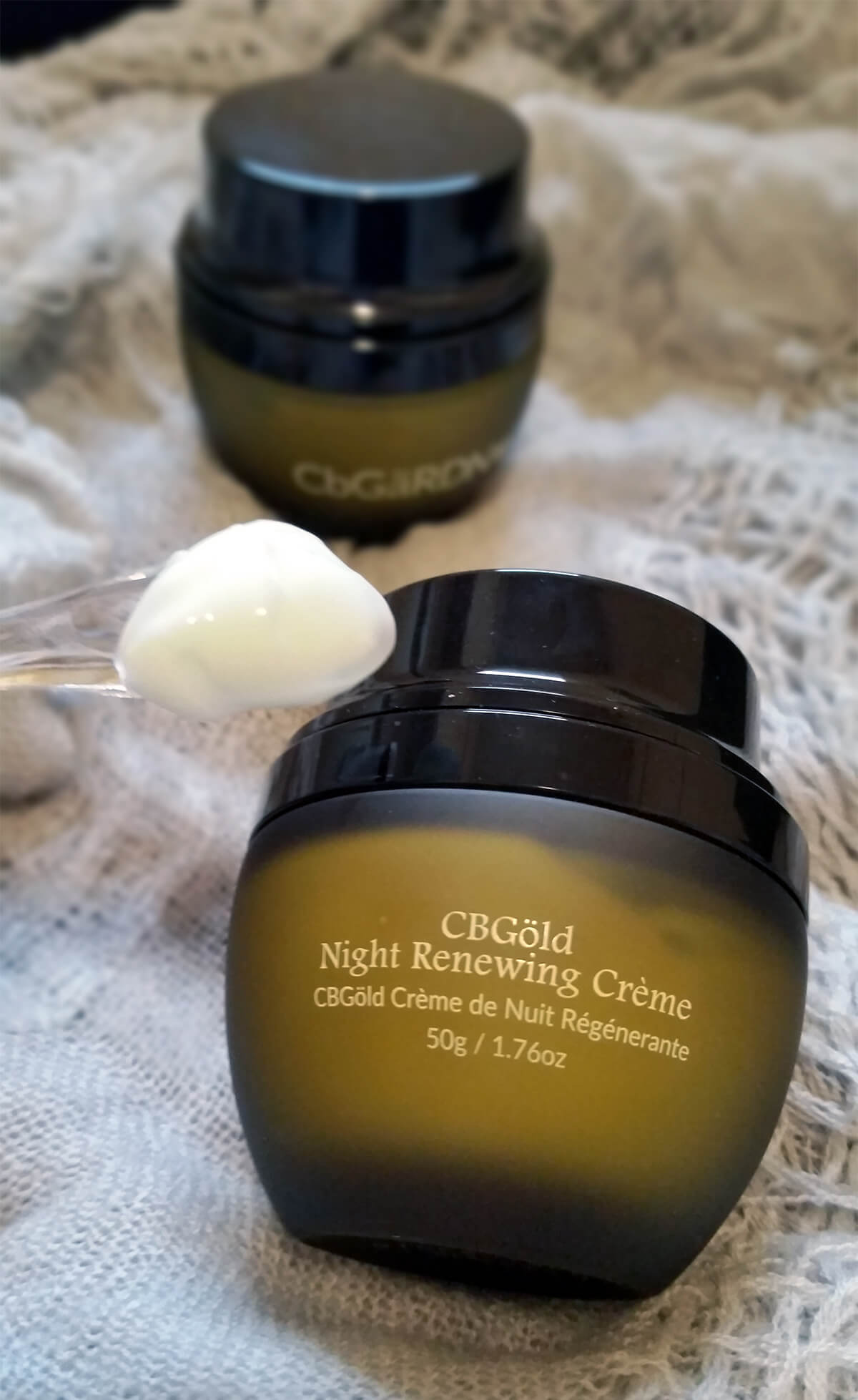 There are many skincare sets out there, and a high percentage of them include a night cream. Often, these creams are even more packed with nutrients. It's designed to give your skin a solid renewal while you're resting at night. This is typically a great way to keep your skin happy and healthy in the day-to-day.
Like the rest of us, our skin needs rest. This Night Crème is an ideal way to make the most of that rest. Much like the daytime moisturizer, this product comes in a pale green color. It also offers a spoon so that you can easily get the crème out without having to dig around in the jar.
The scent of this crème is very mild, and it has an extremely rich and moisturizing feel to it. Consequently, it leaves my skin feeling soft and supple after a good night's sleep. There's really no way to describe just how helpful it can be to provide extra nutrients to our skin after covering it in makeup and exposing it to the elements during the day.
Furthermore, this is also a non-greasy product. Because of that, the skin is left feeling nourished rather than overloaded. Just try it out and you're sure to feel that your skin is getting the hydration and nutrients it needs. I'm excited to see how this set as a whole continues to work as I try it out over a longer period of time.
Final Word
Overall, I'm excited to continue using these products. They have been very appealing so far, and definitely leave me feeling quite luxurious. I've been interested to discover the benefits of ingredients like gold and CBD in skincare products and I'm looking forward to the effects they promise.
If you're looking for a new skincare brand and prefer natural ingredients like CBD, this is a great set to try out. It includes products designed to care for just about every skin concern, and it certainly leaves my combination skin feeling great. Give it a shot if you get the chance!