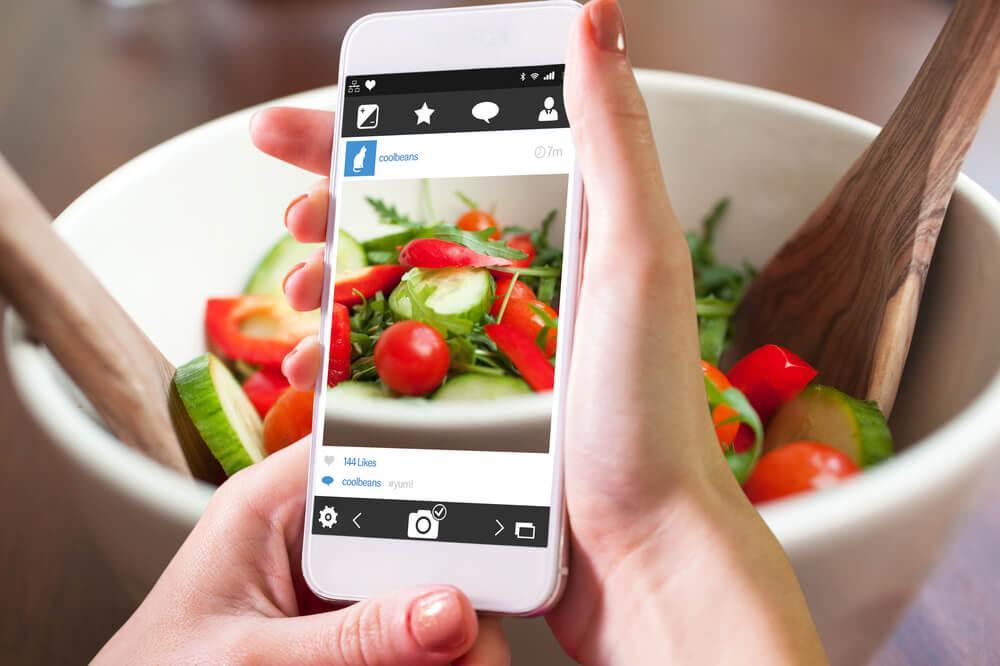 Keeping ourselves healthy can be a difficult task amidst our busy lives.
However, there is one everyday item we can use to help us live our best lives. Wherever you are, and whatever time of the day, our phones are usually always within easy reach. So, why not use them to help keep yourself healthy?
1) Foodstand
Sticking to a health plan can be difficult when there are so many unhealthy temptations around us. Worse, healthy food can often be inaccessible and expensive.
Foodstand helps you live a healthier life by starting with small daily habits. It offers challenges, such as cutting down on soft drinks, eating less processed food, eating more plants, and eating fewer animal products.
It also invites you to be a part of a community committed to building good eating habits. By being a part of a community, you can draw support from people who have similar health goals. Be inspired by other peoples' stories and learn how they made healthy eating possible.
Top Features:
Build healthy eating habits through fun challenges. Some first challenges include: cut back on soda, no added sugar, eat less meat, cook dinner more often, or go mostly vegan.

Daily motivational reminders 

Challenges include easy levels and free passes

Ask questions and share ideas with the community

Long-term tracking on your profile to see how you compare to others
The best part is the app believes healthy eating is possible for everyone, regardless of their budget. "Eating healthy" doesn't have to be difficult.
2) 5K Runner, Couch Potato To 5K
https://www.instagram.com/p/BvZVNvmloDQ/
Most running apps assume you're a fit and buff person who's ready to do intense exercises. However, when you try them out, you find yourself feeling frustrated because you can't keep up, causing you to quit early into the game.
5K Runner, Couch Potato to 5K is perfect for beginners who are starting a running routine. As in its name, it aims to help couch potatoes slowly but surely run 5K by creating a doable running program.
Top Features:
Track your workouts and how many calories you've burned

Alternating walk/run interval 

Compatible with all music apps

Audio coach 

Earn achievements & badges
It even comes with an audio coach who can give you the extra motivation you need to push yourself a little more.
3) Tasty
With how busy our lives are, we often find ourselves quickly turning to fast food to satiate our hunger. However, eating too much fast food can increase the risk of a multitude of health problems, such as heart disease and high blood pressure.
Buzzfeed's Tasty, whose videos you have most likely seen on social media, has a free app version. Now it's easier for you to access recipes. Their application includes 3,000 Tasty recipes at your fingertips.
Top Features:
Step-by-step instructions

Keeps your phone awake; you don't have to worry about it falling asleep while cooking

Get meal recommendations based on the time of day, day of the week, and holidays

Are you vegetarian? Customize the app to hide all recipes with meat

Search for recipes based on your dietary needs, ingredients, social plans, difficulty, speed, cuisine, and many more

Filter recipes based on your needs! Choose between gluten-free, low carb, comfort food, healthy, and many more

Add recipes to your Tasty likes and save them for later

US and metric values
The recipes are visual, easy-to-follow, and you can even adjust the serving size so that you know exactly the amount of ingredients you need to buy.
4) Sleep Cycle: Sleep Analysis & Smart Alarm Clock
https://www.instagram.com/p/B2enQwwpcNc/
Sleep is when our body rests and regenerates to prepare for the next day. Getting adequate sleep is vital to keeping ourselves healthy, not just physically but mentally too.
Sleep Cycle wakes you up when you're in light sleep mode. This allows you to wake up refreshed because you were able to sleep properly. This app also monitors your sleep cycles, so you can review what time you sleep and wake up through its detailed reports. 
Free Features:
Sleep analysis with patented sound technology 

Detailed sleep stats and sleep graphs 

Meticulously selected alarm melodies 

Snooze function through double-tapping or shaking

Customize your wake-up window from an instant alarm up or up to 90 mins
Premium Features:
Long-term sleep tracker trends

Compare your data to world sleep stats

Snore trends: check historical snore data

Sleep notes: check how daily activities affect sleep quality

Sleep aid to help you fall asleep easier

Wake up mood

Back up your data online

Export data to Excel for more analysis
5) Plant Nanny – Water Reminder
Being chronically dehydrated can lead to serious health issues. When you feel headaches, nausea, dizziness, and muscle cramping, your body could be telling you that you need to drink more water. However, drinking water apps can be boring.
There are thousands of water drinking reminder apps available. What makes Plant Nanny stand out is it makes drinking water fun and interesting.
It's like a little game, and every time you drink water, you also water your plant. Your plant's health depends on how much and how often you drink water. By taking care of your plant, you're also taking care of yourself. You can look at your plant to quickly see how your hydration levels are.
Drinking water also grows your plant. The more you drink, the more you and your plant grow together! Unlock and cultivate a variety of different plants with this cute app.
Customizable Water Consumption Goals:
Automated reminders 

Customizable water cup volume

Suggestions for appropriate amounts based on individual body data and exercise habits 
Adorable Charts and Interfaces:
Easily monitor water consumption history and quickly view daily, weekly, and monthly trends

Optimized for screens of all sizes for use on multiple devices

Track your daily water intake through graphics
Stay Motivated:
Rewards for regular use 

Small missions to help you stay motivated

Each glass of water you drink waters the plant—so you can grow and thrive together! 

Unlock a variety of different plants and even interact with mysterious new creatures! 
6) 7 Minute Workout
Do you find yourself constantly saying you don't have enough time to exercise?
While we all know the benefits of regular exercise, finding time to do so can be difficult with how busy our days are. Worse, most exercise apps require you to carve out up to one hour every day. 
What we need is an exercise app that can adjust to our lives. The 7 Minute Workout app offers the solution: quick and easy-to-follow exercise routines. It also requires little to no fitness equipment. Living in a small and tight place also wouldn't be a problem.
Have a few minutes of downtime? Instead of scrolling through your phone, you can have a quick work out. You can decide when to exercise and at your convenience—whether you're on a quick break, while cooking your food, and even while you're watching television.
With this app, you lose the excuse of "not having enough time." It also has instructional videos, calendars, and progress charts showing you how well you're doing
Maximum Result, Minimal Investment 
The 7 Minute Workout app is based on HICT (high-intensity circuit training), which is proven to be the safest and most efficient way to improve your aerobic and muscular fitness. It consists of twelve 30-second exercises with 10-second intervals between each exercise. All you really need is a chair and a wall! 
This app offers the following features:
Google Fit support 

Ability to pause or skip to the next or previous exercise

Voice guidance 

Adjustable rest time 

Notifications for daily workout 

Workout log 

Beautiful character and UI design
7) Ate Food Diary: Mindful and Easy
https://www.instagram.com/p/B0BCFBQHiVO/
One of the key ways to improve our health is by first knowing what we need to improve. But with how busy we are, forgetting our eating habits can be too easy.
With Ate Food Diary, you can easily track the food you eat in three quick taps. You can also take note of your thoughts and mood with every meal you have.
You can identify your eating habits and patterns by being more aware of the food you eat. Instead of focusing on the calories, focus on what you feel when you eat. This way, you can understand your relationship with food.
With the Ate Food Diary, you can have the following for free:
Track how frequent your meals are—no to skipping!

Record your food by taking photos

Share your health journey with your friends

Meal alerts are customizable according to what you want and need
This app's main goal is to make you more aware of your eating habits, behaviors, and feelings. From there, it can help you develop them into positive eating habits. 
8) Recipe Calendar – Meal Planner
Recipe Calendar makes meal planning a breeze. It's an all-in-one application that helps you find the best recipes, choose your meal plan, go shopping with a grocery list, and cook with the step-by-step instructions.
Step 1: Plan Your Meal
The meal planner, which includes 5,000 recipes, allows you to select different types of diets such as low-carb, vegetarian, low-calorie, and paleo. It even has diet recommendations if you're looking to lose weight or fitness meal plans based on nutrition statistics collected by the app's calorie counter. 
Not sure what to cook? It also has a simple menu for beginner cooks and complex dishes provided by the best cooks in the world! You can even place and schedule your recipes into your planner. 
Each recipe includes important information such as the cooking duration, nutritional value, and ingredients. The ingredients are automatically adjusted based on the number of servings selected!
Step 2: Schedule/Setup Your Meal
Once you have selected your dish, you can choose to add it to your meal planner. You can easily view, at a glance, which dishes to prepare.
Step 3: Check Your Grocery List 
Never forget to buy an ingredient when shopping! The app automatically calculates the ingredients you need to buy for a week or a month based on the recipes listed in the food planner.
All-in-all, we recommend Recipe Calendar if you want to make meal planning simpler, easier, and fun! Aside from a smartphone app, they also have a web application available.
9) Yoga – Down Dog
https://www.instagram.com/p/B2l1s1qBcGq/
Starting a yoga practice can be intimidating. But with Yoga – Down Dog, you can make this exercise fun and easy.
Yoga might be different from the typical exercise, but it is effective. It emphasizes mindfulness, flexibility, and breathing. Practitioners share how yoga improves not only their physical health but also their mental health.
Never worry about the same exercise twice.

The app contains 30,000 different configurations so you won't do the same workout over and over again.

Beginner-friendly.

It includes a 3-day intro to yoga in the comforts of your own home.

Choose voices.

Choose from 7 different yoga teachers!

Dynamic music.

The app chooses music, which rises and falls with your breathing.#

Works offline!

Simply download a practice video for offline use and take it anywhere.

Device sync.

This app syncs your data across all your devices. 

Boost feature.

It contains 12 different practice areas. Choose between sharpening a particular area or vary your routine by rotating through them all. 
This app offers free easy-to-follow yoga sessions, regardless of your skill level. You can choose what to focus on, like core strength, flexibility, or loosening tense muscles.
It even has a specific practice targeting how to relieve back pain, which we all admittedly have after a few years into the workforce. Yoga – Down Dog also has an available web app.
In today's world, choosing to keep ourselves healthy can be a daunting task. There are so many different guidelines for different people with different lifestyles. Living up to these guidelines for our health while also leading busy lives can be challenging. But at the same time, today's world also has technological innovations that can help us keep healthy. There are apps for beginners as well as for seasoned health-conscious people. It's all about deciding which works best for you.