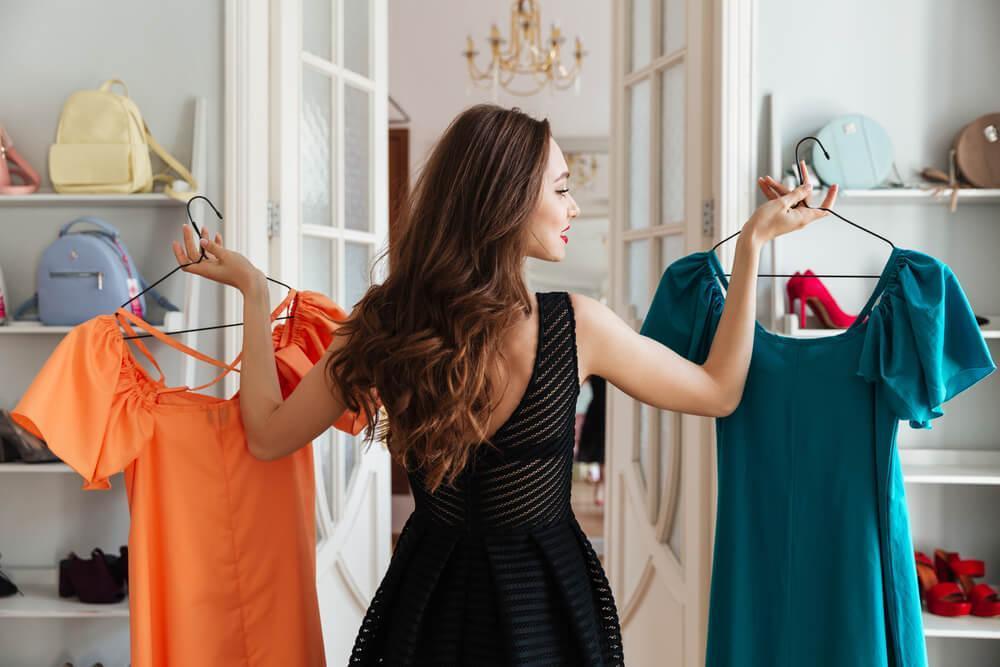 There's been an increase in veganism in recent times, mostly because we, as humans, understand now that we are causing too much damage to the environment.
While this mostly pertains to our eating habits, veganism does not only relate to a dietary choice – it also includes fashion.
Even though the fashion industry was never particularly known for its ethical choices in the past, that seems to be changing, as more and more vegan fashion brands appear on the market.
If you're looking to change your personal style and make it more vegan, here are some fashion brands that you should definitely look into.
What Is Considered Vegan Fashion?
Vegan fashion includes clothing and accessories that are made without any animal products. That means no leather, no wool, no anything coming from an animal. (And yes, that also includes Lady Gaga's meat dress!)
Basically, raising animals for clothing is quite frequently not only cruel to the animals, but also detrimental to the environment.
Most of the current fashion brands use many animal products to make their clothes. Here are some of the most common items used in the fashion industry:
Fur

Leather

Wool

Silk

Suede

Cashmere
Getting each of these (and many other) products requires the exploitation of animals, often holding them in terrible conditions and not worrying about their general well-being.
But, in this new age, many fashion rules can be broken, and so can this one – you don't have to exploit animals to get high-quality clothes.
If you want to "veganize" your wardrobe, you need to avoid such products and turn to plant-based fabrics instead – cotton, linen, hemp, etc. There are also synthetic materials available that can easily replace wool, leather and silk.
Check Out These Vegan Fashion Brands
As the world is changing, there are more and more fashion brands that are actively trying to create fashionable items while also taking care of the environment.
Especially nowadays, when technology has advanced beyond our wildest dreams, new materials are being discovered almost every week! And many, many of them are completely natural and harmless to the environment.
So why not use the advent of this new era and rock a cruelty-free outfit?
Here are some of the best vegan fashion lines that might help you with that.
1) Beyond Skin
https://www.instagram.com/p/B2AQ3MqgFJW/?utm_source=ig_web_copy_link
This is perhaps one of the most famous labels in the vegan nook of the fashion industry, particularly after actress Olga Kurylenko wore their design on the red carpet.
Beyond Skin is a completely eco-friendly brand and it makes sure to work closely with suppliers in its efforts to reduce the carbon footprint of clothes making.
They vow that "no humans, animals or small children are harmed" in the making of their shoes. They were founded with the aim of offering vegan footwear that reflects authenticity as well as sustainability.
And their main message – sustainability and luxury can go hand in hand; that is, they are not mutually exclusive as some brands will have you believe.
2) Good Guys Don't Wear Leather
https://www.instagram.com/p/B2AOQoiJQBQ/?utm_source=ig_web_copy_link
Okay, first things first.
This fashion company is not only completely cruelty-free, it's French!
And if you've ever loved French fashion (and, frankly, who hasn't?), you'll definitely love Good Guys Don't Wear Leather!
The company makes shoes for men and women and uses eco-friendly materials, which include canvas, natural rubber and microfiber.
As a result, you end up with a chic French comfortable shoe or two.
3) Della
https://www.instagram.com/p/Bck9J4DBDWN/?utm_source=ig_web_copy_link
Not only does Della make beautiful clothes, it also provides jobs, education and skills training for the people of Hohoe, Ghana. The company works directly with the community there.
Their products are handmade with authentic textiles, and they're completely cruelty-free and vegan.
Every dollar that is earned at Della goes to providing education and employment to people in Ghana. According to their latest numbers, 55 people work for the company there.
Not bad, eh?
This is quite important, as, once again, the fashion industry has not been known for its fair attitude towards its workers that actually make the clothes. But this is one of the ways in which you can contribute to ending such practices, by making socially responsible clothing purchases.
It takes a little bit of time, but it can be done.
4) Reformation
https://www.instagram.com/p/B2fnEvLHgLr/?utm_source=ig_web_copy_link
The urge to reform has never been this strong…
Do you really need another pair of leather boots when you know animals will have to suffer for you to get them?
That's where Reformation comes in – for all those looking to reform their old ways and modernize their views.
This eco-conscious brand is looking to blend good taste with cruelty-free production. Their clothes are made with high-quality fabrics which are partially recycled from vintage clothing. This is even great if you're trying to adopt a vintage style.
And, moreover, their style is to die for, making it all the rage now.
5) Everlane
https://www.instagram.com/p/B2wnnFTpLc1/?utm_source=ig_web_copy_link
A vegan fashion brand that caters to both men and women, Everlane has everything you may need – T-shirts, denim, shoes, sweaters, and even accessories.
They partner with ethical factories around the world while making sure that every factory provides fair wages, reasonable hours and a healthy working environment to their employees.
Talk about social conscience, right?
Also, while it may not be the trendiest of the vegan fashion lines, their goal is much more down-to-earth. In order to create a more sustainable future, they are creating clothes that will last for years (and even decades, as they claim). Apparently, that is why they are sourcing the best materials and factories.
They also present their customers with the real cost of their clothes, i.e. they present the true cost of the making of each and every product they make.
6) The Sisterhood
https://www.instagram.com/p/B2Y-gRbhDip/?utm_source=ig_web_copy_link
This brand puts forth that they respect and love Mother Earth, which is definitely at the basis of their work.
Not only are they a vegan fashion brand, everything that they use, from paper to packaging, is made from recycled materials that can be once again recycled.
Their goal?
To make gorgeous clothing, to be worn forever, throughout your favorite moments. Their prices are affordable, yet their designs are very trendy.
7) Thought Clothing
https://www.instagram.com/p/B2mdbrthEHF/?utm_source=ig_web_copy_link
Another company that creates clothing for women and men.
The company is trying to "work ethically." From their fabrics, to the way they design, make and deliver clothes, they aspire to minimize their environmental footprint.
They use sustainable materials to create wonderful pieces meant to last for a long, long time. The brand is also always looking to increase the scope of sustainable fabrics they use.
And, also, they make sure that the workers making their clothes are well taken care of.
8) In The Soulshine
https://www.instagram.com/p/B2bu3CZlX_7/?utm_source=ig_web_copy_link
If nothing else works (even though it does), some of these vegan brands have such inventive names that you can't help but be intrigued.
In The Soulshine makes sure that every step of the process of making their clothes is completely cruelty-free.
That means, not just towards animals…
While their clothing is mostly made from organic cotton, and they have even stopped using plastic to package their products (replacing them with biodegradable bags), the brand goes above and beyond in ensuring ethical practices in the production process.
Their clothes are made in a small production house in Bali, and they make sure that it is spacious and clean, and that employees are paid the fair wage. They also have the opportunity for increased pay.
Cruelty-free to both animals and people, that's what the new age of fashion is about.
9) Loomstate
https://www.instagram.com/p/BYJfIpIhBAG/?utm_source=ig_web_copy_link
Another brand that sources organic cotton to make their unique pieces. According to their own words, they believe that the entire clothing supply chain can support sustainable clothing production.
And, so far, they've proven that their theory is correct.
They support long-term partnerships with both customers and vendors. They believe that quality comes from farmers, factories and brands working together transparently. And, to them, a sustainable system is the one where "everyone wins environmentally, socially and economically."
The organic cotton used to make their clothes relies on natural methods to grow, which, in turn provides a healthy working environment for farmers and their families. Their commitment means that they buy the best organic cotton to keep the environment clean, the farmers healthy, and their customers comfortable.
10) Wully Outerwear
https://www.instagram.com/p/B2SXy8wJL2m/?utm_source=ig_web_copy_link
One of the main problems people have when going fully vegan is the fact that it sometimes gets very, well, cold.
And truly, not many fabrics have been able, until recently, to replace wool in that department.
However, Wully Outerwear chooses efficient fabrics that have minimal ecological impact. They use the innovations in new materials to ensure that you won't need wool ever again.
They are a PETA-certified brand, which basically means that no animals were harmed in the making of their products.
And, since the brand is Canadian, you can trust them when they say the clothes protect them from the cold.
Their local production also enables them to create job opportunities and to support Canadian communities too.
And all that while making exquisite garments for the winter.
So, say goodbye to wool and embrace this vegan fashion brand that will protect you from the cold. Also, because of the advantages of the new age, they also make clothes to last for a long time. So don't worry, you won't have to buy a new coat every year.
Famous Designer Brands "Veganized"
https://www.instagram.com/p/B2uTps3pE24/?utm_source=ig_web_copy_link
Now, you might not have known this, but even renowned fashion brands are dipping their toes (or, as it seems, plunging) into the cruelty-free, eco-friendly pool!
Well, at least those that want to have buyers in the future. In light of recent increases in the pressure to become more conscious of the poor choices that are ruining the planet, many fashion brands have decided to step up.
Stella McCartney

. Well, are you even surprised that Stella McCartney is on the list?

Even since the start, the brand has dedicated itself to challenging the fashion industry.

Nowadays, the brand is looking to exploring new options for the future of cruelty-free and eco-friendly clothing.

Matt & Natt

.

A brand that focuses on vegan bags and accessories, while striving to maintain high ethical standards.

Their products are organic and made from recycled materials.

Chic and environmentally responsible, what more could you want?

Vaute Couture

. When it's founded by a true long-time animal rights activist, can you expect anything

else

from a brand but the utmost dedication to cruelty-free fashion? Founded by Leanne Mai-ly Hilgart, the brand uses recycled, organic and high-tech fabrics in order to create sustainable outfits.

It is completely vegan, eco-friendly, and it's sweatshop-free.
H&M.

You might have heard that H&M launched a sustainable collection in which the brand focused on innovative and sustainable vegan materials.

It partnered with textile innovators in order to achieve their vision and, as it seems, they plan to have many more such collections.
OlsenHaus

. The purpose of the fashion house is to inform consumers about more ethical practices. And not only that, the founder, Elizabeth Olsen, works with many designers to inspire students to consider making clothes from sustainable, vegan and cruelty-free materials.

And her efforts to raise awareness don't stop there – she even donates her products for animal organization fundraising events.

Talk about spreading the good word!

Umasan

. This brand uses innovative fabrics to create avant-garde fashion. According to them, their clothes are dedicated "towards the global luxury traveler who likes comfort and taste without sacrificing responsibility and consciousness."

Also, their collection is quite the fashionable nod at people sporting androgynous styles.
What to Do with Old Non-Vegan Clothing
Well, basically, you have quite a few options if you're going to choose vegan fashion in the future. You can either keep using them, throw them out, sell them or donate them.
Many people who have renounced the use of animal products think that using leather or fur things is distressing and, in addition, hypocritical. On the other hand, there are those that think that throwing such items out is simply wasteful.
However, the choice truly depends on the individual.
Not everyone is in the financial position to replace their entire wardrobe. You can try to sell some of those items and use that money to buy vegan clothing. You can donate your things and feel a bit better that the items are getting recycled.
It seems that the worst idea among these is to simply chuck the clothing out. This truly is wasteful, and, as we've already mentioned, you can find uses for them, and help others in the process.
The best part of this journey, whatever you may decide to do with your old, non-vegan clothes, is that you're striving for a cruelty-free and eco-friendly lifestyle. Also, allow yourself some slack from time to time. Sometimes, you have to make compromises, but that's life.