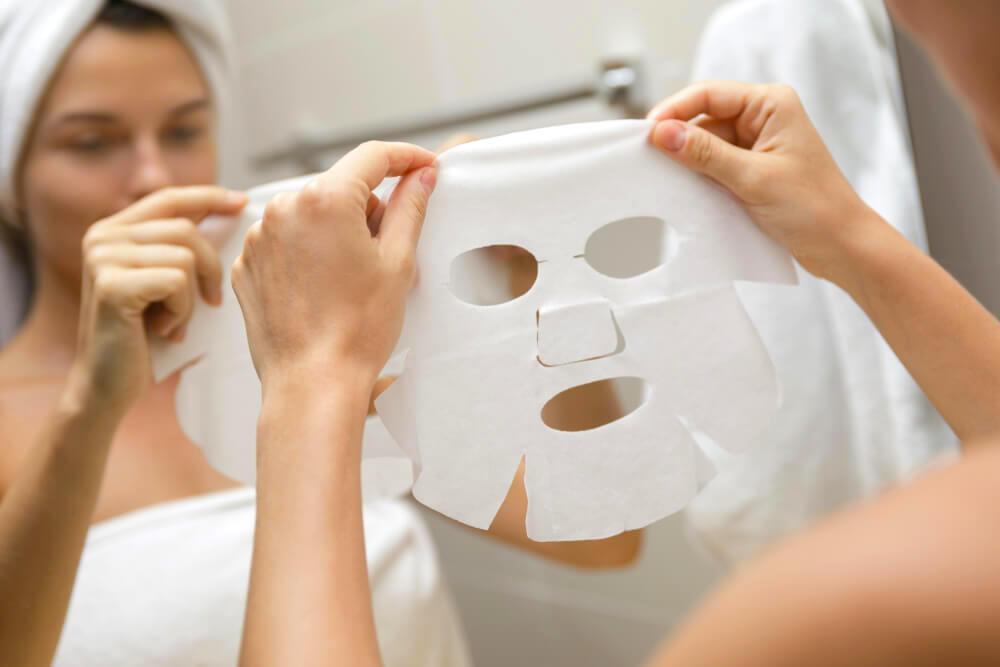 Sheet masks are a great way to care for and pamper your skin without taking up too much of your time. Typically, sheet masks are made up of diverse types of fabrics soaked in serum. Applying these on your face for anywhere between 15-30 minutes, depending on the instructions, allows the vitamins and minerals to permeate the skin longer and the ingredients to penetrate deeper.
Picking the right sheet mask for you can be overwhelming. But don't worry, we're here to help you out! 
Here are the top 8 sheet masks that are going viral right now, and we'll tell you why.
Dr. Jart+ Rubber Mask Hydration Lover
The creepy rubber baby on the packaging might be the reason this mask is on our list. We're kidding, it isn't as scary as you think – but its benefits might surprise you. Unlike most sheet masks, Dr. Jart+ requires two steps when using.
The first step includes applying a white paste all over the face made up of skin-enriching ingredients such as mango seed butter and macadamia nut oil before carefully placing the "rubber" mask. Keep it on for anywhere between 20-30 minutes. Be careful, though, as the mask is quite delicate and prone to tearing.
Dr. Jart+'s Rubber Masky Hydration Lover works well for all skin types: normal, dry, combination, and sensitive. It addresses dryness, redness, as well as most forms of irritation. The serum is rich in minerals and significantly helps in keeping the skin hydrated.
The "rubber" wraps around the face to ensure complete penetration of the active ingredients to improve pores and fine lines visibly. It's derived from algae which lower skin temperature. It also contains Phyto Keratin Complex and Green Seaweed Extract, both components which maximize the hydrating benefits of this mask.
Vivo Per Lei Vita-C Sheet Mask
Vivo Per Lei is an affordable luxury skin care which believes in making youthful skin accessible to women of all backgrounds, and ages, without breaking their bank. These values are precisely what it offers in its Vita-C Sheet Mask with each box containing ten individually packed sheet masks. It's suggested you leave the mask on for 15 minutes, but some users have been known to leave it on for a few minutes longer – it's entirely up to you.
Vivo Por Lei's Vita-C Sheet Mask is suitable for all skin types but might work best for those with dry and dehydrated skin. This mask is created specifically to address dullness and uneven complexion.
https://www.instagram.com/p/BvPIItvFot7/
The high concentration of vitamin C and collagen aids in firming up and brightening the skin as well as decreases melanin production. The castor oil, on the other hand, reduces the possibility of acne breakout, thus clearing up the overall appearance of the face. It results in a more youthful looking skin which, they say, looks even better the morning after!
Charlotte Tilbury Instant Magic Facial Mask Sheet
Unlike most sheet masks, Charlotte Tilbury's Instant Magic Facial Mask is a dry sheet mask. Because it's dry, the mask's tendency to accumulate bacteria is eliminated and can be used for up to three times. Slide it back inside its resealable pouch after use.
The mask comes with "ear loops" which you can slip on and fasten, allowing you to keep mobile while pampering your skin. Remember to massage the mask with upward motions to keep it in place for about 15 minutes or so.
Although not the first dry sheet mask out there, Charlotte Tilbury's mask uses a "bio-mimetic vector delivery system"  which utilizes the skin's warmth for turning the dry liquids into liquid. The dryness allows the ingredients to be absorbed better by the skin.
Charlotte Tilbury's Instant Magic Facial Mask Sheet works for all skin types but is best suited for dry or dehydrated skin. More than reducing wrinkles, it's good for smoothening, brightening, and hydrating the skin.
The mask utilizes cross bulb extract, an ingredient which facilitates increased efficiency of "older cells," prompting the skin to function at its optimum. It also contains plant stem cells and vitamin B3 or niacinamide, an ingredient which aids in elasticity and collagen renewal. Continued use has been known to result in distinctive plumpness of the skin and reduce the appearance of spots.
SK-II Facial Treatment Mask
SK-II Facial Treatment Masks originated in Japan. Japanese brides often use this mask over the week before their wedding day to achieve bright and clear skin. Although quite pricey, the mask is worth every cent.
SK-II's sheet mask, which is made up of 100% cotton, provides a cooling, refreshing sensation and has been said to offer an authentic "relaxing" and spa-like ambiance. It can be used right after cleansing and drying your face for anywhere between 15-20 minutes.
SK-II's Facial Treatment Mask is suitable for all skin types. It addresses roughness, dryness, uneven skin tone, and loss of firmness. It includes Pitera, an SK-II exclusive ingredient containing over 50 micronutrients which improves the skin's moisture barrier. It also contains Galactomyces Ferment Filtrate, which improves specific skin concerns such as uneven skin tone, signs of aging, and acne. SK-II's Facial Treatment Mask leaves the skin with a brighter glow and smoother texture, primarily because of its mineral-rich and deep hydration properties.
Peach Slices Sheet Mask
Not only is the packaging creative and colorful, but Peach Slices Sheet Mask also comes in a bundle of four. Alicia Yoon designs these sheet masks as a way of "skipping" through the 10-step Korean skincare routine and has by far been a promising start.
Peach Slices Sheet Mask is made up of natural cotton and should be applied after cleansing and toning and leave on for 15-25 minutes. After removing the mask, massage the remaining liquid into the skin for better absorption and follow up with your moisturizer.
The Peach Slices Sheet Mask Menu include Clarify, Hydrate, Calm, and Firm. The first, Clarify, is perfect for cleansing your skin. It's used primarily to reduce redness and remove dirt, providing you with a brighter appearance. This mask contains loquat leaf, which aids in hydration and cleaning up the skin. Hydrate is responsible for bringing back moisture into the skin with antioxidant thyme, an ingredient which is also antibacterial and antifungal.
Calm, on the other hand, contains jasmine and chamomile, which helps relax and smoothens the skin out. Finally, Firm is responsible for lifting the skin and repairing the damage, primarily because of the pomegranate, honey, and witch hazel it contains. These ingredients are rich in vitamin D and have excellent hydration and nourishing properties.
Each packet of the bundle is made in just the right size – perfect for traveling and carrying around for whenever you need it.
Lionesse Beauty Diamond Rejuvenation Facial and Eye Mask
A  fairly new player in the beauty industry, Lionesse is a brand known for its high-end products for everyday personal needs. Lionesse Gem, the brand's luxury skincare line, is infused with precious gemstones known to have several benefits on the skin.
One of the items from the luxury line is the Lionesse Beauty Diamond Rejuvenation Facial and Eye Masks. Unlike other masks which can be used more frequently, it's recommended the mask is used only once every four weeks. Apply the sheet mask after thorough cleansing and leave on the face for 15 minutes. Rinse afterward. Remember to lie down when using this mask – its consistency makes it prone to sliding off.
https://www.instagram.com/p/BuuK2ZzF0Bu/
The Lionesse Beauty Diamond Rejuvenation Facial and Eye Masks come with a hefty price tag: a box of 28 is worth $2,000. It, however, claims to be worth your money. It's suitable for all skin types. The finely ground diamond powder helps to reduce the appearance of blemishes on the skin, such as acne, wrinkles, and scars. The Lionesse sheet mask is formulated with collagen and hyaluronic acid, ingredients which help reduce wrinkles and give the appearance of younger and tauter skin. This sheet mask is a luxury you can enjoy in the comfort of your home.
St. Ives Soothing Oatmeal Sheet Mask
St. Ives is a global brand best known for using various natural ingredients in their products, particularly for face care. It comes as no surprise they've come up with a sheet mask version of one of their most prevalent ingredients.
The St. Ives Soothing Oatmeal Sheet Mask utilizes, you guessed it, oatmeal! More than being one of the easiest and yummiest breakfast food options out there, oatmeal is incredibly beneficial for the skin. Among its benefits includes its ability to reduce itching and inflammation, cleanse the skin, and its antioxidant properties have been known to undo the damage caused by sun exposure.
St. Ives Soothing Oatmeal Sheet Mask should be left on for 10 minutes. After removal, massage any remaining serum into skin for better absorption – no need to rinse after. This mask is most suitable for dry skin types as well as those experience redness or dryness on their face. The 100% cotton sheet mask contains a generous amount of oatmeal extract, providing the skin with the moisture it needs and resulting in soft, smooth, and supple skin.
Innisfree Acai Berry My Real Squeeze Sheet Masks
Innisfree is a South Korean cosmetics brand which has garnered popularity from all over the world. It should come as no surprise their product is on this list. It's an all-natural brand which uses ingredients sourced from Jeju island and packages their products in eco-friendly containers.
The Innisfree My Real Squeeze Sheet Masks come in 18 variants, including bamboo, fig, green tea, and rice, among others With so many options, we've found the Acai Berry to be our favorite. This cellulose sheet mask has a triple layer sheet and has been proven to increase the skin's moisture level by 125%. Despite being relatively thin, this particular sheet mask isn't prone to tearing. After thorough cleansing and applying toner, the mask is placed tightly on the face and left to sit for 10-20 minutes. Any gel or cream residue should be massaged into the skin for better absorption.
Innisfree's Acai Berry My Real Squeeze Sheet Masks is most suitable for dry skin types. It's the perfect remedy for those with dull and lackluster complexions. The cream-like serum is thick and heavy, allowing for a high level of moisturizing. The ingredients of this mask are extracted using the cold brew method, a process done at a low temperature with extreme caution to avoid the inclusion of unnecessary elements.
The Acai Berry, often dubbed "the fountain of youth," is loaded with vitamins and minerals known to improve overall health, including several benefits for the skin. It's abundant in anti-oxidants which help combat signs of aging. It helps keep acne and pigmentation under control as well as aids in lightening scars. Moreover, the Acai Berry also helps in hydrating the skin by replenishing lost moisture – including the lips. Overall, the nourishment provided by this crucial ingredient leaves the skin rejuvenated, revitalized, and looking full of life.
So there you have it! The most trending sheet masks that will surely give your skin a treat. Let us know in the comments if we miss your favorite trending sheet mask.