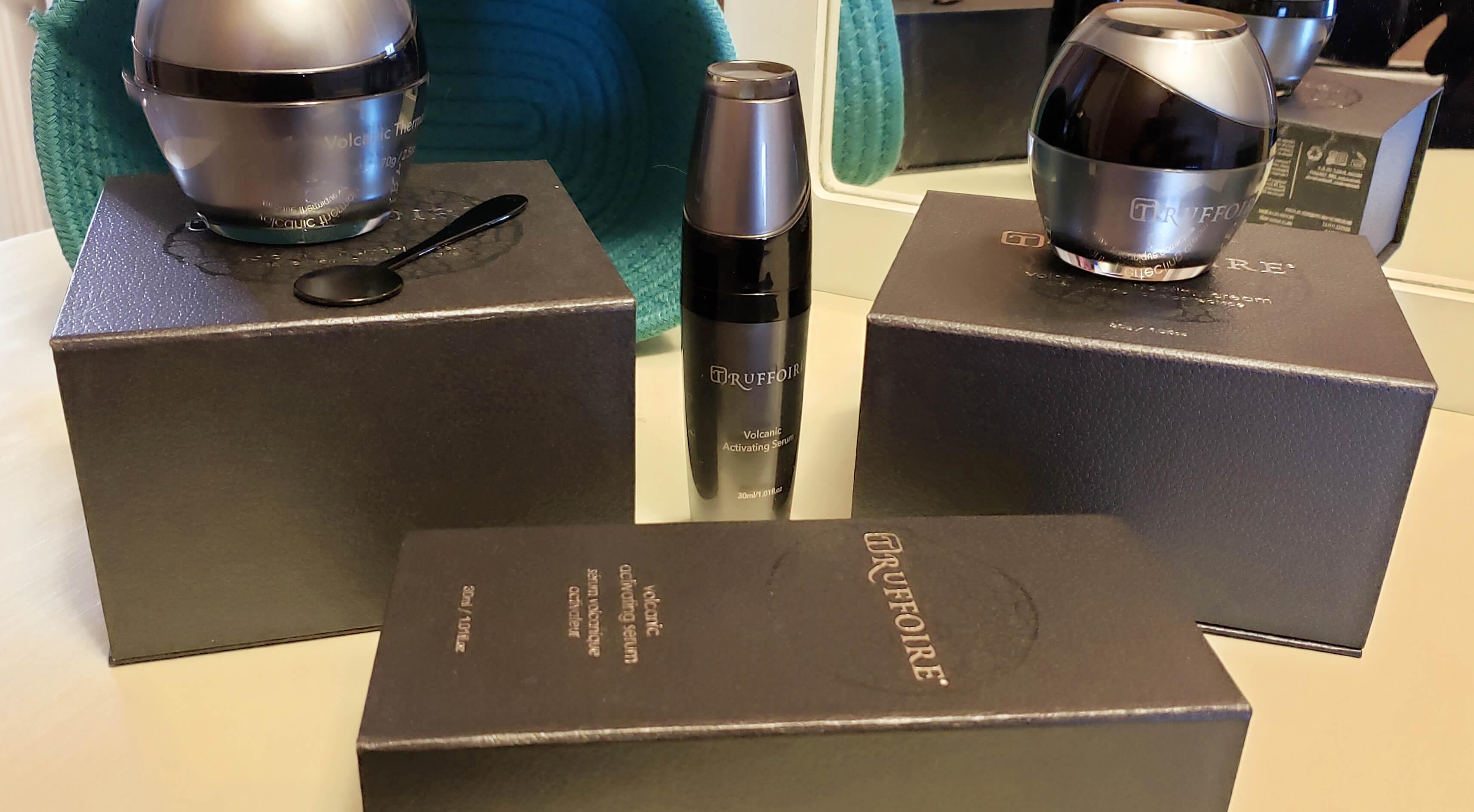 Review by Kelly Martin
Truffoire's skin care collection has fascinated me since their inception… 
So, needless to say, I absolutely had to try their trio Volcanic Truffle Collection consisting of the Volcanic Thermal Mask, Volcanic Perfecting Cream and Volcanic Activating Serum. I was more than pleasantly surprised when my products arrived and I couldn't wait to get started. 
As you can see, the trio arrived in beautiful packaging, but I was even more excited when I opened the boxes to find beautiful, elegant goods. 
Before I get into my verdict on these products, let' talk about what makes this line special and unique. 
The Volcanic Perfecting Cream
Volcanic Perfecting Cream is lightweight and simply delivers better looking skin. It is formulated with collagen to improve the appearance of skin's texture and elasticity. If you have dry skin, looking for products that contain hyaluronic acid such as Truffoire's Volcanic Perfecting Cream will lock in moisture.  Volcanic water is a centuries-old secret with regard to the healing properties it provides to our skin, hydrating, fortifying and strengthening it against external stressors. 
The Activating Serum
The Volcanic Activating Serum has a unique combination of ingredients to give your skin a soft, vibrant look and feel. This special serum will help reduce the appearance of wrinkles and expression lines giving you a smoother sensation. Just a tiny squirt is plenty, and it goes on very smooth. It has an oil-like consistency, and I generally have some left for my neck after I've applied it to my face. You can feel the moisture and hydration immediately. I've been using it in combination with the other Truffoire skin care products in this line. I can say that I'm a big fan of this activating cream.
Volcanic Thermal Mask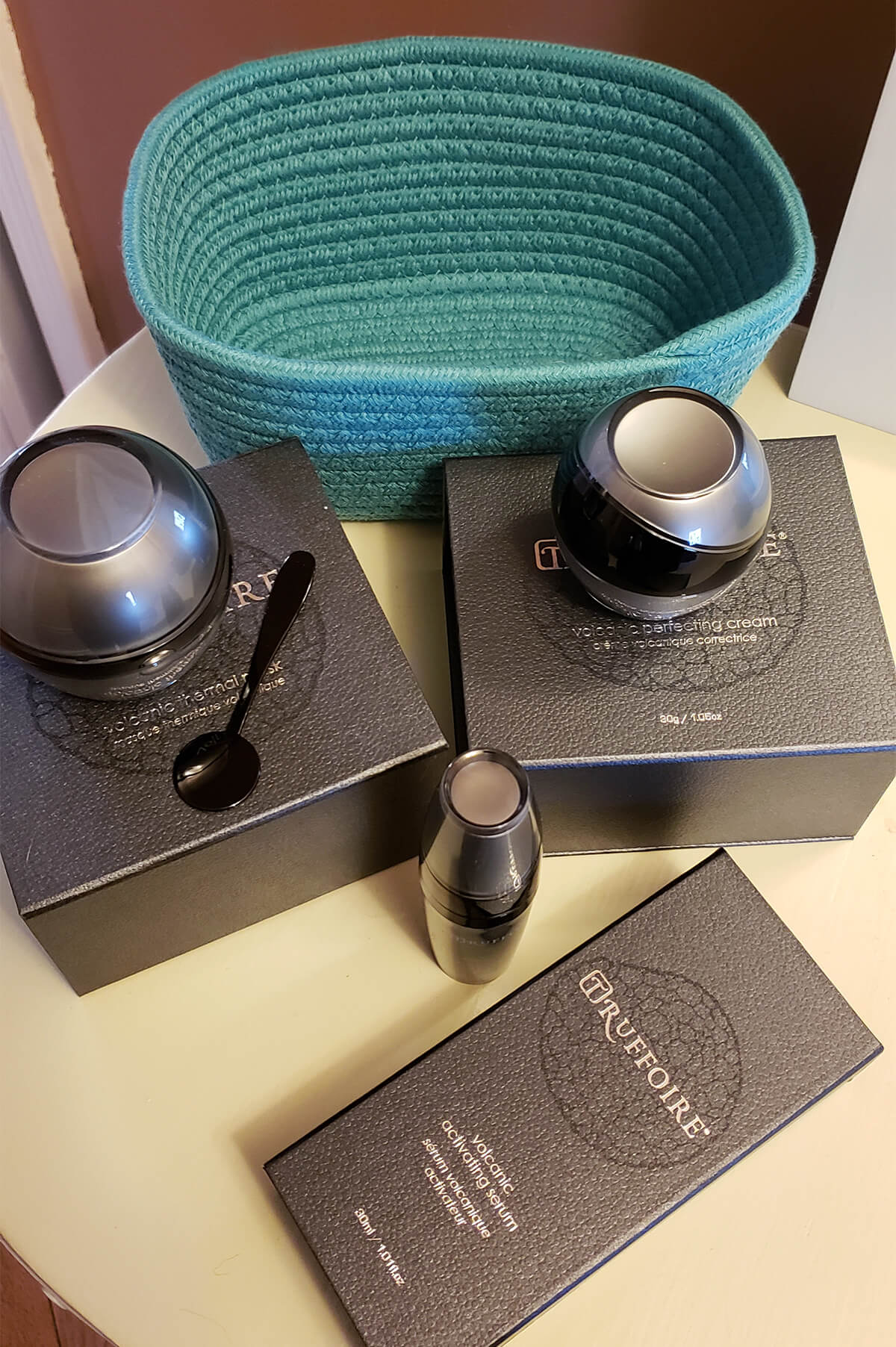 The Volcanic Thermal Mask is infused with highly prized ingredients such as black truffle and volcanic water. The instant heating effect helps remove impurities to leave your skin feeling vibrant and revitalized. Black truffles are known to have a unique fusion of amino acids that reduce wrinkles and are described as the natural Botox. You can anticipate receiving a youthful and firmer looking skin after using this a truffle-infused product.
There are numerous studies out there that show the anti-aging effects that truffles can have when applied topically.
Being 51 years old, anti-aging skin care products are something I have been buying for years. Recently, I was offered the opportunity to try these 3 products from Truffoire, and, after doing a bit of research into the collection, my skin and I started seeing these products through rose-colored glasses!
Black Truffle Benefits
One of the most prominent benefit of truffles is the power to prevent the premature signs of aging. Why? Black truffles contain fatty acids and amino acids, both of which act as a natural Botox to deal with fine lines and wrinkles. Black truffles are known to provide you with firmer skin and a youthful glow.  
Black truffles have been referred to as the "diamonds" of skincare. 
Volcanic Water Benefits
Volcanic water is generated through rainwater that trickles gradually through porous layers of volcanic rocks which behave as a natural filter and also give the water its distinctive attributes and mineral composition. The spring of the volcanic water is hidden below the volcano and the water is captured there. The health benefits of volcanic water evolve from the numerous minerals (magnesium, calcium, potassium and silica) and electrolytes that are collected by the water during the above process. You now have the privilege of using volcanic water using Truffoire's new cosmetic line.  Aside from the everyday benefits, volcanic water is also known to relieve psoriasis and eczema. 
I will say that although these three products above do not necessarily have to be used in conjunction with one another, they do each include ingredients that support the other products in the collection.
Cleansing
It is important to always start off any skin-care regimen by ensuring that you've used a good cleanser on your skin first. After all, if you are not removing the bacteria, dirt, dead skin cells and oil that build up in your pores, then you cannot expect the best results from any product because it is being blocked from effectively doing its job. You can do your own research on proper face cleansers, but I would suggest Truffoire's Black Truffle Vitamin C Cleanser. 
Volcanic Thermal Mask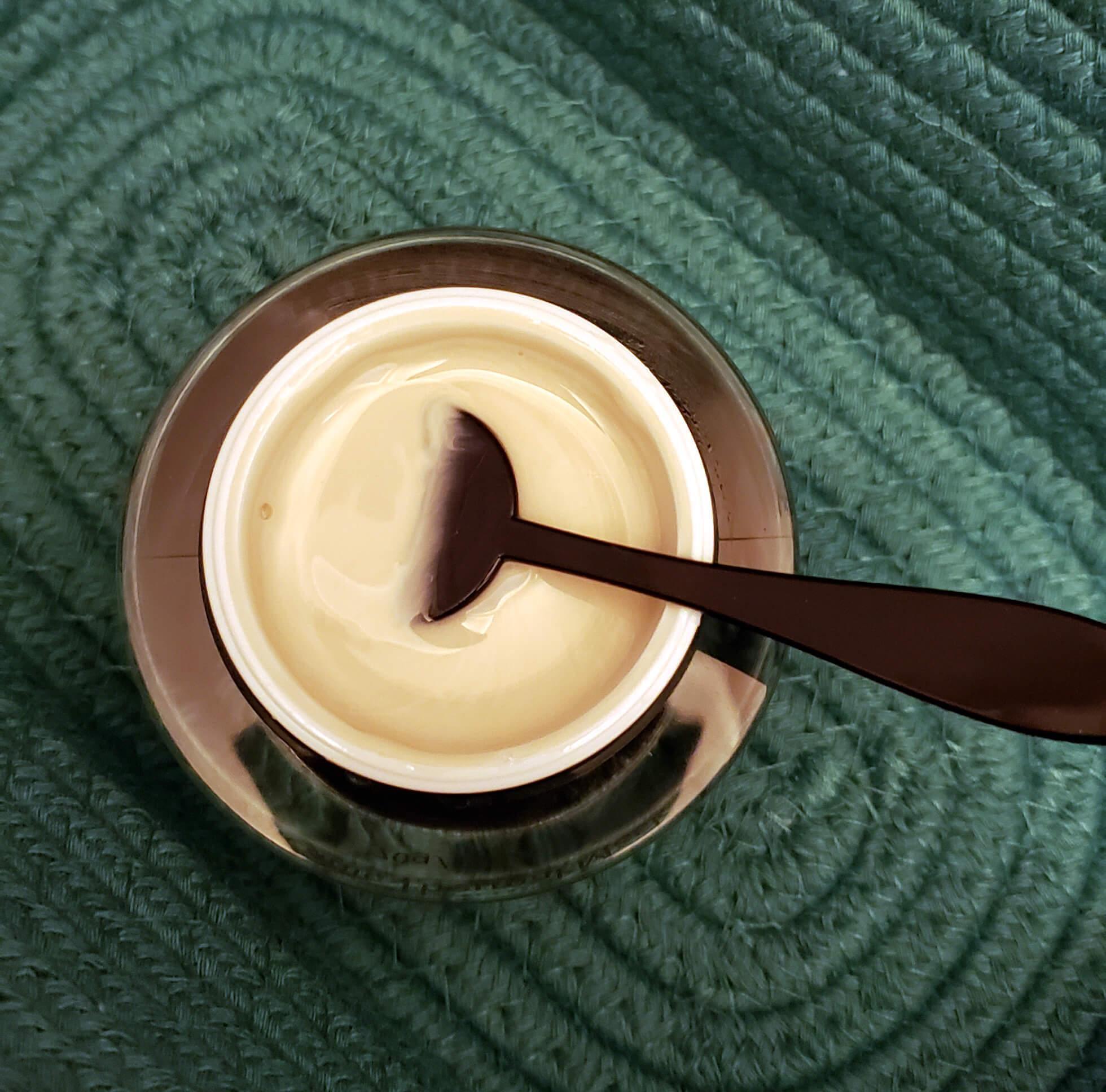 Once my face was properly cleansed, I started with the Volcanic Thermal Mask. The mask comes in a nice, sleek jar and has an applicator included. 
How to Use
Apply an even layer to clean, dry skin. 

Leave on for 10-15 minutes. Rinse thoroughly.

Directions for use with the Volcanic Activating Serum:


To intensify heating results, massage a few drops of the Volcanic Activating Serum onto the Volcanic Thermal Mask. Leave on for 10-15 minutes. Rinse thoroughly.
The mask is a beautiful creamy beige color and the consistency is not too thick. Once opened, I used the applicator to mix it up good as some of the oils settled on top during shipping. As the directions state, I applied an even layer and left on my face for 15 minutes. NOTE: Not too much was needed to obtain an even layer, which made me very happy because this jar will go a long way! I immediately started feeling the heating results, and it felt great (especially because I live in New England and it's so cold here right now!) It took less than a minute to wash the mask from my face with lukewarm water. 
And now, get ready for….
The Verdict
I dried off my face and immediately felt my skin to see if there was actually any difference as compared to the mask I normally use. Yup – big difference already. My skin felt smoother than it probably ever has – like silk. And no, I'm not just saying that because I received some free product. I'm saying that because I have bought so many "promising" skincare products over the years, just to be let down. I would NEVER steer people in the wrong direction, because I've been there, spent lots of money, with very little or no results.  
Volcanic Perfecting Cream
Now that my face was all silky and radiant (yes, I forgot to add the radiant part, but I did feel like I was glowing a bit), it was time to use the Volcanic Perfecting Cream, which also came in a beautiful, sleek jar and is a creamy white color. 
How to Use
Apply morning and night to face and neck. For best results, use with the Volcanic Activating Serum.
So, you're probably wondering….
The Verdict
Immediately upon touch, I could feel the lightness of this perfecting cream. Once I applied it to my face and neck, after the awesome mask, I felt almost somewhat of a coolness on my face, just pure clean, if that makes sense. It's only been a few weeks since I've been using these products, and I'm already hooked. 
Volcanic Activating Serum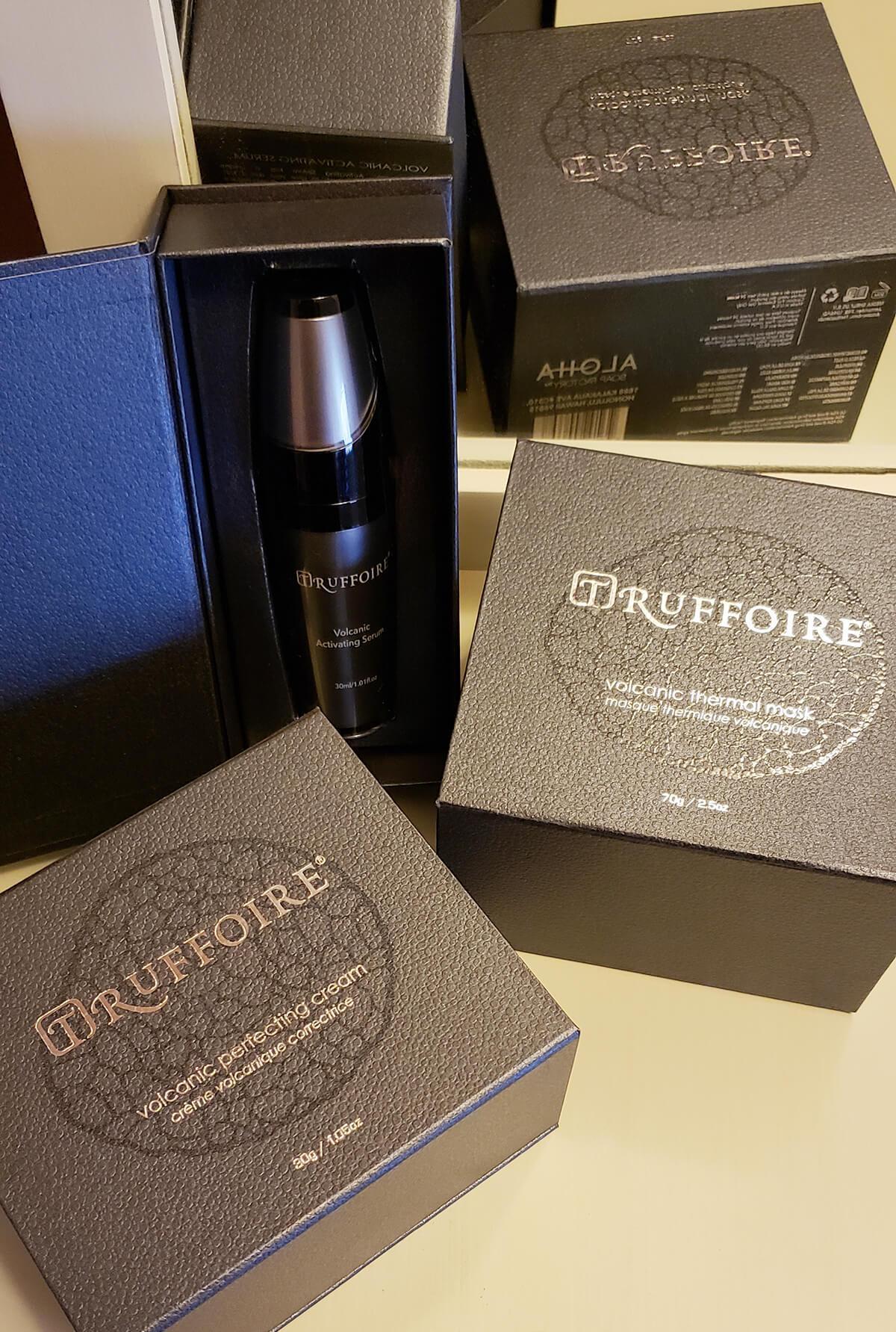 Made to reduce the appearance of wrinkles and expression lines giving you a smoother sensation; who doesn't want that?  The Volcanic Activating Serum also comes in a sleek-looking bottle with plenty inside to last a good long time. 
How to Use
Apply a few drops to cleansed skin. Massage gently in circular motions.
And last, but not least…
The Verdict
After the mask and the perfecting cream, using the handy squirt bottle feature, I put a few drops onto my finger and rubbed gently into my skin in circular motions. The effect was very soothing on the already silkiness of my skin due to using the first two products in the line.
I'd also like to add that my skin has always been extremely dry, which makes it hard to put foundation on. I've struggled my whole life with dry skin in spite of many products claiming to fix dry skin. I'm happy to say that since using this trio, my dry skin is totally gone!
Other Distinctive Benefits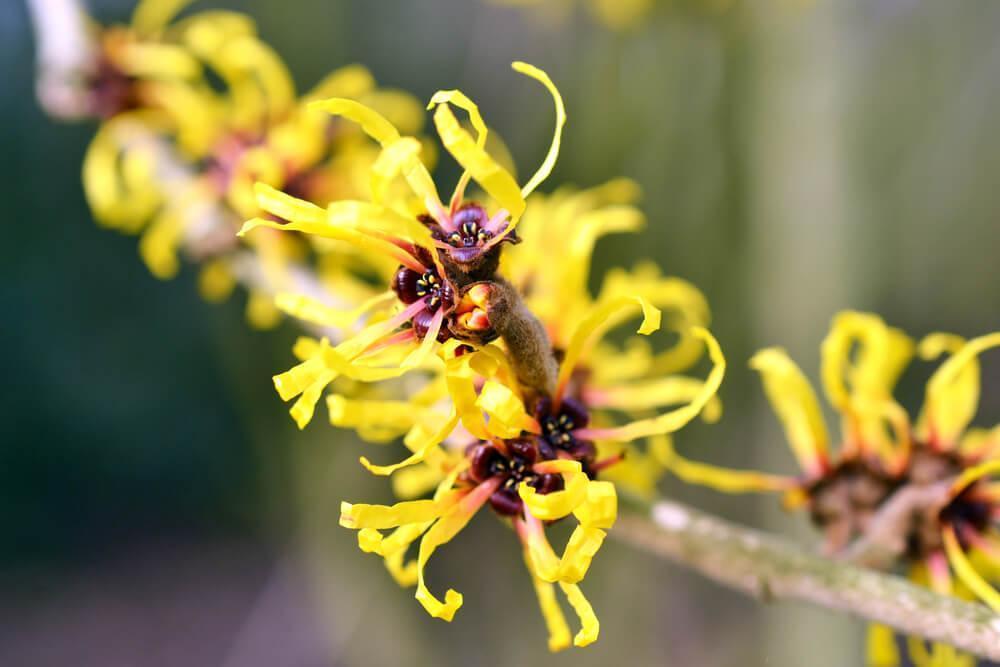 Aside from the black truffle and volcanic water, Truffoire uses some amazing ingredients in their skincare products. Let's take a look at some of the most important:
Arnica Montana Flower Extract

–

considered one of the most useful products for treating and combating 

dark circles

under the eyes and is contained within the

Volcanic Thermal Mask

. 

Retinyl Palmitate

– When used in

skincare

, your skin's natural enzymes transform 

Retinyl Palmitate

 to retinol. Retinol is a potent anti-aging ingredient which treats wrinkles by boosting the development of new skin cells. 

Retinyl Palmitate

 will also

improve skin tone

. It is contained within the

Volcanic Activating Serum.
Propylene Glycol –

acts as a humectant, meaning it binds water and draws in hydration to the outer skin layer. Propylene Glycol, which is contained within the

Volcanic Perfecting Cream, provides the skin a hydrated appearance.
Coffee Arabica Seed Extract

– An important ingredient in the

Volcanic Thermal Mask

as it constricts blood vessels to reduce redness and give the skin a tighter appearance.

Hamamelis Virginiana Leaf Extract

– Also known as "Witch Hazel", it functions as a

skin-conditioning agent

, enhancing the appearance of dry or damaged skin and helping to lessen flaking and restoring the

suppleness

of your skin. An ingredient contained in the

Volcanic Activating Serum

. 

Aloe Barbadensis Leaf Extract

– Another important ingredient in the

Volcanic Perfecting Cream

, it protects the skin from

UV damage,

rejuvenates aged tissues and promotes healthy skin.
Conclusion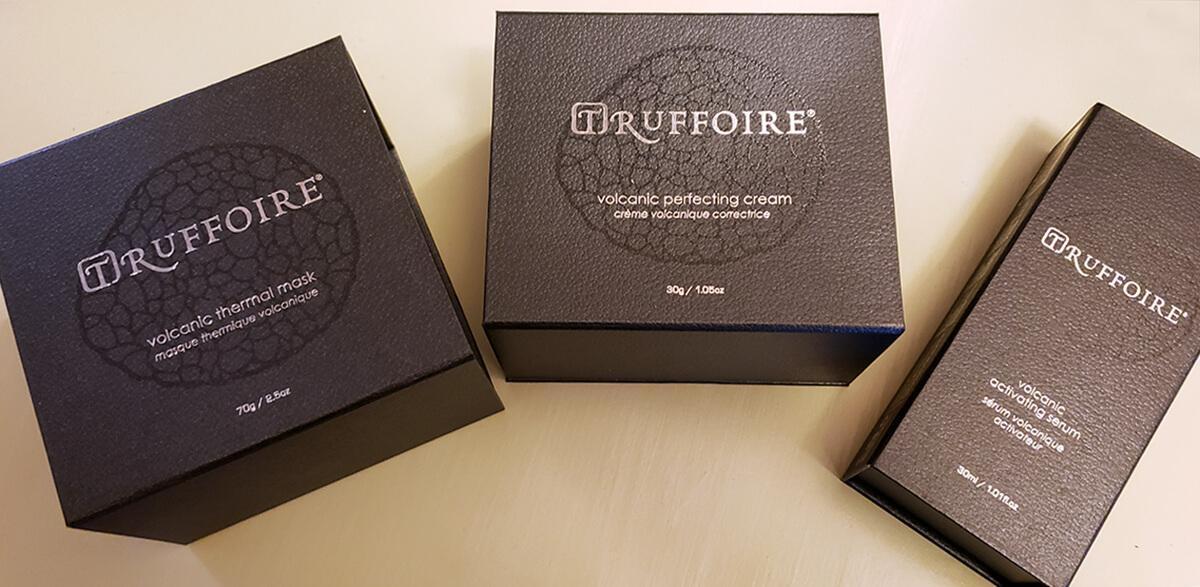 When it comes to skincare, I'm very picky about what I use. There are so many ingredients out there that are needed for your product to be effective. Some products have a few of the ingredients, and that's great, but Treffoire has managed to get all beneficial ingredients in their products and, in addition, add in volcanic water and truffles. Wow! I'm impressed.  
In my quest to learn as much as I can about proper skincare and anti-aging products, I ran across an interesting fact, quality packaging means that your products will enjoy a much longer shelf life. Quality packaging protects the active ingredients and keeps them safe from oxidization. Treffoire has created a packaging design with all of that in mind.
Their jars are quite heavy, and their obscure color inhibits light from entering into the product. 
Most of us tend to feel quite overwhelmed by all the skin care choices available. We want what's best for our skin. A great skincare regimen is more important than most people realize, and the harsh truth is that a lot of us neglect to do what's best for our skin. Kind of crazy considering skin is our largest organ. We, as extremely busy men and women, owe it to ourselves to take proper care of our skin. And I'm not only speaking about aesthetics — healthy skin protects your entire body.
The philosophy of Truffoire seems to me to be long-term and effective skincare, rather than covering up imperfections. Truffoire's comprehensive line tackles everything from wrinkles to dark spots to dry skin, and the volcanic line is my new favorite. Truffoire concentrates on ingredients that produce results – vitamins, minerals and antioxidants, to name a few. The volcanic line harnesses the power of plant extracts as well as powerful and necessary ingredients such as retinol. 
Addressing the most pressing aging concerns, Truffoire's volcanic line has got me – hook, line and sinker. 
Overall, if I were to describe the Truffoire volcanic brand in one word it would be "superb." If I could add a second word, it would be "successful."

I am super excited about this product line, especially the hydration it provides to my skin. All three products apply effortlessly, uniformly, and absorbs well into the skin. Remaining hydrated for days is crucial to me and this line is remarkable.

Velvety, effective, hydrating, harmonizing – words that come to mind with Truffoire and the products I tested.

The bottom line…
This brand is worth every penny. Highly recommended.