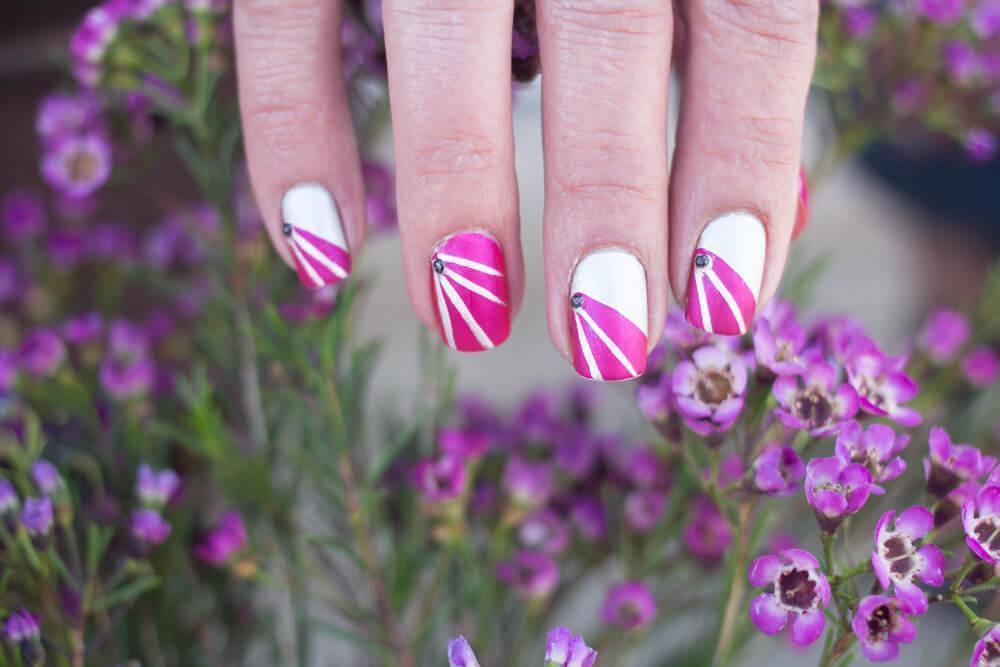 It's not uncommon for us to take inspiration from celebrities when it comes to the choices we make. From the clothes we wear to the food we eat, and now, the nail designs we choose, we enjoy following the same trends.
While these stars have professionals to turn their nails into a work of art, you can do it yourself too! If you're thinking of heading to a nail salon or working on them on your own, here are some styles that celebrities love. You don't have to be well-known to sport these looks.
Dripping in Paint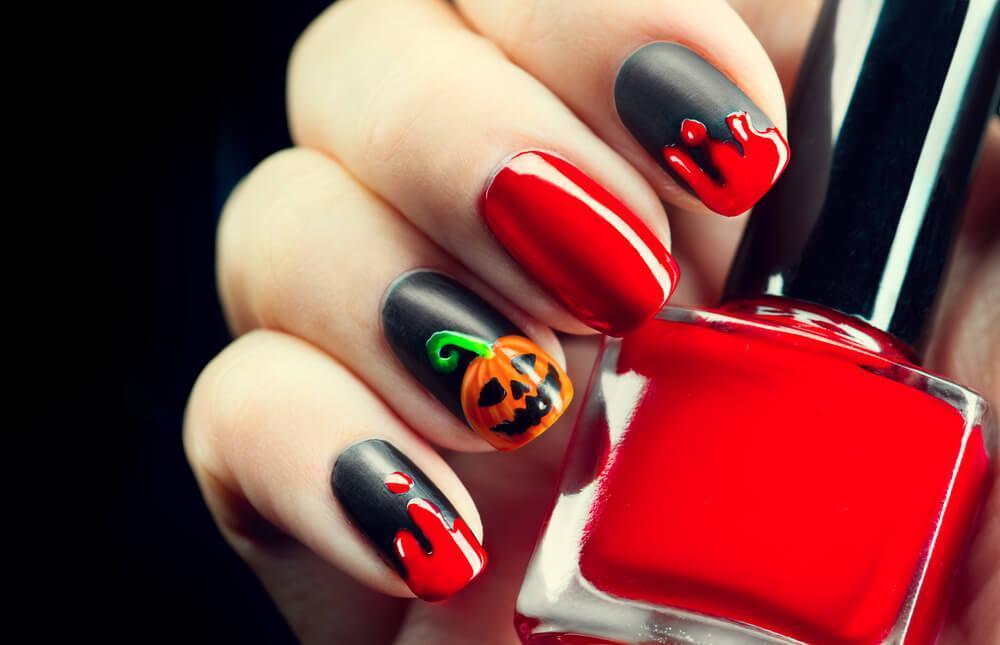 One trend we've been seeing many celebrities following is the dripping paint look.
What do we mean by that?
These nails look like nail polish or paint is dripping from the edges down to the nail bed. Trust us; they look prettier than they sound.
One star to sport this style is Kylie Jenner. This choice is no surprise as they perfectly match her cosmetics line, which often uses similar imagery. The only difference is that it's dripping lipstick on a full pair of lips.
The famous Kardashian-Jenner sister recently reignited this trend when she posted a photo of her freshly-done nails on Instagram. On top of a pastel-pink base, she chose a neon pink color to drip down from her tips.
Aside from a casual day, you can use this nail art during Halloween as well!
Another celebrity to favor the look was singer and rapper Lizzo. For the spooky holiday, she tapped nail artist Eri Ishizu for a "bloody" version. Starting with a pale pink base, Ishizu then used blood red polish to ooze from the tips. She added in little hearts to top the look off and make it cuter.
Shimmering Glitter Nails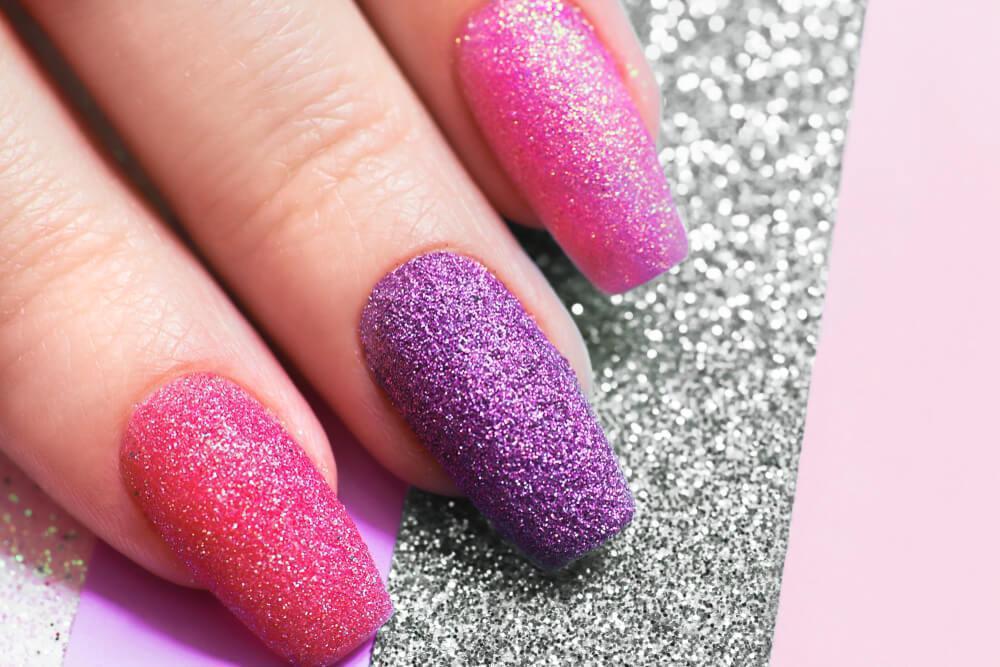 From makeup to bags to accessories, will we ever get sick of anything with glitter? These tiny bits of shimmering light on your fingertips are sure to get you praise.
Which celebs love this trend?
One of them is the Golden Globe Award winner, Awkwafina. For the Met Gala in 2019, she had gorgeous gold glitter nails. The look is simple in mind but striking in person.
Singer and actress Selena Gomez is another fan. Celebrity manicurist Tom Bachik created a glittery look for her music video, "Rare." He crafted a more subtle design, using a clear base. He then lined the tips in a soft white hue. Lastly, he covered the nail in glitter and tiny strips of metallic that looked like confetti.
To change up the look, you can wear this trend with other styles! Some of the things you can do are the following:
Pair glitter nails with matte polishes. Have some fingers have shiny tips while others have a solid color to balance out the look
Incorporate it as a design or accent. For example, half the nail has regular polish, while the other half has glitter.
Create an ombre look where the glitter is concentrated at the tips, then fading out toward the nail bed.
Experiment with different colors of glitter polish on each nail.
Modern French Tip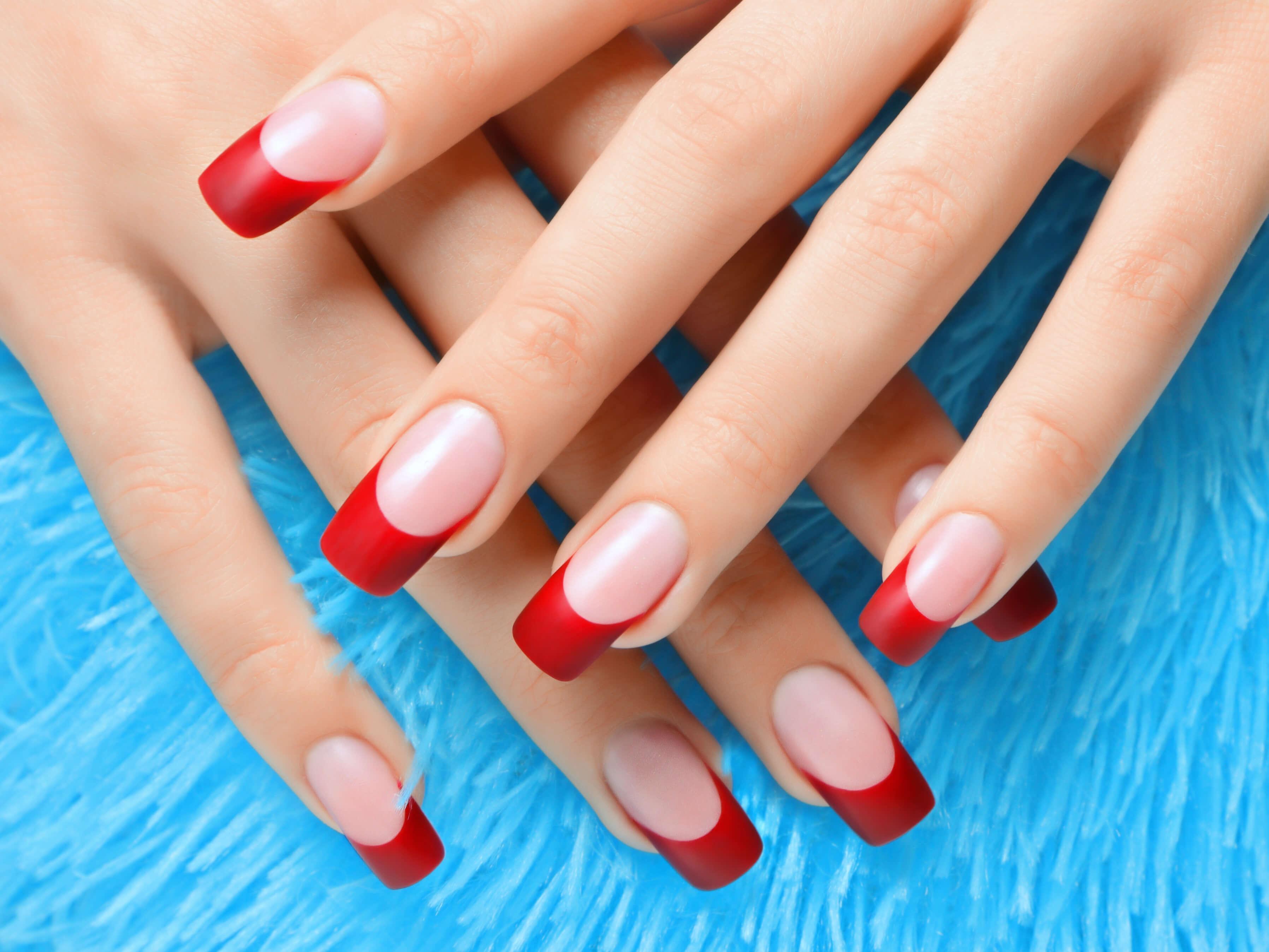 We can't deny how classy French manicures look.
But why not try an updated version?
First up, we have supermodel Bella Hadid. Perfect for the summer, she wore bright, colorful tips. In an Instagram post, she showed off her sunflower yellow-lined nails. Joining her were two other friends who wore the look in candy orange and pretty lilac.
Imagine how trendy that would look if your whole group got similar manicures. Squad goals!
Here's another variation on the timeless trend:
English actress and Victoria's Secret model Rosie Huntington-Whiteley dubbed the look the "reverse Frenchie." Instead of the tips being white, the part close to the nail bed has the emphasis instead. She sported the trend with clear polish as base and lined the bottom with pure white color.
Here are other ways you can wear the reverse french tip:
Coat the nail with a dark hue such as black, maroon, or plum. Next, line the bottom with gold or silver polish.
Use a neutral color such as beige or pale pink as base. Line the bottom with a brightly-colored glitter polish.
Instead of a clear base, choose a color you like. For the lining at the bottom, choose a similar but lighter shade or pastel version of the hue.
Pick a bright shade for the majority of the nail, then line the nail in white. Some call this look "border nails."
Bejeweled Digits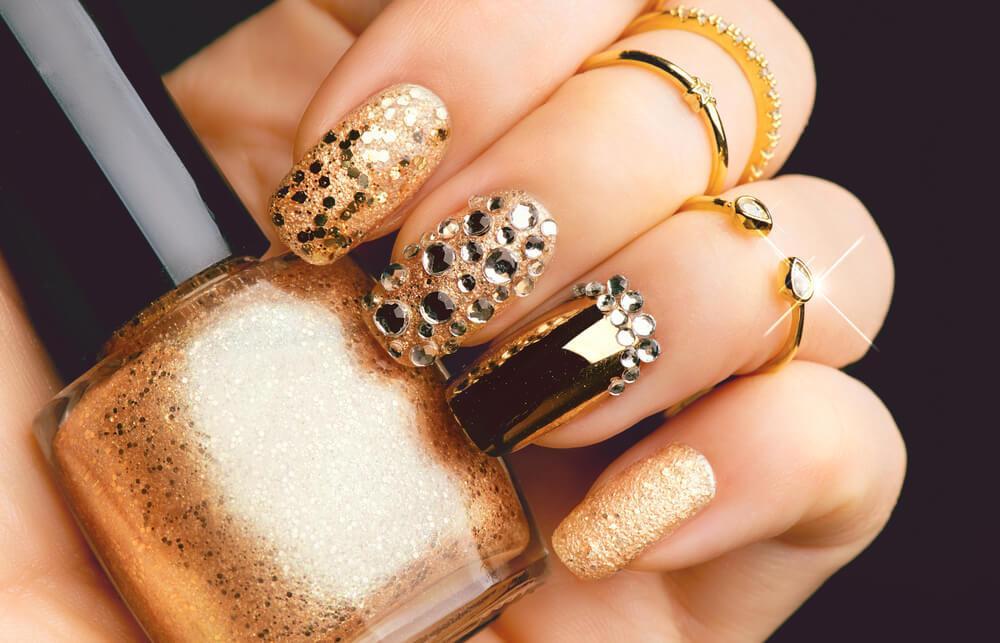 Let's take your nail art up a notch from glitter to rhinestones, crystals, and diamonds.
The bejeweled look was widely popular during the 2019 Met Gala. The extravagance of the design fits right in with that year's "Camp" theme.
One star in attendance was actress Laura Harrier. Nail artist Sarah Nguyen made use of black polish "Licorice" from Essie for the base. She then incorporated custom-made mixed metal hardware and Crystal pieces from Swarovski.
And who could forget Lizzo's nails during the 2019 American Music Awards? Although her tiny Valentino bag was the topic of conversation of many, you can't help but be distracted by her gorgeous nails!
Celebrity manicurist Eri Ishizu designed the look, starting with a shiny base by using "Glitter To My Heart" from OPI. She then filled the nail with Swarovski crystals, which looked like bubbles made out of diamonds.
If you find yourself wanting a more low-key look, turn to Netflix star Lana Condor. At the 2019 Met Gala, she sported soft pale pink nails. Tom Bachik then enhanced the look by adding in a small rhinestone to the tips of the nails.
It just shows that even the smallest details can change the whole look!
Graphic Art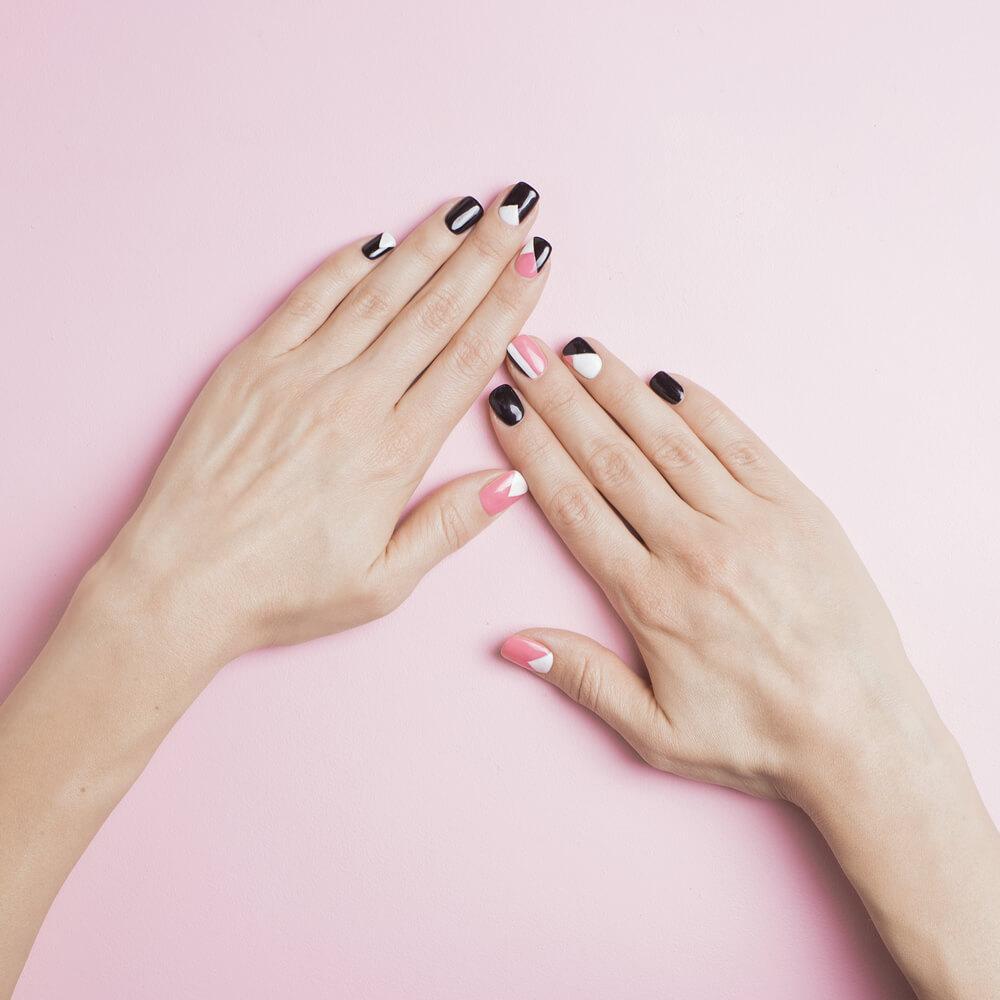 With all the comic book superheroes coming to the big screen nowadays, why not bring them to your nails?
Comic books and graphic arts, in general, are making their way to the beauty and fashion scene, too—yup, via nails!
This look's main features are geometric designs, line art, and solid colors.
For Comic-Con, starlet Hailee Steinfeld sported comic book-inspired nails. Very appropriate for the occasion. Her nails were full of bright colors, Ben-Day dots, and cartoon eyes. You're sure to earn brownie points from nerds, geeks, and enthusiasts.
These intricate designs may be difficult for beginners. Thankfully, you can easily achieve these looks through nail deals, wraps, and stickers.
To use them:
Start with a base polish on your nail. This color can serve as the background if the decal doesn't cover the whole nail.
Take the sticker or wrap off the sheet.
Cut the design if needed. These stick-on designs usually come in a standard size, but since everyone's nails are different, you may need to trim them to fit you better.
Place the decal onto your nail.
Apply other details, colors, or stickers to your liking.
Finish it off with a topcoat.
Captivating Chrome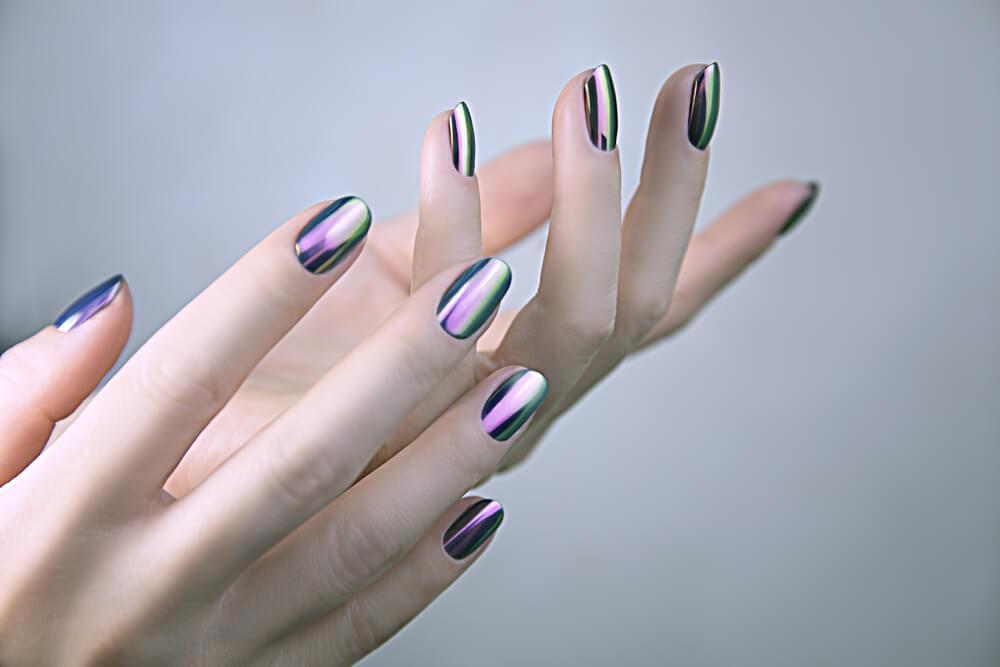 Mirror, mirror on the… nail?
The chrome trend makes your nails appear like a mirror or a very reflective surface.
This look doesn't exactly make use of nail polish. The chrome effect actually comes from a powder! Don't worry, it's not made out of real chrome—that would be illegal. Instead, its components include glass, pigment, and certain metals.
Style variants of the chrome look are:
Holographic/holo: Shiny with an iridescent glow
Mermaid: Reflective and usually in blue, green, and white colors
Metallic shine: Has a sheen but are not as reflective as chrome nails
For inspiration, check out Gigi Hadid's manicure at the 2016 Met Gala. The model's nail looked like a silver mirror or a brand new car. Her fingertips reflected the flashing lights of all the photographers she charmed that night.
To sport the look, you don't have to go to an expensive nail salon. Nail powder is available in the market for DIY nails! Here's what you have to do to follow the chrome trend:
Start with a base color. Reach for solid colors instead of opaque ones. Many manicurists suggest using black.
Next, take a sponge makeup applicator (like the ones you use for eyeshadow). Dip it into the powder. Right before the polish dries, rub the powder onto your nail. It's important that you do this step when the base is still slightly wet.
Apply a water-based topcoat to seal in the powder.
Extra Long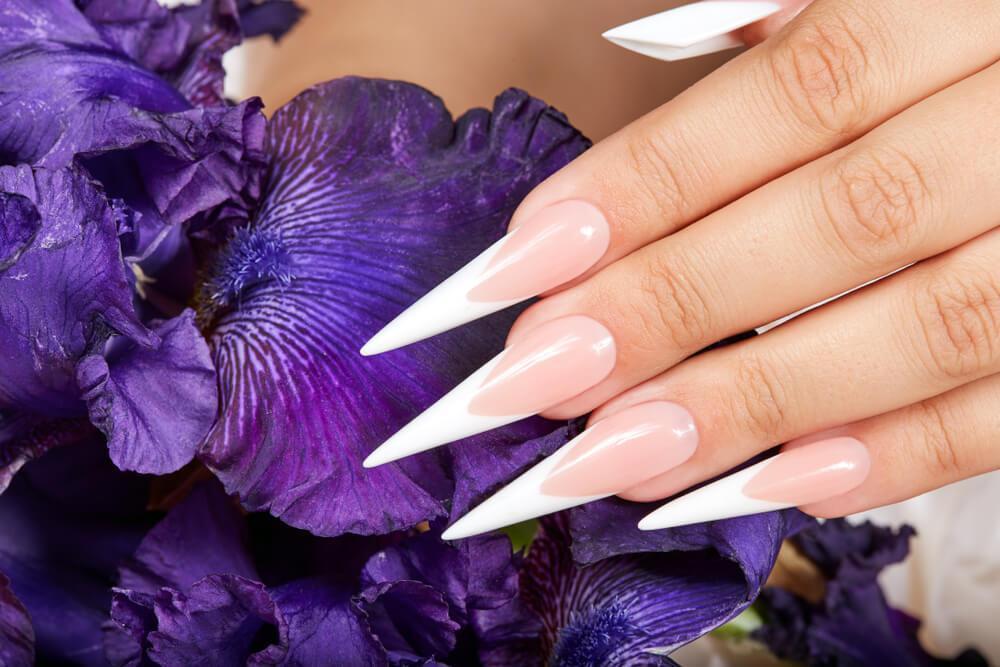 If you want to up your nail game and you're committed to it, why not try extra long nails?
Celebrities love the extra length to their fingertips. To them, the longer, the more dramatic the look.
Sure, they're not exactly practical. Typing, opening cans, and taking your contacts out will be a struggle. But it's nice to have fun and just live every life now and then.
This trend usually uses artificial nails in the following shapes:
Coffin: These nails look like their namesake. They slant out, tapering down to a narrower tip at the end. The end is a square shape.
Ballerina: Similar to coffin-shaped nails, these have rounded sides instead of a straight slant. They also have a square or straight tip. Kylie Jenner often sports this style.
Stiletto: Think of claws, but more fashionable. Stiletto nails come to a point at the end, much pointier than almond-shaped ones.
Rival rappers Cardi B and Nicki Minaj love to wear this look. Their long, pointed nails give them an edgy vibe, topped with dazzling crystals and glitter polish.
All-around star Lady Gaga also favors the stiletto style. Mother Monster has worn the look to award shows, music videos, photoshoots, and during her time on American Horror Story.
With the extra length, you can add so much more to your nails! More colors, more shapes, more lines—everything is extra!
Cloud Nails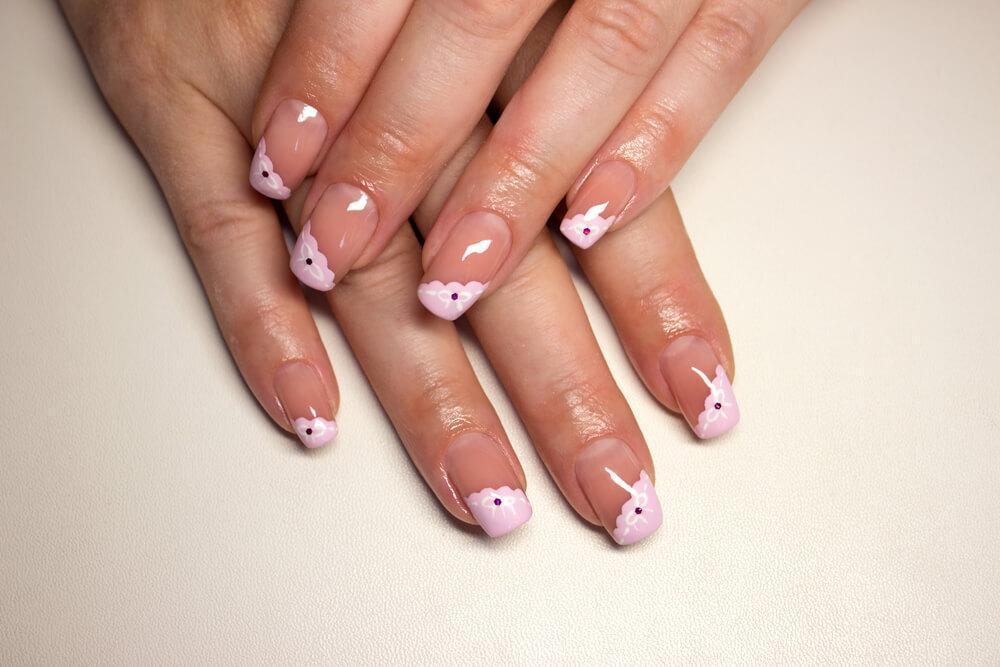 These nails will have you looking like you're floating on air. Head in the clouds? More like nails in the sky.
Cloud nails are just what they sound like—sky-inspired art at your fingertips.
For her Sweetener Tour, Ariana Grande showed off her cloud nails on Instagram. She credits nail artist Natalie Minerva for the beautiful design. Similar to a marble design, the nails mimic soft, fluffy, and airy clouds in the sky.
But they don't have to be plain white!
Other versions online have more colorful designs. Artists are topping off pink and purple bases with fluffy clouds of lighter hues. The result is an ethereal-looking design.
Some also like their clouds to be more defined. Cartoon-like designs are also a trend over a watercolor-colored base. You can add in glitter, raindrops, and thunderbolt decals to complement the look.
Milky Nails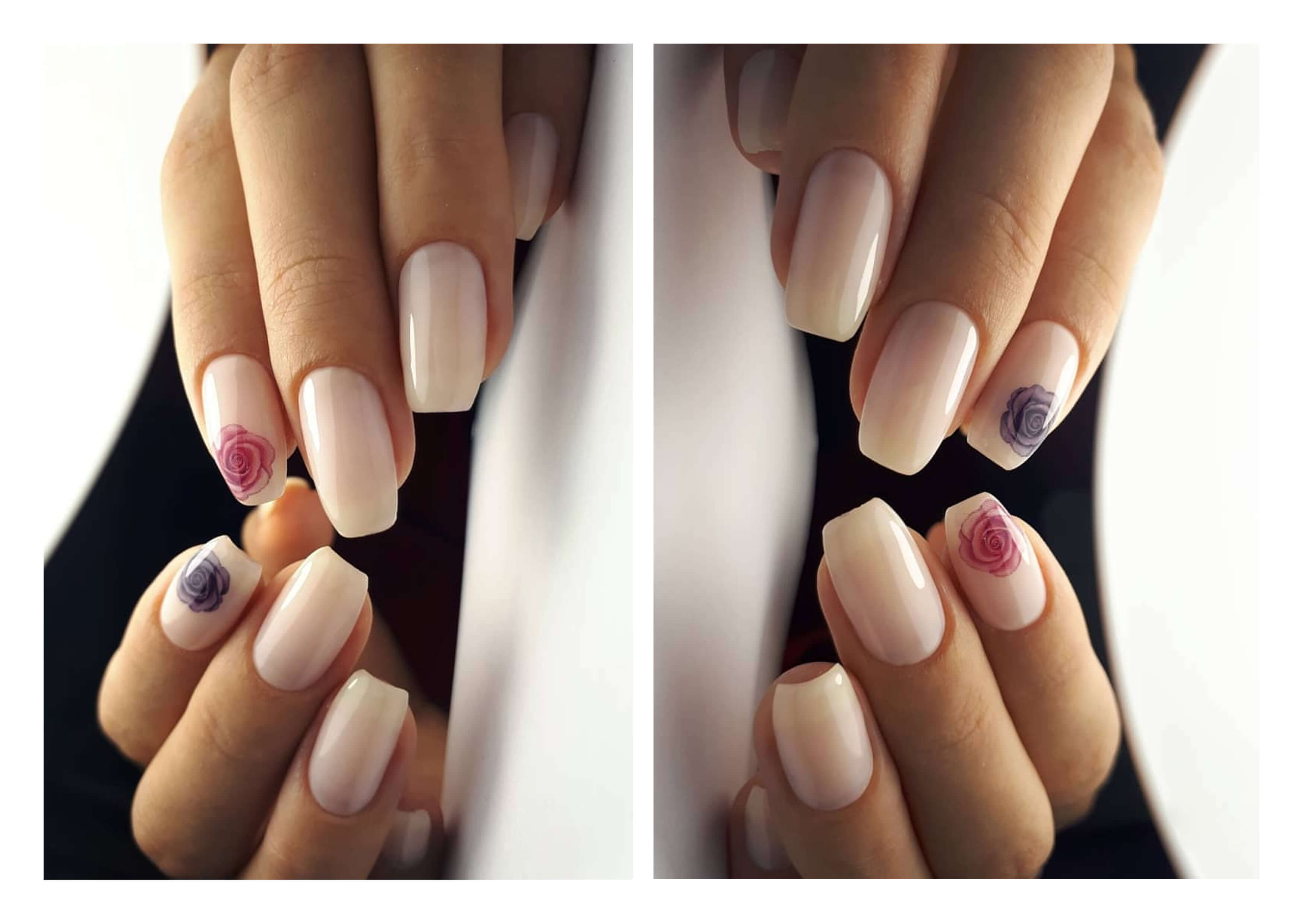 Got milk?
These celebrities do…
On their nails!
The latest trend to find its way to celebrity nails is the "milky manicure." They're not exactly a solid color, but they're not a completely opaque hue either. The color is exactly that—like the drink!
Lizzo appears to be a nail trendsetter as she shows up for the third time on this list. In an Instagram story, she flaunted her new manicure and jewelry to match.
The design is minimalist but also pretty enough to complement almost any look you choose.
Want to take it a notch higher? Nail artists have also been creating milk bath nails. In this style variation, they add in other "ingredients" to the milky design. These additions include flowers, leaves, and fruit decals. It looks like whatever you'd put in your bathtub when you relax.
Final Words and Reminders
Make sure you keep your nails healthy, especially when you often wear nail polish. As pretty as they are, they can wear down your nails.
Likewise, do your part and read up on safe, non-toxic brands. Learn what ingredients you'll want to avoid. Some of these components include formaldehyde, dibutyl phthalate, camphor, and others.
After you're sure that your digits are safe, you can work on having fun with the styles you choose. Feel free to mix and match the looks from the list. Switch them up by giving them your interpretation and share them with others! The nail art community is supportive of its members and embraces new enthusiasts each day.
With your creativity, you can inspire others as well.
You never know…
Your fave celeb could feel major nail envy from the looks you post online.