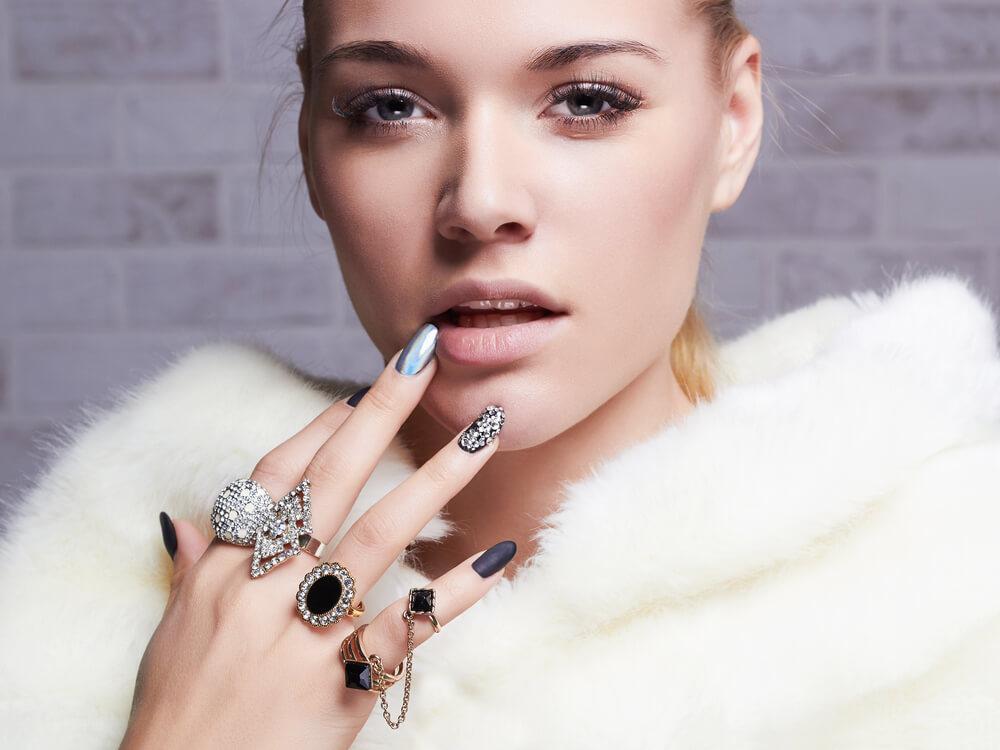 The nails are parts of your body that you can choose to accessorize.  It is your choice to go for demure feminine chic or head-turning sparkle. But, whatever you decide, you will never go wrong with the right amount of glitter. So, here is an inside scoop on glittery fashionista nails.
Nails in

 

Fashion and Pop Culture
The fashion community is progressively flourishing with the help of social media. Today, one of the most popular content in tweets, Facebook posts, snaps, and Youtube videos has to do with fashion, beauty, and wellness.
Makeup tutorials, beauty hacks, and short montage clips of beauty influencers continually blesses our Feeds. Especially for fashion enthusiasts, this kind of content is the perfect go-to chill break from everyday life stresses.
One of the trends we are going gaga about is, of course, nail art. Fashionista nails take us back into the '80s and '90s. Great pop stars like Dolly, Christina Aguilera, and Modanna shared their fair share of media attention because over the top nails in their performances, music videos, and red carpet appearances.
…and Mainstream Media
Younger generations of superstars are now sporting this trend. Reality stars, the Kardashians, famously known for their despicably lavish lifestyle and eye for fashion, are sporting different nail art painted on their long manicured nails.
Although nails are not exactly the reality family's primary product line endorsement, they sure invest in keeping up with beautiful long nails. Whether in their reality show or short snap chat clips, those long shiny bedazzled cuticles sure are eye-catching.
The Kardashians are not the only ones perpetuating the nail trend. Some other prominent figures like rival rappers Nicki Minaj, and Cardi B. For these two, elaborate long nails have been a fashion staple. From music videos to talk show interviews, the two pop stars turn heads with their blinding fingertip accessories.
https://www.instagram.com/p/BtG9g9UAemG/
Cardi B's ridiculously long nails have been part of the headlines ever since she debuted. Reportedly, Cardi wore 500 Swarovski crystals on her nails for a Superbowl Pepsi Commercial.  Her nails are becoming so iconic even her manicurist of five years; Jenny Bui is receiving a lot of recognition.
It is safe to say that nail art is taking the beauty world by storm. There are a lot of variants, from tasteful nudes to quirky and over the top bedazzled nails, attractive attention catching a set of nails is the new beauty craze.
Whether you are a nail art newbie or have decorated nails ever since, here are some inspirations for you your next look:
The Barbie Girl
Every girly millennial's dream is to live the Barbie life. Of course, because for most of us, we grew up in this kind of environment. So, why not incorporate your childhood to the nails?
https://www.instagram.com/p/BL1B2GaAhGT/
The design is Barbie pink in all aspects. It has combined femininity and glamour. The use of glittery nail polish also increased the level of glitz. In achieving this, there should be at least three layers of coating, and adhesives for the rhinestones.
Honestly, this particular design is quite hard to maintain and is a bit pricey in the nail salon. You may also have smudge problems along the way because of inevitably dumping your hands into solid surfaces.
Another option is to buy detachable nails; this is cheaper, more durable, and practical. However, make sure to purchase proper adhesives because, given the weight of the details, there is a high possibility of one or two nails falling off.
Magical and Mystical
The wizarding world of Harry Potter inspires the next set of designs. The featured nail art designs are both chic and eye-catching, especially with the help of a little glitter.
Channel your inner geek to your fabulous outer self through these designs:
https://www.instagram.com/p/BtqSJKNl2Gb/
The first design gives a fierce icy vibe. The use of transparent nail extensions are very creative; it emits a crystal illusion at matches perfectly with the logos and sigils that are painted on the nails.
https://www.instagram.com/p/BxO4BghlKhF/
In this next one, we see a punk pink princess theme of Harry Potter. Not all the nails are painted with glitter, but the non-uniform and minimalist design makes the overall look very elegant. The nail art is also the perfect go-to nail style because you do not have to worry over how smudging can ruin a small detail attached to your nails.
https://www.instagram.com/p/Bl6dCGrh-Ws/
In the third look, you may not figure out that it's Harry Potter-themed at first glance. Instead, the design is very galactic. But, if you look closely, you can see the sign of the Deathly Hollows and the windows of Hogwarts school.
The Force is Strong at your Fingertips
For us girly people but lowkey sci-fi and mystical nerds, here is another set of glittery nail designs that you will fawn over. The Star Wars franchise stole the hearts and souls of both the millennials and generation X. Furthermore, fandom is not limited to a small group of people. Girly girls, and boys and fashion enthusiasts also love Star Wars.
Here are some inspirations you can try:
https://www.instagram.com/p/BxCprvAlt1W/
The first design is very posh and elegant. You can never go wrong with the combination of white and pastel pink. Also, the overall look is so chic that it seems like a crossover between Barbie and Star Wars. Furthermore, as it is seen in the picture, the nails are almost hassle-free because the length of the nails is short.
https://www.instagram.com/p/BxCwL5xBTro/
The next design is less girly and more punk rock. It is also very minimalist, and it works with people with short nails because it makes the Stormtrooper and Lightsaber designs look adorable. Also, what made the nails look even better is the use of transparent glitter nail polish over the matte black. When that extra glittery polish coating is not applied, the overall look will look bland.
https://www.instagram.com/p/BxDU0iSAsC6/
The next design is sparkling in all aspects. The use of the glittery nail polish is very creative because the background looks like a star-filled galaxy. Yoda in the ring finger is not painted. The artist makes use of a sticker, which is better than painting on the nail. Because some glittery nail polish is a bit chunky because of the glitter, even if these are dry, the rough surface may potentially mess up another coating applied on top.
Abstracts of Nature
The next set of designs is perfect for people who would like to make a bigger statement with their nails and also better express themselves through the use of the surroundings as inspiration.
Here are the best ones yet:
https://www.instagram.com/p/Bx0RatAhSOe/
The first design is a combination of sunflowers and butterflies. The imagery is minimalist but elegant and feminine. The style is perfect during summer time to be paired with patterned flowery dresses and maybe with a straw hat.
https://www.instagram.com/p/Bx4qmgpJPM_/
With the shape of the nails, the next look is much more fierce. The design looks minimalist, but the base color is very striking. Considering the color, design, and how the nails are clipped, this look makes up for the perfect aunt nails.
https://www.instagram.com/p/Bx3RLuUHXC7/
This next design is also fierce yet deadlier because of the nails' sharp edges. Looking at the design, the first thing that comes to mind is an evil ice queen.  Although it is clear that the style is not practical for everyday life and,  not to mention a potential hazard. It is perfect for a special event or a costume party of some sorts.
https://www.instagram.com/p/Bx5V-k9A5ly/
The next look is a sparkling design that cleverly used sequins instead of expensive and chunky rhinestones. The pattern and the color combination is very Bollywood. The nail art is also not practical to be maintained for a longer look considering the detail and the length. This is much more suitable for special occasions.
The Magic Continues
The next set of designs is of the magical world of Disney.  Disney does not only extend its magic and go for dominating other film franchises, but apparently, it is taking over the beauty community as well.  From Haute couture to make-up, Disney themed items sell like hotcakes because it is sought after by many.
For nail designs, here are some inspirations that give you a glimpse of the magic kingdom:
https://www.instagram.com/p/BsxxowaA5Vf/
The first style is an adorable design of the Dalmatians. If you are a Disney kid and is also a dog lover, the film must be one of your favorites. In this nail art, the best thing about it is that, although there are various images, the overall look seems clean and neat.
The glittery part is not overbearing and does not appear too much over the top. The design is perfect for short nails because the shape somehow highlights how cute the pups are.
https://www.instagram.com/p/BwbbSqlArZG/
Mulan is one of the best Disney movies of all time. As little girls, many are inspired and empowered by this film when it came out in 1998. The nail art depicts China's cherry blossoms and of course, Mulan and Mushu.
The design is attractive and easy on the eyes, especially with the sparkling pink background. But again the length of the nails is not practical, but the size gives the space to accommodate all the details in the picture and to provide better imagery on the nail art.
https://www.instagram.com/p/BsyME7EgdBU/
Featured on the next nail art is Daisy the Duck. She is one of the sassiest and fabulous members of the Mickey Mouse Club House, so,  the nail design above gives her due justice. Yes, it may be over the top, but what better way to represent Daisy than a high dose of sparkle and glitter.
It's High Maintenance But Worth it
Although manicured long nails with an elaborate sparkling design will undoubtedly make you the center of attention, maintaining it is quite a hassle. But all good things come with a price.
So, here are some tips for caring for those french tips:
1. Fingernails and Cuticles should be clean and healthy.
Nail art is just like a traditional painting. How it looks often depends on the texture of the surface. In nail art, your fingernails are the canvas, so, if you want to make them look fresh, proper nail hygiene should be observed.
However, more than cleaning yourself from the outside, you have to make sure that your body receives the right nutrients. According to experts, the body needs enough vitamin E,  biotin, and omega 3.
2. Make sure that your hands are squeaky clean before applying products to your nails.
A clean surface makes it possible for nail polish to adhere. Water, dust, and oil-based products will intervene with nail polish formula.
Also, make sure to rinse your nails with water and towel dry. Clean nails will also help nail polish quickly dry and prevent smudging. This will save you a lot of time because usually, nail art requires a lot of nail polish layers.
3.  Be a wise shopper.
Quality nail polish products may usually be expensive but be mindful that in purchases, you often will get your money's worth. Some ingredients that you need to look out for are dibutyl, toluene, and formaldehyde. These chemicals are harmful to your health and can cause allergic reactions.
Quick dry nail polish is also a no-no because this contains a formula that causes nails to crack and break. Furthermore, although many nail products have the label "three-free" (do not contain harmful chemicals), it is always best to scan the product ingredients yourself.
4. Prime Girl!
Just like makeup, your nails need a good base to keep nail surface clean and moisturized; this is what we call base coat. There are many uses of the base coat. First, it protects your nails from stains. Second, it moisturizes the nails. Third, it makes your nail polish last longer. 
https://www.instagram.com/p/Bu1yw4xhI6P/
So, that concludes the inside scoop on beautiful glittery nail art inspiration and how to maintain your painted manicure. It is okay to go over the top and exaggerate with your nail design as long as you are comfortable and you can manage to maintain each cuticle because what good is an elaborate and expensive nail art if it looks filthy.
Remember, use your nails to express yourself, make it as one of the things that will give you confidence, and the world will be at your fingertips.