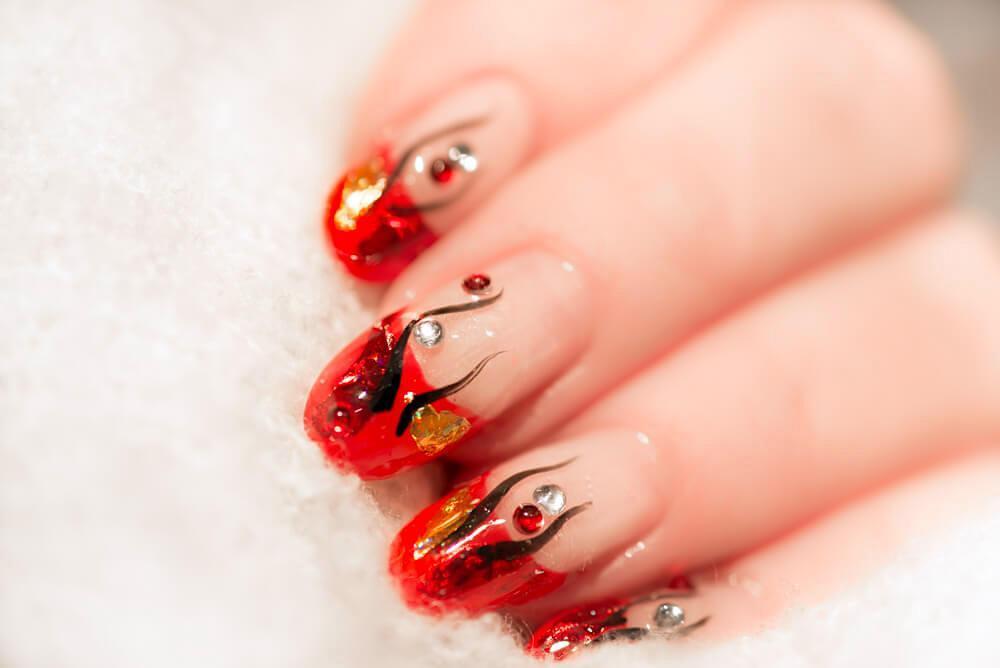 Nothing says fall like the colored leaves on trees, the air getting crisper and knowing that Halloween is just around the corner. 
So what are some of the most notable nail art pieces that have drawn inspiration from the spookiest night of the year? Take a look and see if you'll pick any of these to complement your Halloween outfit this year!
Black and White Halloween-Inspired Nail Art
On the creepiest night of the year, you really cannot go wrong with black and white. 
Black wigs, dark eye makeup, your costume straight out of Addams Family, and to top it all off, black and white nail art. 
What might be a favorite for goths for everyday wear will look right in place during Halloween. 
Black and white aren't just the colors of all things eerie and beyond the grave. They are everywhere on Halloween. 
Think about some of your favorite creepy movie characters – from Sweeney Todd to Wednesday Addams. Edward Scissorhands and Beetlejuice liked them too. 
When going for black and white, there is so much you can do with it. 
Starting out simple, plain black or white nails will look perfect as an accent to any costume. 
Take it a step further by adding a contrasting (black on white or white on black) spiderweb on one or more nails. 
With a fine brush paint the branches of a tree or create a bat – all will look great for Halloween-inspired nail art. 
If you are looking to go even further, you can recreate the shape of a skeleton for a truly eerie look, and Jack Skellington from A Nightmare Before Christmas is another Halloween character that will look fantastic on a black and white nail art design. 
Other Black and White Ideas for Nail Art
Contrasting stripes or dots

 

Black or white matte nail polish
Ombre color fade from black to white or vice versa
Adding letters in a contrasting color to spell out a word on nails
Add symbols associated with witchcraft in a contrasting color
Paint the nails white and add a black fingerprint on top of each nail
Blood Red Nail Color
If there is another color that fits the spooky Halloween vibe, it is red. While any shade of red will do the job, there is nothing that looks better in your makeup and on your nails than a deep burgundy or maroon red. 
Or let's just simply call it blood red. 
Whether you are dressing up as the undead or someone who has undergone a nasty death, you might have bloody elements in your costume already. 
Want to know how to take it to the next level? 
Add some splashes of red! 
From vampires, who love nothing more than a fresh sip of warm blood to the devil or Little Red Riding Hood – red is everywhere. 
And just like with black and white, there is so much you can do with red. 
For a stunning blood red nail art, you can either just go plain red, which will look fantastic and outstanding, or you can play around with other colors and design elements. 
Some colors that go really well with red are white, black, orange. Yes, basically any Halloween color. 
Especially if you have long nails, fake nails, or decide to go gel, ombre tones will be a definite showstopper for your Halloween-inspired nail art. You can mix two colors together or go even further than that and really make the colors pop by adding various shades of the same color. 
Go from black to red, white to red, or start with black at the base of your nail and go towards gradually lighter shades of red. 
Add a gel-like or gel-effect top coat to really make the colors pop. It will also add a glass-like shine and you can be sure to have showstopping manicure. 
Experiment by mixing together matt and glossy nail varnishes. 
Paint the whole nail in matte black nail varnish and with a glossy red color create blood-like droplets on top. 
Since spiderwebs are a signature Halloween symbol, you can add a black spider web on top of the red color. Same goes for any other eerie Halloween symbol like a bat, a spider, a skeleton, or simple dots or lines. 
If you like the idea of an ombre and one color changing into another, but think that working with plain colors is a little too simple, why not try and start off with a glittery nail polish? 
Red glitters on a nail varnish will again create that bloody red look that looks so well during the Halloween time. 
Clear Nail Art with Accents
It is a common misconception when it comes to nail art that you have to use colors. Not at all. 
Stunning nail art designs can equally be created using a clear top coat or a base coat and adding the nail art elements with a different color. 
This is another way how to create a look that goes well with Halloween.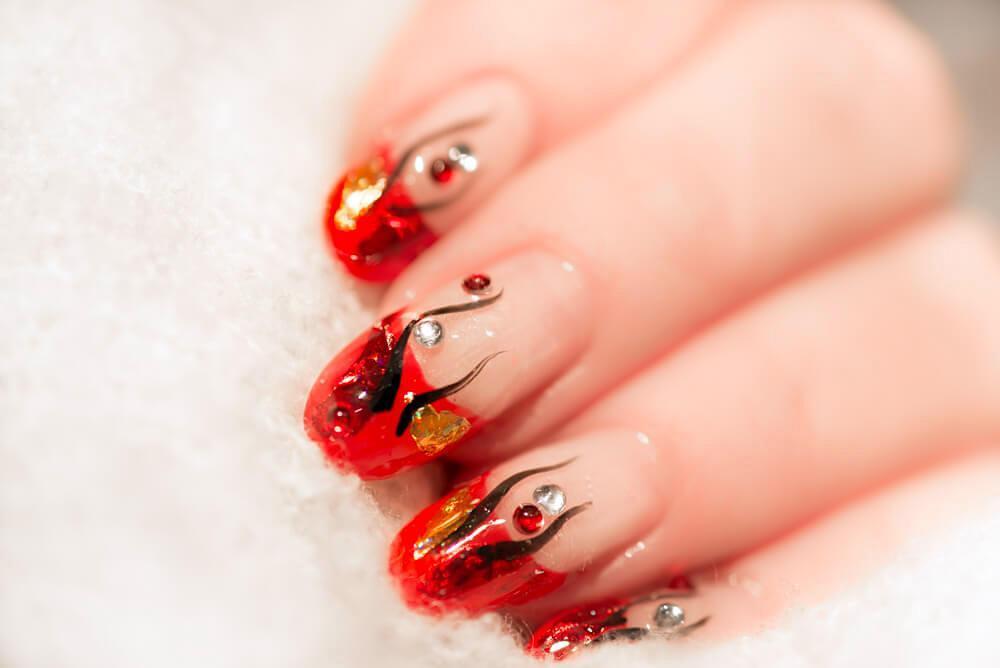 For example, if you have longer nails or for this occasion choose artificial nails, you can create beautiful Halloween elements like stitched nails, for example. 
All you need to do is draw a black line horizontally where the nail goes over your actual finger, and then by drawing on smaller vertical lines create a stitching look. What could be more perfect for a zombie costume, for example?
In a similar way, you can also add red accents to create a blood-like look, or by using black add spider webs, bats, tree branches and other typical Halloween accents. 
The last one is probably the most realistic one and it will really turn heads.
Paint the whole nail with a regular base coat or top coat, and when it has dried down, use a maroon red color to paint only around the cuticles. Do a fine line, darker towards your actual cuticles and slightly fade it out going towards the center of the nail. 
What this will do is created an almost sickening look, something straight out of an anatomy book. 
Halloween Textures
Having a textured nail polish during everyday life can get really impractical and uncomfortable, but Halloween is the time to go all out with textures.
First, and we already mentioned this before – matte! Matte nail colors are in and you might have seen them popping up every now and then.
Any Halloween color like black, white, red or orange in matte not only looks good on its own, but if you combine it with glossy elements or textures – it will really make these pop and stand out.
Now, let's look at some proper textures.
How do you feel about gritty textures? Or perhaps beads? Or something that looks like drops of liquid?    
There are so many things you can experiment with.
If you layer several coats of glittery nail polish, it will create a stunning gritty texture for your nails.
Why not add little sequins or pearl beads on top of the nail to really make the color pop?
And it's not just things like that – you can experiment with easy-to-find household items too. Like, for example, tin foil. Classic silver or gold and colored one from the arts and crafts section – tin foil will not only add unimaginable metallic shine to your nails, but it will also look great wrinkled up or crumbled into smaller pieces.
Experiment with Shapes
So far we have been talking about different colors, designs involving color, and textures. 
But who said you have to stick to traditional shapes? 
If you are considering using gel, acrylic, or artificial nails, now is the time to experiment with different shapes. 
One of the shapes that is a classic and looks scary and effective are pointy nails. And for Halloween, the pointier the better. The longer and pointier you go, the more they will resemble actual claw nails. Who could resist that? 
Another one, less often seen, are asymmetric nails. 
Who said that they all needed to be the same? 
Create each nail with a different angle and we guarantee, nobody else will be able to top that at a costume party. 
Metallic Inspiration
The same way we mentioned matte nails, metallic is another finish that you can play around with for your Halloween-inspired nail art design. 
While there might not be a lot of design involved in these, by choosing a dark metallic nail color you can really make your nails pop in an unusual way. 
Black, dark blue, silver, or red metallics are classic goth colors.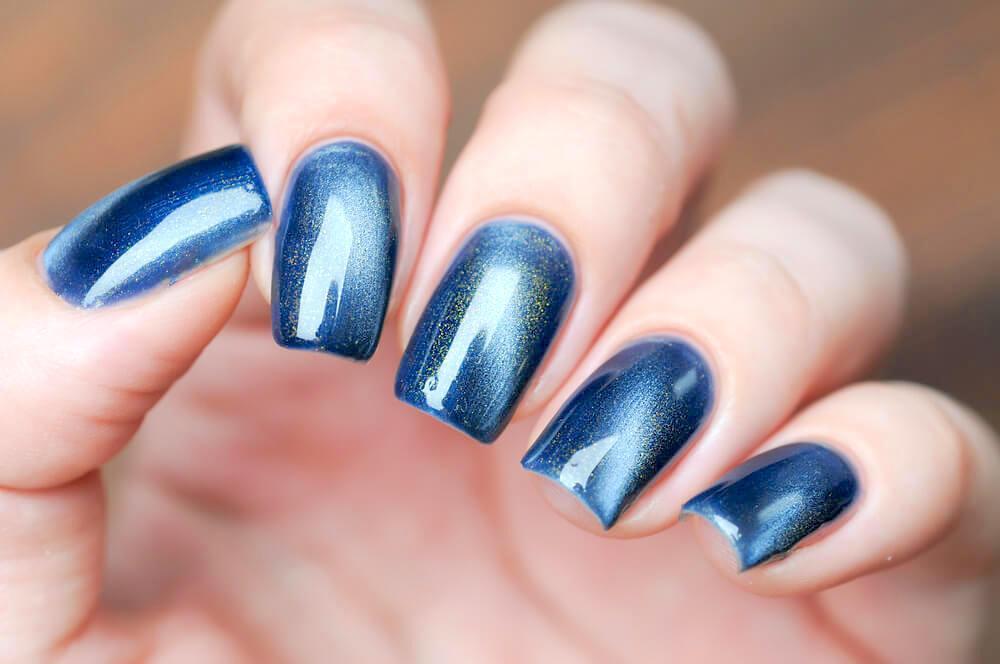 Choose an emerald green metallic color and mix it with a bit of black to create a nail look that will look perfect combined with a witch costume (we're thinking the Wicked Witch of the West) or if you are going as Maleficent. 
What Halloween Elements to Incorporate in Your Nail Art?
In the end, whatever style, texture, or color you choose, you can make sure to finish off the look in a true Halloween style with one of these traditional elements. 
Don't be afraid to experiment with colors! 
Animals like bats, crows, owls, black cats
Spiders and spiderwebs
Skeletons and Jack Skellington
Witches
Pumpkins and jack-o'-lantern
Spooky trees and tree branches
Stitches
Blood elements
Teeth
Dots and stripes
Moon and stars
Butterfingers
Feathers
Eyes
Bones
What Tools Do You Need for Creating Halloween-Inspired Nail Art?
The easiest way to get Halloween-inspired nail art might be with the help of a professional. 
However, if you are up for trying something new, with the right tools, you can create amazing nail art at home. 
But what will you need?
Nail polish correcting pen: when you create complex nail art pieces, you won't have time and the opportunity to really try and manage cotton pads and nail polish remover. Nail polish correcting pens are your best friends, when trying to correct mistakes as they are precise and easy to use.

 
Striping tape: sometimes, you need a little bit of guidance to create beautiful and precise nail art. Striping tape is the answer here. You can use it to segment parts of your nails, or keep it on after applying your nail varnish as an extra accent.
Transfer foils: use these to create foil-like and metallic accents.
Dotter tool: a dotter tool is the easiest way to create small, fine dots on your nails.
LED lamp: if you are working with gel nail polish, you will need a LED lamp to seal the varnish.