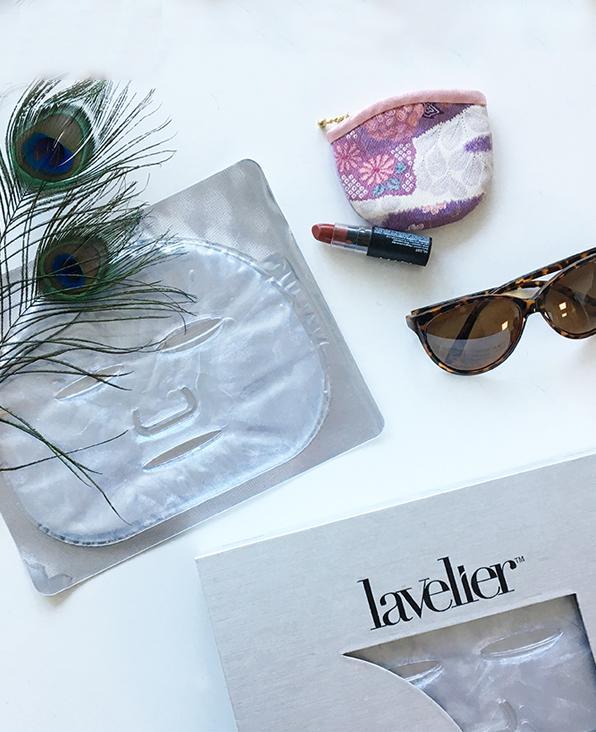 Hey Lavelier!
My mom and I have a really close relationship, almost like sisters.  We talk every single day about anything and everything, and I really trust her opinions – especially with beauty and skin care products. A few weeks ago, she bought the products from your "Coral Luminous" line and she hasn't stopped raving about these! She was so happy with the results that she went online and bought some for me, and even had them shipped to my house as a surprise. And let me tell you … I was surprised!
Where do I even begin with these gorgeous bottles? You guys definitely get an A+ for packaging and design! OK ok ok … So, my mom sent me the entire line of Coral Luminous, which included: Divine Day Defense SPF 30, the Skin Clair Repair and the Coral Luminous Masque.
The mask was the coolest looking thing I've ever put on my face! It was so easy to apply and smelled so fresh and clean. I followed the instructions on the box and took the mask off after 15 minutes. It was just as easy to apply the mask as it was to take it off. After I rubbed the extra serum into my skin, I just stood in the mirror staring at my super smooth skin!
I tackled some pesky dark spots on my neck and face with the Skin Clair Repair and have already noticed differences in the coloration. My complexion looks and feels brighter, and the spots are reducing. I've been looking for a product for a long time to do the kind of work that Skin Clair Repair has done in a few weeks.
And that Divine Day Defense … what is that? It's so awesome! I have a few smile lines and wrinkles near my eyes that drive me absolutely mad and this product is possibly my favorite in the entire line! I can't believe how well it works in such a little amount of time, but I'm very glad it does!
I think one of the coolest things about Coral Luminous is that they are natural products and I'm not putting anything potentially harmful on my face. I spent years ignoring my mom's advice against using cheap alternatives full of chemicals, and Coral Luminous has really improved my skin game.
They do say that mom always knows best, right? Thanks again Lavelier!