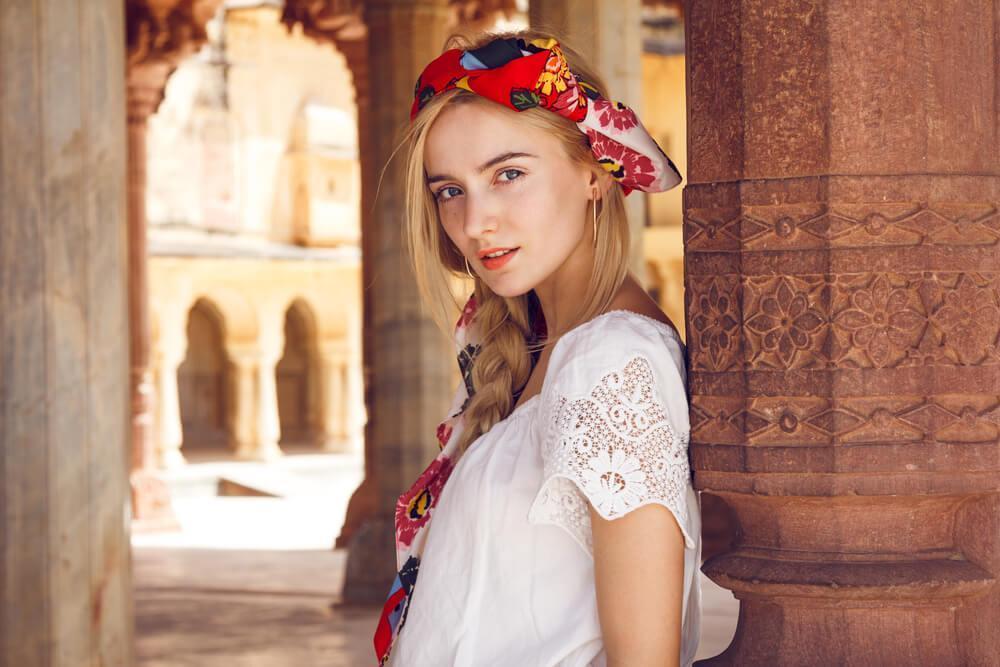 Statement-making hair accessories are all the rave nowadays.
You've seen the fashion world stage its runway renaissance and the influencers rock it in their day to day lives. You've seen fashionable girls revisit the trend and channel their inner Blair Waldorf or Serena van der Woodsen.
Well, it comes as no surprise. When it comes to styling one's hair, the tendency is to get salon help to look cute. But thanks to headbands and scarves, you can pretty much achieve it all on your own!
Let's start with headbands…
Padded Leather Headband
https://www.instagram.com/p/Buhl-P1AU5j/
Yes, yes, yes! Take it from Olivia Culpo who definitely who knows how to work her hair accessory.
It may be all you need if you're up for a rocker or edgy look on a special occasion.
Ditch the usual sparkly hair clips because the studded and padded leather headband is here to stay! These headbands are a complete upgrade from simple leather headbands. It's way neater, gives more volume and attracts more attention too. The dramatic height and studded style make for a wow entrance!
The key to perfecting the polished look:
Don't style nor part your hair all that much. Just give it one go using a hair straightener.

Give your hair a glossy finish so that it doesn't get frizzy right away.

Get the perfect padded leather headband of choice. (There are many different styles nowadays. It may have studs, gems, simple gold lines, etc. The key is to find your style.)
Now you're all good to go!
Bow Headband
https://www.instagram.com/p/BbtyZk4lQav/
If you are looking for something Queen Bee Blair Waldorf-approved, then you should immediately get a bow headband! Reserved for the sweetest and playful moments, this is sure to keep your charm level at a hundred percent.
Some tips in using a bow headband:
You can keep it plain by letting your hair down, or tied up in a neat ponytail.

If sweet and charming is your kind of mood, curl your hair (beach waves) before wearing the bow headband.

If you're going someplace formal, be sure to put in extra efforts to style your hair. Do a flower braid, double-knotted pony, triple topsy tail, or even a full intricate braid to accentuate the headband more.
Intricate Headband
https://www.instagram.com/p/BtymcmqBbmy/
Some events require a piece that's a little more intricate and phenomenal to stand out. Case in point: this beautiful, sparkling headband.
You can always get your hands on this if you're attending a wedding or an awards night. It will complement your classy and fabulous outfit, without it being too much.
Hairstyles that will look good in this headband
Big, wavy curls (let down hair)

Classic low chignon

Romantic low ponytail

Sweeping low bun
Colored Velvet Alice Band
https://www.instagram.com/p/BuqpNE7ngsG/
Nothing says preppy like a Clueless' Cher Horowitz-inspired style.
One look and you already know it gives off a diligent and good girl vibe to those wearing it. The colored velvet headband is a simple accessory sure to amplify your appearance no matter the day.
If you're thinking about what you should get, here are a few tips:
A thin headband seems more classic, while a thicker one would make your look more '90s.

Wearing the headband quite far back on your head will give you a softer look.

Light colored bands (pink, yellow, white, cream) give a delicate touch and can help bring out your femininity.

Dark colored bands (black, purple, blue) have a striking, regal sway.
Thick Elastic Headband
https://www.instagram.com/p/Bf1PWRyhNGp/
Athletes have been using the elastic headbands for as long as one can remember. It helps with the active lifestyle and activities they typically do.
In fashion, however, these sporty hair accessories may sometimes be just for appearance. Putting a spin and embracing the sporty style in a casual get-up is now a female staple.
Here are different ways to style your hair with a thick elastic headband:
PRACTICAL AND SPORTY –

 

Put your hair up and tie a high ponytail for a great go-to look before wearing the headband. It will help keep the sweat off the back of your neck while making sure you look practical and sporty.
60'S SLICK –

 

Brush your hair and straighten it up. Next, wear the elastic headband and keep the front section slick, and the back portion volumized. This "beehive" look will make the hairstyle less sporty, but more retro and 60's slick!
MESSY CASUAL –

 

Comb your hair until it's soft. Then, put on the headband with the back part of it resting on the middle portion of the back of your head. Carefully gather a small section of hair at the top of your head so you can make a poof. Tease it lightly with a thin-toothed long tail comb (it doesn't have to be a big poof). Arrange and tease as to how you prefer it. Now, that's a different messy casual spin to the usual headband!
Bejeweled Headband
https://www.instagram.com/p/BZrfYn-gTcF/
Sure, classic bands are still a favorite, but these days, it's all about jewels for the lovely edge! Women owe it to the fashion world for bringing back what was a simple childhood favorite accessory!
If you want to doll up for a special occasion, you can easily use a bejeweled headband to complete your look! It's even more perfect if you pair it with a solid color or classic print outfit. It is eye-catching as it is, and it adds just the right amount of spice in your style.
It's best to go for something young and sassy since you already have the stones in the headband.
How to do it?
Curl the bottom section of your hair for a fresh look and put on the headband.

Separate a small portion from the front left or right side of your hair for an added touch.
Voila!
Tiara Headband
https://www.instagram.com/p/BWkc9nslKvz/
Sometimes, all you need is a crown to make you feel like a queen.
A tiara headband is perfect for when you feel like getting all fancy. You can tie your hair in a bun (easy way to look regal) and put on the head-turning accessory! It will look best if you are wearing a classic cut dress or maybe even a couture one.
Now that we've covered these amazing headband looks, what about amping it up with a feminine scarf or two? (Note: 'Feminine' is optional!)
Low Bun With A Scarf
https://www.instagram.com/p/BtliarXB_2j/
It doesn't matter if you're out for a summer getaway, or if you want to stroll around the neighborhood. The classic low bun hairstyle which is perfect to style with a trusty scarf is splendid for both.
How to do it:
Brush your hair back and tie it in a simple low bun using an elastic band. (Don't make it look too perfect to make it more natural)

Pick out a scarf and roll it into a long band.

Find the center of the scarf and keep it underneath the base of the bun. Wrap it around by lifting the ends of the scarf and switching them twice to the opposite sides.

Tie a slightly loose knot at the top
It looks completely stunning! The best thing is that preparing it won't take a lot of your time.
Simple Headscarf
https://www.instagram.com/p/BTA78EnlNEr/
Rock those beautiful curls with the help of a colored or patterned scarf! Here's something we all like, huh?
Even Bali Barret, art director of Hermès' silks, can't get enough of the headscarf! She describes the piece as something feminine, textural, and convenient for mixing and matching. It goes with any outfit style, and you can be fun and creative with it!
How to do it:
Curl your hair to a beachy wave style for a fresh look.

Prepare the scarf of choice.

Wrap the scarf from the nape of your neck up to the top of your head. Before looping the ends back around, tie two knots on top of each other. Tie the ends at your nape and make sure to tuck in the scarf so that it doesn't stick out.

Optional: Use salt spray to add texture to your hair.
While this may seem too complicated, this is the go-to hairstyle of many females nowadays.
Vintage Top Knot with a Scarf
https://www.instagram.com/p/Bur2EOWA7jj/
Not everyone has time to fix their hair, but that doesn't mean you can't look cute with a simple top knot. If you're the in-a-rush kind of girl, this one is definitely for you!
Achieve the look in three easy steps:
Put your hair up and roll in a messy bun.

Roll up the scarf to form a band.

Wrap the scarf by bringing the ends forward to the top of your head. Overlap the ends, twist, and make a loop with one end while folding the other and passing it through the loop. Pull the two ends to tie the knot. Hide the ends, or allow it to fall loose.
Top Scarf
https://www.instagram.com/p/BuTTAXJhLm4/
Channel your inner hippie. Bring back the 2000s favorite trend.
The top scarf is a chic way to style your hair and turn a lot of heads. It is an incredibly easy look you can pull off which is perfect for concerts, night outs, or even shopping! You only need a patterned scarf and safety pins, and you're good to go!
How to do it:
Choose a chic scarf and fold diagonally.

Hold it by the sides and place on your head with the pointed center hanging at the back of your head.

Tie the sides of the scarf in a knot. Add a second knot to make sure it doesn't come off.

Add two or more safety pins to secure the scarf on your head.
Don't worry. It'll look good on both straight and curly hair!
Simple Tied Scarf
https://www.instagram.com/p/Buoa3BzH7M7/
What's sophisticated, simple, and very fun to look at? Well, this style!
The simple tied scarf is a good trick to make your hair look longer while keeping it all away from your face. You can pull off this look if you want to look fashionable and a bit sophisticated. Many models also do this scarf trick, not to mention, it appears it many fashion magazines.
How to achieve this look:
Choose a printed scarf (animal, abstract, floral, polka dots, crepe de chine, etc.) to style your hair with.

Put up your hair and tie it with an elastic band.

Get one end of the scarf and tie it to your hair put up by the elastic band. (Hide the end)

Using your fingers, get the remainder of the scarf and tightly twist onto your hair, all the way down. Make sure to leave small portions of the hair seen. Once you reach the ends of your hair, tie the scarf by inserting it through the twisted scarf.
Rosie The Riveter Scarf
https://www.instagram.com/p/BuoUf4tlzcO/
Does this look familiar? Yes. It's because this is an iconic look that symbolizes American feminism. Rosie the Riveter was the star of the campaign which aimed to recruit female workers in factories and shipyards during World War 2.
Rosie may have inspired women empowerment for years, but frankly, it's not just that. She was also the symbol of a striking hairdo loved and adored by females all around the world.
Here's how you can pull off the Rosie the Riveter look with a red scarf:
Brush your hair and take a small section on the front. This small section will be your bangs, so pin it down first using a pin.

Curl the rest of your hair before tying it high up into a slightly messy bun. Use bobby pins to secure or arrange your hair. Use some hairspray.

Wrap the red scarf around your head and tie the ends in a simple knot at the top of your head. If it's too long, loop it around the head again just so the bow isn't too big.
Now that's an iconic way to keep the fly-aways from your hair!
No wonder a lot of women develop a particular fondness for headbands and scarves! These are such gorgeous hair accessories!
Now that you've seen all there is on how to style your hair with it, now you can ask yourself…
What's my style?