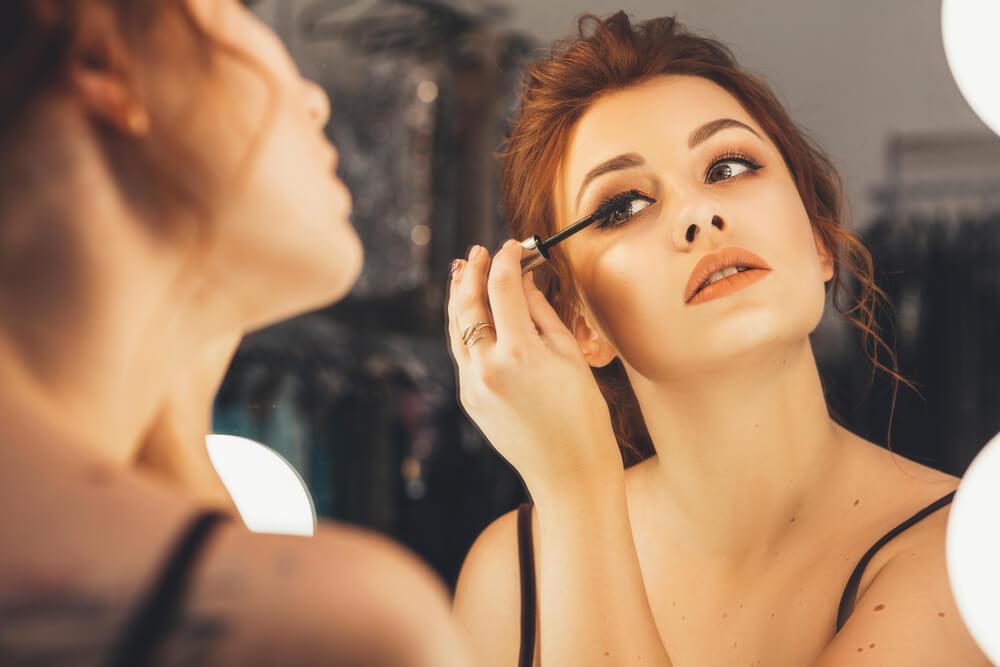 Whether it's your eyes, nose, cheekbones, or lips. We all have a favorite feature we want to accentuate when it comes to doing our makeup! You might have particularly long lashes you want to make the most of. Maybe, you have the cutest nose known to man. Or, perhaps your pout is giving Angelina a run for her money!
No matter which feature(s) you love the most and want to emphasize, we have the perfect makeup hacks for you. Read on to discover your newest, go-to tips and tricks…
Cheekbones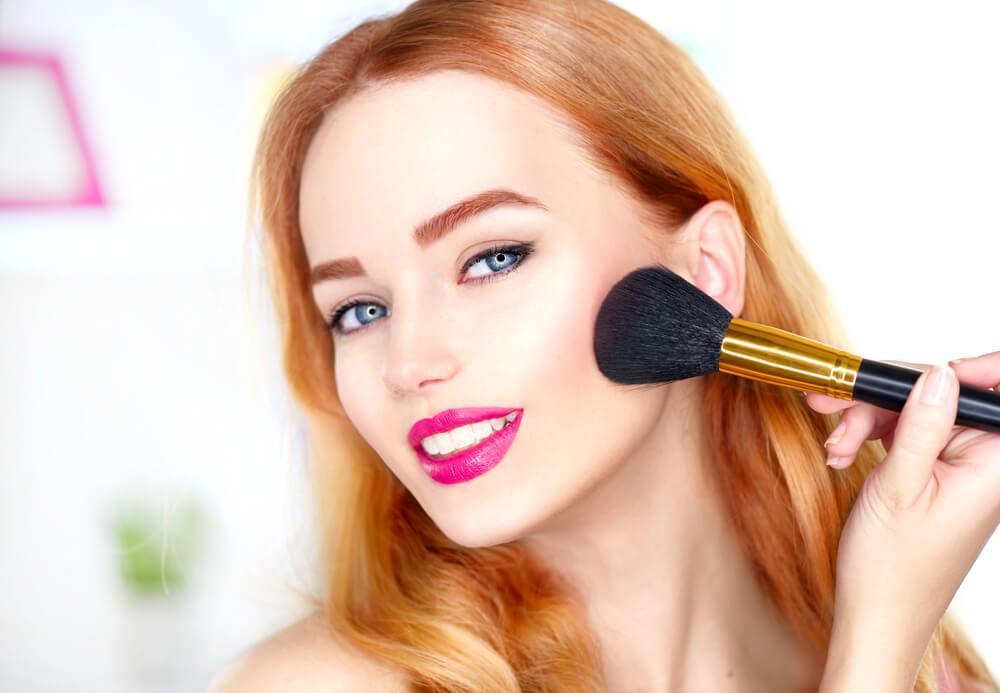 Some of us are blessed with bone structures to rival the gods, others of us, not so much. Whichever is true for you, accentuating your cheekbones can really make a difference to the overall appearance of your face. And, if it's the feature you adore most about yourself, you'll love these hacks that serve to make the absolute most of them!
Find Your Base
Before you begin contouring or highlighting, make sure you give yourself a good, even base to work on. If you go straight in to define your cheekbones on an uneven complexion you may find the results don't look quite right. Therefore, reach for your BB cream, CC cream, foundation, or whatever makes your skin feel its silky smoothest before you get to work.
Strike A Pose
No, we don't mean pouting and snapping a selfie! Although you'll want to practice that look for afterward…
For this trick, you're going to want to make your best fish face. Suck in those cheeks and you'll easily be able to see the definition of your cheekbones. Then, move your head around in the light to cast a shadow whilst looking in the mirror. This will help you see exactly where you're going to apply your contour, highlight, etc.
Use More Than One Shade
Once you've located your cheekbones, you can begin to contour. The best way to do this is not to contour not on the cheekbone itself, but slightly underneath. The seemingly hollowed part of your cheek when you pulled the fish face? That's where you're looking to apply. When you do this, be sure to mix up the shades of your contour. Few shades out there are the perfect match for anyone's skin tone.Therefore, using a couple combined is always a good way to get the right color depth for you. You're looking for around two shades darker than your natural skin tone to really see a difference. Then, blend it in!
Lighten Up
Want that contour to really pop?
We thought as much!
In this case, you'll want to employ an illuminator or highlighter. Stand by a natural light source, the window or a door, and see where the sunlight naturally hits your face. It's usually the high points of your cheeks, your nose, upper lip, and top of the forehead. Apply your highlight sparingly here to give a natural-looking finish that'll also show off your newly defined cheekbones! We adore the Clarins Glow 2 Go, dual-ended highlight stick for this!
Eyebrows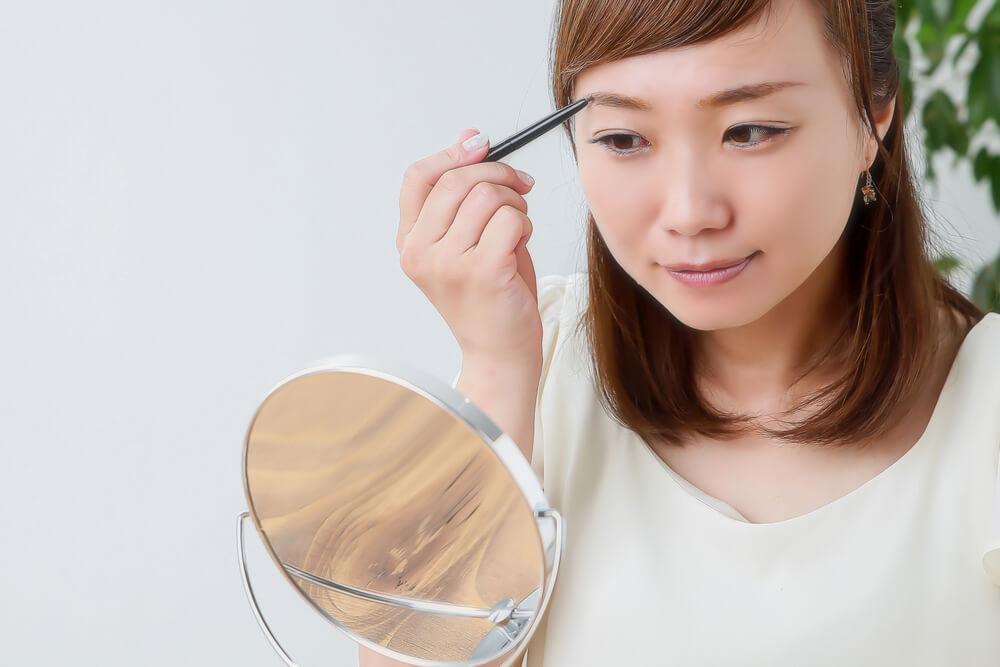 As if you hadn't heard, brows are in! And thankfully, it's been a fair few years now since we all fell back in love with them. Gone are the days of mindless plucking which left each brow for dead. A barely-there strip of sadness that couldn't frame an eye if it tried, (thank you early 2000's!). Fast forward to 2020. Now it only takes a quick scroll through any of your social media feeds to see that natural and bushy is seriously beautiful.
Do Nothing
Okay, so we don't exactly mean nothing, but, we do mean that tweezing your brows all the time can lead to nothing good! A few stray hairs here and there may need taking care of and that's totally fine. But apart from that, we recommend booking in with a professional. They can take care of shaping but, otherwise, leave your brows to do their thing naturally. Over plucking and waxing can ruin their shape forever and even stunt regrowth leaving you with patchy, uneven brows for good.
Invest In An Oil
Wondering how to care for your brows other than with makeup?
This one's for you!
Just as we do with the hair on our head, we need to look after and nourish the hairs that make up our brows. Some promise extra growth and thickness, whilst others, like the Intensely Nourishing Brow Oil by UMA, are designed more towards conditioning. Whichever you choose, extra moisture is always a plus when it comes to styling your eyebrows. Not to mention it'll make brittle hairs easier to manipulate and comb.
Brush Up
Brushing your brows before styling or adding makeup is essential. However, many of us simply follow the natural curve and brush them outwards towards the finest point. This will only serve to compact your brow hair and isn't making the most of the volume that's there. Instead, take your spoolie brush, and brush the hairs upwards. This will add volume and thickness! Then you can go back in and comb any strays over to the side for a more defined, streamlined shape.
Draw a Line Under It
Filling in your brows with makeup is a sure-fire way to make them look thicker and more even. To do this, we adore products like Brow Flick by Glossier. Products like this allow us to follow the natural, upward direction of the hairs with tiny strokes. They then look just like hair themselves.
This technique however can be a little tricky. When brows are sparse or over-plucked, finding the natural curve becomes harder and you may end up with a jagged bottom line. To eradicate this, grab your chosen brow product. Then, use the finest point to draw a (very) faint line along the bottom edge of your brow. This will replicate where missing hair once would have grown. This then allows you to flick upwards from your guideline for the perfect fill-in.
Reach For The Concealer
Now, this may seem counter-intuitive but, trust us, concealer will be your new best friend when it comes to brow definition! Once you've combed, oiled, and filled in your brows, reach for the concealer. Using a thin angled brush, apply a small amount in a straight line directly below. This should be almost touching, the bottom line of your brow. Blend this in and toward your eyelids. The contrast of light to dark will add definition and enhance your brows like you wouldn't believe!
Lips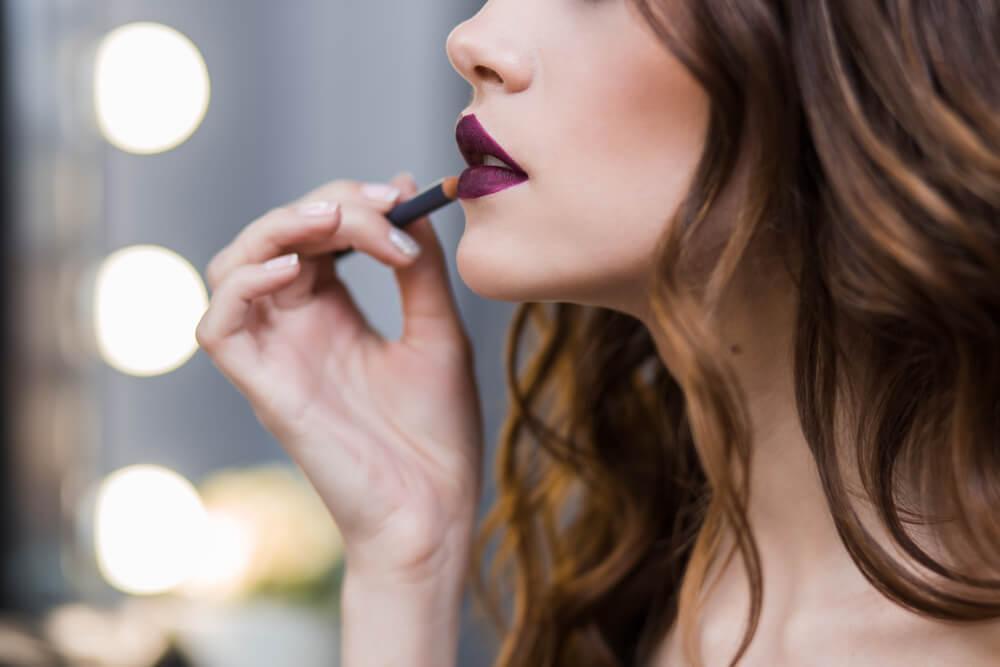 Love your lips but not sure where to start?
Read on for all the best lip tips!
Whether you're all in for a bold red lip or you simply want to highlight your pout with some gloss, these makeup hacks have you covered! From nights out to days in, we're about to go through all the best ways to draw attention and bring definition to your lips…
Conceal Your Lips
Seeing as we're trying to accentuate, it seems strange to conceal. But, you can trust us, adding a touch of concealer to your lips before applying your lip makeup will create the perfect base for those colors to shine on. Not to mention, it'll help it to stay put all day long!
X Marks The Spot
Once you begin your lip routine with a liner, make sure to enhance the shape of your natural cupids bow. This is achieved by drawing a small 'X' shape at the top of your upper lip. Fill in with your chosen color from here and you'll be shocked at how much more defined they are.
More Than One Lipstick
When applying your lipstick, one bold color can, of course, look amazing! However, if you really want to accentuate the shape and color of your lips, use two different lipstick shades.
Make sure they are the same color eg, both pink, both red. A red and a purple, for example, whilst an option isn't the look we're going for! Use your darker shade on the outer corners and the lighter one in the middle. Blend the two for a seamless transition and enjoy fuller-looking lips right away.
Eyes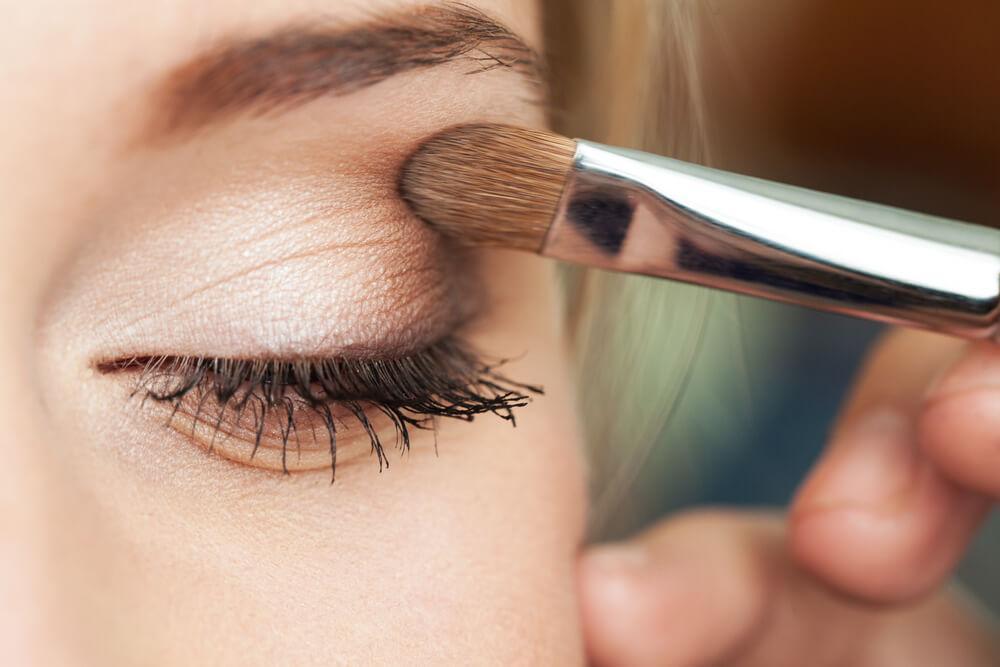 Whether they're large or small, light or dark, your eyes are beautiful and it's time to show them off! This is especially important if they're your favorite facial feature. After all, adding definition and accentuating the parts of yourself that you love is a great confidence booster and an all-round positive experience! So, get your mascaras, liners, and shadows at the ready, your eyes are about to shine…
Conceal Dark Circles
Dark circles are something that most of us experience throughout our lives. They're nothing to be concerned about however they can serve to stop our eyes from truly shining! Therefore, we recommend investing in a good quality concealer such as the Magic Away concealer by Charlotte Tilbury.
This will create a neutral base on which you can get to work on making the most of those beautiful eyes!
Extend Your Lash Line
Once your eyes are primed and ready, you're ready to apply your eyeliner. Now, you'll want to follow the natural lash line, of course. However, when you reach the end, don't stop there. Instead, extend your line past where your lashes end and finish off in an upward flick to replicate extra lashes. This will not only make your lashes appear thicker and longer, but it'll also open up your eyes and make them appear bigger than they actually are!
Elongate Your Lashes
Always make sure to curl your lashes before applying mascara. It's a step many of us skip however, it takes literally a few seconds and makes the world of difference. Once this is done, apply a lengthening mascara to your lashes making sure to start just above the lash line. This will pull the lashes upwards and prevent them from being weighed down at the base. Additionally, make sure to wiggle the brush as you go. This will separate and add definition to your eyes as it causes your lashes to fan out.
Define Your Lids
When it comes to applying your eyeshadow, a small amount of light brown at the crease works wonders for definition. However, to make your eyes appear bigger and wider, be sure to apply and blend the color just above the crease. This will trick the eye into thinking your peepers are bigger than they are!
Conceal By The Nose
Excited to discover our final eye makeup tip?
We thought so!
The shadows created by your nose, the ones right next to your tear ducts, can make your eyes look smaller. Make sure to add a small amount of concealer to open up this area. You can even add a small amount of highlight if you really want to make our eyes pop!
Nose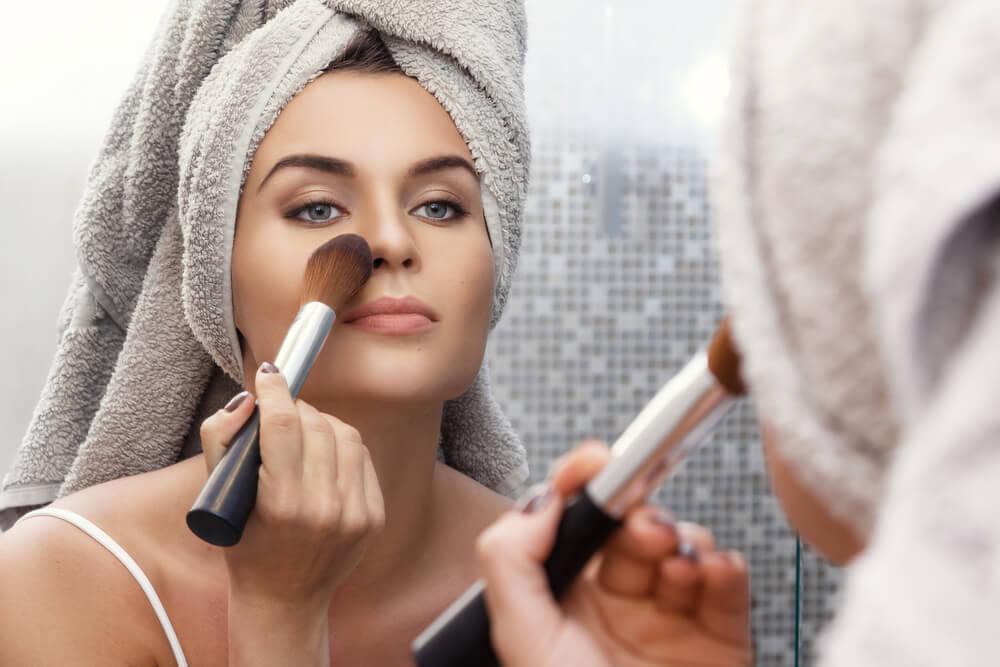 When we think of favorite facial features, many of us will opt for our eyes or lips. However, if you have the sweetest nose ever created, you love its unique shape, or you just want to give it some definition to frame your face better, you're in the right place.
Though we may not think it, our noses are responsible for a lot when it comes to the overall look and shape of our faces. So, getting the makeup look you want is essential for accentuating this key feature properly! Luckily, we're about to show you the most amazing makeup hacks that'll accentuate that gorgeous nose and complete any makeup look like a pro!
Grab a Fork
This is definitely one of our stranger hacks but it's super fun and actually quite helpful for beginners! Place a 4 pronged fork against your nose and use the gaps in-between to apply your contour. The outer spaces are for the darker powder, the middle section is where your lighter powder or highlight goes. This is of a course just a rough outline so be sure to blend, blend, blend, once you take the fork away!
Know Where to Highlight
How and where you add a highlight to your nose can make a huge difference to your look! So, much as you did with your cheekbones, you'll want to mimic where the light naturally hits your nose. Sweep a small amount of powder or liquid highlight onto this part of your nose and be sure to blend it in to avoid unnatural looking lines.