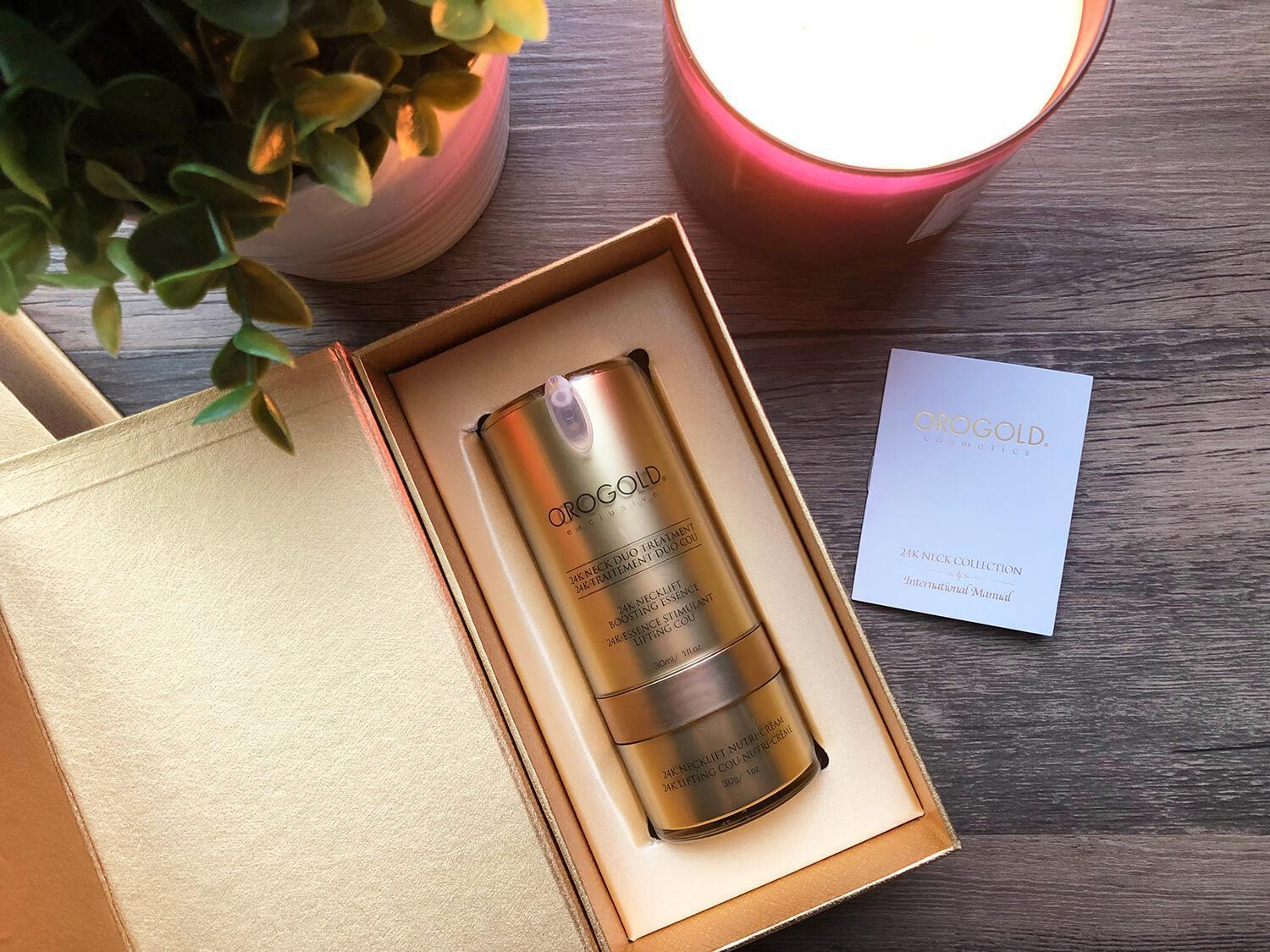 Remember the 2006 bestseller by Nora Ephron called "I Feel Bad About My Neck?" You could say that up until recently, that book was the story of my life. 
As far as aging goes, the neck is a pretty tough spot. I mean, Meryl Streep may be able to make her crow's feet look like a badge of honor,  but there's not much you can do with a saggy neck. You can cover it with turtlenecks and scarves and dispense with the area altogether, but that can create some problems when the weather gets hot, not to mention, you don't always want to look like you just stepped off the set of "That Seventies Show." 
Every woman who has woken up with a fallen neck can concur. A sagging neck makes you feel old and I didn't want to feel old and even worse, the neck area is really difficult to treat. According to New York necklifter extraordinaire, Michael Kane, "You've got sagging muscles and bulging fat. And that area of the skin gets crepe-ier faster than anywhere else in your body, because it's the thinnest, except your eyelids." 
I didn't know what was scarier, the thought of sagging muscles and bulging fat or the thought of a neck lift. Kane described the neck lift as a procedure that sews together and wraps sagging muscles crosswise to the jaw. Now, what could go wrong with that? I didn't want to find out.
The next resort was a cream or lotion. That sounded more my speed, but I was skeptical. Sure,  creams and lotions helped fill in fine lines, but this was my neck. Kane said it had saggy muscles and bulging fat. How could a cream or lotion assist with that? 
Plus, there was the discoloration. I guess the years in the sun were starting to take their take their toll. I had a mottled wattled neck. I was beginning to think I could write a great sequel to Nora's book. "I Feel Bad About My Mottled Wattled Neck." Thanks for the inspo, Nora.
I began to do some research and I found out that saggy skin around the neck was caused by the same thing all the other saggy skin around your body was caused by: loss of collagen and elastin. (Still not sure how the saggy muscles and bulging fat got in there, but it did make me a little more skeptical of that neck lifting procedure.) That sounded a little more hopeful to me. I knew there were creams and lotions that could restore collagen loss. The only problem was finding a product I could trust. 
That's when I thought of Orogold. Whenever I went to the Galleria, I always made it a point to stop in the Orogold store. Orogold is a skincare line that uses gold in its products (yes, that's real 24K, sister). Normally, I would be afraid to set foot in such a high-end place, but at Orogold it's all about spreading the love. 
I can't remember a time that I have left Orogold without feeling as if I had been freshly pampered. The Orogold benefactors are as generous with their products as they are with their beauty tips. Luckily, beauty tips were what  I was looking for, although, I have to admit, the thought of a few freebies provided a little more incentive. 
I got on the chair and my story spilled out. I told the girl the saga of my sagging – how I had tried turtlenecks, considered surgery and even made fish faces in the mirror daily. (Not one of the hobbies I like to include on my dating profile, but I was in a safe place.) I think I saw a sympathetic tears start to well up in her eye. Fortunately, she had not just one but two things to cure  my beauty blues.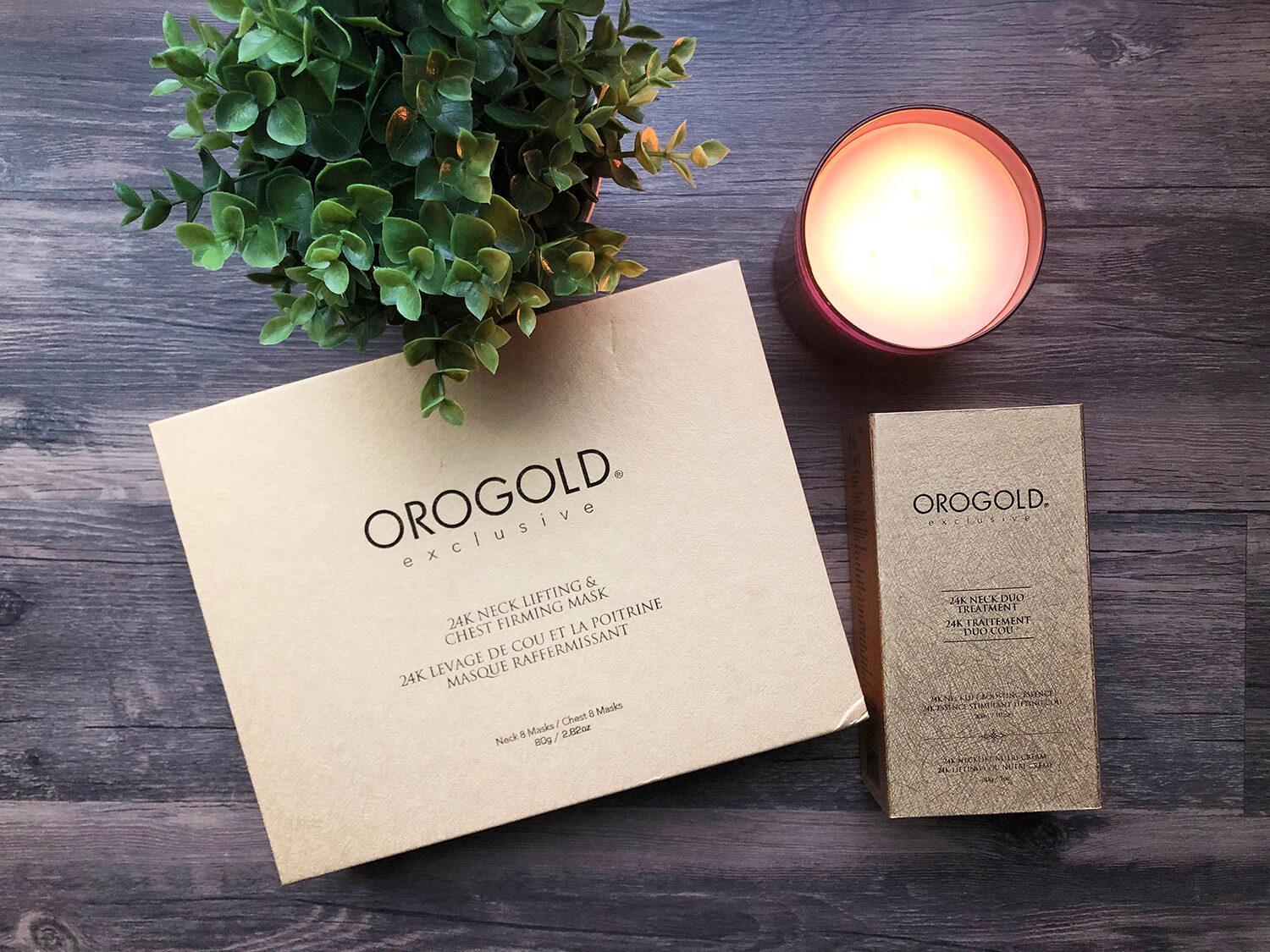 The first was the Orogold 24K Neck Duo Treatment. The second was the 24K Necklifting and Chest Firming Mask.
The 24K Neck Duo Treatment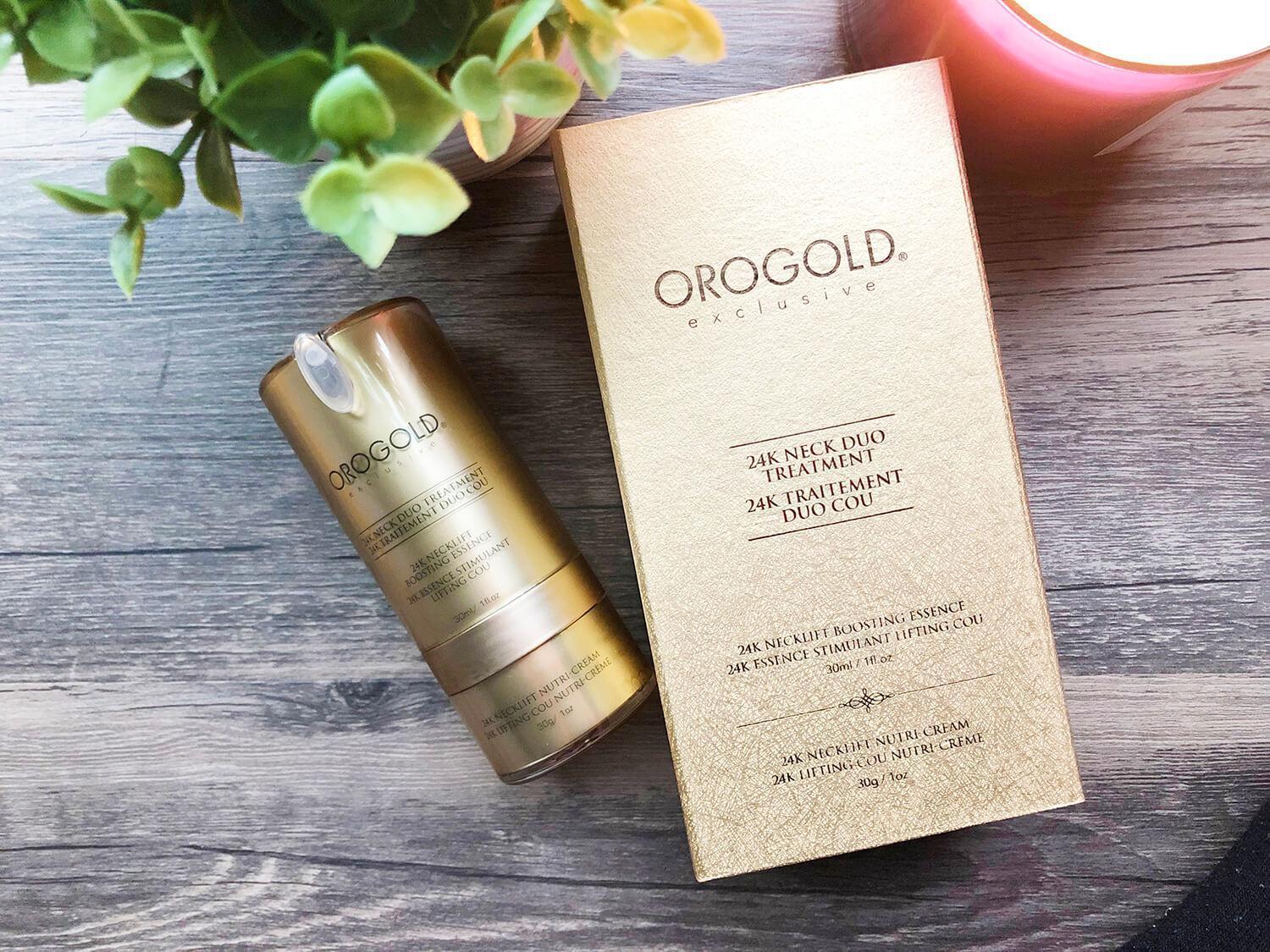 The first thing I loved about the Orogold 24K Neck Duo Treatment was the ingenious way Orogold fit two products into one sleek container.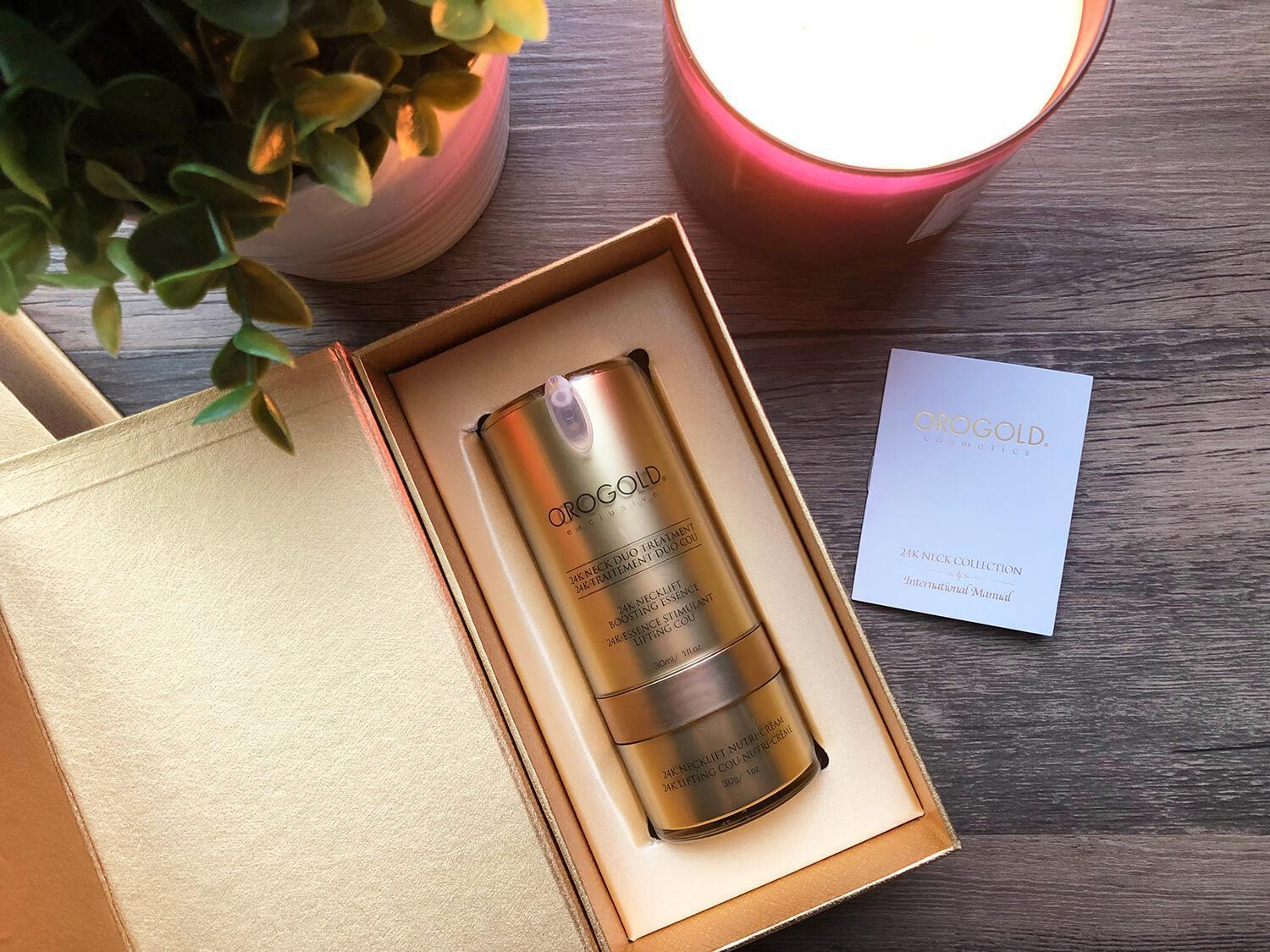 The top has a pump that dispenses with the Necklift Boosting Essence, the bottom is a jar full of the 24K Nutri-Cream.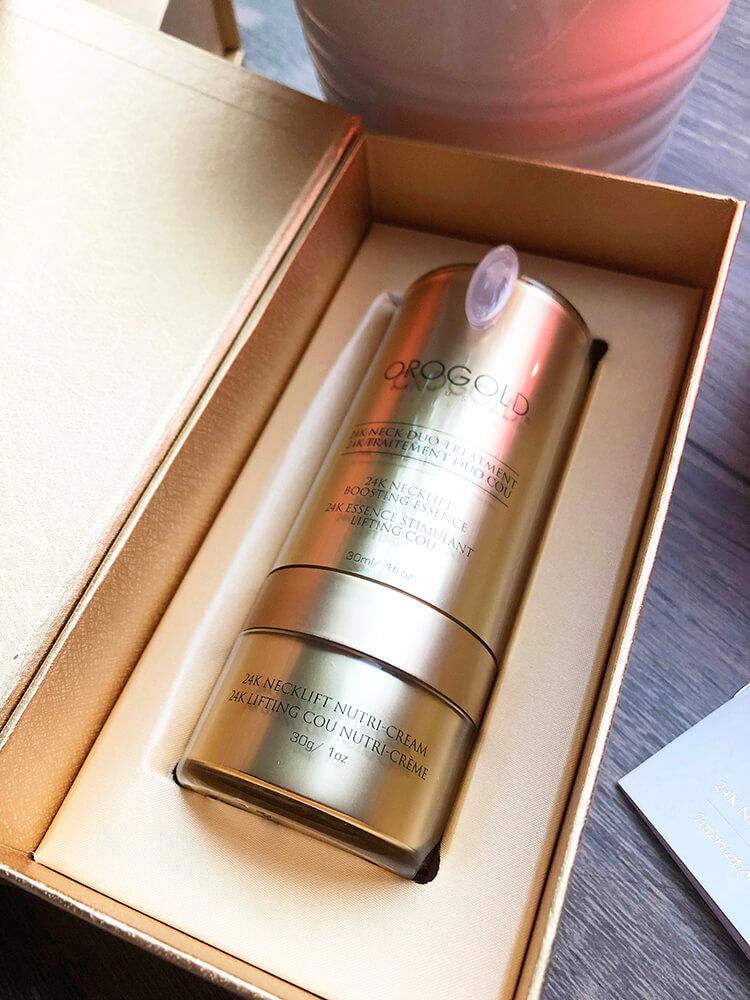 According to the box, "together they deliver a powerful dose of Vitamins A, C, and E and a botanical-based  blend of anti-aging actives to help lighten, brighten and tighten, the appearance of your skin, diffusing signs of crepiness and discoloration."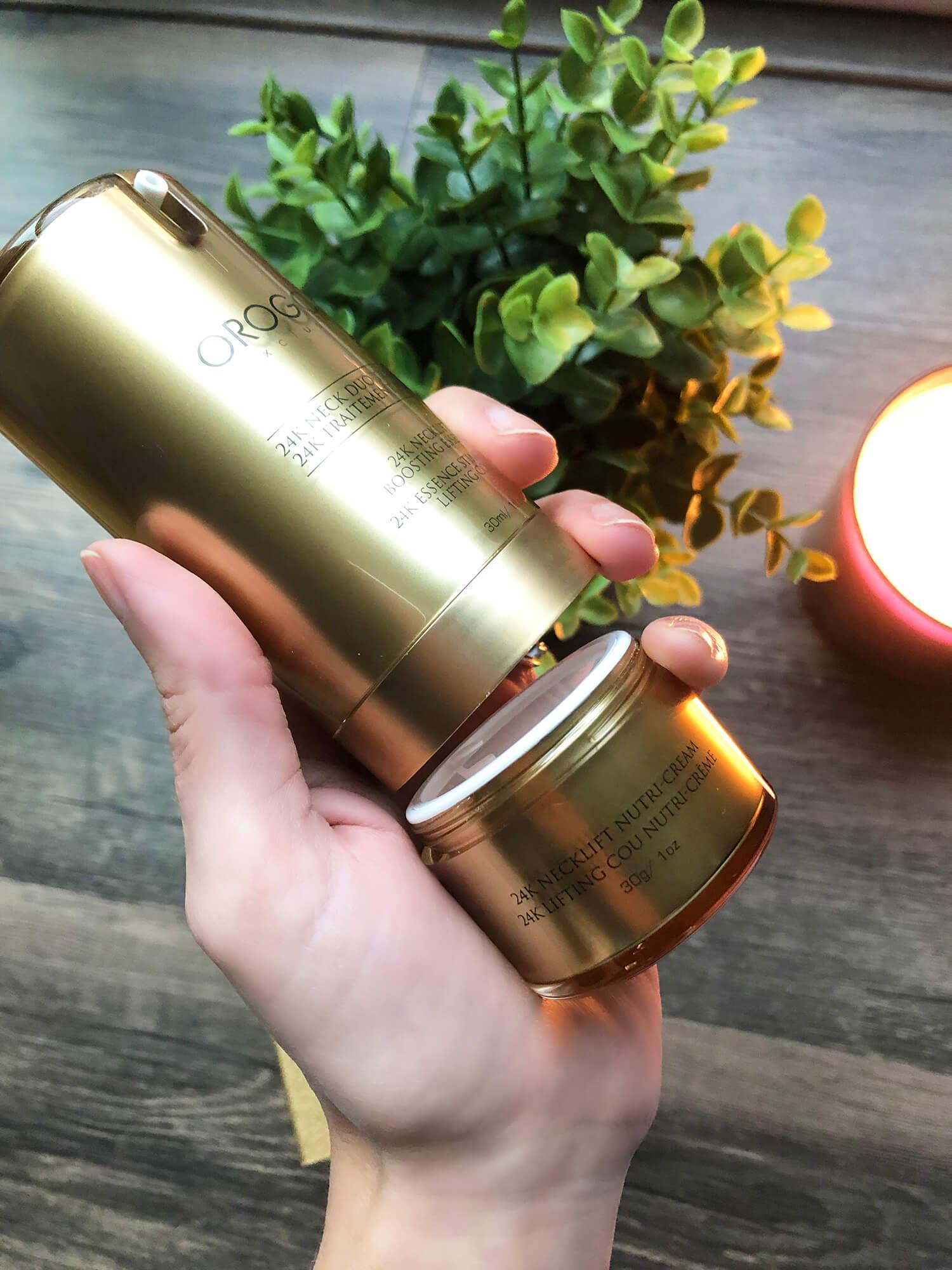 Sounded like the answer to my prayers. 
The Product
The directions advised applying "1-2 pumps of the 24K Neck Boosting Essence to freshly cleansed skin, massaging over neckline and decolletage areas."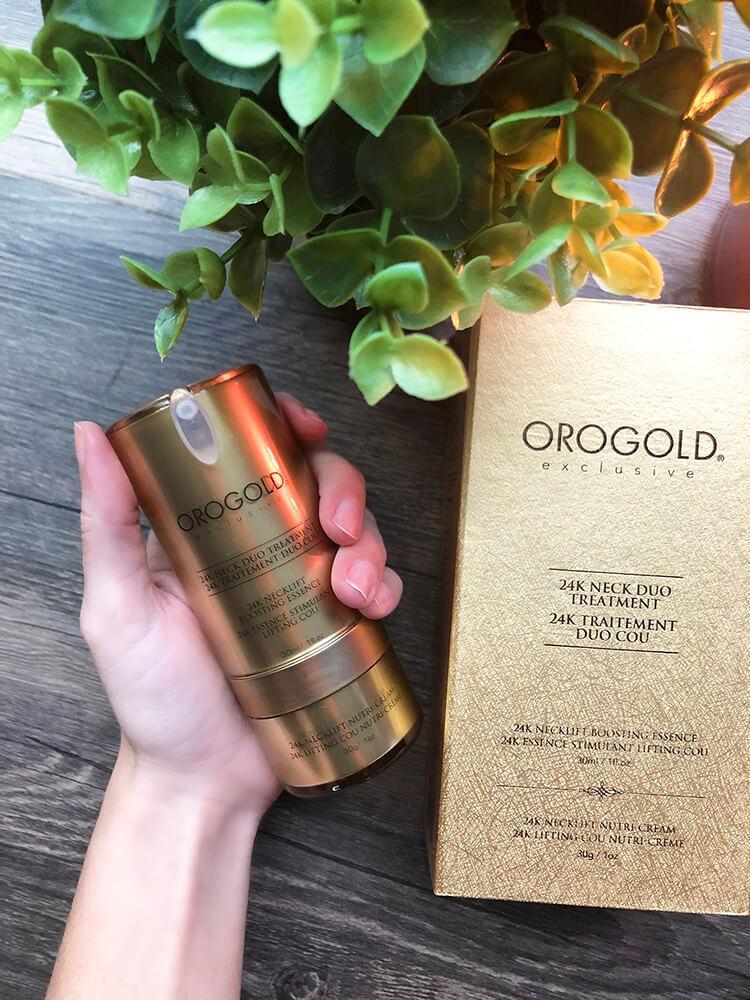 That sounded like something I could handle. The essence had a liquidy consistency reminiscent of a serum. I thought it was a good sign that my skin absorbed it completely.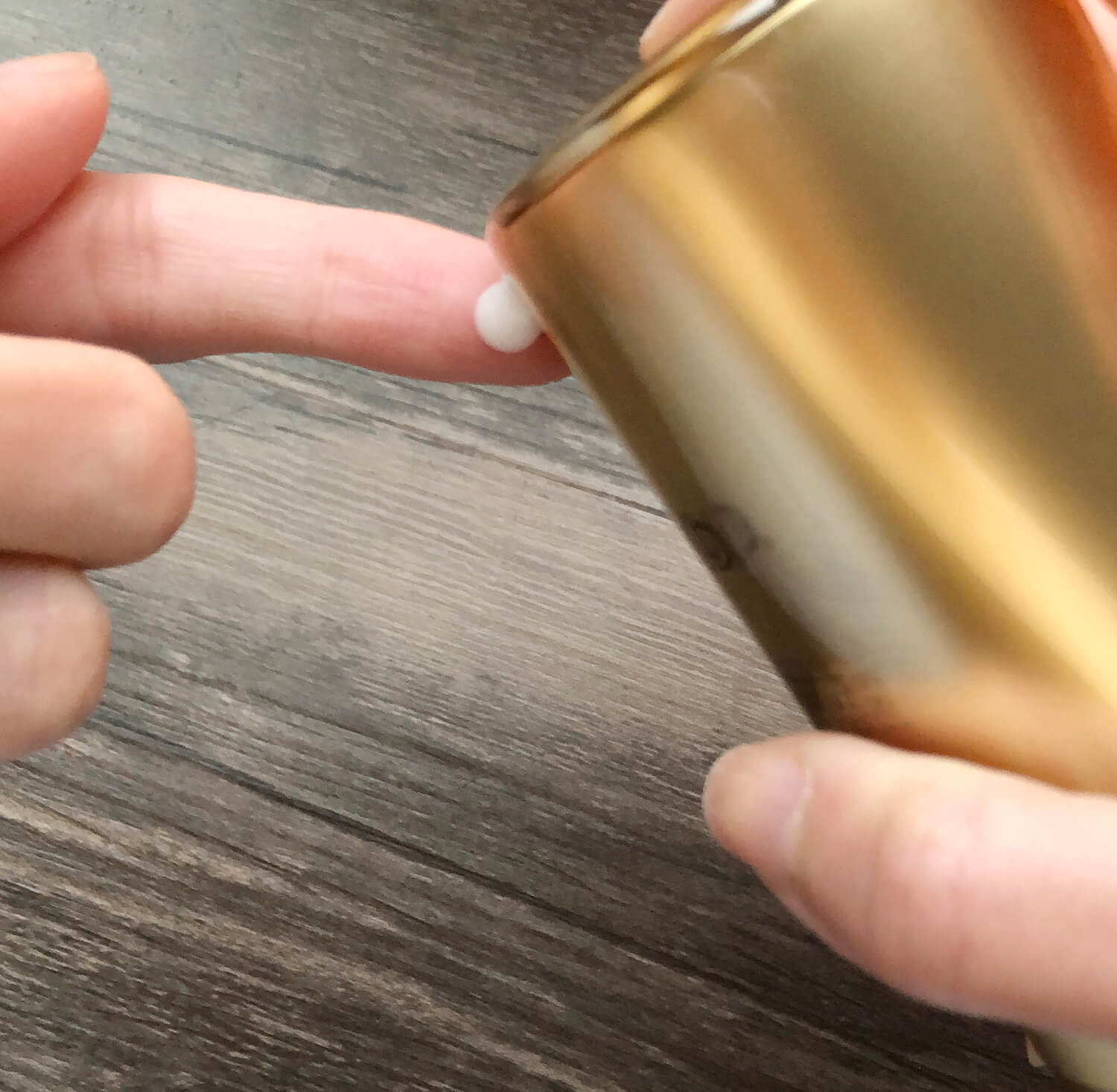 Was it me or did I feel a slight tingling sensation already? I have a rather low tolerance to almost everything (yes, I'm a cheap drunk), but could I be feeling the effects of the treatment this quickly? I dared not let myself get too hopeful.
Then, I flipped the bottle over, still loving that two-in-one thing, and followed "with a small amount of 24K NeckLift Nutri Cream, massaging into the same areas (neck and decollete) until fully absorbed."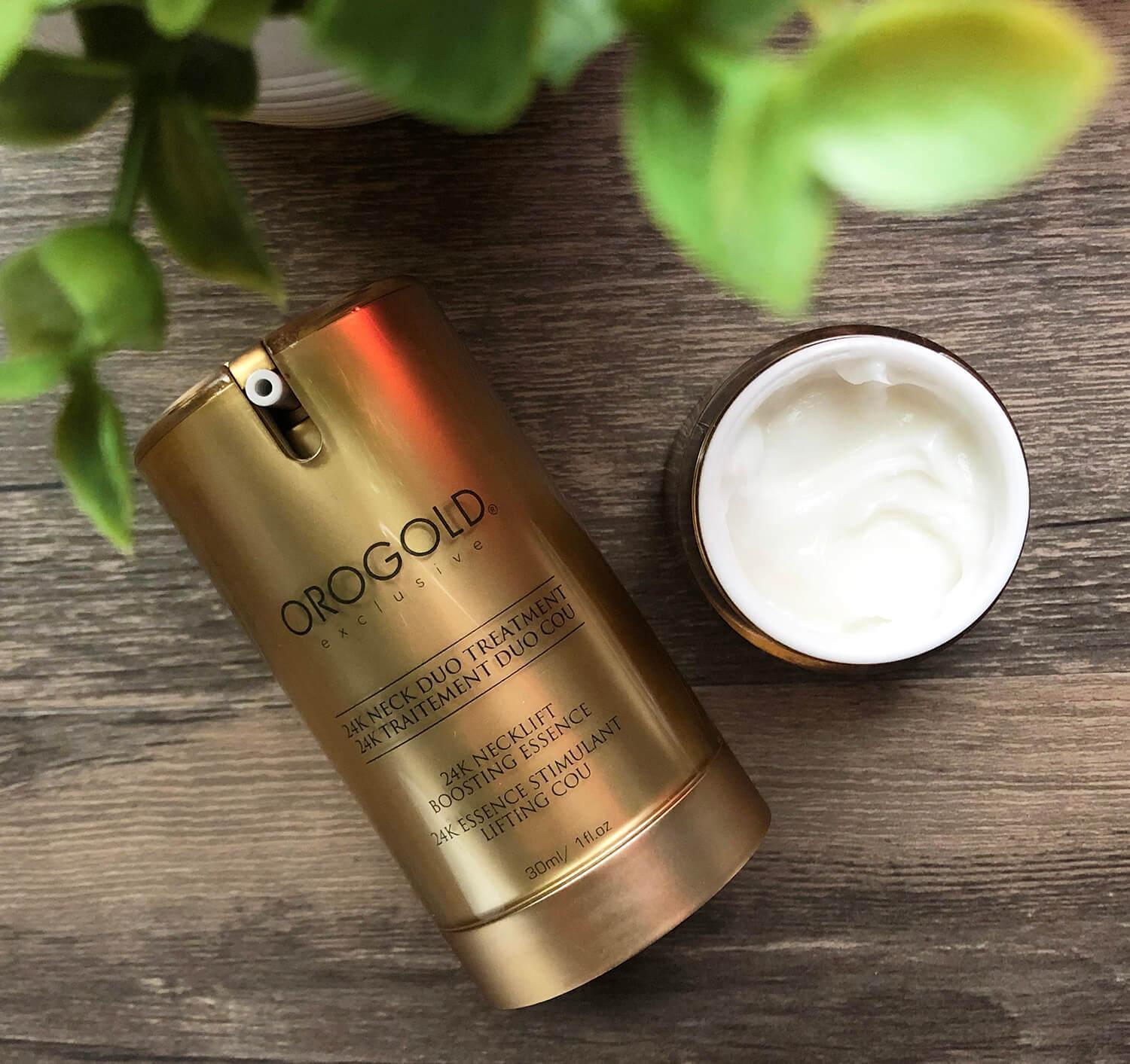 The cream had a heavier consistency than the essence, but it did disappear into my skin quite seamlessly. It had a soothing feel to it, there was no tingling sensation, but my skin felt instantly nourished and hydrated.
BTW: If expensive has a smell, it's the smell of the Orogold Duo Neck Treatment. Even my coworkers commented on it. It's hard to feel dumpy when you smell like a million bucks. 
The Two-Week Test
Although I thought I began to see gradual improvement, I left it to the two-week mark to make any solid judgment. I should mention that I took a neck selfie before I began using the product so I could make an educated assessment. 
Bravely, I pressed the camera icon on my phone to view my "before picture." Can we talk turkey? There it was, my neck in all its mottled wattle. It was not pretty. Plus, there were these two chords sticking out that looked almost painful. Surely, it could not have gotten worse.
The good news was that it didn't. In fact, there was an undeniable improvement. The most noticeable thing was that my coloration had returned. My skin looked brighter, lighter, and a lot less angry. The sagging also lifted a bit. I definitely noticed a little less wattle, especially when I looked down. I would keep my eye on that.
The Four-Week Test
Ok, the discoloration is gone. I mean, like outta here, adios, see -ya -later -alligator, good-bye. I am happy to report that my neck no longer in any way resembles red meat.
The Eight-Week Test
If you had told me how this would turn out eight weeks ago, there is no way I would have believed you. Neck fat, that's like baby weight, it takes work to get rid of that. How could it just come off by applying an essence and a cream? 
I always knew Orogold was good stuff, but I didn't know it could work miracles. This was cause for a celebration.
The 24K Neck Lifting and Chest Firming Mask
Ok, so creams and lotions I was used to, and I had even applied some pretty exotic masks in my time, but I have to admit, I found the look of the 24K Chest Firming and Neck Lifting Mask somewhat intimidating.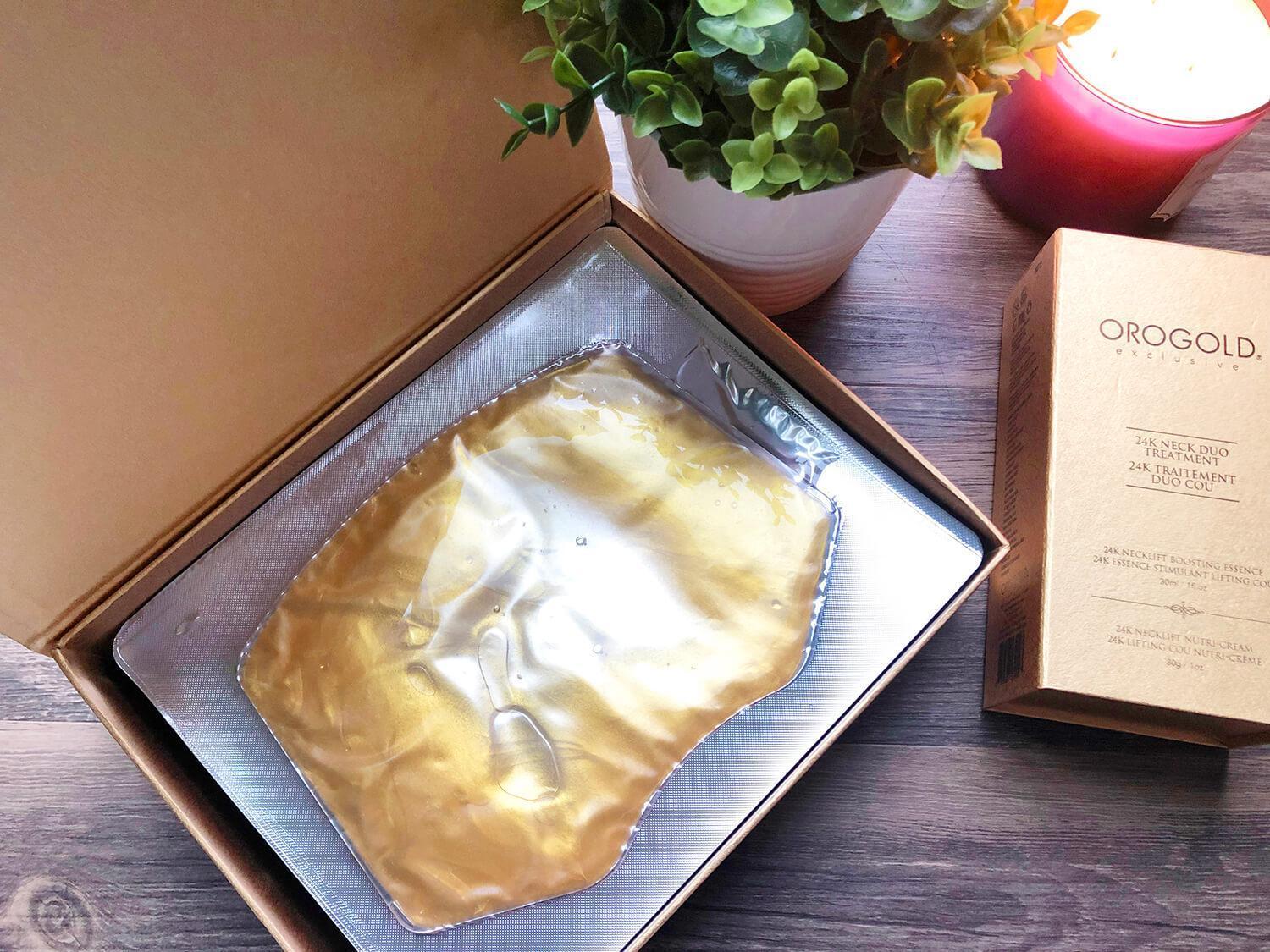 Inside the signature Orogold box (roughly the size of an 8X 11 piece of paper, with a depth of about two inches, think hardcover encyclopedia, for example) were liquid filled plastic masks enclosed in a silver foil.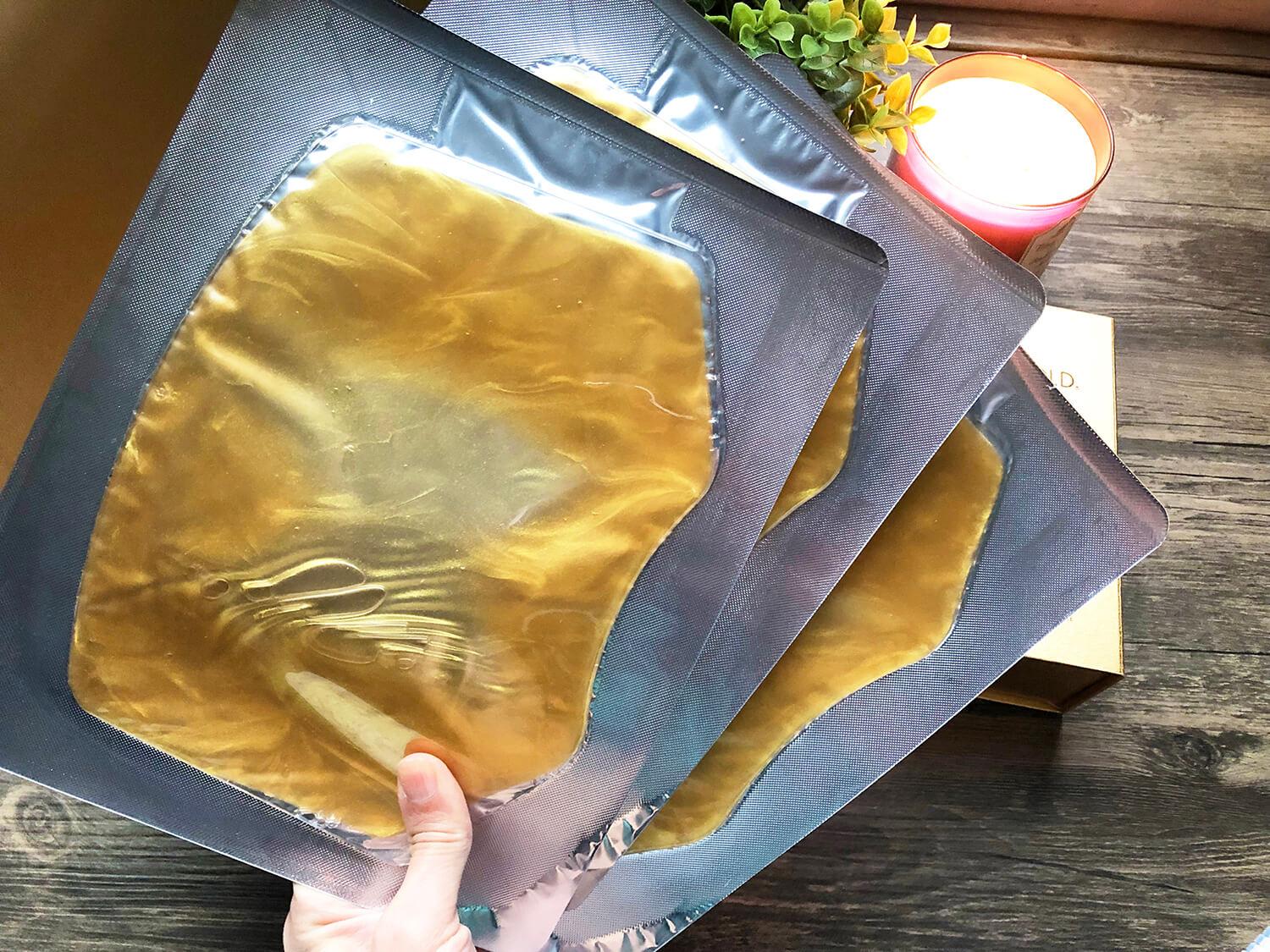 The directions first told me to remove the mask from the package, which I did. You know the slime kids make nowadays ? (For what reason, I have yet to figure out.) That's the best way I could describe the consistency of the mask.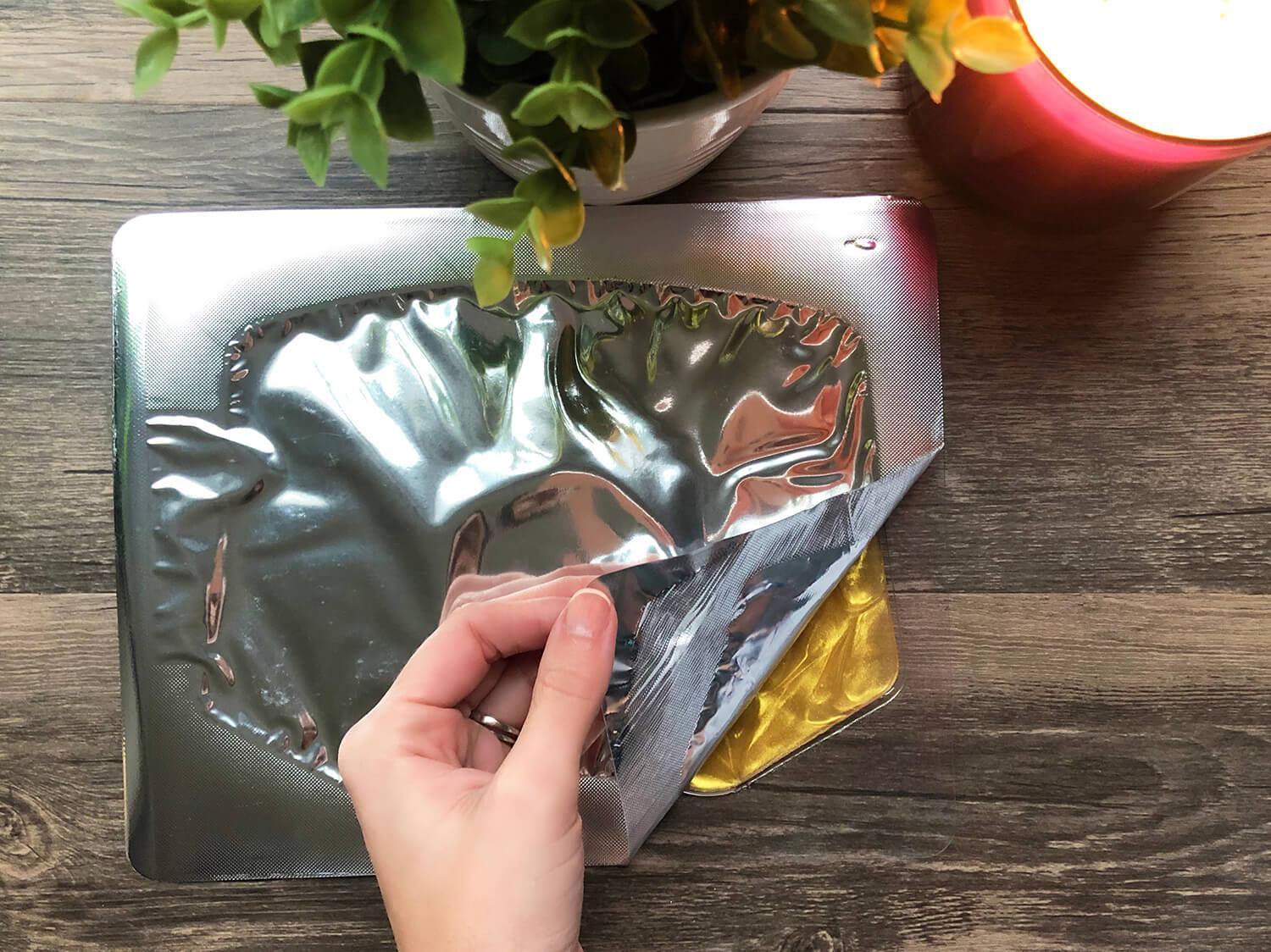 It was gold in color and shaped to fit the decolletage area.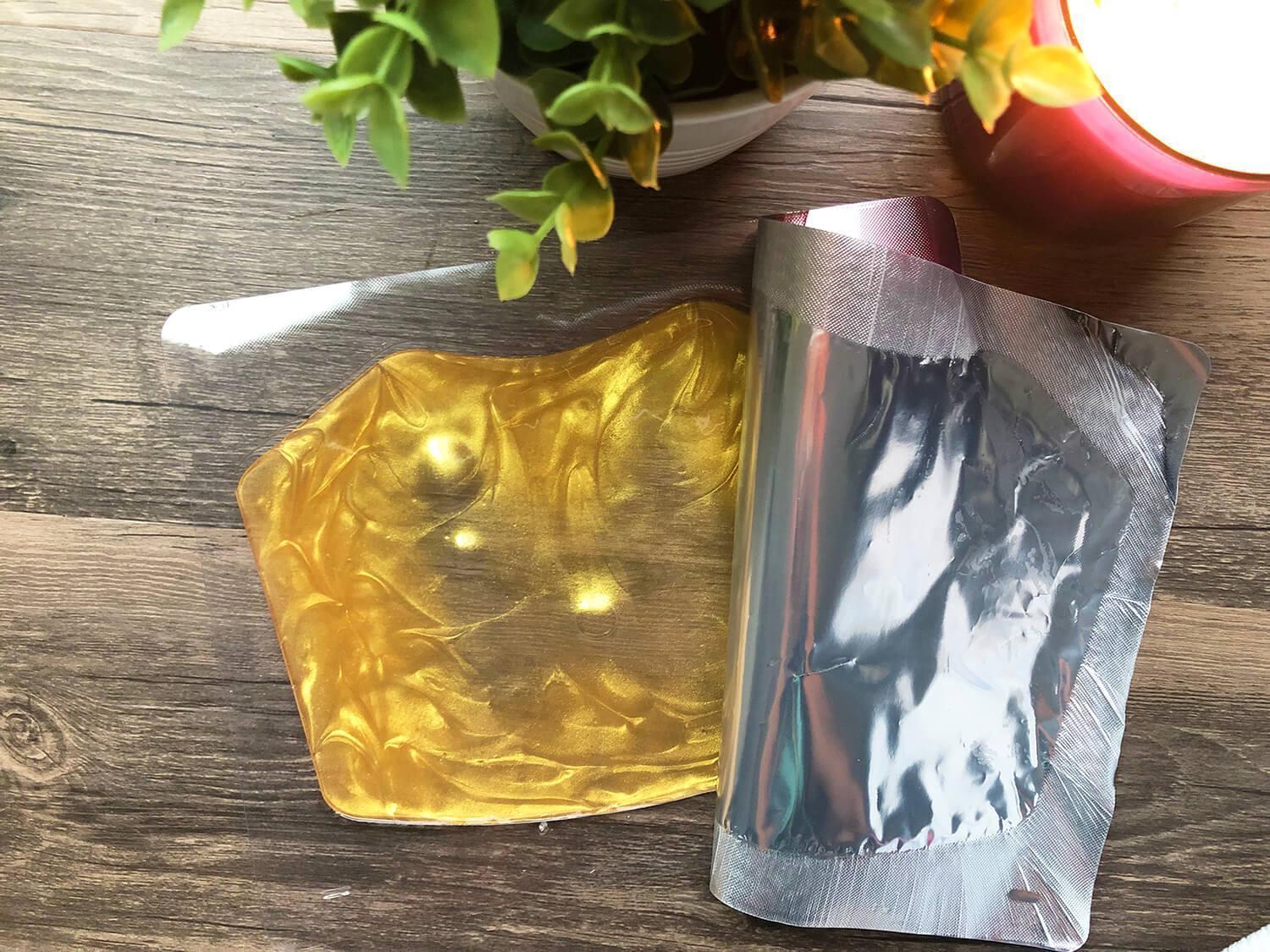 The next part of the directions told me to apply it to my neck area and relax for 15 minutes. I had no problem applying it, but I sort of a hard time relaxing. I have to admit, it was a bit out of my comfort zone.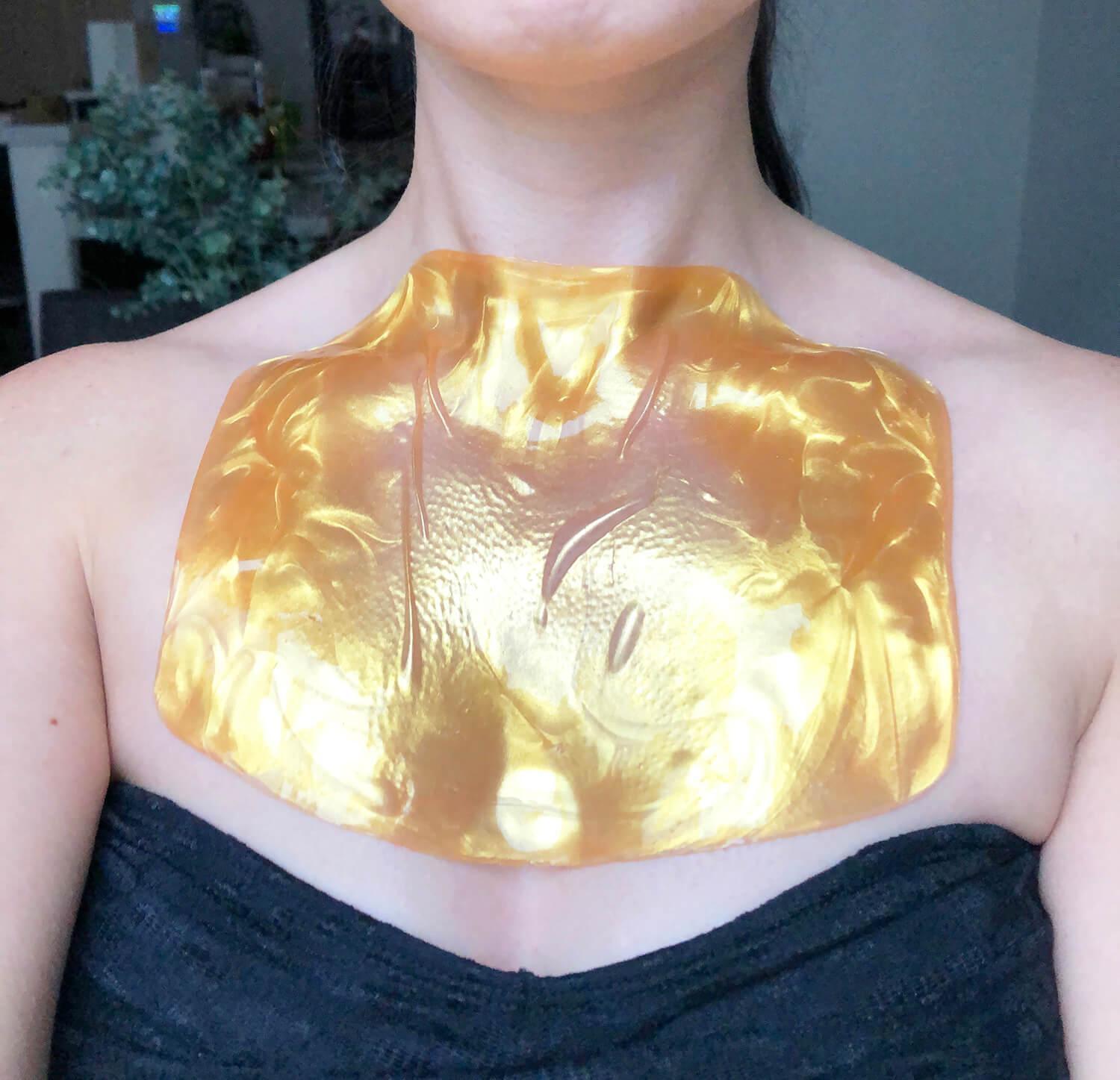 The Smell
The smell of the product was not unpleasant, but not perfumy either. I would best describe it as a powerful scent with menthol undertones.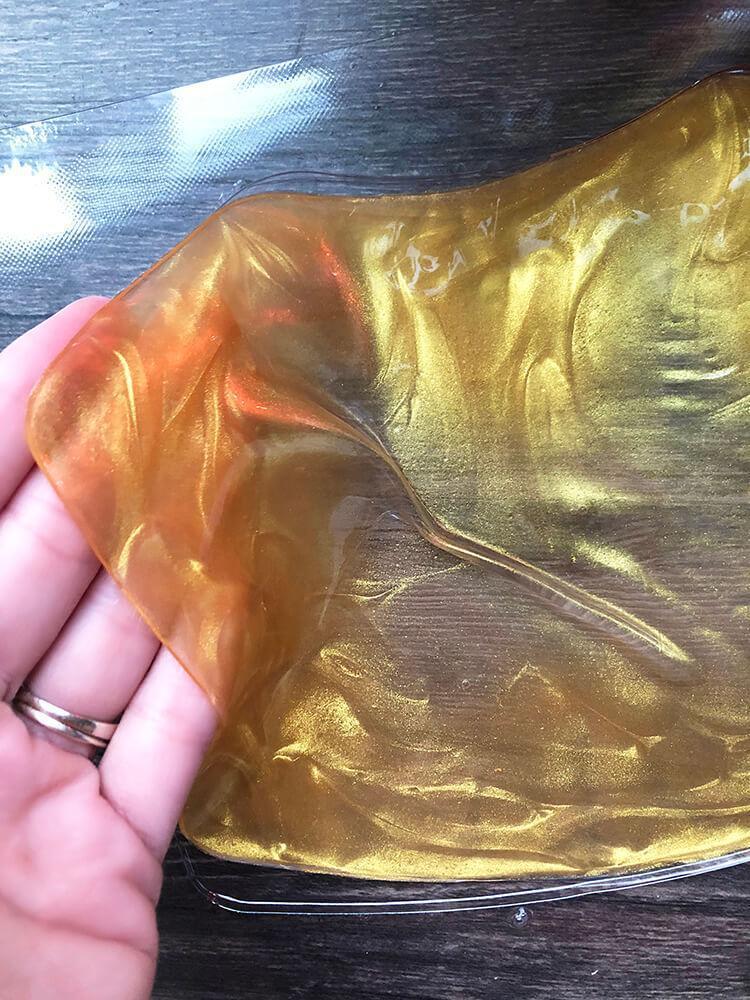 I noticed that there was hyaluronic acid and collagen in the ingredients, and, having done my beauty homework, knew that this was quality stuff.
I also noticed that the star ingredient was chitosan, which I had been hearing a lot about lately. Chitosan is a marine bioactive known for its sustainability. Hopefully, it would help me sustain my youthful neck.
The Experience
As I lay there, with the mask on my chest, I began to feel the tightening sensation and deep hydration setting in/  If my neck wasn't getting in shape, it sure felt like it was.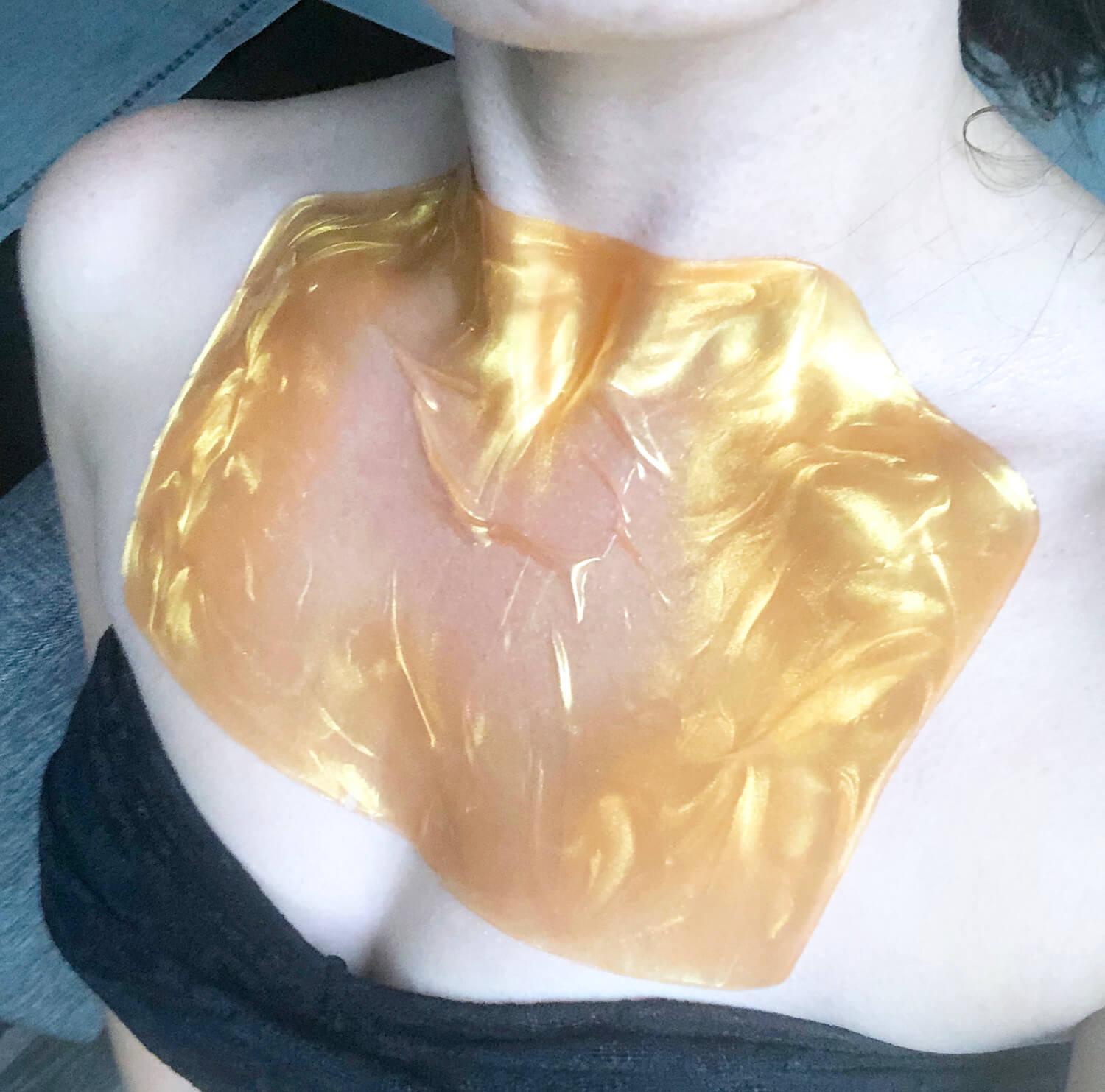 I could feel my neck and chest getting firmer by the minute. By the time the 15 minutes were over, I felt like I had just gotten plastic surgery. It was almost scary. 
Usually, I am skeptical of anything that claims to work overnight, much less fifteen minutes, but I sort of knew that I would see results before I even looked in the mirror. The tingling sensation was my spoiler alert. My chest and neck looked noticeably lifted. I was carrying less baggage around my neck, no doubt about it. I actually wondered if I lost weight (no such luck), but I definitely looked a lot more toned.
The Eight-Week Test
Eight weeks and eight masks (one box) later made a believer out of me.  My neck not only looked better, it felt lighter and I looked younger. I felt like I was carrying around a burden that had just been lifted. (my face and neck, specifically.) One thing was clear, it was time to restock. The Neck Lifting and Chest Firming Masks were definitely going to be permanent  fixtures in my vanity.
New Neck, New Life
The first thing I did when my neck started to resemble more of a swan's than a turkey's was throw out all my scarves; actually, I gave a few of the 100% silk ones to my sister, but it sounds more dramatic (and liberating) to say I threw them out. 
I also scrapped the turtlenecks and high collars. I'm pretty sure that even if turtlenecks become the new black, I will never wear one again. (Bad associations and all that).
In fact, I did something I hadn't done in years, I bought a low cut dress. It didn't show cleavage- (I wasn't ready for that) but it did put a bit of the chest area on display. The challenge was wearing it. I had a cousin's bar mitzvah to attend, would I be able to pull it off?
Preparation
I was really nervous about making my big neck debut. My friend's said I had nothing to worry about. They said my neck looked great, and no one would even notice, but I felt self-conscious.
I modeled the dress a few times, and I thought it looked pretty good, but my exposed chest made me feel so vulnerable. I thought it might help if I put on a scarf, at least at first. Maybe I would take it off after the first drink or so.
The Big Night
This was it, sink or swim. Did I have the chutzpah to wear this dress to my cousin's bar mitzvah?
I put the dress on and took a last look and a deep breath. The question now was whether  I would return a hot mess in tears or a new woman ready for a new wardrobe.  Only time would tell.
When I walked through the doors of the restaurant, I met my friends, which was an instant relief. They knew how nervous I was and would be there to help if I had a meltdown. At the coat check came the big reveal. I handed the girl my jacket and – nothing! No looking at my bare neck and chest with horror, no calling in her coworkers with, "Get a load of this."  She just took my coat and handed me my ticket. I didn't even see her eyes wandering below neck level.  
Encouraged, I went into the party, and it was more of the same. The only comments I got on my appearance were positive. Most of my relatives told me how good I looked – one even asked if I had work done! I was asked to dance (twice!) By the end of the night, I had forgotten all about my saggy neck. It was the best of all possible outcomes.
In Retrospect
Since my "validation," I am happy to report that things have been on the up and up. There are a lot more low cut dresses in my closet, and I was finally able to update my Facebook profile – I went scarfless in this one, and I'm also a whole lot more comfortable in my own skin (mostly because it's a lot firmer, but I do feel more confident about myself).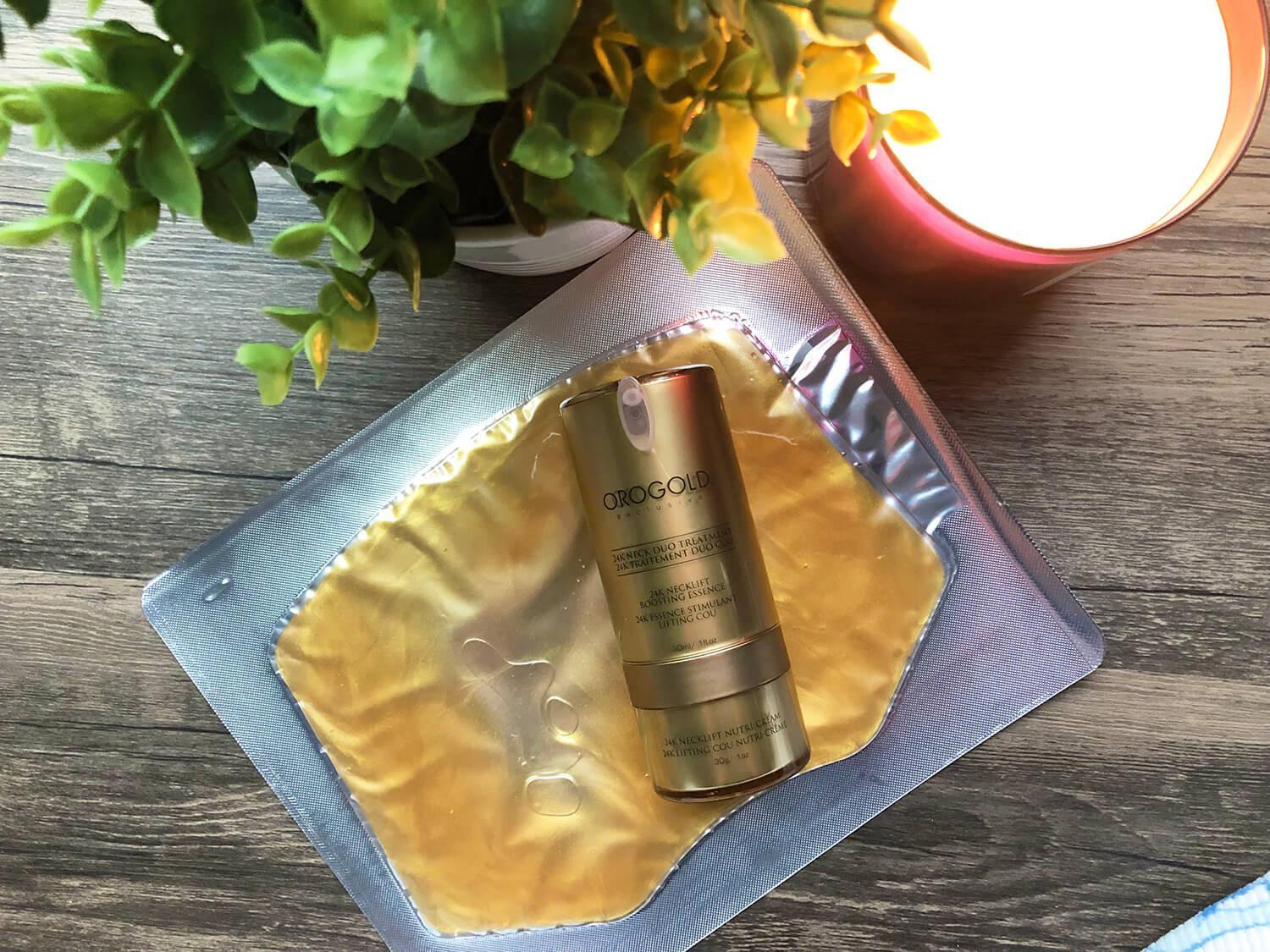 As for the Orogold Neck Duo and Chest Lifting Firming Mask, what can I say? They were life-changers for me. I don't know where I would be if it weren't for them. To this day, they hold a special part in my heart, neck, chest, and vanity. If you "feel bad about your neck", try them. Take it from me, you'll be happy that you did.