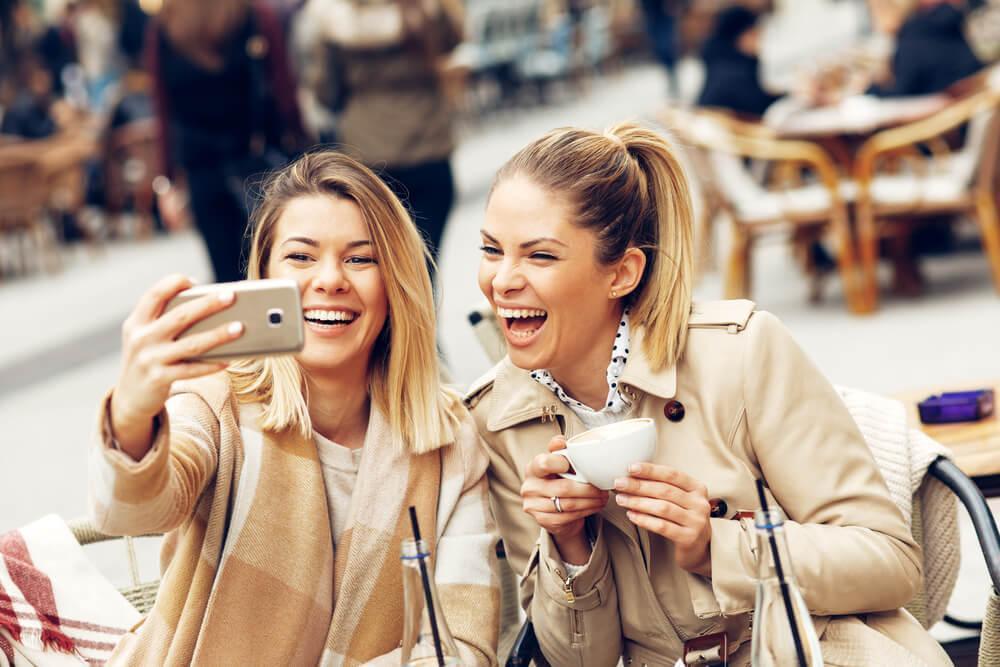 Imagine this. You walk into a bar into a city you just moved into. Someone recognizes you instantly. He takes you to a table in the back where all his friends are sitting and libations are flowing. By the end of the night, you have so many new numbers on your cell phone, you can barely remember who they belong to. Could this be the new norm?
If it sounds too good to be true, it's not. Friend making apps are the new way to connect socially to make friends in new cities, or just to add to your social circle. Here are some of the hottest friend making apps that might just be the answer to your social awkwardness. 
Patook

Don't ask anyone what their sign is on Patook. Patook bills itself as the strictly platonic making friend app, so no pick-up lines allowed here. 
Dating aside, Patook is an app for connecting people. After Patook users create their profiles, they take a survey asking them to rank traits (gender, hobbies, interests) according to their preferences. The app match matches them to people with similar preferences according to a point system. 
 Swipe right if you want to be friends or left to save for later. If you both swipe right, a match notification is sent and the skies open up, choral music plays, and angels come down from heaven. Ok, so maybe we're exaggerating a bit, but it definitely beats rejection. 
One benefit of Patook is that it's free, so even if you're caught flirting, you don't lose a big chunk of cash. It also detects lulls in conversations and helps to keep things lively, so you don't have to worry about those awkward silences. If you want to go public, there are public discussions boards, and if you want to keep things private there are privacy settings that only allow a few people to see your profile. Overall, we think you'll get hooked on Patook.
Pros:
Free
Good for making new friends in new cities
Good for making friends one on one or joining groups of friends.
Meetup
Meetup is a very friendly app.
In fact, Meetup is so friendly, it starts a conversation with you right away.  As soon as you go to the site, you're asked what you love to do, then it offers you 24 options to choose from. You already start to feel more social. 
Once you find your thing, Meetup connects you to a page full of smiling people that look really happy to see you. Decide when you're available, and the app will pull up events based on the categories you are interested in.   
 If music is your thing, there's an acapella group just waiting for you to lend your voice. Fan of sci-fi? Maybe the Buffy meetup is for you. Are you a Vegan Toastmaster? There's a group of foodies waiting to exchange recipes. Once you find the event you want to attend, you can RSVP and message people who are going so you can make an introduction.
Pros:  
Free
Guaranteed to find a meetup, no pressure to meet individual people
There's already a date, you don't need to schedule with another person, just RSVP and go.
Peanut
In these days of working moms, stay at home moms, stepmoms, bonus moms. and families with two moms, it's time they had a friend making apps for moms. Peanut is just that. It's a friend making app that connects moms to other moms so they can talk about anything that's on their minds. 
Peanut operates similarly to Patook. You look at pictures of Moms and see which ones you think you might click with. If you want, you can create a nickname for yourself, such as Twilight mom, or Fitness Mom to help make your profile stand out.  Wave up for 'hello," and down for "later." Two mutual waves equal a match. 
Once a match is made, you can message with other moms to sync up meetings or participate in group chats.
Pros: 
Free

 

Gives moms a platform where they can sound off about specific concerns and get advice from like-minded women who understand them
Facilitates meetings by creating invites and suggesting dates
Nextdoor
Looking to keep things in the hood? Looking to give thy neighbor just a little more love? Nextdoor is a private social app that lets you stay informed and inform others about what's happening in your neighborhood.  
 Nextdoor is not so much about making friends as it is about staying on top of things in your neighborhood. (side effects may include friendship.) Nextdoor works by using your zip code to connect you to other people on the App who live in your neighborhood.  If you're not in, keep out.  Then you can create posts and send messages letting other people know what's going down on your side of town.
Looking for someone to babysit on Friday? You can find her right Next Door! Want to let the community know about the pothole in the bike lane on that busy street? Just tell your Nextdoor neighbors. Want people to come to your yard sale? Let them know it's happening on Nextdoor. 
Pros:
Free
Helps keep communities safe and up to date
Protects the privacy of users.
Meet My Dog
If dogs are man's best friend, does that mean that the meeting dogs is the new way to make your new best bud?
Ok, so maybe, we're a little off. Meet My Dog isn't really about people meeting dogs, it's about people with dogs meeting up with other people with dogs.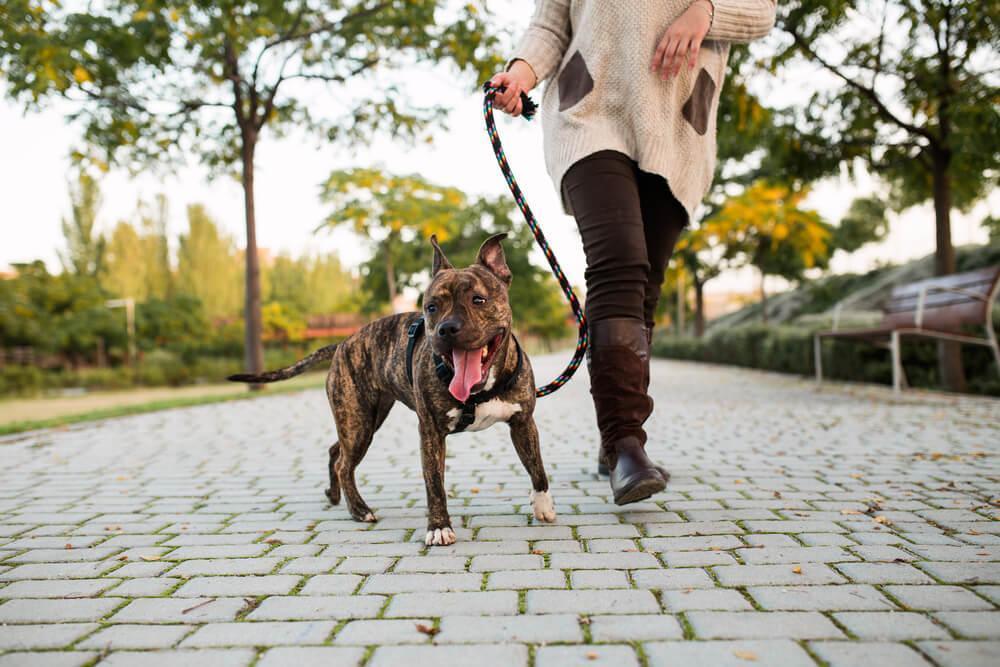 On Meet My Dog, you create a profile for you and your dog telling people who you are and what your dog likes to do. Check in at the park where you and your dog are, you're friends receive a notification. If they dig your dog or you for that matter, they come down with their dogs and you'll have a playdate for both of you. 
Pros:
Free
Encourages physical activity
Uses dogs to bring people together, less pressure to meet individuals
Hey! VINA
Hey! VINA is a social app, but some might find it closer to a social movement. Hey! VINA is not so much about making girlfriends as it is about creating girl power. 
Hey! VINA is a way of life app with its own manifesto. A true Vina is kind, conscientious, and always ready to have fun. She celebrates herself, she celebrates others. She interested and is interesting. She shows up, cheers up, and never gives up and she always chooses community over competition.   
Sound like you? If you're ready to join the Hey! VINA sisterhood, download the app and swipe to meet new friends. Once you've joined, you're privy to the Vinazine (stories and advice on living your best life from the Hey! Vina community), and all the latest success stories (Ladybrag) and posts.
Pros:
Free
Encourages positive image for women
Encourages community participation
Bumble BFF
Bumble is the dating app where girls make the first move. Bumble BFF is the friending app where girls make the first move and all the moves after that.
Here profiles are not aimed at finding dates, they're aimed at finding friends, so use pictures that show off personality rather than sexuality. Bio blurbs tend to revolve around wine, Netflix. and traveling rather than long walks on the beach. Girls make the first move, so plan your pickup line carefully. 
 There are three modes on Bumble. When you switch from dating to BFF mode, all your potential dates turn into members of the same sex that Bumble has picked for your potential friends. If both swipe right, you have 24 hours to respond. If you respond, a friendship is made.
How well does it work? Quite well, apparently. Many girls have found their besties on this app, and even if they haven't, they've met a lot of awesome ladies and lear
ned a lot about making friends and about themselves.
Pros:
Free

 

Easy to find a lot of potential friends
We3
This app is sort of like "The Voice" of friendship apps. You can't see the pictures of your new friends in advance. The ultimate goal of We3 is to form long and profound human connections, no superficiality here, oh and did we mention, good things come in three's. 
We3 sets itself apart from other friendship apps, there's no swiping right on Profiles and no romantic intentions. We3 matches 3 compatible users of the same gender based on ideas, personalities, and beliefs. These three people form a "tribe."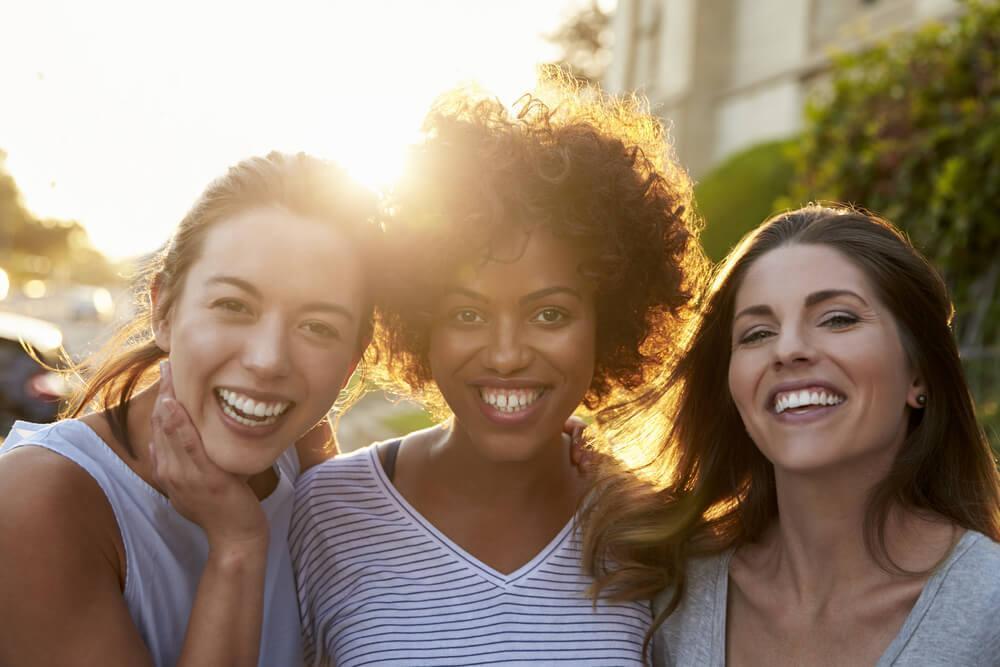 Your tribe is your family. The bottom line here is a solid friendship with likeminded people, no funny business. 
Pros:
Free
Strictly no romance allows for profound friendships
Profile information kept private, the only people able to see your profile are members of your tribe.
Skout
In the movie "Serendipity," John Cusack is brought together with Kate Beckinsale when a chance meeting brings them together in Central Park. Skout is an app that brings people together in "chance meetings" using mobile devices. Skout is an app founded by a team that wanted to take "social interaction further than anyone thought possible in the past." They want to make those magical encounters happen, and most agree, they're doing a great job.
On Skout, users search through a stream of user updates from their cities or browse through photos to find people looking to meet up. They also have the option to "shake" their phone, which will automatically a match you up with a complete stranger also looking to chat. The buzz feature shares a newsfeed-like stream of photos and updates to those who are in the area. The meet feature displays a grid of photos of members who are nearby and looking to meet up, and the chat feature allows people who like your profile to chat with you, regardless of whether or not you've expressed interest in their profile. 
The meetings may not be completely left to chance, but Skout definitely gives them a better chance of happening.
Pros:
Free

 

User-friendly
Promotes a sense of adventure

 

Helps to connect travelers
The League
Mark and Michelle met through The League when Michelle made the Forbes 30 Under 30 list for finance. She met her future husband Mark who is not only kind, but career focused as well. They are now happily married and getting very busy together.  Sound like your run of the mill romance story? # Leaguelove does not have run of mill success stories, because the League is not a run of the mill app.
The League is the app that encourages you to "date intelligently," something many of us have tried and failed to do in the past. It subjects users to an extreme screening process which require you to submit your Facebook and LinkedIn credentials as well as six pictures of yourself. Once you do this, you're on a waitlist and you may stay there for weeks or months unless you pay a fee for an expedited membership.
What do you get for that membership? The chance to meet some wealthy and photogenic people. You also get a concierge who can offer very helpful real-time support and the chance to boost your profile with the Power Move feature.
Think it's worth it to meet the elite? If you value ambition and intelligence in a partner, it just might be. 
Bonus Tip: Before you apply, test your pics on Photofeeler. Studies show even the most intelligent people don't use the best judgment when it comes to choosing flattering pictures of themselves. Photofeeler gives you a "feel" for how you come across in pictures so you can choose the best ones.
Pros: 
Only high-quality candidates
High security and safety features
No fake profiles.
Where have you decided to search for your new BFF? We want to hear about it! Let us know in the comments below.